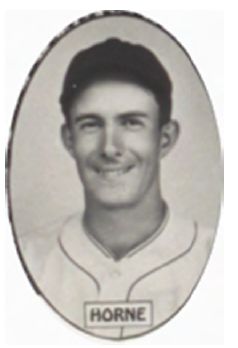 ---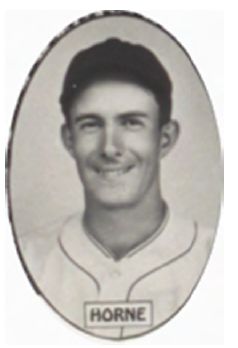 The major-league career of Berlyn "Trader" Horne was brief. From April to July 1929, he threw 23 innings during 11 games with the Chicago Cubs, with a record of 1-1 and an earned-run average of 5.09. He was gone from the team before it won the pennant that year. But Horne (whose nickname came from an ivory trader and African adventurer known as Trader Horn) played in the minor leagues for 11 years before reaching the Cubs and for ten years after, winning 229 games and pitching more than 3,700 innings. He was also a serviceable hitter, with a batting average of about .250 in the minors; he could even claim a .400 average in the majors, with two hits in five at-bats. In the more than 40 years after his baseball career ended, Horne "never lost his love and enthusiasm for the sport."1
Berlyn Dale Horne was born on April 12, 1899, in Bachman, Ohio, about 15 miles northwest of Dayton. His parents, Joseph and Pearl Horne, also had two daughters, Mary (born in 1900) and Pearlyn (born in 1901). Horne wrote of his early years playing ball in a personal diary:
"Bachman was the beginning of baseball for me. They needed a pitcher so with the help of my Uncle Alex Hammel and his son, Howard "Dutch" Hammel, I was taught to pitch and how to throw the spitball. We had a good team of good ole farmer boys. We played all the good teams from Dayton and surrounding towns including Texters Lady Tourists who played three men on the team.
"We beat them easily and they wanted me to join their team, but my folks put thumbs down on that deal. They insisted I join them and guaranteed me $5 a game. Much more than I made with the Bachman team, which was $2 a game, but my folks resisted as I was too young, 14 years old. I continued to pitch for teams in Dayton as we moved there. I pitched for a church team, Tri M's, and we won all games but one over all the amateur teams and I averaged 18 strikeouts a game and had two no-hit games."2
Even as an adult, Horne was considered small for a ballplayer, standing 5-feet-9 and weighing 155 pounds. He threw right-handed and batted from both sides of the plate. Horne began in the minor leagues in 1917 with the Jacksonville Roses in the Class C Southern Atlantic League; he pitched in 25 games and had a record of 11-11. He didn't appear in the minors in 1918 but played on a team representing Plant 3 of the Dayton-Wright Airplane Company, which produced planes and aircraft engines for the US military in the World War.
After the war, Horne joined the Battle Creek Custers of the Class B Michigan-Ontario League. In 1919 he had a record of 19-9 and an ERA of 2.61. The next year his record fell to 8-15 despite an ERA of 3.07. He also played in the outfield for Battle Creek and displayed fine form at the plate. In 1920 he batted .276, with nine doubles, ten triples, and two home runs in only 228 at-bats.
In 1921, with the Port Huron Saints (also in the Michigan-Ontario League), Horne had a record of 16-13 and an ERA of 3.28. He also played the outfield and continued to hit well; he batted .270, with nine doubles, three triples, and a home run in 174 at-bats. With the Port Huron-Sarnia Saints the next year, Horne pitched in only 16 games (with a record of 6-7 and an ERA of 4.41) and played the outfield in 72 games. He batted .287, with 14 doubles, 11 triples, and 2 home runs in 296 at-bats. "I got to hitting pretty good, so they put me in the outfield regularly in 1922," said Horne. "And one day I went back for a line drive over my head that hit the wall. I stopped real fast to get the rebound off the fence and tore the ligaments in my left ankle."3 The injury prevented a deal that would have sent him to the Pittsburgh Pirates.
In 1923, playing for the Saginaw Aces of the Michigan-Ontario League, Horne appeared in 27 games as a pitcher (with a 7-8 record and 3.87 ERA) and 29 games as a nonpitcher, with a batting average of .260 in 123 at-bats. By 1924 he was primarily being used as a pitcher. Horne began the year in Saginaw, with a record of 11-4 and an ERA of 2.80. Then he was acquired by the Rochester (New York) Tribe of the Double-A International League. The team's owner and manager was George Stallings, who had managed the Miracle Boston Braves of 1914 to a World Series title. During the remainder of 1924, Horne won only three games while losing 11, with a 4.58 ERA.
But Horne was a productive starter for Rochester in 1925 (13-12, ERA of 3.86); 1926 (15-16, ERA of 4.26); and 1927 (18-10, ERA of 4.79). In 1926 he pitched in an exhibition game against the Cleveland Indians. After the game, Horne and future Hall of Famer Tris Speaker, the center fielder and manager of the Indians, crossed paths in the showers. "Young fellow, shut off that shower for a minute," said Speaker. "I want to talk to you. You pitched some pretty good ball out there today. I think you can get somewhere in this game. You should aim at the big leagues.
"I got two doubles off of you this afternoon," continued Speaker. "How'd I get them? I could tell you were going to give me the change of pace. You didn't hide the ball. The pitch was an open book."4 Speaker then spent the next several minutes showing Horne how to hide the ball before making the pitch.
Horne had perhaps his finest year in the minors in 1928. Playing for the Jersey City Skeeters, who finished last in the International League, he had an ERA of 3.01 and a record of 16-17. Horne was a workhorse, pitching 266 innings in 44 games.
One of Horne's favorite memories from the minors was pitching to Babe Ruth for the first time, in a 1928 exhibition game. (Ruth had hit a record-setting 60 home runs for the Yankees in 1927.) Horne got Ruth to pop up in their initial encounter and was feeling pretty pleased with himself. "But in a later at-bat, Ruth hit a line drive up the middle so hard that Horne thought it would take his hat (and head) all the way to the center field fence, where paint chips went flying."5
While in Jersey City, Horne sometimes ate at a restaurant that Ruth frequented. "I used to go up Hudson Boulevard to Dick's Inn, a great eating place with great steaks," said Horne. "The Babe used to come over there and he used to call me 'boy' whenever he saw me."6 Once, Ruth called him over to share a drink. "It was during Prohibition. But Dick always had a bottle for the Babe and a private room," according to Horne. "A friend of mine, another ballplayer, and I were in there one night eating and we looked in there and Babe said, 'Hey, little boy, come here. You gotta have a little nip with me or you don't eat tonight.' I said, 'I'll be right there, Babe.'"7
Thanks to Horne's success in 1928, he was sold to the Chicago Cubs and invited to 1929 spring training on Catalina Island, about 25 miles off the coast of Los Angeles. On February 14 Horne and other players boarded a train in Chicago that was bound for Los Angeles. During the journey he snapped photos of the landscape and sparked a flap with the news photographers on board. In a Chicago Tribune story filed from Flagstaff, Arizona, Edward Burns wrote, "Horne has been taking pictures of everything from the abode houses to mountain peaks so this morning the cameramen demanded he show his union credentials before snapping another picture.
"Horne, a quiet chap, explained that neither he nor his folks ever had been west of Danville, Ill., and that he was merely loading the family album. But the ornery photographers remained adamant and he sadly packed away his machine."8 The Cubs players and manager Joe McCarthy rallied to Horne's defense, and the incident strengthened his bond with the rest of the team.
On April 11 Horne learned that he was one of nine pitchers to make the team. He made his major-league debut on April 24 against Pittsburgh; he was 30 years old. Horne relieved Charlie Root in the seventh inning and retired the first eight batters he faced. Through the 12th inning, Horne had faced 21 batters, striking out three and allowing two singles, a walk, and no runs. In the 13th inning, however, he walked two and then gave up a game-winning single.
On April 28, pitching against the Cincinnati Reds, Horne gave up three hits, three walks, and five runs (only one earned) in two-thirds of an inning. On May 21 he got his only major-league win, allowing no runs in 1⅓ innings of relief work against Pittsburgh. He also hit a single and scored his only major-league run. Horne pitched one inning each against the St. Louis Cardinals on May 25 and against the New York Giants on June 2, and allowed no hits or runs.
On June 5 Horne made his only major-league start. He pitched five innings against the Brooklyn Robins and allowed three runs, only one earned. He struck out three batters but walked seven. He hit a single and had a sacrifice hit. He left the game trailing 3-1 lead, but the Cubs won the game with four runs in the ninth inning. Horne allowed no runs against the Philadelphia Phillies on June 15 (one inning) and June 16 (two innings). At this point, he had an ERA of 1.47, with only two earned runs in 18⅓ innings (eight games). But he was rocked by St. Louis on June 17, allowing five earned runs, including a three-run home run to Chick Hafey, in a third of an inning, and by Pittsburgh on June 21, allowing four earned runs in two innings.
On July 11, in the second game of a doubleheader against the New York Giants, Horne worked 2⅓ innings and gave up one hit (a home run by Mel Ott) and two walks. He also threw a wild pitch. It turned out to be Horne's last game in the majors.
Horne was still with the Cubs in mid-August, when columnist Ernest J. Lanigan described how welcoming the team had been to the newcomer. "[Horne] informs me that [Rogers] Hornsby has been great to him, that Charlie Root has been great to him, that Joe McCarthy has been wonderful to him and that he has gone out of his way to give him a pat on the back or to praise him for some little thing in which he was showing improvement."9
According to Lanigan, "Horne is always a favorite with the managers he works for, the reason being that he is a worker and not a moaner. He was tickled pink when he was purchased from Jersey City last fall. He had been kicking round the minor leagues for quite a few seasons and scouts were passing him up because of his size."10
In the column, Lanigan quoted from a letter Horne sent to him: "I certainly have been in luck getting with the Cubs and now I will have to stay with them. I never saw such a ball club in my life, though there may be others like it. For the good of the pastime, I hope there are. This club has spirit, teamwork, everybody pulling for the other fellow and everybody making it pleasant for rookies like myself. I had to wait a long time to get in fast company and when I did get in I got with one of the most remarkable baseball organizations."11
Less than a week after the column was published, first baseman Charlie Grimm slipped while running to catch a foul popup and broke a bone in his hand. The Cubs wanted Chick Tolson, playing for the Los Angeles Angels in the Pacific Coast League, to replace the injured Grimm, but Los Angeles wouldn't send Tolson unless they could have Horne. So the deal was made, although Joe McCarthy said that he "really didn't want the lad to get away."12
Horne played in Los Angeles for the remainder of 1929, with a record of 5-4 and an ERA of 6.06. After the season the Cubs divided the loser's share of the World Series money. Each player on the final roster was entitled to about $4,000, and the Cubs voted for Horne to get $2,000. He used the money to buy a new 1930 Chrysler. (He was said to have driven the car until it was a rusted heap, not wanting to part with what he called his "World Series car."13) In 1930 Horne had a 13-7 record and 4.47 ERA with Los Angeles.
In 1931 and 1932 Horne played for teams in five leagues: the Indianapolis Indians in the American Association (Double-A), the Jersey City Skeeters in the International League (Double-A), the Knoxville Smokies in the Southern Association (Class A), the Omaha Packers in the Western League (Class A), and the Scranton Miners in the New York-Pennsylvania League (Class B). His longest stint was in Indianapolis, where he pitched in 30 games in 1931 and had a record of 9-9 and an ERA of 4.50.
In mid-1931, while Horne's wife, Hazel, was seven months pregnant, she had surgery to remove a brain tumor. Neurological damage from the surgery left her with some paralysis on one side of her face. The couple's son, Murray, was born on August 2, 1931.
From 1933 through 1937, Horne played for six teams in the Double-A Pacific Coast League: the Hollywood Stars, the Mission Reds, the Oakland Oaks, the Sacramento Senators, the San Diego Padres, and the Seattle Indians. During those five years, he had a record of 37-38 and an ERA of 4.09 in 170 appearances.
Horne's teammates in San Diego in 1936 included Vince DiMaggio, Bobby Doerr, and Ted Williams. According to teammate George Myatt, "We had a quartet on the club — Vince DiMaggio, Red Campbell, Berlyn Horne, and another player — and they sang 'Those Wedding Bells are Breaking Up that Old Gang of Mine.'"14 Williams was fresh out of high school, where he was a star pitcher. "Frank [Shellenback], our manager, made an outfielder of Ted," said Horne. "He always had a bat in his hand and carried a bat on the train on our trips in the Coast League."15
Horne added that Williams "liked to eat and wanted to go eat with the older players so he could get our desserts, three or four extra desserts after our evening meals."16
In 1938, at the age of 39, Horne finished his professional career. He played for the Vancouver Maple Leafs and the Yakima Pippins in the Class B Western International League, with an overall record of 12-8 and an ERA of 3.91. Over the course of his 21-year minor-league career, Horne pitched 3,726⅓ innings in 676 games, with a record of 229-211 and an ERA of about 3.50 (statistics for earned runs in 1931 and 1932 are incomplete).
Horne and his family settled in California, where he worked as a carpenter. Horne's daughter-in-law Joan Scott said, "As a person, I found him to be delightful. He loved his son and his wife. He was never a large wage earner but was hardworking and steady in his company, Virtue Brothers furniture manufacturing in Torrance, California. The family were Republicans and Christian Scientists. Their home was modest, but warm and welcoming."17
After his wife died of colon cancer in 1957, Horne moved to Arcanum, Ohio, and later cared for his ailing mother, who died in 1977. As a child, writer Roger Snell walked past Horne's house on his way to and from school. "He lived five doors down the street," Snell recalled. "He often would be on his front-porch swing, listening to the Reds on [the] radio. I'd chat with him a little, and in the course of discussion I learned he played professional ball."18 Snell later described the baseball career of this "quiet and kindly gentleman"19 in his 2009 book on Charlie Root and the 1929 Cubs.
In 1981, while Horne was living in Franklin, Ohio, a bank awarded him two tickets to the World Series as part of a contest, but an arthritic hip made traveling difficult. Horne showed up at the bank in his Cubs warm-up jacket and chose a 19-inch color television so that he could watch the Series at home.
On February 3, 1983, Horne died in Franklin from complications of atherosclerosis; he was 83 years old. Nephew Andrew Kopp scattered his uncle's ashes from a plane over Bachman, Ohio. In a postcard to his family, Kopp wrote: "I took Berly on his last flight. … He wanted me to tell you that he is resting peacefully."20 As noted by Roger Snell, the postcard was postmarked February 14, 1983 — exactly 54 years from the day Horne boarded a westbound train from Chicago toward spring training with the Cubs on Catalina Island.
On file at the Baseball Hall of Fame is a survey that Horne filled out when he retired from professional baseball. When asked if he would do it all again, he responded, "Absolutely!"21
Sources
Snell, Roger, Root for the Cubs: Charlie Root and the 1929 Chicago Cubs (Nicholasville, Kentucky: Wind Publications, 2009).
Ancestry.com
Baseball-Reference.com
Retrosheet.org
Notes
1 Terry Baver, Franklin (Ohio) Chronicle, February 9, 1983, cited in Roger Snell, Root for the Cubs: Charlie Root and the 1929 Chicago Cubs (Nicholasville, Kentucky: Wind Publications, 2009), 231.
2 Snell, 119-120.
3 Snell, 121.
4 Al Nickerson, Boston Sunday Advertiser, 1929 (date unknown), cited in Snell, 122.
5 Snell, 122.
6 Terry Baver, Franklin (Ohio) Chronicle, August 5, 1980, cited in Snell, 122.
7 Ibid.
8 Edward Burns, Chicago Tribune, February 17, 1929.
9 Ernest J. Lanigan, "Fanning with Lanigan," August 15, 1929, cited in Snell, 158.
10 Snell, 159.
11 Ibid.
12 Snell, 160.
13 Snell, 230.
14 William G. Swank and James D. Smith III, "This Was Paradise: Voices of the Pacific Coast League Padres, 1936-1958," Journal of San Diego History, Winter 1995.
15 Snell, 230.
16 Ibid.
17 Joan Scott, personal communication with the author, August 2013.
18 Mike Curtin, "Cubs Star 'Nobody Knows' Given His Due Decades Later," Columbus (Ohio) Dispatch, April 14, 2009.
19 Snell, 2.
20 Snell, 231.
21 Snell, 2.
Born
April 12, 1898 at Bachman, OH (USA)
Died
February 3, 1983 at Franklin, OH (USA)
If you can help us improve this player's biography, contact us.
http://sabr.org/sites/default/files/TraderHorne.JPG
600
800
admin
/wp-content/uploads/2020/02/sabr_logo.png
admin
2012-01-04 20:42:07
2020-10-14 16:36:32
Trader Horne