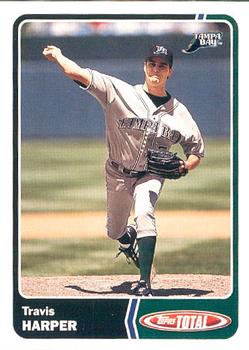 ---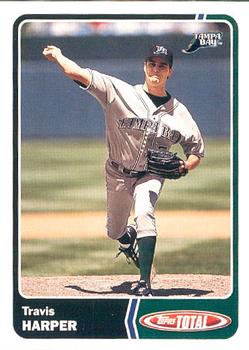 One could learn a lot by looking at the career of Travis Harper — persevering, overcoming obstacles, and achieving success when the plan goes awry. Harper faced more than one obstacle en route to the major-league career he dreamed of while growing up in rural West Virginia.
On May 21, 1976, Harper became the second of four children born to Orville Harper, a school teacher and long-time baseball coach at Circleville High School, and Barbara, a child support specialist with the West Virginia Department of Health and Human Resources. Travis was born in Harrisonburg, Virginia, which held the closest hospital to his hometown of Riverton — an unincorporated hamlet located about a half-hour from Spruce Knob in the heart of the Monongahela National Forest on U.S. 33 in the state's eastern panhandle. The only boy, his siblings were sisters Valerie, Bridget, and Kellen.
"When he was growing up, it was always, 'Dad, can we throw? Dad, can we throw?'" said his dad, who played baseball at Glenville State College. "He would throw the ball off the house until I had to tell him to stop. By the time he got to high school, I never really had to teach him anything."1
Travis had begun making a name for himself in athletic circles by the time he entered Circleville High. He was a three-time Class-A all-state basketball player, scoring more than 1,600 points in four years with the Indians. His coach asked if Travis would be interested in considering basketball scholarship offers from some smaller Division II schools. Travis, however, knew his future was on the baseball diamond. "The conversation was just, 'Are you interested?' Clearly baseball was where I was more talented," Travis said. "It was an easy decision."
Scouts don't exactly carpool to Circleville, where Travis' graduating class was a mere 35 students. Pitchers who dominate on the small school level in West Virginia rarely display the poise and talent that the young lanky right-hander had in the early 1990s. But thanks to some dominant play in American Legion baseball games, word of his abilities quickly spread, and the scouts started to dust off their West Virginia road maps.
"Growing up, I never considered being from West Virginia or from a small high school as being a limiting factor," Travis said.
"It just was not an obstacle. If you can play, you can play. Maybe I didn't know how things worked. But I never had a problem of dreaming that I would someday play in the big leagues. My parents always supported my dream. I didn't grow up with the thought that I was dreaming something that was not realistic. I knew it would be hard, but that's why you dream. I liked to dream of how I would be successful, not the thousands of ways I could fail."2
As a junior, Harper helped the Indians reach the Class-A semifinals at Watt Powell Park in Charleston. It was in that game against Ceredo-Kenova High School where Orville recalled first seeing his son show any emotion in a baseball game. "We had a 2-1 lead going into the last inning," Orville said. "We made an error, and then they got a hit and we lost."3
The Indians returned their entire 11-man squad for the 1994 campaign. By then, each time Harper would toe the mound, scouts would be in the bleachers. (Orville Harper recalled that the presence of the scouts never seemed to faze the young pitcher, saying "I guess he was just focused on his catcher.") Orville said the team was comprised of several good athletes, but the talk never revolved around returning to the state tournament. "Our big advantage was with having only 11 kids, nobody complained about not playing," he said.4
Circleville continued mowing down the competition during that 1994 season, led by Travis's pitching. On April 26, Harper fired a no-hitter striking out 15 of the 16 batters he faced in a 10-0 victory over Tucker County. His teammates Derek Cooper and Tim Raines combined for another no-hitter that same day in a 19-0 win over county rival Franklin High School.5
A few days later, Harper was even better: he threw a perfect game against Class-AA Berkeley Springs fanning 17 of the 21 batters to face him. On May 13, Harper threw his third no-hitter of the season in an 8-1 win over Peterstown. Earlier in the month he had announced his intentions to attend James Madison University on a baseball scholarship, turning down offers from West Virginia University and Duke.6
But just when things began falling into place, tragedy struck. In the pre-dawn hours of May 15, he was returning home after dropping his prom date off following a gathering at the Circleville Community Center. According to police reports, Harper was severely injured in a one-vehicle accident along West Virginia Route 28. The state police report stated that Harper reportedly lost control of his car in a curve, went up an embankment, and struck a tree. The report indicated that Harper had apparently dozed off while driving, and that no alcohol was involved in the accident. He was taken to Grant Memorial Hospital in nearby Petersburg, then transferred to the University of Virginia Medical Center in Charlottesville where X-rays revealed fractured vertebrae in his lower back. His senior season, one in which Circleville would finish undefeated and go on to win the Class-A title, was over.7
"It was disappointing," Travis said. "That's just life happening. My thoughts were just to get healthy so that I could resume the process again. You hope to return to full health. I wasn't nervous about it. It's just a good example of how things don't always go the way you thought they would. People way more successful than me have faced bigger obstacles. You just have to maneuver around them."8
Despite Travis' shortened season, the West Virginia Sports Writers Association still saw fit to name him prep baseball's state player of the year. He finished 7-0 with a 0.46 earned run average with 107 strikeouts and only four walks in 46 innings. Plus, he batted better than .500, resulting in his selection as the state's top player over Magnolia's Mark Cisar — who pitched for six seasons in the Boston Red Sox organization; and Wayne's Jon Adkins — who pitched for four teams in six major-league seasons. In four years at Circleville, Harper had a 27-5 record, an earned run average of 0.88, and 407 strikeouts in 207 innings. He surrendered just 68 hits.
"As an individual, this award means a lot," Harper told his hometown newspaper, the Pendleton Times. "Coming from a small school where it's harder to gain recognition, it means even more. The injuries made it tough for me, but when you're an athlete, things are going to happen. It's something you have to deal with. I'm proud of the guys. I watched them at the regional and the state tournament, and they did a great job. I'm proud of them. They deserve a lot of credit. They proved we were not a one-man team."9
Even with the injuries and the uncertainty of a pitching future, the New York Mets took a chance on Harper, drafting the righthander in the 14th round of the 1994 draft. Harper, however, honored his previous commitment to James Madison University. "I'm sure my college offers were limited because of where I was from," Travis said, noting that the Colonial Athletic Conference games were easier for his family to attend and games were played in warmer weather. "It was different back then. There were no videos, no YouTube. At the end of the day, my comfort zone was in Harrisonburg."
After three seasons as a member of the Dukes' pitching staff Harper had a 20-10 record with a 4.08 earned run average. He also played with the Harrisonburg Turks of the Virginia-based Valley League during which the Boston Red Sox selected Harper, who had filled out to 190 pounds on his 6-foot, 4-inch frame, with their third-round pick in 1997. Because of the number of innings (88) he had thrown for James Madison as a junior, Harper wanted to take some time off. He reported to the Red Sox for a physical examination and was given a clean bill of health. After agreeing to a contract, however, he encountered yet another obstacle at the Red Sox spring training camp in Fort Myers, Florida. "I had thrown entirely too many innings without a pitch count in my junior year," Travis said. "I was done for the season. I took a couple of months off, so it was difficult to get it going when I went to Fort Myers."10
The Red Sox brass was less than thrilled with what it was seeing, and team officials tried to void Harper's contract by citing a pre-existing condition — despite their own doctors offering no such evidence of any issues. Harper said the Red Sox had been burned in the past by draft picks, so he believed he was paying the price for history. He later told West Virginia Metro News he thought the actions of the Red Sox "ridiculous and unwarranted. . . .I still remember well the disrespect showed to my family and myself at that time," he said. "It really felt like a crazy ride, and I hadn't even pitched one inning of professional baseball yet."11
Harper filed a complaint with major-league baseball, and a confidential settlement was eventually reached, one in which Harper was granted free agency and allowed to sign with any team. He chose the Tampa Bay Devil Rays in the spring of 1998, thinking the younger team offered a better path to his dream of reaching the majors. "It wasn't exactly the way you want to start your professional career," he said. "But I was ready to go and was throwing great."
Tampa Bay assigned him to the Hudson Valley Renegades in the short-season New York-Penn League. He had a 6-2 record and 1.92 earned run average appearing in 13 games, with 10 starts, 81 strikeouts, and only 38 hits surrendered in 56⅓ innings. Hudson Valley reached the playoffs but fell in the first round to Oneonta.
His performance in short-season ball and during 1999 spring training prompted the Devil Rays organization to move him to the Class-A Florida State League with the St. Petersburg Devil Rays. Harper performed admirably immediately. In 14 starts he went 5-4 with 3.43 earned run average and 79 strikeouts in a little more than 81 innings. The Devil Rays promoted him to their more inland Florida affiliate at Orlando in the Class-AA Southern League and more success followed. He wound up with a 6-3 record in 14 starts and struck out 68 in 72 innings.
Harper began the new century in Orlando, but not for long. After winning three of his first four games with a 2.63 earned run average in nine starts, Harper was summoned to the Devil Rays top farm team, the Class-AAA International League's Durham Bulls. There he made 17 starts, finishing with a 7-4 record. Harper had turned in a solid season with the Bulls, and in August, he received that long-awaited call to the parent club. He was penciled in to start on August 4 against the Baltimore Orioles at Tropicana Field in St. Petersburg.
He surrendered a single to the first batter, Baltimore's Brady Anderson. A Melvin Mora double scored Anderson but Harper fought through the struggles, retiring Delino DeShields on a fly out, striking out Albert Belle, and getting Jeff Conine on a line out. Harper was touched for three runs on three hits in the second inning, which ended mercifully when catcher John Flaherty threw out Mora trying to steal. The third began with back-to-back solo homers from DeShields and Belle. Two outs later, Harper gave up another hit and was pulled. His debut line wasn't pretty: 2⅔ innings pitched, eight hits, seven runs, and two strikeouts. He didn't figure into the decision, as Tampa Bay staged a late rally before falling to the Orioles 10-9. "My debut against the Orioles was a disaster," Travis said. "I did not throw well. I was not comfortable. I wasn't sure if I was ready, and I wasn't. I immediately got demoted back to Triple-A after the game."
He bounced back in the International League and was promoted back to Tampa Bay when the rosters expanded in September. He took the loss in a relief appearance at Cleveland on September 6 and followed with a no-decision in a start five days later against Oakland. Another loss followed on September 19 in a start against Seattle. It appeared his chances were dwindling when he got the start on the road against the Toronto Blue Jays on September 24 at the Sky Dome. What followed was one of the top pitching performances in the brief history of the Rays. "I just wanted a solid outing," he said. "I wasn't dreaming of no-hitters that night. It just came together."
Harper battled Steve Trachsel throughout the contest, each pitcher putting up goose eggs through the first five innings. Though the Devil Rays threatened often, Trachsel was able to get out of the inning each time. On the other side of the ledger, Harper thwarted the Blue Jays in their efforts to reach base allowing just one hit, a single, and a walk through the first six innings. Tampa Bay scored twice in the sixth. Teammate Flaherty's three-run homer in the eighth inning gave Harper much-needed breathing room, and Tampa Bay won 6-0 on the strength of a two-hit, complete-game shutout by the rookie right-hander.
Harper started the 2001 season on the Devil Rays' roster, but returned to Durham after struggling early in two starts. He turned in a solid season again with the Bulls, going 12-6 with a 3.70 earned run average in 25 starts. Another September call-up wasn't to be, and he found himself back home. "It was disappointing," he said. "I was changing my style of pitching. I went from having a four-seam fastball and an east-west type of pitching to developing a two-seam sinker. I found I could be more consistent with that style of pitching. It lent itself more to being in the bullpen because I could be more aggressive and really go after the hitter. I had always been a starter in college and in the minors, and I know being a starting pitcher is more glamorous and you make more money. I didn't care about that. That didn't matter. I just wanted to play in the big leagues."12
After a brief stop in Durham to start the 2002 season, Harper was summoned back to the parent club to be a part of its relief corps. On April 27 in Boston, he fanned four consecutive Red Sox batters before giving up a hit. He left that runner stranded when he coaxed Manny Ramirez to pop out to right field. On May 8, he struck out seven of the 18 batters he faced in a relief effort against the Yankees. However, it was June 18 in a game against the Giants in San Francisco that he found himself unwillingly thrust into the limelight again.
After coming into the game in the eighth inning with his team leading comfortably, Harper quickly set down the Giants in order. In the ninth with one on and one out, Harper buzzed the Giants controversial superstar Barry Bonds in a way that Bonds took issue. Bonds started toward the mound, pointing at Harper as the benches emptied without further incident. Bonds said after the game that he had been dodging too many pitches to that point of the season, even going as far as to accuse his own pitchers of failing to protect him. "I just had a lot of build-up," Bonds said. "Too many balls have been thrown at me in one year, and that's enough. I just couldn't take it anymore. It probably wasn't an intentional pitch. When balls get thrown at you quite a bit, eventually you're going to get upset."13
Harper said after the game that he understood why Bonds was upset. But with having an 8-3 lead, he was definitely not trying to put runners on base. When order was restored, Bonds grounded into a force play, and Harper got Jeff Kent to fly out to end the game.
"Things happen," Harper recalled. "When it involves a mega-star like Barry Bonds, it gets more attention. I was excited to be able to compete against him, and one got away from me. I have to stand up for myself. But it was not that big of a deal. He just looked at me. I didn't want to fight him, and he didn't want to fight me — not that he was scared of me. There just wasn't any intent to hit him."
Harper had appeared in a then career-high 37 games, including making seven starts, and he notched his first save and went 5-9 with a 5.46 earned run average.
Harper also had other reasons to celebrate 2002, marrying his high school sweetheart Tiffany Judy. She was a standout basketball and volleyball player, cheerleader, and valedictorian of their graduating class. Judy was studying to be a doctor at West Virginia University while Travis was playing baseball. The marriage has produced daughters born about four years apart: Leia (2003) and Alayna (2007).
Spending the entire 2003 season on the Devil Rays' roster, Harper appeared in a career-high 61 games and tossed another career-best 93 innings out of the bullpen, marking the first time in his professional career that he had a season without a start. He finished 4-8 with a save and another career-best 3.77 earned run average. He followed in 2004 with a 6-2 record in 52 appearances and a 3.89 earned run average. But all those appearances were beginning to take their toll on his right arm. A series of injuries began popping up, forcing him to shut down his pitching at various times.
Those same arm issues affected his final two seasons in professional baseball. He again appeared in 52 games in 2005, tossing just over 73 innings and finishing 4-6 record but seeing his earned run average balloon to 6.75. Harper tried dealing with his shoulder pain through rehabilitation in 2006, pitching 42 innings over 30 games, the fewest innings he had pitched in a season at the major-league level since he shuttled back and forth between Tampa Bay and Durham in 2001. He won both of his decisions that season and improved his earned run average to 4.93.
"Durability had always been one of my strengths, being able to come out of the bullpen when I was needed," he said. "Unfortunately, there's a lot of wear and tear associated with that, and it caught up to me. The last two years of my career, there was some deterioration, and I was not a healthy pitcher. I wasn't complaining because a lot of guys play hurt. There's not much you can do about that."
But his exercises and rehabilitation program proved ineffective, and surgery was the only option. The doctors were surprised by the amount of damage to his labrum, and that he was even able to pitch through the issue. The injury required reattachment surgery "The surgery was not just to clean things up," he said. "There was a lot of damage we didn't know about. Not many guys pitch with five or six tacks in their labrum."14
Harper again tried to use rehabilitation to return to the mound for the 2007 season but was unsuccessful. After being out of the game for more than a year and being told by several doctors that additional surgeries would not help, Harper felt retirement was the only option. "Everything that deals with throwing a baseball in there was just worn out," he said in a 2008 interview with the Pendleton Times. "You can only patch it up so many times, and that's where we're at."15
Harper had to overcome injuries, accidents, contract disputes, a rough debut, and demotions on his way to realizing his childhood dream of having a professional baseball career. He appeared in 240 major-league games, going 22-29 with two saves during his career with Tampa Bay, a career that saw several obstacles and setbacks that could have derailed those lacking his determination. Hall of Famers Vladimir Guerrero (a career .318 batter) and Frank Thomas (.301) went 0-for-4 against Harper, and Ichiro Suzuki (.311) was 0-for-7. Hall of Famer Derek Jeter (.310) batted a mere .174 against Harper, scratching out just four hits in 23 at-bats and fanning four times.
So as one dream was ending, another was starting to take shape. With his baseball career over, Harper became a stay-at-home dad to his two young daughters so his wife could pursue her dreams of being a doctor. She practiced in Morgantown, West Virginia, until 2017, when the family moved to Martinsburg, so Tiffany could begin a practice there. He had a few offers to stay in baseball but decided against it.
"I wanted to be a dad," he said. "I wanted to support [Tiffany's] dream and be there for my kids. That's what I've been doing since 2007. I wanted to be there with them on evenings, weekends, and holidays. Every now and then in February, I'll get a memory of how nice the weather is in Clearwater at that time of year. But I don't want my attention split, and I'm not willing to give this up. Staying in baseball didn't line up with what I was wanting to do. Nobody is looking for a pitching coach on Tuesdays from 10 to noon. I'm very fortunate to be in a position to do this."16
Last revised: May 12, 2020

Acknowledgments
This biography was reviewed by Bill Nowlin and edited by Tom Schott, and fact-checked by Bill Lamb.
Sources
In addition to the sources cited in the Notes, the author also accessed Retrosheet.org, Baseball-Reference.com, and the Colonial Athletic Association's website CAAzone.com.
Notes
1 Telephone interviews with Orville Harper, January 31, February 4, 2020
2 Telephone interview with Travis Harper, February 5, 2020.
3 Orville Harper interview.
4 Orville Harper interview.
5 "Indians, 10-0, Win Two No-Hitters in One Day," Pendleton Times (Franklin, West Virginia), April 28, 1994.
6 "Harper Pitches Perfect Game with 17 Strikeouts," Pendleton Times, May 5, 1994.
7 "CHS Pitcher Travis Harper Injured in Accident," Pendleton Times, May 19, 1994.
8 Travis Harper interview.
9 "Sports Writers Name Harper Baseball Player of the Year," Pendleton Times, July 7, 1994.
10 Travis Harper interview.
11 Ernie Galusky, "Hoping Lightning Strikes Twice," West Virginia Metro News, November 26, 1997.
12 Travis Harper interview.
13 "Bonds says he'll take matters into his own hands," ESPN.com, June 20, 2002.
14 Travis Harper interview.
15 "No Major League Comeback for Harper," Pendleton Times, September 11, 2008.
16 Travis Harper interview.
Born
May 21, 1976 at Harrisonburg, VA (USA)
If you can help us improve this player's biography, contact us.
https://sabr.org/sites/default/files/HarperTravis.jpg
600
800
admin
/wp-content/uploads/2020/02/sabr_logo.png
admin
2012-01-04 20:03:43
2020-06-30 09:26:26
Travis Harper