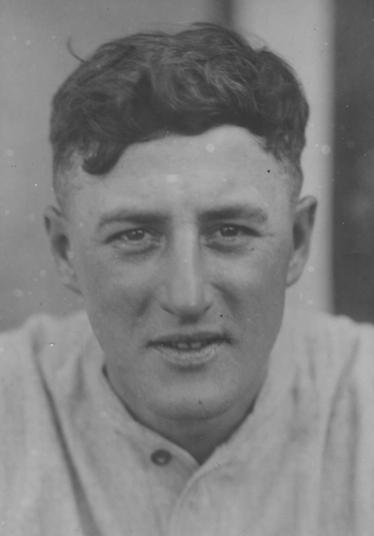 ---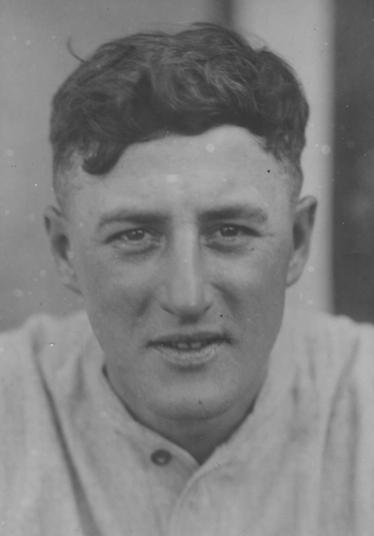 A journeyman who spent parts of seven seasons in the American League, Wally Mayer joined the Red Sox in 1917 and spent two campaigns as a reserve catcher. Although he did not appear in the 1918 World Series, "Kid" Mayer did help Boston get there by smacking a pair of 12th-inning game-winning hits against AL runner-up Cleveland.
A light hitting, fine fielding backup backstop, the 5-foot-11, 168-pound right-hander batted .193 in 132 big league games in a career that also included stints with the White Sox and Browns, in addition to several successful minor league stops. Although he saw scant action in the major leagues, Mayer was a durable and capable catcher, and a solid hitter with an ability to draw walks in the minor leagues.
Over seven seasons in the major leagues, Mayer played in 132 games, batted .193 with 14 doubles, three triples and no home runs, drew 42 walks, drove in 20 runs and scored 22. As a minor leaguer, he appeared in more than 1,300 games between 1911 and 1928, collected more than 1,000 hits, drew more than 600 walks, and scored nearly 600 runs.
Walter A. "Wally" Mayer was born July 8, 1890 (although one source lists his birth date as August 3, 1889), in Cincinnati. The Queen City boasted 296,908 residents that year, a rich heritage of German immigration, and a powerful baseball tradition. Mayer's parents, Julius, a lithographer, and Mathilda, had moved to Cincinnati from Wartenburg, Germany, separately in the early 1880s, married shortly after their arrival, and became U.S. citizens in 1888. They had three children, sons Julius Jr. and Walter, who both apprenticed in the printing business as teenagers, and Vera, who became a piano teacher and later a railroad stenographer. While Julius Jr. followed his father into the printing profession that the elder Mayer had learned in Germany, young Walter was more engaged in Cincinnati's American tradition, baseball.
In 1911, Mayer burst into professional baseball 90 miles south of Cincinnati with Paris, Kentucky, of the Blue Grass League. Just 20 years old at the start of the season, Mayer led the league with a .352 batting average in 114 games, and fielded at a .969 clip. At the end of the season, he was released to Minneapolis of the American Association, which turned around and sold the young catcher to the Chicago White Sox, managed by future Hall of Famer Hugh Duffy.
Mayer made his major league debut at the age of 21 on Thursday, September 28, 1911, at Boston's Huntington Avenue Grounds. He went 0-for-3 in his only appearance of the season, but drew two walks in Chicago's 6-3 loss to the Red Sox. He made seven putouts, recorded two assists, and committed an error. Under the headline "Mayer Plays Good Game," the next day's Chicago Tribune reported, "Walter Mayer, a young catcher secured by the Duffites from the Paris club of the Blue Grass league, made his first appearance in big league clothes. His clothes, at that, were slightly out of fashion, being of a vintage used by the White Sox years and years ago. Despite the deep purple of his uniform, the Kentuckian played a nice game behind the plate. He pegged swiftly to second twice in time to nail would be stealers and gobbled up a couple of hard fouls." Kentucky, of course, is across the Ohio River from Cincinnati, and Mayer was an Ohioan, not a Kentuckian.
Young Mayer made the White Sox roster again for new player-manager Nixey Callahan in 1912, but rode the pine for nearly the entire year, behind veterans Walt Kuhn and Billy Sullivan. Callahan did use Mayer in nine games, but the youngster collected nothing more than a walk in 10 plate appearances, and scored a run. He donned a catcher's mask in six games, handling 13 putouts and an assist, with a pair of passed balls. Any thought Mayer may have had about being the White Sox catcher of the future was dispelled during the final two months of the season, when Ray Schalk arrived on the scene as a 19-year-old and played the first 23 games of a Hall of Fame career.
With Schalk entrenched at catcher and Kuhn as his backup, Mayer wasn't needed by the White Sox in 1913, though he did appear on "the First Published List of the Members of the Baseball Players' Fraternity, Embracing 296 Names." The player union's member list was published in Baseball Magazine and also included Grover Cleveland Alexander, Ty Cobb, Eddie Collins, Christy Mathewson, Tris Speaker, and Hans (Honus) Wagner. "A large number of the members of the Fraternity are now wearing a pin as an insignia of the organization," the article said. "It is of gold with enamel face representing two bats crossed and at their juncture, a ball of unique workmanship. The whole makes a very neat and attractive piece of jewelry."
Neither the jewelry nor the Fraternity could keep Mayer in the majors, and he was optioned to Birmingham in the Southern League before the 1913 season started. There he batted .270 and fielded a nifty .984 in 112 games, and was recalled in August, along with pitcher Bill Prough, a 20-game winner for the Barons.
"The star Birmingham battery, Prough and Mayer, has been secured by the Chicago American League Club," the Atlanta Constitution reported on August 14. "Exercising an optional agreement, Walter Mayer, the young Barons catcher, was regained for $1,500. When Chicago placed Mayer with the Barons club, a blanket option was exacted for the choice of (another) player for $3,500. Prough's wonderful pitching attracted the attention of the White Sox, and he was chosen. Mayer has starred with Birmingham since his entrance into the Southern, batting .271 and fielding at a merry clip. He seems to be about the best in the league. It is not known whether the players will report at the close of the season or next spring."
Neither player made an appearance for Chicago in 1913, though Mayer saw action of a different kind during the off season in his hometown. "Walter Mayer was a hero at a Salvation Army home fire in Cincinnati," Ring Lardner wrote in the December 17, 1913, Chicago Daily Tribune.
Mayer returned to Chicago in 1914, where he jumped ahead of Kuhn to serve as Schalk's understudy. And though he batted just .165, he did collect his first major league hit, when he went 2-for-5 on May 9, two years and 221 days after breaking into the American League. The 23-year-old Mayer achieved what would be major league career highs with 40 games played, 85 at-bats, and 14 walks. He also established career bests with 14 hits, seven runs scored, three doubles, a triple, and five runs batted in, marks that he would later match, but never eclipse, and he stole a base for the only time in his major league career. Mayer appeared behind the plate 33 times, recorded 137 putouts and 47 assists, committed six errors for a .968 fielding percentage, and took part in three double plays. Mayer also made his only major league defensive appearance in fair territory, turning in a putout and an error in one game at third base.
New White Sox manager Pants Rowland relied heavily on Schalk (who played in 134 of 154 games) in 1915, and Mayer split time with newcomer Tom Daly as the backup as Chicago moved up to third place behind World Champion Boston and Detroit. In July, after playing in two straight games, Mayer was featured in a photo in the Chicago Daily Tribune. The caption read, "Because of the difficulty of keeping the mask and shin guards off Ray Schalk, the other catchers on the White Sox staff have had little chance in the last two seasons." When he did see action, Mayer collected 12 hits, including a triple, in 54 at-bats for a .222 average, and drove in five. In 20 games as a catcher, Mayer fielded .990, well above the league's .965 mark for catchers.
That wasn't enough for Rowland to keep Mayer around in 1916. At the age of 25 and no longer a prospect, Chicago released Mayer to Milwaukee on April 22, and Milwaukee later shipped him to St. Paul, both in the American Association. He appeared in 104 games for the two clubs, batted .210 in 328 at-bats, smacked two homers, drove in 84 runs, and stole 12 bases. In 93 games as a catcher, he registered a .951 fielding percentage.
Mayer moved east to Providence of the International League in 1917, where he appeared in 79 games, 78 of them behind the plate, batted .291 with a pair of home runs, and stole eight bases. Behind the plate, he was superb, making 345 putouts, collecting 105 assists, and making nine errors, a fielding percentage of .980. Mayer hit an inside-the-park home run, the result of a collision between two Baltimore Orioles outfielders, on September 6, shortly before he reported to Boston to consummate an August 11 deal in which Red Sox sent pitcher King Bader to Providence in exchange for Mayer.
The transaction would come under question a year later, when the Providence Grays president, B.P. Moulton, who had purchased the team from Detroit Tigers owners Frank Navin and William Yawkey, sued National Commission members Ban Johnson and August "Garry" Herrmann. Moulton contended that the Boston club had actually issued a note to purchase Mayer, and that Moulton had obtained the note when he purchased the club. Moulton argued that when he attempted to collect from the Red Sox, the team used World Series proceeds to pay Navin and Yawkey, who still owned the Providence ballpark, and that the National Commission had allowed the payment to Navin and Yawkey to occur.
Meanwhile, Red Sox manager Jack Barry used Mayer in four 1917 late season games, and the 27-year old catcher collected two singles and five walks in 17 plate appearances, made 27 putouts and 19 assists.
Before the 1918 season started, the Red Sox acquired Wally Schang from the Philadelphia Athletics to share backup backstop duties with Mayer behind starter Sam Agnew. During the war-shortened season, manager Ed Barrow used Mayer in 26 games, and he collected 11 hits in 49 at-bats. In 23 games as a catcher, he fielded .964.
He also played a valuable role out of the lineup. "Mayer has been camping out in the bullpen all season," the Boston Globe commented, "his job being to get relief pitchers ready when Ed Barrow is going to rig the derrick on some wavering boxmen."
And while he played sparingly, Mayer did make an impact on Boston's pennant race with Cleveland. On July 9, he slammed a 12th-inning double that beat the Indians at Fenway Park, and on August 4, Mayer singled in the 12th inning to plate the winning run and secure Babe Ruth's 2-1 complete-game victory at League Park in Cleveland.
In between the two big hits, Mayer made a side trip. The United States had entered World War I earlier in the year. Eligible men were ordered to join the military or perform jobs that contributed to the war effort. Baseball was not designated as an essential industry.
On July 18, the Chicago Tribune observed that "Catcher Walter Mayer rejoined the Red Sox after a visit to his draft board at Cincinnati, where he was called for investigation. The board will let him know in a couple of days just how long he has to obtain another job."
It turned out that he had the rest of the shortened season. Baseball owners agreed to end the 1918 season on Labor Day, and the World Series started three days later, but not without turmoil. The Chicago Cubs and Boston Red Sox players, unhappy with how they would share the proceeds from the first four World Series games, engaged in an impromptu strike before Game Five, keeping fans waiting for an hour. The two teams backed down when challenged by baseball's governing body, the National Commission, led by Ban Johnson, and were vilified in the press.
"Both the Red Sox and Cubs wilted when the national commissioners stood pat and finished the world's series," the Chicago Daily Tribune reported in early October, "but the Red Sox wound up with a demand that the 10 per cent of their share of the receipts be devoted to 'local war charities' instead of being handed over to some national war chest, as was proposed. One of the former Red Sox already has absolved himself from that class. On his return from the world's series to Cincinnati Walter Mayer, the former White Sox catcher, who finished the season with Barrow's men, donated 10 per cent of his check to war funds in Redland."
While he may have done the required thing in that instance, Mayer joined teammates Joe Bush, Wally Schang, and Amos Strunk on a barnstorming tour after winning the World Series, billing themselves as "the Red Sox," which further irritated the National Commission. The commissioners canceled the tour and disciplined the quartet for attempting to achieve financial gain while the national pastime was shut down.
Later in October, Mayer conformed to the draft board's earlier orders. "Twenty Red Sox are in some branch of the active service, and that does not include any who entered shipyards at the conclusion of the world's series," I.E. Sanborn of the Chicago Daily Tribune reported. "Dutch Leonard, Paul Smith, Carl Mays, Fred Wilder, Walter Mayer, John McInnis, and William Pertica went into uniform by the draft route, several of them being allowed by their exemption boards to finish the world's series before reporting for duty."
With the end of the war in November came the end of military service for many of the men recently inducted. And while Mayer's patriotism was praised, his baseball skills at age 28 were not. "Mayer, a clever catcher who has been "third string man" for years in the big show, has been displaying much less class recently," W.A. Phelon of the Washington Post wrote. The Red Sox apparently agreed, and peddled Mayer to the St. Louis Browns for $5,000 on February 28, 1919. That season, Mayer matched his career high for hits with 14, including four doubles and a triple, walked eight times, and drove in five runs. In 25 games as a catcher, Mayer made 84 putouts, 33 assists, and five errors.
Mayer played his final game in the majors at the age of 29 on September 2, 1919, a 4-3 Browns loss to Cleveland at Sportsman's Park. He was one of four catchers to attend spring training with the Washington Senators the following year, but did not make the team.
He caught on with Minneapolis of the American Association and spent the next five seasons as the regular catcher for the Millers. Manager Joe Cantillon used Mayer 152 times during the 1920 season, and the backstop batted .271 with six home runs and 59 runs batted in, and led the league in chances accepted. Although he played in just 112 games in 1921, Mayer again led the loop in chances accepted with 691. He batted .277, with 6 home runs and 54 runs batted in for the Millers, who became the first American Association team to hit more than 100 home runs, and were not shut out the entire season.
Mayer's 1922 season was a tremendous display of durability and ability. A 31-year old at the start of the season, he appeared in 164 games, 163 of them behind the plate, catching in 98 percent of the team's games. He batted .317, socked 19 home runs, drove in 114 runs, led the league with 111 bases on balls, and struck out just 26 times. For the third straight season, he led the league with 889 chances accepted, and he fielded .983 for the season to lead the Millers to a second-place finish in the AA.
He played in 111 games for Minneapolis in 1923, batting .280 with four home runs and 59 RBIs, and the following year, at the age of 34, played in 96 contests, batting .265 with four homers and 26 RBIs for new Millers manager Mike Kelly.
In 1925, Mayer moved from Minneapolis to Little Rock in the Southern Association, where he hit just .206 with five home runs and 43 RBIs in 107 games. He batted .232 in 25 early season games in 1926 before the Travelers released him. Mayer finished out the season with Greenville, South Carolina, of the South Atlantic League, where he batted .296 with 10 homers and 38 RBIs in 83 games. He caught on with the Spinners again in 1927, and batted .200 with eight home runs and 34 RBIs in 88 games. Mayer closed out his career in organized baseball at the age of 38, starting the 1928 season at Greenville and finishing with Sally League rival Spartanburg, South Carolina, hitting .233 with seven home runs and 31 RBIs in 89 games with the two teams. A finger injury caused him to call it quits.
By the time of the 1930 United States Census, Mayer was living at the Hennepin Hotel, a boarding house in downtown Minneapolis. Although out of organized baseball for two years, he still listed his occupation as "ballplayer." Later, Mayer made his home at 408 Nicollet Avenue, 27 blocks north of the Millers' Nicollet Park at West 31st Street and Nicollet Avenue, and became a cigar store clerk.
In June 1950, Mayer was diagnosed with chronic pulmonary tuberculosis, and he entered the Glen Lake Sanitarium in Minnetonka, Minnesota, southwest of Minneapolis. He died there 18 months later, at the age of 61, on November 11, 1951. Separated from his wife, the former Myrtle Nelson (they married in 1923), at the time of his death, Mayer left as his only surviving relative Vera Bauer, a sister in Cincinnati. He was cremated at the Lakewood Crematory in Minneapolis, and his ashes were returned to Cincinnati, where a private funeral service was held.
Sources
Neft, David S., Richard Cohen and Michael Neft. The Sports Encyclopedia: Baseball 2004. 24th Edition. New York: St. Martin's Griffin, 2004.
Gillette, Gary, and Pete Palmer, The 2005 ESPN Baseball Encyclopedia. New York: Sterling, 2005.
Atlanta Constitution
Boston Globe
Chicago Tribune
New York Times
Washington Post
Doyle, Patric, "Wally Mayer", Old-Time Data
Hamann, Rex, "Workhorse Catchers of the American Association," The American Association Almanac, A Baseball History Journal, 1902-1952, Volume 1, Number 4, February, 2003
Lee, Bill, The Baseball Necrology: The Post-Baseball Lives and Deaths of Over
7,600 Major League Players and Others. Jefferson, North Carolina, McFarland & Company, Inc.,
2003
Roberts, Randy, editor, The Rock, the Curse and the Hub, A Random History of Boston Sports, Cambridge, Massachusetts, Harvard University Press, 2003.
Thornley, Stew, On to Nicollet: The Glory and Fame of the Minneapolis Millers, Minneapolis, Nodin Press, 1988.
Lost Ballparks, A Celebration of Baseball's Legendary Fields, Lawrence Ritter, Penguin Books, 1992
Green Cathedrals, Philip Lowry.
Minnesota Department of Health, Division of Vital Statistics, Certificate of Death 1951-5739, Walter Mayer.
Baseball Magazine
Minneapolis Morning Tribune
Minneapolis Star
www.stewthornley.net/millers
Special thanks to Stew Thornley and Rex Hamann.
Born
July 8, 1890 at Cincinnati, OH (USA)
Died
November 18, 1951 at Minnetonka, MN (USA)
If you can help us improve this player's biography, contact us.
http://bioproj.sabr.org/bp_ftp/images3/MayerWally.jpg
600
800
admin
/wp-content/uploads/2020/02/sabr_logo.png
admin
2012-01-04 20:37:01
2012-01-04 20:37:01
Wally Mayer