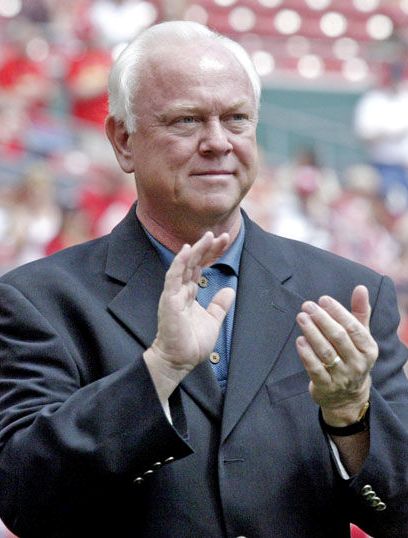 ---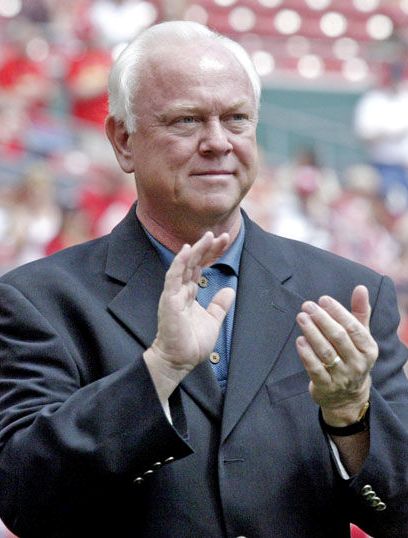 Cardinals have been a big part of Walt Jocketty's life. He grew up playing for the Marshall High School Cardinals, where his dad was a teacher and coach, in Minneapolis, Minnesota. Jocketty later became the general manager of the St. Louis Cardinals and built the team that won the 2006 World Series while twice being named Major League Baseball's Executive of the Year.
Walter Joseph Jocketty was born February 19, 1951, to Ruth and Joe Jocketty. Joe had attended Marshall High School in the 1930s and returned to his alma mater in 1953. At that time, Ruth began adorning the Jocketty home on 23rd and Talmadge avenues in southeast Minneapolis with a cardinal theme, including paintings and figurines. The high school, on the edge of the University of Minnesota campus, was central to the family. Ruth and Joe even named their youngest child, Marsha, after the school. In addition to Marsha, Walt has two sisters, Jane and Judy, and two brothers, Pete and Joe Jr. Combined with their dad's athletic prowess (he was a three-sport athlete at Marshall High School and Hamline University in St. Paul in addition to many years of coaching multiple sports), Pete, Walt, and Joe Jr. made the Jockettys one of the city's most notable sports families.
As a youth, Jocketty read The Sporting News each week and played the APBA (American Professional Baseball Association) table-top baseball game with a friend and classmate, Vic Perlsbach. In the process, he developed an interest and skills for eventually working in baseball administration. Jocketty also developed an affinity for the St. Louis Cardinals since he was able to listen to their games on radio before the arrival of the Twins in Minnesota and also because he thought "the Cardinals had the best uniforms in baseball."
In high school, Jocketty wrote a regular column for the school newspaper, sometimes covering the sports he played, which were football, basketball, baseball and hockey. On the diamond, he was a pitcher, relying on control to go with an assortment of pitches. Jocketty graduated from Marshall-University High School in 1969 (the school had merged with University High School in 1968) and pitched at a junior college, Metropolitan State in Minneapolis, before going on to the University of Minnesota, where he obtained a degree in business administration in 1974.
Already married (to a woman from neighboring St. Paul) by the time he graduated from college, Jocketty set his sights on a career in baseball. In 1974, he and many others hoping to find a job in the professional ranks, took a resume to New Orleans for the winter baseball meetings. He landed a position with the Iowa Oaks, the Class AAA team for the Houston Astros in 1975. Iowa returned to being a farm team for the Chicago White Sox the next year, and during that season, Jocketty first met Tony LaRussa, who played for the Oaks that season. In 1979, LaRussa managed Iowa for a half-season before getting the managing job with the White Sox.
Later in 1979, with a recommendation supplied by White Sox general manager Roland Hemond, Jocketty was hired by Charles O. Finley, owner of the Oakland Athletics, to become the A's director of minor-league operations. Jocketty and his wife, Sue, became friends with Oakland manager Billy Martin and his girlfriend (and future wife), Heather Ervolino, and Jocketty credits Martin with much of his baseball education, along with LaRussa, who became manager of the A's in 1986.
Jocketty is credited with overhauling the Athletics' minor-league system, which produced three players who became the American League Rookie of the Year, Jose Canseco, Mark McGwire, and Walt Weiss. With these players, Oakland won three straight American League pennants, from 1988 to 1990, as well as the World Series in 1989. During this time, Jocketty was also involved in the establishment of the Arizona Rookie League, designed for high-school and young Latin players.
Jocketty left the Athletics to become the assistant general manager for the Colorado Rockies under Bob Gebhard in 1994. He also was a candidate for the job as general manager with several teams, including Pittsburgh, San Francisco, and Texas. Although he didn't get the job with these teams, he was a top candidate in October of 1994 as the St. Louis Cardinals searched for a successor to general manager Dal Maxvill.
The choice came down to Jocketty and Philadelphia Phillies' general manager Lee Thomas. When Thomas decided to stay in Philadelphia and removed his name from consideration with the Cardinals, Jocketty got the job. Club President Mark Lamping said Jocketty might have gotten the job even if Thomas hadn't pulled out.
"Business fascinates me," Jocketty said when he was introduced as the St. Louis Cardinals' general manager. "The general manager's job has evolved to the point where it's not just evaluating talent any more. You have to be able to run a business."
One of Jocketty's recommendations to the Cardinals came from LaRussa. "He's a guy who had all the qualities," LaRussa said, "a lot of baseball background, business background, willing to take responsibility, had been mentored by really good people, Sandy Alderson [with Oakland], Bob Gebhard [with Colorado]."
During his first year with St. Louis, Jocketty fired Joe Torre as manager. At the end of the 1995 season, Jocketty hired LaRussa as manager, and the Cardinals responded in 1996 by returning to the postseason for the first time since 1987.
In 1997, on the final day before the trading deadline, Jocketty worked out a deal to get Mark McGwire from the Athletics for Eric Ludwick, T. J. Mathews, and Blake Stein. McGwire, who had hit 34 home runs at the time of the July 31 trade, and would hit 24 more for the Cardinals for a two-league total of 58, would be a free agent at the end of the year. That was the main reason Oakland was willing to trade him, but Jocketty was able to sign McGwire to a contract extension before the season ended. The following season, McGwire hit a major-league single-season record of 70 home runs.
Despite this, the Cardinals finished third in the standings, then fourth in 1999, and Jocketty went to work at retooling the team after the 1999 season. He traded for pitchers Darryl Kile, who would win 20 games in 2000, and Pat Hentgen, a former Cy Young Award recipient who went on to win 15 games for the Cardinals in 2000. His biggest deal came in March when he acquired center-fielder Jim Edmonds in a trade with the Anaheim Angels.
Edmonds's 42 home runs helped the Cardinals deal with the prolonged absence, due to injuries, of McGwire, and St. Louis won 95 games, 20 more than the previous season, to win the National League Central Division title in 2000.
At the end of the year, Jocketty was named the major-league Executive of the Year by The Sporting News. He also received the Andrew "Rube" Foster Award, as baseball's top executive, from the Negro Leagues Baseball Museum.
Jocketty received the Executive of the Year award from The Sporting News again in 2004, a year in which St. Louis won 105 games and made it back to the World Series. Although the Cardinals were swept by the Boston Red Sox, they went all the way two years later, winning the 2006 World Series. At the end of that season, Jocketty was elected to the Missouri Sports Hall of Fame.
Jocketty left the Cardinals after the 2007 season and in early 2008 was hired by the Cincinnati Reds as a special advisor to owner-chief executive officer Bob Castellini. In April of 2008, Jocketty was named general manager of the Reds, succeeding Wayne Krivsky.
Walt and Sue Jocketty have two children, Ashley and Joey.
Note
A version of this biography appeared in the book Minnesotans in Baseball, edited by Stew Thornley (Nodin, 2009).
Sources
Interview with Walt Jocketty, July 11, 2008.
Interview with Tony LaRussa, July 26, 2007.
Yearbook of Marshall-University High School, Minneapolis, 1969.
"Walt Writes . . . " by Walter Jocketty, The Judge, school newspaper of Marshall High School, Minneapolis, May 13, 1968, p. 4.
"Spring Provides Upward Surge of Energy for Players," Kaleidoscope, school newspaper of Marshall-University High School, March 28, 1969, p. 6.
"Marshall-U: Teams Drew Strength from Melting Pot Neighborhood" by Dan Stoneking, Minneapolis Star and Tribune, Friday, May 28, 1982, p. 1D.
"New Rookie League," The Sporting News, March 14, 1988, p. 41.
"Jocketty to Get GM Job: Thomas Tells Cards He'd Rather Be a Phillie" by Rick Hummel, St. Louis Post-Dispatch, Friday, October 14, 1994, p. E1.
"Jocketty Knew Arm Had Limited Potential" by Rick Hummel, St. Louis Post-Dispatch, Friday, October 14, 1994, p. E1.
"A True Cardinal, Walter Jocketty Finds a High Perch in St. Louis" by Patrick Reusse, Star Tribune: Newspaper of the Twin Cities, Saturday, October 15, 1994, p. 1C.
"Executive of the Year" by Ken Rosenthal, The Sporting News, November 13, 2000, p. 65.
"Joe Jocketty, Retired Minneapolis Prep Hockey, Baseball Coach, Dies at Age 83" by Tim Klobuchar, Star Tribune: Newspaper of the Twin Cities, February 17, 2001, p. 9B.
"He Shuffled the Cards and Dealt a Winning Hand: MLB Executive of the Year Walt Jocketty" by Stan McNeal, The Sporting News, November 15, 2004, p. 10.
"Cardinals GM Jocketty Has an Eye for Winners; A Builder of Strong Teams, a Championship Had Been a Dream Since He Was Growing up in Minneapolis" by Jim Souhan, Star Tribune: Newspaper of the Twin Cities, Sunday, October 29, 2006, p. 20C.
Born
February 19, 1951 at Minneapolis, MN (US)
If you can help us improve this player's biography, contact us.
http://bioproj.sabr.org/bp_ftp/images4/JockettyWalt.jpg
600
800
admin
/wp-content/uploads/2020/02/sabr_logo.png
admin
2012-01-08 21:23:16
2012-01-08 21:23:16
Walt Jocketty