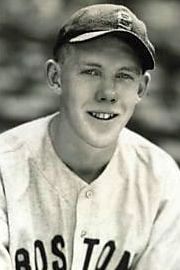 ---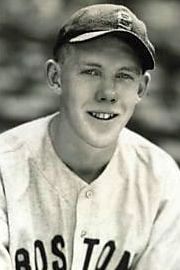 "By now, I've been around long enough not to be surprised at anything." That's what former pitcher Walt Ripley told newspaper columnist Ed Bridges in 1982.1 Ripley was talking about the sudden interest in his autograph at the time. After all, he'd only pitched in two major-league games, way back in 1935, both for the Boston Red Sox. And then, as he himself observed, he worked his way down the ladder of organized baseball.
There was a good and logical reason, however. His son, Allen Ripley, was a big-league pitcher at the time, and he'd worked for the Red Sox, too, in 1978 and 1979. A father/son pitching combination was something historic.2
Walt Ripley was born in Worcester, Massachusetts, on November 26, 1916. His father, Raymond, was a clerk in a drug store who lived in Grafton (at the time of the 1920 census) with his wife Ora (Bannister) Ripley. They had two children, Walter and Milton. Walt's grandmother Florence lived in the household, too, as did two boarders who worked in a nearby shoe factory.
By 1930, the family was living in Mansfield, Massachusetts. Walt went to junior high and then graduated in 1934 from Mansfield High School. He'd actually signed with Manchester in the Northeast League but never reported. "Went to school instead," he wrote.3 He also attended Deerfield Academy for a year of prep school. In 1930, Raymond had become a salesman specializing in rubber goods and Ora had taken a position as a saleslady in a jewelry store.
Walter graduated from Deerfield Academy in 1935 and attracted attention, throwing a one-hitter against Cushing Academy on May 3 while striking out 15. He also threw a two-hitter.
The Boston Globe said the 18-year-old right-hander had first been noticed by T. W. Hill, the manager of the Mansfield Town Team, then had starred under coaches Jim Kelly and Jack Carnie at Mansfield High, and for Coach Frank Boyden at Deerfield.4
Ripley was invited to join the team and pitch batting practice on an Eastern tour starting on July 27. "Cronin says Ripley shows plenty of promise," reported the Boston Globe. 5
Walt signed with the Boston Red Sox (actually, his parents signed the contract for him at Fenway Park) on August 6.6
His first appearance in a Red Sox uniform came in an August 12 exhibition game played in Battle Creek, Michigan, the Red Sox against the St. Louis Cardinals. Dusty Rhodes started for the Sox and pitched the first two innings. Ripley pitched innings three through six, allowing just one hit and that one baserunner. With a 6-0 lead heading into the bottom of the seventh inning, however, he walked two and gave up seven hits and saw St. Louis take an 8-6 lead. They won, 9-8.
His official debut came on August 17 in St. Louis, in the first game of a doubleheader with the St. Louis Browns. The Sox lost both games, 11-7 and 7-0. Ripley was the fourth of four Boston pitchers, coming into the game with the Red Sox down, 10-7. He worked the bottom of the eighth, giving up one run on two walks and one hit.
The only other game in which he appeared was for three innings. It was on September 11 at Fenway against the Chicago White Sox. Chicago had a 7-2 lead through six. Ripley pitched the seventh, eighth, and ninth, giving up three more runs in the top of the seventh on a walk to Luke Appling, doubles to George Washington and Jackie Hayes, and a single by pitcher Sad Sam Jones.
All in all, he only appeared in two games, both times in relief, for a total of four innings for the Red Sox. He gave up seven hits and three walks. His ERA rests at 9.00. Before he turned 20 — though he didn't know it at the time — he had completed his career in major-league baseball.
Ripley went to spring training with the Red Sox in 1936. He was placed with the Rocky Mount Red Sox (Class-B Piedmont League) and was 6-6 with a 4.77 ERA in 19 games but suffered an "ailing arm" and was unable to get in more work. He was placed on the voluntarily retired list.7 Ripley said he'd hurt his right shoulder "and never fully recovered use of same."8
He was on the reserve list for the Red Sox and signed with them again in early 1937.9 Initially, he was placed with Hazleton (New York/Penn League), but joined Danville of the Class-D Bi-State League in May.10 At the end of 1937, he was on Danville's reserve list.11 He was 5-6 with Danville (with a 5.40 ERA) in 1938; later in the year, he worked for the Welch Miners in the Class-D Mountain State League and was 4-8, with a 5.88 ERA.
At the end of February, 1939, Ripley was traded to the Moline Plow Boys of the Three-I (Illinois-Indiana-Iowa) League.12 With Moline, playing Class-B baseball, he improved his earned run average to 3.96. He was 8-12.
He began the 1940 season with Moline again, but split the season, also playing for Cedar Rapids in the same league. He was a combined 2-8, with a 6.96 ERA. Perhaps he felt it was time to pursue another career. Years later, he looked back on the time: "Kicked around minor leagues in the hopes that my arm would get better, but no luck. Loved the game and still do." He continued, noting that he had been "probably one of the few pitchers that started in the big leagues, age 18, and worked down to a Class 'D' league."13
He enlisted in the U.S. Army on March 15, 1941, 10 months before Pearl Harbor. Ripley served as a first lieutenant in the U.S. Army Air Corps during World War II, mustering out in January 1946. One note from Ed Bridges: "During World War Two He once picked up twenty bucks and a carton of Chesterfield cigarettes for pitching a game for a baseball team comprised of members of the Harry James Orchestra."14 Ripley himself added, "I also got to sit next to Betty Grable." Grable was Harry James's wife.
He is listed on the 1946 roster of the Pawtucket Slaters, but does not appear in team statistics.
In November 1949, he married Mary Elizabeth Sullivan. They had a daughter and three sons, one of whom was Allen Ripley, who also pitched for the Red Sox.
Later in life, Walt Ripley not only had a chance to see Allen break in with Boston. He had the opportunity to follow his son's entire major-league career through retirement. Allen, born in 1952 in Norwood, Massachusetts, became a pitcher, too. On April 10, 1978, nearly 43 years after Walt Ripley's Sox stint, Allen started for the Red Sox and went eight innings, allowing four runs "only one of which…was his total responsibility" wrote the next day's Globe. Two Jerry Remy errors extended the inning until he gave up a three-run homer to Andre Thornton. "He could have had a shutout. He pitched like hell," said Don Zimmer. "It's a shame to get pitching like that [and not win]," commented Carlton Fisk. When Ripley departed after eight, the score was tied. Reggie Cleveland yielded a run in the ninth and the Sox lost, 5-4. Allen Ripley won two and lost five that year. Had he won three and lost four, of course, there never would have been a single-game playoff for the pennant in 1978. Ripley was 3-1 the following year with about the same amount of playing time. He cracked 100 innings with the Giants in 1980 and played with them and the Cubs. His last year was 1982. With Boston, he was 5-6; lifetime he was 23-27 with an ERA precisely half that of his father: 4.50.
Did his father work with him on his pitching in the backyard? Tutor him in the ways of the game? Help him get signed with the Red Sox? We don't know. Allen was signed to the Red Sox by Lefty Lefebvre, who lived at the time in Seekonk, the next town over from where Allen played ball. Lefebvre saw him pitch, liked what he saw and signed him. Asked about Walt Ripley's involvement in the process, Lefebvre said, "I only met his father once, I think."15 We do know that Walt was often on ballfields around North Attleboro. In his obituary, it was written that "he attended a baseball or softball game nearly every day of the summer."16 Ed Bridges had written, "He can be found almost any night sitting up behind third base at McCoy Stadium in Pawtucket."17 Perhaps Walt had backed off and given Allen room to develop on his own.
There was definitely no active paternal involvement in the signing. Red Sox PR man Dick Bresciani confided that Allen fell in with some unfortunate company and got himself in some personal difficulties and pretty much chose to keep to himself. Allen Ripley died on November 7, 2014.
Walt Ripley died on October 7, 1990, at Sturdy Memorial Hospital in Attleboro, Massachusetts, after a long illness. He was survived by his wife, Mary, his daughter, Nancy Laviolette, and sons Raymond, Allen, and Walter Jr. As a military veteran, he is buried at Massachusetts National Cemetery in Bourne, Massachusetts.
Sources
In addition to the sources noted in this biography, the author also accessed Ripley's player file and player questionnaire from the National Baseball Hall of Fame, the Encyclopedia of Minor League Baseball, Retrosheet.org, Baseball-Reference.com, and the SABR Minor Leagues Database, accessed online at Baseball-Reference.com.
Notes
Born
November 26, 1916 at Worcester, MA (USA)
Died
October 7, 1990 at Attleboro, MA (USA)
If you can help us improve this player's biography, contact us.
http://sabr.org/sites/default/files/RipleyWalt.jpg
600
800
admin
/wp-content/uploads/2020/02/sabr_logo.png
admin
2012-01-04 20:19:13
2012-01-04 20:19:13
Walt Ripley