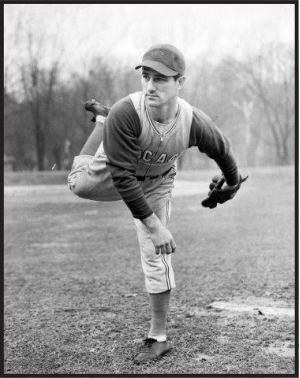 ---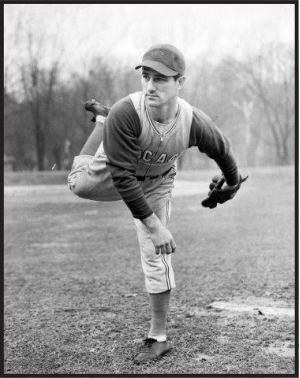 Signed by the Brooklyn Dodgers in 1933, right-handed pitcher Wally Signer quit baseball after five mostly injury-plagued seasons in the minors instead of accepting a demotion in 1938. Over the course of the next five years, the New York City native emerged as one of the best hurlers in the city's highly competitive semipro leagues. Signer parlayed his success, most notably with the Brooklyn Bushwicks, into another shot in the big leagues when the Chicago Cubs signed him during the wartime year of 1943. He went 2-1 for the North Siders as a September call-up. Out of Organized Ball in 1944, Signer was lured out of retirement by the Cubs again, and made the final six of his ten major-league appearances in the summer of 1945.
Walter Donald Aloysius Signer was born on October 12, 1910, in New York City, the first of two children born to Walter and Margaret Signer. The Signers raised Walter and his sister, Ruth, in Maspeth, a neighborhood located in western Queens, where the elder Signer rose to the rank of battalion chief in the fire department. The younger Walter was by all accounts an athletic child who played "baseball since he was old enough to hold a bat."1 A stalwart pitcher at St. Ann's Academy (now known as Archbishop Molloy High School) in New York City, Signer supposedly fashioned a record of 50 wins and just four losses during his high-school career, and also captained the school's basketball team.2 Upon graduating in 1929, he accepted a scholarship to attend New York University in lower Manhattan.  Signer played football, basketball, and baseball for the Violets, but after suffering a broken leg and two broken ankles on the gridiron and hardwood, he concentrated solely on baseball his senior year. He won 15 of 17 decisions during his collegiate career, playing for legendary coach Bill McCarthy, who piloted NYU for 40 seasons (1922-1961).
During his college years, Signer, whom most called Wally, developed a reputation as a "local sandlot legend."3 He fell under the tutelage of three former big-league pitchers, Jimmy Ring (who won 118 games and logged in excess of 2,300 innings most notably for the Philadelphia Phillies), Johnny Enzmann, and Hugh McQuillan (a former New York Giant with an 88-94 career record).  After Signer graduated from NYU in 1933, McQuillan took the 22-year-old to Ebbets Field in Brooklyn for a tryout with the Dodgers. Coach Otto Miller, a longtime Brooklyn backstop, caught the youngster and was impressed with his "smoking fastball" and "neat change of pace."4  Once Dodgers skipper Max Carey had a chance to see Signer throw, he encouraged Dave Driscoll, the team's business manager to sign him.5
In the late summer of 1933, the Dodgers assigned Signer to the York White Roses in the Class A New York-Pennsylvania League (NYPL). Facing more mature and experienced players, Signer struggled, winning two of five decisions and posting a 6.88 ERA in 51 innings. He also served as the Dodgers batting practice pitcher at Ebbets Field late in the season.
Assigned to the Class C Dayton (Ohio) Ducks of the Middle Atlantic League in 1934, Signer was sidelined with an illness in early July that affected his next two seasons. He had a record of 2-1 when his appendix ruptured, and he required immediate hospitalization.  He returned to the mound at the end of the season for the Hazleton (Pennsylvania) Mountaineers of the NYPL. 
After participating in his first big-league spring training with the Dodgers in 1935, Signer was assigned to the Reading (Pennsylvania) Brooks of the NYPL. Player-manager Zack Taylor, a highly respected former big-league backstop, was impressed with the 6-foot-tall hurler who tipped the scales at about 160 pounds. (He filled out to around 180 pounds later in his career.) "He has a fastball that takes off and when he throws the No.2 pitch the boys just give it a once-over," Taylor said, then added, "He isn't as small as he looks."6  Doc Silva of the Reading Times, however, reported that Signer was still suffering from a stomach ailment.7 Perhaps overcompensating for his ailing abdomen, Signer developed arm problems.  After logging just 33 innings and winning one of three decisions, Signer was shut down for the season and was placed on the "suspended list" so that the team could comply with the league's 15-player limit.8
Undeterred by his thus far injury-marred professional baseball career (which had limited him to a 7-7 record and 140 innings), Signer "paid his own expenses" to attend Brooklyn's spring training in Clearwater, in 1936. Dodgers beat reporter Tommy Holmes noted that the 25-year-old exhibited some "pretty neat right-handing in practice games."9  Signer was assigned to the Allentown Brooks (where Reading had relocated during the previous season).  Healthy for the entire season, Signer won nine consecutive decisions during one stretch en route to a 16-13 record for a for a fifth-place club. He also led the NYPL in ERA (2.96) in 243 innings, and was the hardest-to-hit hurler in the circuit (8.1 hits per nine innings).  The Dodgers, who added him to their 40-man roster in the offseason, were not the only club that noticed Signer's marked improvement. The Cincinnati Reds coveted him, and agreed in principle to send hot-hitting rookie infielder Lee Handley to Brooklyn in exchange for Signer, infielder Lonny Frey, and $12,500 cash; however, the transaction was voided when Commissioner Kenesaw Mountain Landis declared Handley a free agent.10
Described by the Brooklyn Daily Eagle as "one of the neighbor's children" in a "local boy makes good" story, Signer was part of a quartet of young New York City prospects (along with pitcher Harry Eisenstat, first baseman Buddy Hassett, and outfielder Nick Tremark) participating in the Dodgers' spring training in 1937. Propelled by what the paper called a "burning ambition," Signer exhibited "courage and determination" in overcoming his maladies to mount a serious challenge for one of the two probable open spots on new manager Burleigh Grimes's nine-man staff.11 But even though Signer's father was a friend of Dodgers owner Steve McKeever, the eager hurler was sent to Brooklyn's affiliate in the American Association, the Louisville Colonels. Signer struggled facing veteran players, the overwhelming majority of whom saw or would see big-league action, and was also plagued by an arm injury all season.  With eight starts among his 26 appearances, he went 2-7 and posted an unimpressive 5.02 ERA in 86 innings.12
After participating in his fourth spring training with the Dodgers, Signer was sold along with righty John Kimball to the Nashville Volunteers of the Class A1 Southern Association in 1938. Considering his sale a demotion, the 27-year-old hurler objected to his salary cut and abruptly quit Organized Baseball.13
Freed from formal contracts of professional baseball, Signer emerged as one of the best pitchers in New York City's tough semipro leagues, which featured an exceptionally high level of play. He pitched for a number of teams, including the Springfield Greys, the Bay Parkways, and the James Barton Nighthawks of the Metropolitan Baseball Association (MBA), as well as for a team sponsored by the NYC Department of Sanitation, where he worked, according to newspaper reports.
Signer's pitching career is most defined by his long association with the Brooklyn Bushwicks, often described as the "nation's most successful semipro team club."14 The name Bushwick referred to a densely populated, working-class neighborhood in northern Brooklyn; however, the team played its games at Dexter Park, just over the borough line in Queens.  Owner Max Rosner's club played single games on Wednesday and Friday nights and doubleheaders on Sunday. They often outdrew some big-league clubs, like the Philadelphia Athletics and Boston Braves, and regularly attracted in excess of 10,000 spectators to their doubleheaders. The club's payroll was said to be equal to those of the best minor-league teams (such as those in the American Association and International League). The constantly revolving roster typically consisted of former professional players, and even current big leaguers who were paid on a per-game basis. Babe Ruth, Lou Gehrig, Dazzy Vance, Waite Hoyt, George Earnshaw, and Joe DiMaggio were among those who donned a Bushwicks uniform. Playing about 80 games a year, the Bushwicks competed against other semipro teams, but the team's legacy stems from its games against Negro League and Cuban teams. In four seasons with the Bushwicks (1939-1942), Signer went 46-20 while also pitching for the Department of Sanitation.15 In 1940 he won 15 and lost just twice, and was named the most valuable player of the MBA.16
Even though Signer refused to report to the Dodgers' affiliate in the Southern Association in 1938, he did not stray too far from the organization. That same year he married Yolanda "Lola" Bavasi, whose brother Emil was better known as "Buzzy" (a nickname Lola gave to him).17 Buzzy Bavasi's 30-year association with the Dodgers began that year, too, when Larry MacPhail hired him as a front-office assistant. Signer trained with the Dodgers at their Clearwater camp in 1940 ("mainly to get in shape," reported the Brooklyn Daily Eagle), and was a fixture at Ebbets Field.18
When World War II began wreaking havoc on rosters throughout Organized Baseball, the fertile grounds of New York City's semipro leagues were an obvious place to look for experienced players. In March 1943 Signer got another shot in the big leagues by signing with the Chicago Cubs. Three other Bushwick teammates also signed with major-league teams: left-hander Bill Sahlin with the Cubs, shortstop Gar Del Savio with the Philadelphia Phillies, and catcher Tony DePhillips with the Cincinnati Reds.
"The reason Signer is back in the big show," wrote James J. Murphy of the Brooklyn Daily Eagle, "is [Cubs manager Jimmie] Wilson, who caught Bucky Walters in a post-season game at Dexter Park in 1940 after the Reds won the World Series, remembered the baffling stuff Signer had exhibited."19  Signer reported to French Lick, Indiana, where the Cubs held their spring camp due to wartime travel restrictions in place at the time.
Ironically, Signer was subsequently assigned to the team to which he refused to report five years earlier: the Nashville Volunteers, then affiliated with the Cubs. The elder statesman on the staff, 32-year-old Signer went 16-7, posted a 4.14 ERA in 187 innings, and helped guide the Vols to the league title.  He capped off his comeback season by tossing a complete-game victory and knocking in two runs in Game Two of Nashville's eventual playoff series victory over the New Orleans Pelicans.20
Signer finally realized his lifelong dream of becoming a big-league ballplayer when the Cubs called him up in September after the Southern Association playoffs.  He debuted against the St. Louis Cardinals as a starter in the second game of a doubleheader on September 18. Signer held the Cardinals (who had clinched their second consecutive pennant by winning the first game, 2-1) to seven hits, but gave up four runs (all earned) in a 5-0 loss at Sportsman's Park. After notching his first big-league victory despite giving up four hits and two runs in two innings of relief against the Philadelphia Phillies on September 23, Signer yielded just three hits in eight innings of relief against the New York Giants on September 28. But one of those hits was a tenth-inning home run by Johnny Rucker which gave the Giants a 9-8 lead. Andy Pafko's RBI single in the bottom half of the frame helped Signer avoid the loss.  On October 1 in front of 1,152 spectators at Wrigley Field, Signer needed only one hour and 20 minutes to scatter ten hits in a complete game victory against the Boston Braves, 3-1. Signer "showed big-league poise in pinches," wrote The Sporting News, as the right-hander led the Cubs to a season-best seventh straight game without a loss (included in the streak was a tie).21 In his four appearances, Signer posted a 2.88 ERA in 25 innings.
The Cubs expected Signer to return to the team in 1944. However, the Chicago Daily Tribune reported that he had "asked for voluntary retirement"22 so he could maintain his wartime job at the Todd Shipyards in Brooklyn.23 Signer, who was classified 2-B (deferred because of work deemed necessary for national defense), reportedly had "plenty of opportunity to go back to the Cubs,"24 but remained in New York and resumed his semipro career with the Bushwicks and the Department of Sanitation team in 1944 and 1945.
As the war in the European theater was coming to a close, Signer accepted Cubs GM Jim Gallagher's invitation to join the team in June 1945. In desperate need of relief pitchers, Chicago, now skippered by Charlie Grimm, also brought back 36-year-old Lon Warneke and acquired 39-year-old Ray Starr to shore up an already aged staff. Signer's second stint with the North Siders was confined to six relief appearances (and eight innings) between June 23 and July 22, during which time Chicago transformed a five-game deficit into a four-game lead in the pennant race, which they ultimately won. The Cubs players rewarded Signer for his contributions by giving him a half-share of the World Series earnings ($1,965.11).
In anticipation of players returning to the team after fulfilling their military obligations, the Cubs transferred Signer to Nashville in the offseason. However, Signer chose to retire and remain in New York, where he continued to pitch in semipro leagues for the remainder of the decade.
Signer remained close to the Brooklyn Dodgers and had a proverbial first-row seat as the team desegregated baseball and dominated the NL in the late 1940s and 1950s under the stewardship of Branch Rickey and Buzzy Bavasi, who was named general manager of the club in November 1950. In 1952 Signer was hired as the batting-practice pitcher and held the position through 1955. He was known for his patience and sincere interest in the players.
After the Dodgers departed Brooklyn for the greener pastures of Los Angeles, Signer remained on the East Coast with his wife, Lola, and children, eventually moving to the Greenwich, Connecticut, area, about 30 miles from New York City.  On July 23, 1974, Signer died at the age of 63. He was buried at Gate of Heaven Cemetery in Westchester County, New York.
Sources
Brooklyn Daily Eagle
Chicago Daily Tribune
Long Island Daily Press
Long Island Star Journal
Reading (Pennsylvania) Times
The Sporting News
Ancestry.com
BaseballLibrary.com
Baseball-Reference.com
Retrosheet.com
SABR.org
Notes
1 Lew Zeidler, "Jinx Seems Licked, Brooklyn Daily Eagle, April 3, 1936, 34.
2 "Signer Woes Ends, Heads for Dodgers' Farm," Brooklyn Daily Eagle, April 12, 1935, 26.
3 James J. Murphy, "Wilson's Memory Helped Land Signer," Brooklyn Daily Eagle, March 14, 1943, 22.
4 Zeidler, 34.
5 Tommy Holmes, "Regular Dodger Berth Awaits Wally Signer This Season," Brooklyn Daily Eagle, January 14, 1937, 1.
6 Doc Silva, "Taylor to Start Charley Eckert on Mound Against Luke Wenrich," Reading Times, April 24, 1935, 11.
7 Ibid.
8 "Dodgers Transfer Dayton Flyer to Brooks," Reading Times, June 11, 1935, 12.
9 Tommy Holmes, "Regular Dodger Berth Awaits Wally Signer This Season," Brooklyn Daily Eagle, January 14, 1937, 1.
10 The Sporting News, December 10, 1936, 8.
11 Tommy Holmes, "Regular Dodger Berth Awaits Wally Signer This Season," Brooklyn Daily Eagle, January 14, 1937, 1.
12 Tommy Holmes, "Five Dodger Rookie Pitchers Study In Contrasts," Brooklyn Daily Eagle, March 16, 1938, 20.
13 Associated Press, "Walter Signer Objects as Dodgers Peddle Him," Reading Times, April 12, 1938, 13.
14 Luther Evans, "Brooklyn Bushwicks, Semi-Pros, Outdraw Some Big-League Clubs" (NEA), Tuscaloosa News, July 22, 1941, 10.
15 James J. Murphy, "Wilson's Memory Helped Land Signer," Brooklyn Daily Eagle, March 14, 1943, 22.
16 "Signer Named To Play For M.B.A.  All-Stars," Brooklyn Daily Eagle," June 26, 1941, 16.
17 "Lola Bavasi to Become bride of Walter A. Signer, Jr.," Long Island Daily Press, January 3, 1938, 6.
18 Tommy Holmes, "Durocher Drills for Defense of Shortstop Job Against Reese," Brooklyn Daily Eagle, February 18, 1940, D1.
19 James J. Murphy, "Wilson's Memory Helped Land Signer," Brooklyn Daily Eagle, March 14, 1943, 22.
20 Associated Press, "Vols Go Up On Pels," Anniston (Alabama) Star, September 10, 1943, 8.
21 The Sporting News, October 7, 1943, 12.
22 The Sporting News, March 23, 1944, 20.
23 Lou O'Neill, "Sports," Long Island Star Journal, June 15, 1945, 8.
24 Mike Lee, "Mike Lee Reports," Long Island Daily Press, June 16, 1945, 10.
Full Name
Walter Donald Aloysius Signer
Born
October 12, 1910 at New York, NY (USA)
Died
July 23, 1974 at Greenwich, CT (USA)
If you can help us improve this player's biography, contact us.
http://sabr.org/sites/default/files/Screen%20Shot%202016-08-07%20at%205.19.45%20PM.png
600
800
admin
/wp-content/uploads/2020/02/sabr_logo.png
admin
2012-01-04 20:34:56
2020-10-18 16:59:39
Walter Signer