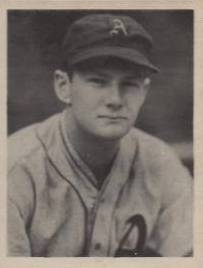 ---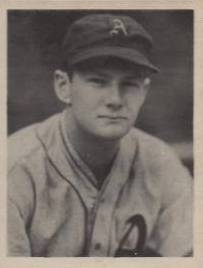 Wayne Harper Ambler, a versatile infielder with a slick glove, averaged .224 in three major league seasons for the Philadelphia Athletics before World War II. But unlike most big leaguers of his era, he attended college first–thanks to the sponsorship of Athletics owner and manager Connie Mack. Graduating from Duke University with a Bachelor's Degree in Business Administration in 1937, Ambler joined the A's in St. Louis. But his career followed a different path. In three seasons with Philadelphia, Wayne did not hit well. As a result, he spent the 1940 and 1941 seasons playing Double-A ball and trying to make it back to the Big Show. Further, while he played 271 big league games and batted 782 times, the 5'8½" 165-pound athlete collected 175 hits and drove in 73 runs, but never hit a single home run.
Signing for $350 per month in June 1937, Ambler played in 56 games during the remainder of the season. Despite hitting over .500 in his first five games, he averaged only .216 overall. First, he jammed his left thumb only three days after his major league debut. Later, he collided with a catcher for the St. Louis Browns and suffered a broken jaw, forcing Wayne out of the lineup for almost six weeks. Before his jaw healed completely, he returned to play the final month of the season. Due largely to injuries, his rookie year ended up being a season the personable Duke graduate hoped to overcome.
Ambler's best year came in 1938 when he stayed healthy, played 120 games, and batted .234 with 38 RBIs. In 1939, used mainly as a reserve (he got into 95 games and batted 227 times), his average slipped to .211. The Athletics sold him to the New York Giants after the season, and the Giants optioned him to Jersey City of the Double-A International League. In 1940 Ambler played infield for Jersey City and batted .218. In 1941 he was traded to Indianapolis of the American Association, where he improved at the plate to .245. An exceptional fielder, the right-handed batter never hit for a high average. Often fighting his way out of a slump, his lifetime minor league figure was .237, only 13 points above his career mark in the majors.
World War II exploded on America with Japan's bombing of Pearl Harbor on December 7, 1941. When war came, Ambler left baseball, joined the Navy, and became a gunnery officer on a merchant ship. Following the war, he returned to his hometown of Abington, Pennsylvania. He worked with the trucking industry in Philadelphia, and for ten years he played semipro ball in the evenings. Wayne never thought about returning to the majors. Instead, he coached sandlot baseball in Abington, where he supervised a summer program involving as many as 200 youths.
Reminiscing during a 1997 interview, Ambler shared some of his highlight memories: "I went straight up [to the Athletics] when I graduated in 1937. I joined the ball club on May 31st. I flew up to Washington from Duke and got on a train to St. Louis. That was my first game, the next day out in St. Louis, and I got a base hit the first time up to bat."
Actually, Ambler made his major league debut on Friday, June 4, 1937, in a double-header at Sportsman's Park in St. Louis. The Browns came from behind, scoring five runs in the last four innings to win, 7-6. Ambler, who played second base, singled in four trips, stole a base, and started a second-to-short-to-first double play. The Athletics won the nightcap, 4-3, as right-hander Harry Kelley spaced ten hits and won one of his 13 games to go with his league-leading 21 losses. Ambler helped the A's by rapping a single and a double in three at-bats.
"Bill Cissell was the second baseman," Ambler remembered in 1997. "I don't know if you remember him. He was an alcoholic. Bill's idea of fun when he was on the road was to get with the cops and ride around to the bars and see what was going on.
"A couple days before I joined the club, Cissell took a knife away from some guy, blade-first. His hand was bandaged up. He was a tough guy and he was going to play. But Connie Mack started me on my first day, and that's how I got started."
On June 11, one week after Ambler's debut, the A's released Bill Cissell to Baltimore of the Double-A International League. Given a chance in 1938 with the New York Giants, he averaged .268 while playing 33 games at second base and another six at third, the "hot corner."
Ambler, like many youths of his generation, grew up playing baseball in his hometown: "I just loved it. I played ball all the time. And I played ball at George School, a Quaker prep school near Philadelphia."
Born on November 8, 1915, the youngest son of Charles and Ann Ambler, Wayne had an older brother and three older sisters. The teenager graduated from Abington High in February 1932. Turning seventeen after graduation, he attended George School for a year and a half, hoping to go to college.
"One of the umpires for our games was named Jim Rumsey," Ambler recollected. "He was a basketball referee, too, and he was one of Connie Mack's 'bird dogs,' not really a paid scout. He recommended me, and they let me come down and work out at the Shibe Park. I would go out on the field when the irregulars and the pitchers were taking batting practice.
"I did that for a year or two. I was working out around Labor Day in 1933. Jack Coombs, the Duke baseball coach, spent his summers in Kennebunkport, Maine. He was on his way back to Duke, and he stopped to see Mr. Mack. The two of them were sitting in a box when I was working out in the infield."
Coombs, a longtime Mack friend, was part of the owner-manager's far-flung network of "bird dogs," part-time scouts who were old ballplayers, high school or college coaches, and other friendly sources.
"They called me over," Ambler continued, "and asked if I wanted to go to Duke. Well, I didn't know where the hell Duke was!
"I wanted to go to college, but I didn't have any money.
"So I said, 'Sure.' Two days later I was on a train headed for Duke. Jack Coombs got me jobs. I worked in the dining hall for my meals. I sold tickets and programs at the football games. Connie Mack gave me a little money on the side for tuition. I don't know whether that was legal then, or not. I didn't ask. I played ball in the summertime at Duke. We were allowed to play for money then, so long as it was not organized ball. It was what they call an 'outlaw league.'
"After the first year, Mr. Mack said, 'Do you want to go back again?'
"I said, 'Sure,' so he gave me some money again, and away I went. I went to Duke for four years."
Ambler, who batted .476 as a senior and was inducted into the Duke Sports Hall of Fame in 1989, earned a few hundred dollars playing baseball in the Coastal Plain League during the summers: "The Duke team would go down to Greenville. Charlie Keller played at Kinston. The Alabama team came up to another town, and Jim Tabor from Alabama played there. Billy Hitchcock from Auburn played. Each town would have sort of a college team, so you would play all summer against each other. We got $25 a week, which wasn't bad money during the Depression."
Referring to his big league debut in 1937, Ambler recalled, "The first 16 times at bat, I had nine hits. Then I jammed a thumb going after a ground ball, and I didn't play for a while."
Like most former major leaguers, Ambler remembered well the important times in his career. He rapped three hits in seven trips in his debut double-header against the Browns. The next day, Saturday, June 5, he started against the White Sox at Comiskey Park. Behind the nine-hit hurling of right-hander Johnny Whitehead, the Sox blanked the A's, 2-0, making six straight victories for Chicago. Ambler singled twice in three at-bats, while teammates Earle Brucker, the catcher, and Bob Johnson, the hard-hitting left fielder, each collected two hits in four trips. In a Sunday twin bill at Comiskey, the White Sox made it eight straight by winning 6-1 and 6-5. Chicago's Ted Lyons twirled a four-hitter to win the opener, while Ambler doubled in two at-bats and Bob Johnson hit a solo home run. In the nightcap, the A's rallied for two runs in the top of the eighth, cutting Chicago's margin to 6-4. In the ninth, Connie Mack's men scored another run and drove Monty Stratton from the mound. But Clint Brown came out of the bullpen and retired the side, getting the last two men when Brucker hit into a tag double play. Ambler, playing second base, enjoyed one of his best games ever, going 3-for-4 with a double and 4 RBIs. As he recalled about his first five games as an Athletic, the rookie went 9-for-16, averaging .563.
But in his sixth game, a 12-6 loss at Chicago on June 7, Ambler, who had been fielding spectacularly, made a dive for a line shot off the bat of Tony Piet during a seven-run fifth inning. Minutes later, the second sacker, who jammed his thumb on his glove hand attempting to flag down Piet's drive, had to leave the game.
Ambler returned to Philadelphia's lineup in the second game of a double-header against the Cleveland Indians on June 13. Entering the contest for defensive purposes, he did not get up to bat as the A's lost to the Tribe, 2-0. Two days later, when Philadelphia dropped a 5-1 decision to St. Louis, Ambler went 0-for-4. On June 16 the Browns won again, this time 3-2, and the former Duke star had a single in three trips. On June 19, when Detroit's Chet Laabs homered and tripled, driving home five runs in an 8-6 Tiger victory, Ambler went 1-for-4. The next day Detroit took a double-header from Philadelphia by scores of 6-3 and 8-1, and Ambler hit a combined 1-for-8. When the month ended, he had produced his only extra-base hits, three doubles, in his first five games. But he didn't have another multi-hit game in June. By the All-Star break, the Abington native was averaging .267.
Ambler's hitting continued to decline, but before he could regain his batting eye, he suffered a serious injury on Sunday, July 18. In the second game of a twin bill against the Browns at Sportsman's Park, Bennie Huffman, a rookie catcher for the Browns who averaged .273 in his only big league season, occupied first base with one away in the sixth inning. When Tom Carey bunted toward A's first baseman Lou Finney, Huffman took off for second, but Ambler, looking to cover first, ran toward the bag. The two players collided head-on and were knocked out. On the train to Cleveland that evening, Ambler complained of severe pain in his jaw. The next morning in Cleveland he was x-rayed, and doctors found he had a clean break on the right side of his jaw. Huffman, meanwhile, suffered a dislocated shoulder. In effect, both players saw their 1937 season wrecked, although both later returned for part-time duty.
Recalling the accident in 1997, Ambler explained, "I was playing second base, and a catcher from St. Louis named Bennie Huffman was on first base. It was a bunt situation, so I was moving in a little bit toward the baseline and over a little bit towards first base.
"The batter popped the bunt up in the air towards first base. You couldn't tell immediately whether the pitcher or the first baseman was going to be able to catch it, or whether it would drop. So Huffman waited until the ball dropped.
"In the meantime I headed for first, since it was a bunt in fair territory. Huffman put his head down when he started digging for second, and I was running to first with my head to the right, watching the ball. Neither one of us saw the other.
"We collided, and we were knocked out cold. They had to revive us. It knocked me out of the game. I broke my jaw and also hurt my shoulder. I sat on the bench. After the game I went into the shower. When the shower water hit me, I said, 'What happened?'
"I didn't remember a thing."
Ambler returned home to Abington to recover, but it would be almost six weeks before he returned to a major league diamond. Meanwhile, the Athletics reached and remained in seventh place in the league. Five weeks later, Ambler wrote to Connie Mack. He received a telegram telling him to report to Chicago. Packing his bags, he took a plane and flew to the Windy City.
"I finished the season with the club," Wayne recounted. "But I never did get back into shape. I shouldn't have played so soon after breaking my jaw. I shouldn't have played so soon after jamming my thumb either.
"But you played hurt in those days. Baseball was much different than it is now. You figured if you didn't play, somebody else would have your job."
Ambler returned to the A's lineup in the second game of a double-header in Chicago on August 29. Russ Peters, a right-handed batting infielder who hailed from Roanoke, Virginia, had taken over at second base. A streaky hitter who showed occasional power, Peters first came up to the A's in 1936, averaging .218 while playing mostly third base and shortstop. In 1937 Russ hit .260 in a career-high 116 games, playing 70 at second base, 31 at third base, and 13 games at shortstop.
Besides Peters, Connie Mack used two other second sackers. Warren Huston, a 6-foot right-handed batting rookie from Newtonville, Massachusetts, lacked Ambler's fielding skills. Huston too proved to be a weak hitter, averaging only .130 in 38 games, including 16 at second and 15 at short. Also, Mack signed and tried Clarence "Ace" Parker, a rookie from Duke University who grew up in Portsmouth, Virginia. Parker, who lacked Ambler's quick hands, also couldn't hit big league pitching. In 1937 he averaged .117 in 38 games, including 19 at shortstop and nine at second base. Ace played one more big league season, hitting .230 for the A's in 1938. But as the second draft choice of the National Football League's Brooklyn Dodgers, he started his NFL Hall of Fame career in 1937, playing five outstanding seasons before serving in the military during World War II. The triple threat two-way back, a three-sport star at Duke played his final pro season in 1946 with the New York Yankees of the All American Football Conference, passing for eight touchdowns and scoring four more.
The A's needed better hitting at second base so badly that Mack sometimes used three players at the position in a game. For example, during a 1-0 loss to the White Sox at Shibe Park on September 23, Mack used Ambler, Peters, and Parker, in that order, pinch-hitting for Ambler and Peters. As it happened, all three went 0-for-0. Two days later, during a 5-3 loss to the Washington Nationals at Griffith Stadium, the A's played Peters, Parker, and Huston. Peters went 0-for-2, while the other two got no officials at-bats.
Partly as a result of his injuries, Ambler's hitting suffered in 1937: "The thumb didn't help me. For the rest of the season, every time I hit the ball, it would jar the thumb. I had a big, thick piece of rubber. I would either tape it to the bat or tape it to my thumb. I tried it both ways. It didn't do much good either way, but that's what I used for the rest of the summer. That was stupid."
In 1938 the Abington native averaged .234 in 120 games, all but four at shortstop–instead of his usual second base position: "That's the year when Skeeter Newsome got beaned. He got beaned in spring training, and he was the shortstop.
"When I was in spring training in 1938, Connie had decided that I was going to go to Williamsport in the Eastern League. He sent me by bus to where they trained, in Raiford, North Carolina. When I got off the bus in Raiford, they had a telegram there that said, 'Report back. Join us in Richmond.'
"That was the day Newsome got beaned, and Russ Peters was his backup, and I was a second baseman. When I got to Richmond, they said, 'You're gonna be a backup shortstop.' I hadn't played short since high school."
The accident that brought Ambler back to the A's occurred on April 10 when, in an exhibition with the Portsmouth Cubs of the Piedmont League, Newsome was hit in the head by a pitched ball. Peters took over at shortstop and played well that afternoon. Since Russ was the club's utility infielder, the A's needed a reserve–hence Ambler got the call.
"In one of the first games Russ played, at Washington," Ambler recollected, "the Senators had a fellow on second base, Mel Almada, who was quite a good base runner. The batter hit a ground ball to Russ at short, and he booted it. After he booted it, he walked after it, looking down at the ground, and Almada turned third base and scored. And Mr. Mack said to me, 'Go down and warm up in the bullpen.'
"When the inning was over, he took Peters out, and I became the shortstop for the rest of the season. That night he sold Russ to Atlanta. Russ was not a bad ballplayer, and later [in 1940] he came back and played for Cleveland. But when Russ didn't hustle, and he put his head down, bingo! He was gone."
Actually, Peters started the season at short, as Ambler recalled, but he did not get a hit (he was 0-for-5) or field well on Opening Day, April 18, when Washington beat Philadelphia, 12-8. The next day the Senators won again, this time by a score of 9-2. Peters went hitless in two trips, making him 0-for-7 thus far. Halfway through the contest, Ambler took over at shortstop, played well, and singled in two trips. Peters didn't get into another game for the A's. Three weeks later Connie Mack gave him the choice of being sold to Columbus of the Double-A American Association or to Atlanta of the 1-A Southern Association. Russ picked Atlanta. On May 10 the A's announced the Virginia native had been sold to the Crackers, where he revitalized his career.
Meanwhile, the A's signed Ambler for $1500 in 1938. Reflecting on his shift to shortstop, he said, "I didn't really have the strong arm for short, but I got rid of the ball quickly, which kind of compensated."
Regarding Philadelphia finishing seventh, eighth, and seventh during the years 1937 through 1939, Wayne joked, "We fought it out with the St. Louis Browns every year!"
Unlike most players, Ambler was not yet married, so he lived at home with his family:
"Fresh out of college, I could not afford an automobile, and I lived in Abington, a suburb of Philadelphia, about twelve miles from Shibe Park. To 'get to work' every day I took a bus to the subway. Then I took the subway down Broad Street to Lehigh Avenue. The old Phillies' ballpark, Baker Bowl, was on that corner. There I could hop a trolley or walk the remaining eight city blocks to Shibe Park.
"If it was not too hot I would walk to the park, but I always took the trolley on the way home. The total time spent was between an hour and an hour-and-a-half each way. Buying a used car for the 1938 and 1939 seasons gave me more joy than today's players get when they invest their signing bonus in a Porsche/Jag/Mercedes. Of course, I still considered myself lucky. I was living at home while the other A's players were paying rent for dingy apartments near the ballpark."
For the 1938 season, Ambler averaged .234 but again showed little power. In 393 at-bats he connected for 21 doubles and two triples, but no homers. He scored 42 runs, and he drove home 38. Adjusting to shortstop, his fielding declined. Overall, Wayne committed 32 errors and saw his fielding percentage slip from .955 in 1937 to .945 for 1938.
His career hitting highlight came on his first trip to Yankee Stadium in 1938. On Friday, May 13, he enjoyed a 5-for-5 game, rapping four singles and a double and scoring twice. The Athletics defeated the Bronx Bombers, 8-6. The Yankees got off to a 2-0 lead in the first inning, but the A's rallied for three runs in the top of the third. Philadelphia's right-hander George Caster started the outburst with a walk, Ambler followed with a double, Bill Werber tripled, and Earle Brucker added a run-scoring single, lifting the visitors into a 3-2 lead. The A's won the contest in the seventh, tallying five times, with Ambler picking up an infield single and scoring his second run. Caster, who allowed all six New York runs, won the game, thanks to relief help from Nelson Potter over the last 2.2 innings.
After signing for $3500 in 1939, Wayne averaged .211 in 95 games, mostly at shortstop–and often as a reserve. His at-bats declined from a career-best 393 in 1938 to 227 in 1939. His fielding average improved to .952, but Connie Mack needed more hitting out of the shortstop's position. After the season, Philadelphia sold Ambler to the New York Giants.
Also, Wayne married his sweetheart, Sara Bird, on November 26, 1939. The couple had two children, Sally Ann, born in 1943, and Wayne Hunter, born in 1947.
"In 1940," Ambler remembered, "the Giants sent me to Jersey City of the International League as a second baseman. At the end of the `40 season, the Giants traded me to Cincinnati for a left-handed pitcher named Milt Shoffner. So I went to spring training in Tampa with Cincinnati, and I hoped to get that shortstop job.
"The Reds had just won the World Series, and their shortstop, Billy Myers, was kind of semi-retired. But guess who beat me out? Eddie Joost, who came down from the Boston Bees. Joost beat me out for the shortstop job in Cincinnati in 1941."
As a result, Cincinnati sent Ambler to Indianapolis of the American Association, where he played 139 games and hit a career-best .245.
"That was my second year in the minor leagues and my last year in pro ball. I joined the Navy right after Pearl Harbor. I was a gunnery officer on a merchant ship, what they called 'armed guard' service. They put a Navy gunnery officer and 26 Navy gunners on these merchant ships. All we had to do was man the guns and defend the ship. I was in both oceans, but mostly the Atlantic. I got into the cross-channel invasion in 1944, and that was interesting. After that war ended, I went to the Pacific. But Japan surrendered while our ship was lying off the Philippines waiting to go into action."
Like many other players, the war affected Ambler's baseball career: "The Phillies were interested in bringing me up again, but the war killed that. I had the chance to play baseball in the Navy when I was at Little Creek, near Norfolk, Virginia, where they had the gunnery officer training school. But I was around twenty-eight, and well, I said, 'Let's see what the war is like.' I know they had some great Navy teams, and it was probably a mistake not playing."
After the war ended, Ambler returned to his home in the Philadelphia area, found a manager's job in trucking, and played semipro ball: "I supervised the trucking, the warehousing, the packing, and the shipping. I worked at a distribution center. They brought in stuff from overseas, and we delivered it to the stores."
Personable, witty, and quick with a story and a smile, the former Athletic worked in the same business for 40 years, retiring in 1986. During the first ten years he earned about $25 a game playing semipro ball: "You could make some pretty good money playing semipro after the war. After you got out of work in the evenings, we'd play six, seven games a week. We'd play night ball, day ball, and double-headers on Sunday. The money sure helped. We played all the great Negro League teams. I played against Satchel Paige, Leon Day, Josh Gibson, Larry Doby, and a lot of great players. Some clubs were the regular Negro National and Negro American League teams, and sometimes they had barnstorming teams."
Ambler said the Athletics broke even on their investment in him: "I figure I made $10,000 for the three years I played, including the tuition money I received. Connie Mack sold me for $10,000, so I figure I played for nothing. But somebody else says, 'Well, that's what you were worth!'"
Wayne also coached Little League teams in his hometown for years. In 1960 one of his all-star teams included Reggie Jackson, who was then fourteen: "I had Reggie for two weeks, every twilight for two hours, then we had him for three games. He was quite a hitter even then."
Wayne Ambler, a good glove man, a good teammate, and a three-year major leaguer, enjoyed sharing many fond memories about his experiences in baseball. He said the toughest pitcher for him to hit was Bob Feller. But he rated Tommy Bridges, Johnny Allen, Lefty Gomez, and Buck Newsom as tough, too. Ambler ranked Joe DiMaggio as the greatest player he ever saw, observing Babe Ruth may have been the greatest–but he only saw the Babe when he (Wayne) was a kid.
"Baseball is a great sport when you're playing the nine innings out on the field," Ambler recalled. "The rest of it, the marketing and the entertainment parts of it, I don't care much for that. Today the players are still having a good time playing the game. But with free agents jumping from team to team, there's no consistency, no loyalty any more.
"They're great ballplayers today. They're bigger, faster, and stronger. And with the gloves they've got now, I don't know how they ever miss one! Maybe we had consistency and loyalty because we had no choice. But I liked it the way it was when we played the game. We had more fun."
Wayne Ambler passed away on January 3, 1998.
Sources
This is a revised version of my article about Wayne Ambler's baseball career that first appeared in Oldtyme Baseball News in 1998 and later on the web site of Baseball Library. Major league statistics for the Ambler story are derived from The Baseball Encyclopedia (Macmillan, 9th edition, 1993). Minor league stats came from Pat Doyle's Professional Baseball Player Database (version 6). I also found useful items, including salary information, in the Ambler file in the Baseball Hall of Fame's Library. For game stories I used the ProQuest database, which I accessed through the web resources of the Carnegie-Stout Public Library in Dubuque, Iowa. Finally, I obtained a great deal of valuable information from an interview with Ambler in 1997, and I received useful family data from his son Wayne in 2007.
Born
November 8, 1915 at Abington, PA (USA)
Died
January 3, 1998 at Ponte Vedra Beach, FL (USA)
If you can help us improve this player's biography, contact us.
http://bioproj.sabr.org/bp_ftp/images4/AmblerWayne.jpg
600
800
admin
/wp-content/uploads/2020/02/sabr_logo.png
admin
2012-01-04 20:32:19
2012-01-04 20:32:19
Wayne Ambler