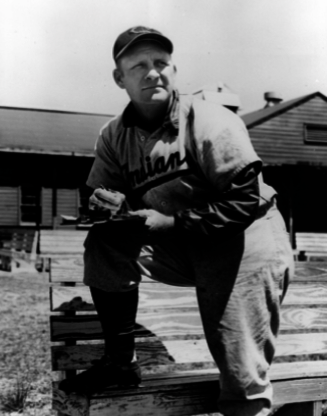 ---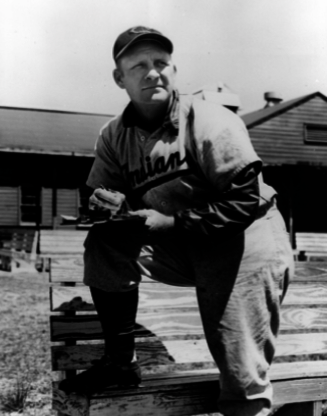 When Whitey Kurowski was 7 years old in Reading, Pennsylvania, he fell off a fence and landed in a pile of broken glass, cutting his right arm. Blood poisoning developed and turned into osteomyelitis, an infection of the bone. Doctors feared they would have to amputate the youngster's arm, but they saved it by removing about four inches of infected bone and tissue from the ulna, the inside and longer of the two bones in the forearm. The result was a deformed, misshapen limb that was several inches shorter than his left arm when Kurowski grew to adulthood.
After his injury Whitey simply wouldn't allow his wounded arm to keep him from playing ball and he developed powerful muscles to compensate for the missing bone. He played softball five nights a week and played baseball on weekends from morning till night. In high school and American Legion baseball he concentrated on third base despite the fact that the position requires a better throwing arm than most others.
Because his right arm was shorter than his left, the right-handed hitter had difficulty reaching pitches on the outside part of the plate. He had to crowd the plate, and as a result was plunked frequently by inside pitches. The disfigurement also forced him to turn his right wrist over when he swung the bat, making him a dead pull hitter; second basemen often played him on the shortstop side of the base when he reached the major leagues.
George John "Whitey" Kurowski was born in Reading on April 19, 1918, to Anthony and Victoria Kurowski, the sixth of ten children. (He got his nickname early in his life when his hair turned white prematurely.) Reading was in the middle of the Pennsylvania coal-mining region, and his father was a miner. Like many other young men raised in the area, Whitey wanted no part of the mines, especially after his older brother was killed in a mine cave-in when Whitey was a teenager. Baseball seemed to be his ticket out, but scouts were leery of his maimed throwing arm. Initially he didn't get any offers after high school. But in 1937 Harrison Wickel, a native of the Reading area and the manager of the Caruthersville team in the Class D Northeast Arkansas League, gave the 19-year-old a shot. A .339 batting average started him on his way, and a league-leading .386 mark the next year for Portsmouth in the Mid-Atlantic League solidified his status as a prospect in the St. Louis Cardinals farm system.
Kurowski, who developed into a stocky 5-foot-11, 193-pounder with thick legs and surprising speed, spent the next three years as the regular third baseman for the Rochester Red Wings in the Double-A (the equivalent of Triple-A) International League hitting .291, .279, and .288, stealing 47 bases and belting 39 homers. In the closing weeks of the hotly-contested 1941 pennant race, he was called up along with Rochester teammate Stan Musial to join the parent Cardinals for the stretch run. But Musial's .426 average and Kurowski's .333 mark in limited action weren't enough for the Cards to catch the Brooklyn Dodgers.
In the spring of 1942, while Whitey was fighting to win his first big-league job, his father died of a heart attack. The 24-year-old had to leave the team to attend to funeral arrangements in the middle of spring training, but he returned to wrest the third-base job from veteran Jimmy Brown. With Musial taking over in left field, the two rookies helped drive the Cardinals to the National League pennant and a World Series victory over the heavily favored New York Yankees.
Kurowski was the Series hero. He blasted a home run off future Hall of Famer Red Ruffing in the top of the ninth inning to break a 2-2 tie in the deciding fifth game. After the Cardinals' victory, Whitey led the celebration by playfully ruffling the proud white mane of the commissioner of baseball, Judge Kenesaw Mountain Landis, and tearing National League President Ford Frick's hat to shreds. He also led the team in a rousing chorus of "Pass the Biscuits, Mirandy," their victory anthem that season.
Kurowski was integral to a Cardinals dynasty that brought world championships to St. Louis in 1942, 1944, and 1946. He was part of a wave of young stars who emerged from the organization's vast farm system in the early 1940s. The group included Musial, Marty Marion, Walker and Mort Cooper, Max Lanier, Ernie White, Johnny Beazley, Murry Dickson, Howie Pollet, Johnny Hopp, Ray Sanders, Harry Walker, Harry Brecheen, and others.
From 1943 through 1947 Kurowski established himself as one of the finest third baseman in baseball and made the National League All-Star team every year except 1945, when the All-Star Game was suspended because of World War II. He was, however, named to the 1945 major-league all-star team selected by The Sporting News.
The gritty, underrated third baseman also made his mark as a consummate team player. Cardinals owner Sam Breadon was a notorious skinflint when it came to player salaries, and before the 1946 season Kurowski was involved in a bitter pay dispute before finally accepting the club's offer. Meanwhile, the outlaw Mexican League had begun raiding major-league rosters. The league's owners, the Pasquel brothers, had targeted the Cardinals because of the club's abundance of talent and low salaries. In May their star lefty Lanier, second baseman Lou Klein, and rookie pitcher Fred Martin took off for Mexico, and rumors were flying that Kurowski, Stan Musial, and other Cardinal stars would soon follow.
Kurowski took it upon himself to call a clubhouse meeting to clear the air. He told his teammates that he'd talked to Mexican League representatives and that he believed in getting every cent he was worth, but he felt honor-bound to fulfill his St. Louis contract. He urged them to put the Mexican League business behind them and concentrate on winning the pennant. The players knew that Kurowski was no front-office lackey, that he had battled the club and was dissatisfied with his salary. So his words meant something, and they apparently took them to heart. The Cardinals overtook the Dodgers to capture the National League pennant and then went on to defeat the powerful Boston Red Sox in the 1946 World Series.
Because Kurowski's osteomyelitis made him ineligible for military service, he is sometimes erroneously tagged as a wartime player who benefited from a lower level of competition. But 1947 – when the "regular" players had returned from the war – was actually his best year, even though the Cardinals had to settle for a second-place finish. With future Hall of Fame teammates Musial, Red Schoendienst, and Enos Slaughter having offseasons, Kurowski carried the Cards' offense much of the time. In 146 games he hit .310 and compiled a .420 on-base percentage, second highest in the league behind his former teammate, batting champ Harry Walker of the Philadelphia Phillies. He slammed 27 homers, scored 108 runs, drove in 104 and walked 87 times – all career highs. In the National League Most Valuable Player voting that year, Boston Braves third baseman Bob Elliott captured the award with numbers that were remarkably similar to Kurowski's. Elliott batted .317, hit 22 homers, scored 93 runs, drove in 113, and drew 87 bases on balls for the third-place Braves. In addition, Elliott's .956 fielding average was only slightly better than Kurowski's .954 percentage. But for some reason Whitey finished a distant ninth in the MVP balloting.
That was Kurowski's last full season as a big-league player. Although it was not publicized, his patched-up throwing arm had bothered him throughout his career. The condition caused pinched nerves and muscle damage, and he underwent 13 operations on the arm so he could continue playing. But in 1948 his arm problems became so severe that he was limited to just 65 games in the field and a disappointing .214 batting average.
Kurowski's favorite saying, "Putting We Ahead of I," was put to the test in the spring of 1949. During his injury-plagued 1948 season, word had filtered down through the Cardinals farm system that they were looking for a replacement at the hot corner. One of the top prospects, Eddie Kazak, a second baseman for six minor-league campaigns, was shifted to third base when Kurowski started to falter. Despite the fact that Kazak was competing for his job, Whitey worked hard to teach the rookie the finer points of third-base play and was rewarded when Kazak was named the National League's starting third baseman for the 1949 All-Star Game.
While his protégé was starring in St. Louis, Kurowski spent most of the 1949 campaign trying to rehabilitate his arm with Houston in the Texas League, but it failed to come around. For the season he hit only .143 in 10 games with the Cardinals and .233 for Houston. At age 31, when many players are still in their prime, his big-league career was over.
Kurowski accepted an offer to manage the Cardinals' Lynchburg farm club in the Piedmont League in 1950, thus beginning a long and successful career as a minor-league manager and coach. He worked in the Cardinals' organization for more than a decade before moving to the New York Mets chain shortly after the franchise started. Although he was basically through as an active player after 1949, he made occasional minor-league appearances up until the 1959 season. That year his successful pinch-hitting appearance for Billings at the age of 41 gave him a 1.000 batting average for his final season as a player.
Kurowski's managing career included a stint as skipper of his hometown Reading club in the Cleveland Indians system and ended in 1972 after a disappointing season in the Carolina League. After leaving baseball, he worked for Berks County as the sealer of weights and measures before retiring from that post in 1980.
In retirement Kurowski lived in Shillington, a suburb of Reading. He was an avid golfer and a tireless autograph signer who took great pleasure in signing for fans. He died on December 9, 1999, leaving behind his wife of nearly 60 years, Joan (Setley) Kurowski; two sons; two daughters; nine grandchildren; and six great-grandchildren.
During his career with the Cardinals, Kurowski never played on a team that finished lower than second place. His lifetime batting average was a fine .286, with a career high of .323 in 1945 that tied for the fourth highest mark in the major leagues. From 1943 through 1947 he finished among the top ten in the league in home runs each season, and from 1945 through 1947 he finished among the top ten hitters in batting average, on-base percentage, slugging, total bases, and runs batted in every year. He led National League third sackers in putouts three times, in fielding twice, and in assists and double plays once. He forged a 22-game hitting streak in 1943 and was a hero of the 1946 playoff victory over the Dodgers for the pennant. Although known as a free swinger throughout his career, he posted respectable bases-on-balls totals. Despite these accomplishments Kurowski was overshadowed by more illustrious teammates, and his best finish in balloting for the National League Most Valuable Player Award was fifth place in 1945.
Kurowski held the Cardinals' record for most homers in a month with 12 until Mark McGwire came along. His three years with Rochester resulted in his selection as the third baseman on the all-time Rochester Red Wing squad. He was inducted into the Pennsylvania Sports Hall of Fame and the Polish-American Sports Hall of Fame.
This biography is an adaptation of a Whitey Kurowski profile from "Beating the Breaks: Major League Ballplayers Who Overcame Disabilities" by Rick Swaine (Jefferson, North Carolina: McFarland & Co., Inc., 2004). A version of it also appeared in "Van Lingle Mungo: The Man, The Song, The Players" (SABR, 2014), edited by Bill Nowlin.
Sources
Books
Craft, David, and Tom Owens, Redbirds Revisited: Great Memories and Stories from St. Louis Cardinals (Chicago: Bonus Books, 1990).
Gilbert, Bill, They Also Served: Baseball and the Home Front 1941-45 (New York: Crown, 1992).
Golenbock, Peter, The Spirit of St. Louis: A History of the St. Louis Cardinals and Browns (New York, Harper Collins, 2000).
Mead, William B., The 10 Worst Years of Baseball: The Zany, True Story of Baseball in the Forties (New York: Van Nostrand, Reinhold, 1978).
Rains, Rob, The St. Louis Cardinals: 100th Anniversary (New York: St. Martin's Press, 1992).
Swaine, Rick, Beating the Breaks: Major League Ballplayers Who Overcame Disabilities (Jefferson, North Carolina: McFarland & Co. Inc., 2004).
Turner, Frederick, When the Boys Came Back: Baseball and 1946 (New York: Henry Holt & Company, 1996).
Westcott, Rich, Diamond Greats: Profiles and Interviews with 65 of Baseball's History Makers (Westport, Connecticut: Meckler Books, 1988).
Articles
Manning, Gordon, "Kazak Spelled Backwards is Kazak." Collier's, September 17, 1949.
"Whitey Kurowski, All-Star ballplayer." (obituary) Reading Eagle/Reading Times, December 10, 1999.
Other
Family background information supplied by Whitey Kurowski's son George J. Kurowski.
Born
April 19, 1918 at Reading, PA (USA)
Died
December 9, 1999 at Sinking Spring, PA (USA)
If you can help us improve this player's biography, contact us.
http://sabr.org/sites/default/files/KurowskiWhitey.png
600
800
admin
/wp-content/uploads/2020/02/sabr_logo.png
admin
2012-01-04 20:03:30
2021-09-24 08:54:25
Whitey Kurowski