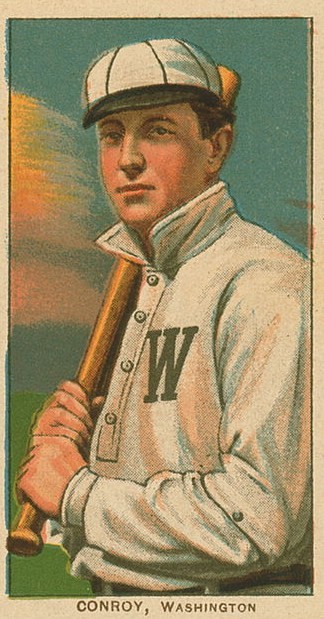 ---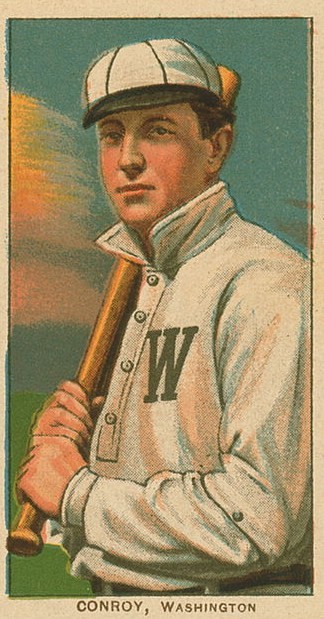 An adept base stealer known for taking unusually large leads from first base, Wid Conroy used his raw speed and acrobatic skills to earn a reputation as one of the most versatile defensive players of the Deadball Era. During his eleven-year major league career, Conroy played a significant number of games at third base, shortstop, and left field, eliciting praise for his keen intelligence, sure-handedness, and leaping catches. One writer declared that Conroy's movements around third base were "as graceful as a dancing master," while another observed that "no matter in what position he is played, Conroy is generally recognized as a heady, hard-working ball player of much natural ability."

William Edward Conroy was born on April 5, 1877, the fifth child of Irish immigrants Bridgit and John Conroy. Most sources list Camden, New Jersey as William's place of birth, but throughout his life census records indicated that he was born in neighboring Pennsylvania. In either event, William spent his childhood in Camden, where his father was employed in a shoe factory. From an early age, William demonstrated a love for baseball, spending much of his free time playing on Camden's sandlots, and earning the nickname "Widow," which would later be shortened to "Wid" during his playing career. Conroy pleaded ignorance as to the origin of his peculiar moniker, but fellow Camdenites asserted that he earned the name because of "his motherly interest in youngsters smaller and younger than himself, who used to number themselves in his 'gang.'"

Conroy's first professional baseball experience came in 1896, when the 5'9″, 158-lb. right-hander earned $75 per month plus board playing for Carlisle, PA of the Cumberland Valley League. The following season, Conroy played for a club in Milton, PA, staying there until the final month of the 1898 season, when the Paterson Silk Weavers of the Atlantic League signed him to play shortstop. Wid appeared in just 23 games for the Silk Weavers before contracting malaria. He was too weak to suit up, but Paterson manager Sam LaRoque accused Conroy of feigning illness and handed him his release. The following season found Conroy with the Cortland, NY Wagonmakers of the New York State League, where he led all shortstops in fielding percentage. That performance caught the eye of Connie Mack, then managing the Milwaukee Brewers of the American League, and Mack signed Conroy for the 1900 season. In 1901 the American League attained major league status and Mack departed for Philadelphia, but Conroy remained with the Brewers, playing a solid shortstop while batting .256 with five home runs and 64 RBI in 131 games.

The following season the Brewers franchise moved to St. Louis and a legion of National Leaguers jumped to the junior circuit, but Wid left Milwaukee and became one of the few American Leaguers to jump over to the National League, signing with the defending league champion Pittsburgh Pirates. The Pirates initially pegged Conroy as a backup for Honus Wagner, but Wagner eventually moved to the outfield and Conroy assumed the starting shortstop role.

Appearing in 99 games for one of the best teams in history, Conroy was the weakest hitter in the vaunted Pittsburgh lineup, collecting only 17 extra base hits in 365 at-bats and posting a .299 on-base percentage. He played commendable defense however, and earned the respect and loyalty of his teammates for his take-no-prisoners approach to the game. In the fourth inning of a contest against the Chicago Cubs on June 23, Conroy got into a fistfight with the Cubs star shortstop, Joe Tinker, after Conroy had blocked Tinker on the base paths and spiked another Cub the previous day. Thirsty for revenge, Tinker got his chance when he moved from first to second on an infield hit. According to the Chicago Tribune, "Tinker tore down to second" and seeing Conroy covering the base, "pushed the Pirate off the bag…Conroy wheeled quickly and started toward the cushion as if to strike Tinker, whereupon the latter pushed his open hand over the greater part of Conroy's face in the manner so irritating to belligerents." A scuffle ensued, in which Conroy landed blows on Tinker's shoulder and the Cub shortstop struck Wid on the neck, before the pair could be separated. The fracas upset Pirates secretary Harry Pulliam, who declared in the days following the fight that he was "so disgusted by that row between Tinker and Conroy that I couldn't go out to the grounds."

But the ensuing punishments upset the Pirates even more, as the chairman of the league's executive committee, John Brush, suspended Conroy for 20 days, while benching Tinker for only three. Pittsburgh manager Fred Clarke blasted the ruling, noting that "if Conroy had not covered the bag he would have stamped himself an incompetent of the worst kind. Yet he is suspended for 20 days, because he did his duty." Owner Barney Dreyfuss appealed the ruling, but Brush dismissed the complaint.

Following the 1902 season, Conroy jumped leagues again, signing with the New York Highlanders. He was also accused of working as a spy for the American League, convincing teammates Tommy Leach and Harry Smith to jump leagues with him, while also attempting to persuade other Pirates to break their contracts. In the peace agreement between the two leagues that ensued prior to the start of the 1903 season, Leach and Smith were returned to the Pirates, while Conroy was awarded to the Highlanders.

Wid spent the next six seasons with New York, never batting higher than .273, but finishing among the league's top ten in home runs twice, triples four times, slugging percentage once, and stolen bases four times. In 1907, Conroy's 41 steals tied for second, behind only Ty Cobb's league-leading 49. Consistently praised for his deft handling of the bat (like many players of the era, Conroy choked up on the bat several inches and found his base hits by punching the ball to all fields), Conroy was also known as a smart, speedy base runner, routinely taking "the biggest leads off base of any player in the big show."

Though he had proved himself to be a fine defensive shortstop with Pittsburgh, Conroy agreed to play third base for New York, as the Highlanders already boasted a standout defensive shortstop in Kid Elberfeld. In 1903 and 1904, Wid emerged as a reliable third baseman with excellent range and sure hands. He proved his defensive versatility in 1905, when injuries to other players forced him to play every position on the field except pitcher and catcher. When rookie third baseman Frank LaPorte joined the starting lineup in 1906, Conroy moved to the outfield and schooled the youngster on the fundamentals of the hot corner. After LaPorte was traded to the Boston Red Sox prior to the 1908 campaign, Conroy returned to his old position at third and continued to field well, though by then his batting skills had begun to decline.

Following the 1908 season, in which he batted just .237 with a .296 slugging percentage, Conroy was sold to the Washington Senators for $5,000. Reflecting his solid standing within the game, Conroy's acquisition was greeted with delight by Washington fans, who took it as a sign that "the local owners are sincere in their efforts to build up a winner." Now 32 years old, Conroy failed to live up to the high hopes that had been set for him, and finished the year with a .244 batting average and career-low .293 slugging percentage. He spent the following offseason "boiling out" in Hot Springs, Arkansas, and his offensive production improved slightly in 1910, but the following year he finished with a .232 batting average, the lowest of his career, while stealing just 12 bases.

Before the 1912 season, Washington released Conroy to Rochester of the International League, where he played for two years. Prior to the 1914 campaign, Wid accepted a job as manager of the Elmira Colonels of the New York State League, where he enjoyed two winning seasons, and claimed one league championship. Following his dismissal from the Elmira job after the 1916 campaign, Wid played for Wichita of the Western League in 1917. He spent his last season as an active player with Hutchinson of the Western League in 1918, though shortages caused by the U.S. entry into World War I forced that circuit to suspend its season in July. Conroy's last job in baseball came in 1922, when he briefly served as a coach for the Philadelphia Phillies.

Following baseball, Conroy worked as a security guard, and later as a messenger for the Burlington County Trust Company in Moorestown, New Jersey. Living with his wife, Mary, and their six children, Wid suffered personal tragedy in 1945, when his second oldest son, William Conroy, Jr., was killed in the battle of Okinawa. Wid died fourteen years later, on December 6, 1959, in Burlington County Hospital, after suffering a stroke. He was buried in Mt. Carmel Cemetery in Moorestown.


Note

This biography originally appeared in David Jones, ed., Deadball Stars of the American League (Washington, D.C.: Potomac Books, Inc., 2006).


Sources

For this biography, the author used a number of contemporary sources, especially those found in the subject's file at the National Baseball Hall of Fame Library.
Born
April 5, 1877 at Philadelphia, PA (USA)
Died
December 6, 1959 at Mount Holly, NJ (USA)
If you can help us improve this player's biography, contact us.
http://bioproj.sabr.org/bp_ftp/images2/ConroyWid.jpg
600
800
admin
/wp-content/uploads/2020/02/sabr_logo.png
admin
2012-01-04 20:34:14
2012-01-04 20:34:14
Wid Conroy