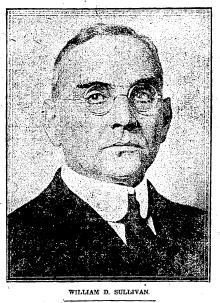 ---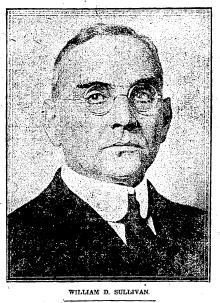 As sports editor of the Boston Globe from 1884 to 1910, William D. Sullivan evolved the newspaper's baseball coverage from basic game accounts into one of the nation's most comprehensive outlets for reporting and analysis of teams, players, and issues.
William Dunning Sullivan was born on July 17, 1862, in Somerville, Massachusetts, the second oldest of four children of Julius L.D. and Mary (Marvin) Sullivan.1 He grew up on Glen Street in the East Somerville neighborhood of Somerville, an early middle-class suburb of Boston.2 His parents could afford a suburban home since his father came from a prominent family that had arrived from Ireland decades before the potato-famine immigration. His grandfather was Thomas V. Sullivan, a sea captain who became a clergyman in his later years, best known for establishing the first American branch of the Young Men's Christian Association.3
Julius L.D. Sullivan commuted the four miles from Somerville to downtown Boston on a horse-drawn trolley line, where he worked as a clerk, or apprentice businessman, for silversmith Newell Harding.4 In 1872 he became the owner of this silversmith operation, which he renamed Newell Harding & Company.5 However, following a spat with the founder, Julius abandoned that business name in 1877 and operated the company as J.L.D. Sullivan.6
Sullivan was educated in the Somerville public schools. He graduated from the Prescott grammar school in July 1875 and was admitted to Somerville High School in September 1875.7 Sullivan graduated from Somerville High School on July 1, 1879, one of 15 students in the college-preparatory course among a total of 34 graduating students; he was the salutatorian of his class; the valedictorian was Alice Hayward, his future wife.8 Based on his exemplary study, Sullivan was admitted to Harvard College, located in nearby Cambridge, about a mile from Somerville High School.
His graduation occurred at an inopportune time in the Sullivan household, though, because his father's silversmith business had failed earlier in 1879 and its contents were sold at auction a week before the graduation ceremony.9 To support his family and pay for his son's education, Julius gave up further aspirations to be a self-employed businessman and went to work as a jewelry salesman at Shreve, Crump & Low in downtown Boston.10
Sullivan graduated from Harvard College in June 1883 with a Bachelor of Arts degree.11 During his last year at Harvard, Sullivan wrote some articles about Harvard sports for the Globe.12 In July 1883 he became a full-time reporter in the newsroom at the Globe.13 At the time there was no separate sports department, so reporters handled both news and sports assignments, under the direction of city editor Arthur Fowle.14
The Boston Globe was one of only two Democratic newspapers (the other was the downtrodden Boston Post) in a city dominated by several partisan Republican newspapers, led by the Boston Herald. By 1883, Globe publisher Charles H. Taylor targeted Irish-American readership, addressed issues of interest to women and children, and "encouraged coverage of baseball" to position the Globe to challenge the Herald as Boston's most-read newspaper.15
At the end of the 1883 baseball season, when the Boston team won the National League pennant, Sullivan wrote two novel articles to commemorate the occasion, interviewing ballclub President Arthur Soden for his reflections on the season and writing biographical sketches of the Boston ballplayers.16 Sullivan became the Globe's first baseball specialist in 1884, when he covered the three professional teams in Boston: the established National League team, the new team in the upstart Union Association, and the reserve team affiliated with the National League club. During 1884 Sullivan also expanded the notes column, typically labeled "Base Ball Brieflets," to provide news content to readers beyond bland items designed simply to fill empty space.
In November 1884 Sullivan was promoted to sports editor, the first person to hold that title at the Globe, to focus solely on sporting news.17 He implemented a number of changes to enhance the reporting of baseball information. In 1885 Sullivan wrote an in-depth article for the Sunday edition of the Globe that discussed the people who populated the stands at the ballpark. "There are a goodly number of base ball enthusiasts, or cranks – call them which you please – whose faces are almost as well known on the grounds as the players themselves … who attend as many of the League contests as his business will permit," Sullivan wrote.18 Besides increasing the depth of coverage, this article also supported the Globe's strategy to sell more of the Sunday edition of the newspaper, which increased not only circulation but also profitability.
In 1886, Sullivan traveled to New York City to cover Boston's season-opening game.19 This was an unusual assignment at the time, since it was much cheaper to employ a local correspondent than incur the expense for a writer to travel to a road game. However, an article written from the Boston perspective added greater flavor for Boston readers than what a "special dispatch" by a New York correspondent would provide. Later that year Sullivan wrote an article about the antics of Chicago's star player, Mike Kelly, during a game in Boston, which was an adjunct to the game story.20 Today, this is called a sidebar, but in 1886 it was an unusual aspect of newspaper coverage.
Sullivan wrote under the nom de plume "Featherweight" in the Globe and "Mugwump" in the weekly Sporting Life.21 The Featherweight moniker likely was adopted to humorously distinguish the lean Globe writer from the more famous Sullivan in Boston, heavyweight boxer John L. Sullivan. The Mugwump moniker reflected a popular political leaning in the mid-1880s, as the term for a formerly staunch Republican who now was independent-minded rather than purely partisan.
For the 1886 baseball season, Sullivan hired Will Harris to be the specialist in baseball reporting.22 Harris was the first sports reporter at the Globe to have a byline using his real name, not a nom de plume.23 Harris expanded on the innovations introduced by Sullivan, by traveling to a number of road games and writing informative sidebars to game stories.
Sullivan's greatest writing fame came in February 1887, when he learned about Boston's plan to sign King Kelly, Chicago's best ballplayer. Sullivan traveled with Boston director James Billings to Poughkeepsie, New York, to witness the signing and scoop all the other Boston newspapers. He telegraphed back a lengthy exclusive article containing intimate insights about the transaction, extracted from his interviews with Billings (both on the train to the meeting and at dinner thereafter) and Kelly.24 This was another atypical aspect of baseball reporting in the 1880s.
To respond to the expected interest in reading about Kelly playing for Boston, publisher Taylor devised a promotion to increase Globe readership, by offering prizes to two Boston players: a silver bat to the leading batsman and a gold medal for the best baserunner.25 Sullivan no doubt got a good price for the manufacture of the prizes, which were crafted by Shreve, Crump & Low, where his father worked. During the baseball season, Sullivan again balanced baseball coverage with business objectives, by running periodical statistical updates on the prize competition to help expand readership of the Globe.
Sullivan married Alice Hayward on September 28, 1887, in Somerville.26 The wedding was a small affair, held at the bride's home in West Somerville.27 After their honeymoon, Sullivan and his bride lived in a house on Cherry Street, just a few doors away from his mother-in-law.28 Their first child, Viola Sullivan, was born on June 19, 1888.29
The baseball coverage during the first three years of Sullivan's tenure as sports editor helped produce a sizable increase in Globe readership. By 1887, the Globe had the highest circulation of any newspaper in Boston, topping the Herald, which had been the most widely read paper in the city for many years.30 In April 1888 Sullivan was promoted to assistant city editor, while retaining full duties as sports editor.31
To replace Harris, who left to work for the New York Press, Sullivan hired former major leaguer Tim Murnane to be the newspaper's baseball specialist.32 Murnane indefatigably covered professional baseball in Boston, reporting on both home and road games in 1888 and 1889. Murnane developed into a nationally renowned expert observer of the game during Sullivan's tenure as sports editor. In 1889 Sullivan began supplementing Murnane's copious reports with accompanying charts, drawings, and statistical compilations. Sullivan also employed junior writers to assist Murnane when he couldn't be in two places at the same time.
Sullivan continued to write his "Hub Happenings" column for the weekly Sporting Life for several years as well as occasional pieces for the Globe, where he gave readers greater insight into the game of baseball. In April 1888 he penned a lengthy article, laced with direct quotations, about New York Giants pitcher and fellow Somerville resident Tim Keefe, who explained to Sullivan his logic to decline the Giants' salary offer and debunked the rumors of his impending marriage.33
"It is said of Mr. Sullivan that he hasn't a real enemy in the world and yet, unlike most men of that kind, he never hesitates to tackle a player or club that he thinks is wrong, never truckles to anybody, and calls things by their true names," Harris wrote in an 1889 biographical sketch of Sullivan. "His immense popularity is the best evidence of his fairness and personal worth and his position as a baseball writer without an enemy is unique because it is unparalleled."34
As a young protégé of Taylor, Sullivan was promoted to city editor in December 1889 after the incumbent suddenly died.35 This promotion, following Fowle's recent elevation to managing editor, showed Taylor's belief in the strategic importance of the sports-editor position beyond its newspaper content as "a stepping stone to the posts of city editor and managing editor throughout the Globe's first 70 years."36 Sullivan continued to handle the duties of both city editor and sports editor for another 20 years.
Sullivan "was considered one of the most thorough, judicious and brilliant editors in the country."37 Sullivan, known as W.D., was a "slight, soft-spoken man," but showed his tenacity through a "never-flagging enthusiasm in pursuit of the news."38 Sullivan was a content man, suffering no fluff or sensationalism in reporting, which was consistent with Taylor's philosophy that "reporters were the most important people on a newspaper and that its editorial content was what sold a newspaper."39
During the 1890s Sullivan used content excellence to support the Globe's business strategy to increase its circulation in the Boston suburbs, by encouraging expansive baseball coverage of the New England League, a regional minor league (and overlooking the conflict of interest that Murnane was both Globe writer and league president). The "Murnane's Baseball" column became a staple of the Sunday edition with its wide-ranging exploration of baseball issues. By 1898 the circulation of the Sunday edition of the Globe was more than double the next-highest newspaper, while the daily edition also comfortably topped all other newspapers in the city.40
The great strength of Sullivan as sports editor, while also handling the duties of city editor, was his ability to hire not just competent writers but ones who could fiercely and independently cover their assigned sport. Later these individuals had editorial titles, such as Murnane who, at his death, was mourned as the Globe's baseball editor for 30 years.41 During the 1890s Sullivan hired Melville Webb, straight from high school to cover high-school sports, and James O'Leary, who wrote news before focusing exclusively on sports.42 When Boston became a two-team city for major-league baseball in 1901, Webb and O'Leary assisted Murnane on the baseball beat; each man eventually assumed a portion of that mantle following Murnane's death in 1917.
Sullivan was a single parent for most of the 1890s, after his wife, Alice, and their second child both died in childbirth on February 20, 1892.43 He and daughter Viola then moved in with his mother-in-law.44 In 1900, following the death of his mother-in-law, Sullivan moved from Somerville to Winchester, where he lived not only with his daughter but also with his widowed sister Josephine Witmer and her three children.45 He married a second time on March 23, 1903, in Winchester to Caroline Van Horn.46 They lived the next four decades in a house on Fletcher Street in Winchester.47
In 1904 Globe publisher Charles Taylor purchased the Boston team in the American League and installed his son John I. Taylor as president.48 Sullivan navigated the apparent conflict of interest by focusing on authoritative reporting about the Boston Americans while simultaneously helping to expand readership. He authorized more travel for Murnane, who now pursued year-round reporting on baseball. During the winter of 1905 Murnane traveled to the homes of Boston ballplayers to interview them for Sunday profile articles; he also went to spring training (of both Boston teams) and attended the World Series and league meetings during the fall.
The city desk was the focal point of a newspaper at the turn of the twentieth century, so Sullivan as city editor was at the center of the day's events. He deployed reporters to gather the news, which he tempered with his "thorough knowledge of the New England field and of the New England psychology in business and social life, as well as its educational, religious and political activities."49 Sullivan was demanding, but fair and respectful in a genial way. "It takes a big man to hold the position of city editor," the Globe once wrote of him. "It is a position that requires a keen knowledge of human nature, of the city and state, and of the nation; of the times and the trend of things and thought; and, above all, untiring patience and initiative. All these and more W.D. Sullivan possesses."50 He sent his reporters "wherever the news developed, anywhere in the country and on occasion abroad."51 It was said "he could almost 'smell' news."52 The Globe had excellent reporting because "Sully's enthusiasm was infectious. He never got over the excitement of a good story."53
When serious competition for readership emerged from the re-energized Boston Post and the newly launched Boston American, Sullivan relinquished his duties as sports editor in 1910 to concentrate full-time on being city editor.54 "Both the Globe and sports were then booming," Jerry Nason wrote in a 1972 retrospective on Sullivan's tenure as sports editor. "It was too much for one man to handle, even such a capable one as Sully."55 As his replacement as sports editor, Sullivan hired Walter Barnes, who was sports editor at the rival Boston Herald and had earlier worked in the same capacity for a dozen years at the Boston Journal. With Barnes as sports editor, Sullivan still wrote occasional articles for the Globe into the early 1920s, notably observations from the annual Harvard-Yale football game.
After giving up the mantle of sports editor, Sullivan worked another quarter-century at the Globe. In 1926 he was promoted to managing editor by the new publisher, William O. Taylor, son of the late Charles Taylor.56 Now in his 60s, Sullivan's chief duty was to develop assistant managing editor Laurence Winship to be his successor. When Sullivan retired from the Globe in 1937, Winship became managing editor.57 The lessons learned from Sullivan proved invaluable to Winship, as he eventually assumed the top editorial position at the Globe, with the added distinction as "the first outside the Taylor family to hold the title of editor."58
Sullivan died on January 30, 1946, at his home in Winchester.59 He was cremated following a funeral service in Bigelow Chapel at Mount Auburn Cemetery in Cambridge.60
This biography was reviewed by Len Levin and fact-checked by Kevin Larkin.
Notes
1 Birth records for Somerville in 1862 in the Massachusetts State Archives (Volume 151, Page 217).
2 Somerville City Directory, 1871; federal census records for 1880 for 34 Glen Street, Somerville, Middlesex County, Massachusetts.
3 "How the Boston Y.M.C.A. Was Organized," Boston Globe, June 3, 1901.
4 Boston City Directory, 1862 and 1871.
5 Boston City Directory, 1873 to 1875; "Newell Harding vs. J.L.D. Sullivan," Boston Daily Advertiser, November 24, 1876.
6 Advertisement for J.L.D. Sullivan, Boston Daily Advertiser, November 23, 1877; Boston City Directory, 1878.
7 Annual Report of the City of Somerville, 1875.
8 Annual Report of the City of Somerville, 1879.
9 Advertisement for J.L.D. Sullivan, Boston Daily Advertiser, June 21, 1879.
10 Boston City Directory, 1880 and 1885.
11 "Harvard College: Commencement Day Right Royally Observed," Boston Globe, June 28, 1883.
12 William Harris, "William D. Sullivan," in Athletic Sports in America, England and Australia, edited by Henry Clay Palmer (Philadelphia: Hubbard Brothers, 1889), 603.
13 "William Dunning Sullivan," Harvard College Class of 1883: Secretary's Report No.2, 1886.
14 Jerry Nason, "A Century of Globe Sports: The Early Years," Boston Globe, March 12, 1972.
15 James Morgan, Charles H. Taylor: Builder of the Boston Globe (Boston: James Morgan, 1923), 85-89.
16 "President Soden: Surprised at the Success of His Nine," Boston Globe, September 30, 1883; "Our Boys: Who They Are and What They Have Done," Boston Globe, October 1, 1883.
17 Harris, "William D. Sullivan"; Jerry Nason, "A Century of Globe Sports: The W.D. Sullivan Years," Boston Globe, March 13, 1972.
18 "At the Ball Grounds: Scenes and Incidents of the National Game," Boston Globe, June 7, 1885.
19 Featherweight, "Mutrie's Men: Triumph Over Soden's Ball Nine," Boston Globe, April 30, 1886.
20 Featherweight, "The King Pin of Them All," Boston Globe, July 30, 1886.
21 Harris, "William D. Sullivan."
22 William Harris, "Sketches of Baseball Writers," in Athletic Sports in America, 610.
23 William Harris, "The Bostons Abroad," Boston Globe, June 6, 1887.
24 Featherweight, "Kelly, the King," Boston Globe, February 15, 1887.
25 "For the Best Ball Players," Boston Globe, April 28, 1887.
26 Marriage records for Somerville in 1887 in the Massachusetts State Archives (Volume 380, Page 257).
27 "Sullivan-Hayward," Boston Globe, September 29, 1887.
28 Somerville City Directory, 1890.
29 Birth records for Somerville in 1888 in the Massachusetts State Archives (Volume 386, Page 268).
30 Louis Lyons, Newspaper Story: One Hundred Years of the Boston Globe (Cambridge: Harvard University Press, 1971), 65.
31 Harris, "William D. Sullivan."
32 William Harris, "Timothy H. Murnane," in Athletic Sports in America, 579.
33 Featherweight, "Keefe Only Blushed," Boston Globe, April 24, 1888.
34 Harris, "William D. Sullivan."
35 "Globe Exclusive: Banquet to City Editor Sullivan," Boston Globe, December 13, 1889.
36 Lyons, Newspaper Story, 38.
37 "'W.D.' Was College Sports Expert and Brilliant Editor," Boston Globe, January 30, 1946.
38 Lyons, Newspaper Story, 59, 72.
39 Lyons, Newspaper Story, 74.
40 Lyons, Newspaper Story, 134.
41 "Murnane Drops Dead in Theatre," Boston Globe, February 8, 1917.
42 Nason, "The W.D. Sullivan Years."
43 Death records for Somerville in 1892 in the Massachusetts State Archives (Volume 428, Page 352). The infant was not given a name, since she lived just two hours.
44 Somerville Directory, 1896 and 1899.
45 Federal census records for 1900 for 34 Church Street, Winchester, Middlesex County, Massachusetts.
46 Marriage records for Winchester in 1903 in the Massachusetts State Archives (Volume 537, Page 679).
47 Federal census records for 1910 and 1940 for 64 Fletcher Street, Winchester, Middlesex County, Massachusetts.
48 "Boston Club Sold," Boston Globe, April 19, 1904.
49 "'W.D.' Was College Sports Expert."
50 "Tribute of Esteem to W.D. Sullivan," Boston Globe, June 13, 1923.
51 Lyons, Newspaper Story, 237.
52 "'W.D.' Was College Sports Expert."
53 Lyons, Newspaper Story, 237.
54 Nason, "The W.D. Sullivan Years."
55 Jerry Nason, "A Century of Globe Sports: The Barnes Years," Boston Globe, March 14, 1972.
56 Lyons, Newspaper Story, 246.
57 Lyons, Newspaper Story, 274.
58 Lyons, Newspaper Story, 182.
59 "William D. Sullivan, Retired Globe Editor, Dies in 84th Year," Boston Globe, January 30, 1946.
60 "William D. Sullivan: Newspaper Associates, Harvard Men at Rites," Boston Globe, February 2, 1946.
Born
July 17, 1862 at Somerville, MA (US)
Died
January 30, 1946 at Winchester, MA (US)
If you can help us improve this player's biography, contact us.
/sites/default/files/SullivanWilliam.jpg
600
800
admin
/wp-content/uploads/2020/02/sabr_logo.png
admin
2018-01-03 15:23:08
2020-04-09 14:40:27
William D. Sullivan