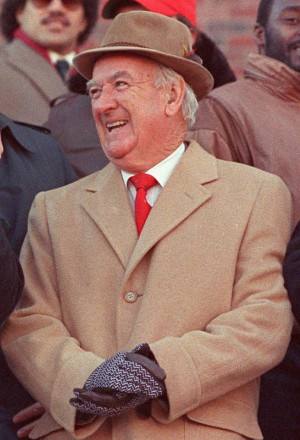 ---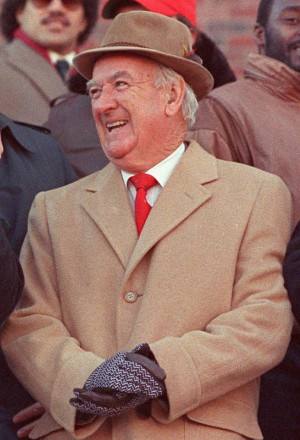 Best known as the principal owner of the New England Patriots football team from 1960 to 1988, Billy Sullivan began his career in professional sports in baseball when Boston was a two-team city. As publicity director for the Boston Braves from 1946 to 1952, Sullivan crafted numerous ideas to encourage baseball fans to patronize the Braves in the face of stiff competition from the Red Sox. During the 1960s Sullivan led the campaign to build an all-weather, multipurpose sports stadium in Boston, which, had it been successful, would have dramatically changed the course of Red Sox history with the team forsaking Fenway Park to play in a municipal stadium.
William Hallissey Sullivan Jr. was born on September 13, 1915, in Lowell, Massachusetts.1 He was the oldest (along with twin sister Vera) of the five children of William and Vera Sullivan, who raised their family on Forest Street in the Highlands neighborhood of Lowell.2 His father was a newspaperman, first working as a telegraph editor at the Lowell Sun before becoming the Lowell correspondent for the Boston Globe.3
Sullivan was educated in the public schools of Lowell, graduating from Morey Junior High School in 1930 and Lowell High School in 1933.4 While in high school, he worked as a stringer for the Lowell Evening Leader, earning 50 cents a box score for watching and scoring ballgames in the Lowell Twilight League.5 He continued his education at Boston College, where he was yearbook editor and a newspaper correspondent for BC football games, before graduating in 1937.6
In 1938, Sullivan returned to his alma mater to handle publicity for the BC athletic department.7 Under new football coach Frank Leahy, BC attained national prominence in 1939 with a one-loss season and victory in the Orange Bowl, followed in 1940 by an undefeated season and victory in the Sugar Bowl. Sullivan's extensive advance work at the Sugar Bowl to generate publicity for BC in the New Orleans newspapers caught the attention of Guido Rugo, a Boston sports enthusiast who became part-owner of the Boston Braves baseball team in April 1941, and who later said that he "never forgot the skinny Boston College kid" during the war years.8
When Leahy moved on to coach at Notre Dame for the 1941 season, Sullivan went with him as his executive assistant.9 Sullivan married Mary Malone on December 29, 1941, in Boston and they honeymooned in New Orleans, where they attended the Sugar Bowl game.10 In the spring of 1942, he enlisted in the US Navy and served during World War II as the publicity officer for the Bureau of Aeronautics in Washington, D.C., regarding its athletic training program for pilots.11
Rugo and fellow Braves owner Lou Perini kept Sullivan in mind during the war years as they, now Braves management, not just investors, plotted a postwar strategy to compete against the Red Sox. In January 1945 they offered Sullivan the job as publicity director of the Braves to take effect once the war was over.12 During the fall of 1945 Perini installed a lighting system to play night baseball at Braves Field during the 1946 season, hoping to lure some customers away from the Red Sox, which continued to play only day baseball in 1946.
"Perini did not try the foolhardy strategy to convert dedicated Red Sox fans," this author wrote in his book Red Sox vs. Braves in Boston: The Battle for Fans' Hearts, 1901-1952. "Instead, Perini tried to gain a bigger share of the large group of general baseball fans, who followed both Boston teams. In his sights, too, were the Sox-leaning fans who were listeners of radio broadcasts and readers of the sports page but infrequent attendees at the ballpark. Perini also looked to attract intermittent fans, who, before the war, mostly expressed an interest in Saturday or Sunday contests. Since men were the primary fans at the ballpark, Perini also aimed to develop more women into baseball fans."13
Sullivan joined the Braves in January 1946 and immediately went to work generating ideas to put bodies into the empty seats at Braves Field. He recalled that after presenting his ideas to ownership, he would get a thumbs up or down, but was surprised that no one ever asked, "How much will it cost?"14 That philosophy was quickly put to the test at the Braves' season-opener, when wet paint at Braves Field stained the clothes of many patrons. In Sullivan's first publicity crisis, he persuaded Perini to reimburse people for their cleaning expenses, with no questions asked or receipts needed, in order to build goodwill.15
During 1946, Sullivan created the idea of a team yearbook, which was called a sketch book at the time, so fans could learn more about the ballplayers. He also produced a monthly newsletter, the "Braves Bulletin," which was mailed to thousands of fans to keep them abreast of team developments. Sullivan also increased communication with the sportswriters by distributing a daily briefing with up-to-date statistics and information, which indirectly kept fans more informed.16
The first night game at Braves Field was staged on Saturday, May 11, where attendance was 35,407, the largest crowd since 1933. Sullivan devised a promotion specifically targeted to night games. He organized a bus package to transport fans to night games from the outlying areas of Greater Boston, to make it easier for fans to get to travel to night games who likely otherwise would not attend. A ticket on the "Braves Field Express" provided round-trip transportation and a reserved grandstand seat. Thirty buses brought 1,000 fans to that first night game.17
Midway through the 1946 season, Sullivan suggested that the Braves distribute a survey questionnaire to Braves Field patrons to get their input on potential improvements for the 1947 season. Prizes were offered as an incentive to respond to the survey, with the top prize being an automobile. The survey generated 50,000 responses, which inspired Appreciation Day and other automobile giveaways during the next few years. One of the findings from the fan survey was that 70 percent of fans wanted 28 or more night games (38% wanted 28 and 32% wanted more than 28), which led the Braves to schedule 28 night games at Braves Field in 1947 (compared with 14 night games at Fenway Park in its inaugural year of games under the lights).18
Sullivan had more ideas for 1947. In a novel move in major-league baseball, the Braves created a 30-minute film of highlights from the 1946 season, entitled "Take Me Out to the Wigwam," which the club made available to local civic groups to spur interest in the team. He also had the Braves partner with the Somerset Hotel to provide a combination package of dinner and a ballgame, dubbed the blue-plate special, which included cab rides to the ballpark and back to the hotel. One wag quipped that the promotion most desired, but not offered, was a parking space near Braves Field that allowed the spectator to drive away from the ballpark in less than one hour after the game ended.19
Insufficient automobile parking at Braves Field was the most common complaint lodged against the Braves. The solution to this vexing problem gave Sullivan his first taste of the complexities of Massachusetts politics. The Braves had to work with the Massachusetts legislature to pass a special law to allow the state to rent the Commonwealth Armory (next door to Braves Field) when it was not being used for military purposes. In July 1947 the Braves negotiated a lease to use the outdoor space at the Commonwealth Armory for automobile parking.20
On August 20, 1947, when attendance at Braves Field was projected to hit one million customers for the season, the Braves offered their first Appreciation Day to honor a lucky fan with a new automobile, which attracted more than 36,000 people. "The fans stayed to the bitter end," the Boston Globe sarcastically commented on the 16-10 loss to Pittsburgh. "Not because they appreciated the poor brand of baseball. Not because they had much hope of the Braves coming back with one of their patented thrilling ninth-inning rallies. They were in the market for a new car."21 Perini actually gave away two automobiles that evening, not just the advertised one car.
"All of these promotions appealed most to intermittent fans, who were a predominant part of the spectator audience for night games at Braves Field in 1946 and 1947, rather than necessarily the dedicated or general baseball fan that was more interested in the baseball game itself," which masked the time bomb hidden within the increased attendance numbers at Braves Field. Despite all the work done by Sullivan, "[t]hese promotions exacerbated the shift of general baseball fans to Sox-leaning status, and eventually to become dedicated Sox fans" rather than faithful Braves fans.22
In 1948 Sullivan helped the Braves to expand their community service efforts, when several Braves players participated in a 10-minute segment of the "Truth or Consequences" radio show, which focused on a 12-year-old cancer patient (anonymously named "Jimmy") at Children's Hospital in Boston. The idea was to drum up interest among listeners to contribute toward research into cancer among children to help other cancer-stricken children. The founding of the Jimmy Fund to raise money for the research invariably focuses on the role of the Variety Club in Boston.23 Rarely does the background story touch on the behind-the-scenes role of Sullivan to bring Perini on board to overtly support the effort.24 If Sullivan is mentioned, it regards his role to supply the ballplayers for the radio show. Sullivan was one of the seven men cited in September 1948 for their role in raising money for children's cancer research, indicating his more expansive role in Jimmy Fund history.25
Even though the Braves won the National League pennant in 1948, attendance dropped steadily in the years thereafter, negating the best ideas of Sullivan to attract interest in the Braves. His Appreciation Day idea was discontinued in 1951, when there were far fewer fans for the Braves to appreciate. With the advent of television in the early 1950s and radio broadcasts of Red Sox road games beginning in 1951, many intermittent fans stayed home to watch Milton Berle on TV or listen to Curt Gowdy on the radio rather than trek to Braves Field.26
The last big promotional effort by Sullivan came in January 1952 when the Braves flew sportswriters across the country to visit their rookie ballplayers and interview these future stars.27 The costly effort, though, failed to increase attendance at Braves Field. Sullivan left the Braves in December 1952, just a few months before Perini announced in March 1953 that the Braves were relocating from Boston to Milwaukee.
Sullivan spent the next few years in Los Angeles, where he worked with Leahy, now ex-coach of Notre Dame, in a film-production business.28 With six children at home (Charles, Katherine, Jean, Nancy, William III, and Patrick), Sullivan soon returned to Boston to take a more secure job with the Metropolitan Oil Company, where he quickly advanced to president.29
Through his efforts with the Jimmy Fund, Sullivan was still known as a baseball man in the late 1950s, which was his entrée into Boston stadium politics in 1958. A cousin who ran an advertising agency asked Sullivan to help a client (Hampden Beer, located in Chicopee in western Massachusetts) that wanted to bring National League baseball back to Boston. "Billy thought the idea was nuts," one writer has noted, since "National League baseball had failed miserably in Boston" and he knew that Perini, still reviled by many in Boston for moving the Braves, "would pull strings to see to it that no National League team was brought in."30
The Hampden Beer people had one decent idea, though, since they also wanted to build a domed stadium to house the proposed National League baseball team.31 The concept of an "all-weather, all-purpose" roofed stadium was first proposed by architect Norman Bel Geddes, who pitched the idea in 1952 to Brooklyn Dodgers President Walter O'Malley as a replacement for aging Ebbets Field.32 The futuristic concept gained national attention in 1955 when architect Buckminster Fuller, creator of the geodesic dome, pitched domed-stadium ideas to O'Malley.33 Still, for the 1950s, the idea was far-fetched and most deemed it impractical.
Sullivan "hated the baseball idea, but loved the stadium," suggesting the brewery try for an NFL expansion franchise and locate the stadium in the suburbs rather than downtown.34 He also proposed that the Red Sox might be interested in being a tenant to leave Fenway Park, which had terrible driving access for suburban fans and limited parking facilities once at the ballpark. "We're always interested in getting a little more parking around Fenway," Red Sox general manager Joe Cronin said about the proposed 50,000-seat suburban stadium in Norwood, 15 miles southwest of Boston, which promised loads of parking for suburban baseball fans.35 However, the Red Sox soon disavowed interest in the project by announcing they'd work out the parking issues with the City of Boston.36
Intrigued with the idea of an NFL team in Boston, Sullivan approached NFL Commissioner Bert Bell, who was interested in having a team in Boston, the nation's fifth largest TV market at the time and the largest city in the country without an NFL team.37 However, when Bell suddenly died in October 1959, Sullivan determined that Boston's chance for an NFL team had passed too, so in November 1959 he acquired the eighth franchise in the newly formed American Football League.38 Sullivan named the team the Boston Patriots and arranged to play the team's home games at old Braves Field, now owned by Boston University, after he was rebuffed by the Red Sox to use Fenway Park.
Back in 1950, Sullivan's hometown newspaper, the Lowell Sun, had aptly written that "Billy is an idea man. He has a high talent for dreaming up new ideas and translating them into actions which effect increasing goodwill for the Braves."39 Sullivan, once an idea man, now painted himself as a visionary, but the question remained whether he was simply a dreamer, as many newspapermen labeled him.
Because he now needed a long-term solution to a football facility for the Patriots, Sullivan kept pushing the 1958 domed-stadium concept, not just as an all-weather facility, but also as a multipurpose one for football as well as baseball. Had he been ultimately successful in the erection of a municipal stadium in Boston, Sullivan would have dramatically changed Red Sox history since the team would have forsaken Fenway Park to play in the new stadium. But such a stadium was not to be.
Sullivan began his domed-stadium crusade with the Greater Boston Chamber of Commerce, which established a sports committee in January 1960 to look into the building of a stadium for both baseball and football, and the feasibility of "private as well as state or municipal financing."40 A few weeks later, Boston Mayor John Collins made an announcement that South Bay, adjacent to the Southeast Expressway just south of downtown, was the preferred location for the new stadium, a hotel complex, and a huge parking lot.41 This site was later broadened to be called the South Station stadium site, named for the railroad station just to the north.
Ostensibly, this announcement was helpful to Sullivan's cause, as Collins marshaled several urban renewal projects in his quest to give the city a makeover and become the "New Boston." In 1961, however, Collins hired Ed Logue to be the director of the powerful Boston Redevelopment Authority, which had jurisdiction over all big projects in the city. A sports stadium was not on Logue's priority list, as he oversaw the completion of the massive Government Center and Prudential Center projects as well as the creation of a new neighborhood to replace the demolished West End of the city.42
The Red Sox had lukewarm interest in this 1960 stadium idea, as the Boston Globe wrote that owner Tom Yawkey "would be willing to talk about moving his club to a new stadium, provided the correct proposition were made."43 A few months later, Yawkey expressed doubts about the engineering feasibility for a roof to cover a 60,000-seat stadium, with the Globe writing that "Tom obviously does not envision an all-weather stadium in the near future."44
Parking remained a huge problem for the Red Sox and the aging infrastructure of 50-year-old Fenway Park began to be a concern. While today Fenway Park is considered "America's most beloved ballpark" and a cherished historical treasure, in the 1960s the facility was becoming an archaic eyesore and fans avoided it in droves. Yawkey saw how successful the Braves had been after moving from Boston to Milwaukee to play in publicly funded County Stadium, so he left the door open to move from Fenway Park to a municipal stadium in Boston.
When Sullivan was stymied by Logue, he took his domed-stadium idea to the Commonwealth of Massachusetts. Sullivan worked with John Bresnahan, a state representative from Lawrence, and John Powers, a state senator from Boston (who had lost to Collins in the last mayoral election), to introduce a bill during the 1962 legislative session to create the Greater Boston Stadium Authority.
By 1962 modern stadiums with cantilevered decks had opened in Washington and Los Angeles, with Shea Stadium in New York City set to open in 1964. In Houston there was a groundbreaking ceremony to begin construction of that city's voter-approved, municipally funded domed stadium (which would open in 1965).45 Other stadiums were on the drawing board in cities like Atlanta and San Diego. However, most of the new stadiums were built to attract new teams, not to accommodate the incumbent team in a city.
The mission of the Greater Boston Stadium Authority, as defined in the bill, was "to construct, operate and maintain a multi-purpose stadium and appurtenant facilities."46 The rub was that the authority had to pay for the stadium through the issuance of revenue bonds (maximum $50 million, issued by the authority, not the commonwealth), which were "payable solely from revenues and other monies as hereinafter provided for the purpose of paying all or any cost of the project," but the costs "shall not constitute a debt of the commonwealth" or "a pledge of the faith and credit of the commonwealth."47 In other words, no taxpayer money would be used for the stadium project and the revenue bonds had no credit-backing from the commonwealth.
As the legislature neared passage of the bill in late June, Sullivan, ever the optimist, told reporters that if the bill passed there was "an outstanding chance" that construction on the stadium, "the all-purpose type with a sliding roof which would permit contests to be held in bad weather," would begin by year-end 1962.48 When the bill was passed in late July, Sullivan, "the man who started the dream of a stadium in Boston," amped up the rhetoric by saying: "It will be something, not just for the Patriots alone. Its potential is unbounded. It will bring to Boston great attractions like a U.S.-Russia track meet, top college football rivalries, and many great attractions in the entertainment field."49 The Red Sox remained tepid about the stadium concept, as Yawkey acknowledged that he would "consider" it, but added, "I'd have to know more about it."50
In August 1962 Governor John Volpe appointed Sullivan to be chairman of the Greater Boston Stadium Authority.51 However, the politics of redevelopment in Boston and the realities of the Massachusetts legislature's conservative attitude toward use of public money for private business (and need to finance the state budget deficit) both dogged Sullivan and eventually converged to put the kibosh to his dream of a domed stadium for Boston sports teams.
By December 1962 the Red Sox warmed to the idea of the proposed municipal stadium, as vice president Dick O'Connell publicly expressed an interest in being a tenant, although many details still needed to be worked out.52 The Red Sox more visibly signaled their interest in the proposed stadium by negotiating a lease with Sullivan for the Patriots to play at Fenway Park beginning with the 1963 football season.53 Since the talent-starved Red Sox were hardly contenders for the American League pennant, the Patriots could expect to play football at Fenway beginning in early October. Before then they would need to play on the road, or occasionally play a September home game at Boston College's Alumni Stadium. Temporary bleachers were erected in left field at Fenway Park each fall to increase the seating capacity for football games.
After doing two years of investigation, Sullivan was confident that the revenue bonds would easily sell to finance the stadium.54 However, by the fall of 1964 there was a problem with the 100 percent private financing of the proposed stadium, as potential bond investors were not convinced that the project would pay for itself without state support. Sullivan then brought the city's hockey and basketball teams, the Bruins and Celtics, into the project through a new arena to be built adjacent to the stadium to replace the Boston Garden, which made the financial projections more robust, but increased the total cost to nearly $100 million.55 By early 1965 the new plan was to build a three-piece complex near South Station, consisting of a 55,000-seat, retractable-roof stadium; an 18,000-seat arena; and a 5,400-space parking garage.56
The politics of the new stadium only escalated with the addition of a new arena to the complex. While the Red Sox were now more visibly interested in the new stadium, Yawkey initially wanted to be the "principal tenant" and "make all the big decisions concerning the stadium."57 After a rough financial year during the 1965 baseball season, headlines such as "Stadium Vital, Sox Say" began to appear in newspapers, as O'Connell told sportswriters, "We are completely and unequivocally in favor of a new stadium," since the Red Sox were "strangling to death at Fenway Park" due to insufficient parking and too few top-price seats.58 "I believe the future of Boston baseball demands a new stadium," Yawkey said. "We are willing and anxious [to play in the new stadium]. … [I]t would not be wise to spend a large amount on Fenway for repairs in its present location. A new ballpark with adequate parking [10,000 cars] and a fair rental [fee] for us is what we want."59
Sullivan hoped the public support from the Red Sox would bring the proposed stadium complex to fruition. He quietly worked with the legislature on a bill to make the stadium-authority revenue bonds backed by the credit of the commonwealth, rather than be totally dependent on ticket receipts and parking fees from the new stadium complex.60 However, the legislators did not buy his pitch. In June 1966 the South Station stadium complex bill died in the legislature.61 The state budget was in such shambles that legislators earlier in the year had enacted a sales tax, effective April 1, to balance the budget. Legislators were in no mood to put money behind a new stadium complex.
After the stadium bill failed, the Red Sox expressed reservations about the private financing of the new stadium and the Bruins pulled out of the deal, forcing a downsizing of the complex design to be just a stadium without either the arena or parking garage.62 Sullivan kept pushing forward to tackle the public financing issue, getting the backing of the Boston Redevelopment Authority in July 1967.63 Yawkey threatened to move the Red Sox if a new stadium were not built.64 The Red Sox publicly pleaded Sullivan's case: "The stadium cannot attract private funds and must be subsidized with public money if it is going to be built at all."65
What finally killed the idea of a multipurpose sports stadium in Boston was the Red Sox winning the American League pennant in 1967. In the aftermath of this Impossible Dream team, the Red Sox had vastly increased attendance to become more profitable, so Yawkey had less interest in the new stadium, despite the continued parking problems at Fenway Park. In the spring of 1968 the Red Sox bailed out of the multipurpose stadium discussions, when Yawkey, seeing the fan resurgence, told the press, "I've given up thinking about a new stadium."66
Sullivan, on the other hand, was now more interested in a new stadium, as continuing to use Fenway Park was too problematical. When the Red Sox qualified for the World Series in 1967, Sullivan had to move the Patriots' first scheduled home game, on October 8, to San Diego and also shift the October 15 home game to Boston College. The Patriots didn't play their first game at Fenway Park until October 22. Sullivan desperately needed a new place for Patriots games. While the Patriots got an extension on their Fenway Park lease for 1968, the Red Sox balked at offering a lease for 1969, citing the expanded baseball playoff structure being implemented that season.67
By 1970, with the NFL mandating that all teams play in a stadium seating at least 50,000 people, Sullivan was running out of options in Boston. The Massachusetts legislature had failed to pass 23 different stadium proposals that the Greater Boston Stadium Authority had developed under Sullivan's leadership.68 By 1970 the stadium proposals were all single-sport (football only) and less elaborate (no retractable roof). The last proposed municipal stadium idea was "a spartan-like bowl with no architectural frills" on the site of the city dump near Neponset Circle on the very southern fringe of Boston.69 When that was rejected, Sullivan began looking to the suburbs of Boston.
Sullivan finally landed a stadium for the Patriots, without any help from politicians in the city of Boston or the commonwealth of Massachusetts. In April 1970 the citizens of Foxboro, a small town 25 miles south of Boston, voted to allow the building of a stadium. Sullivan built a bare-bones, 50,000-seat football stadium, thanks to free land from the adjacent race track (which collected revenue from its large parking lot), $6 million raised from a stock issue to fund the construction, and $1 million from the Schaefer Brewing Company to buy naming rights. Schaefer Stadium opened in 1971. As one writer put it, "The futuristic $25 million domed palace in downtown Boston he had planned on ten years earlier was now an open-air prefab tenement next to a sleazy horse track in a town no one had ever heard of."70 Feeling driven out of Boston, Sullivan changed the name of the football team to the New England Patriots.
Following the merger of the AFL and NFL in 1970, Sullivan marshaled forward as Patriots team president through ups (few) and downs (mostly) for two more decades. In 1988, following several bad business decisions, culminated by the investment in the Michael Jackson Victory Tour, Sullivan sold the Patriots team to Victor Kiam and the stadium to Robert Kraft.71 Sullivan stayed on as titular president until 1992 (when Kiam sold the team to Robert Orthwein), before Kraft acquired the team in 1994.72
Sullivan, though, didn't live to see Kraft's two signature achievements in 2002: the Patriots' first victory in the Super Bowl in January and the opening of the new stadium in September. Half a century after Sullivan had begun his crusade for a domed, multipurpose stadium, a modern stadium was finally constructed in Greater Boston.
Sullivan died on February 23, 1998, at his winter home in Atlantis, Florida, and is buried at Mosswood Cemetery in Cotuit, Massachusetts, near his summer home on Cape Cod.73
Acknowledgments
This biography was reviewed by Len Levin and fact-checked by Kevin Larkin.
Notes
1 Birth records of Lowell, Massachusetts, for 1915, page 651.
2 Federal census records for 1920 and 1930 for William H. Sullivan Sr., 42 Forest Street, Lowell, Middlesex County, Massachusetts.
3 Lowell City Directory, 1920, 1934, and 1943.
4 "Morey School Graduates 232," Lowell Sun, June 25, 1930; "Lowell High School Class of 1933," Lowell Sun, June 22, 1933.
5 George McGuane, The New England Patriots: A Pictorial History (Virginia Beach: Jordan & Company, 1980), 17.
6 "Billy Sullivan to Be Ensign," Lowell Sun, April 14, 1942.
7 Ibid.
8 Al Hirshberg, The Braves: The Pick and the Shovel (Boston: Waverly House, 1948), 175.
9 "Notre Dame Hires Eagles' Press Agent," Boston Globe, March 10, 1941.
10 "Sullivan-Malone Nuptials," Lowell Sun, December 30, 1941.
11 "Billy Sullivan to Be Ensign."
12 Hirshberg, The Braves, 177.
13 Charlie Bevis, Red Sox vs. Braves in Boston: The Battle for Fans' Hearts, 1901-1952 (Jefferson, North Carolina: McFarland, 2017), 178-179.
14 Hirshberg, The Braves, 185.
15 "An Apology to Braves Fans," Boston Globe, April 17, 1946.
16 Hirshberg, The Braves, 178-179.
17 Harold Kaese, "Braves Field Express Home to Game to Home Newest Fan Convenience," Boston Globe, May 14, 1946; Hirshberg, The Braves, 183-184.
18 Hy Hurwitz, "Braves-Sox Night Game Battle Looms," Boston Globe, November 27, 1946; Melville Webb, "Watertown Man's Ticket Gives Him Braves Auto," Boston Globe, January 23, 1947.
19 "New Braves Film Exciting Record of 1946 Season," Boston Globe, April 9, 1947; Harold Kaese, "Braves Latest Ticket Special Solves Eating Problem; Parking Next," Boston Globe, August 14, 1947.
20 "Braves' Prexy Given State Contract for Armory Parking Lot," Boston Globe, July 18, 1947; Acts and Resolves Passed by the General Court of Massachusetts in the Year 1947 (Boston: Wright & Potter, 1947), chapter 627, page 657.
21 Gene Mack Jr., "36,000 Storm Braves Field; 2 Everett Men Win Autos," Boston Globe, August 21, 1947.
22 Bevis, Red Sox vs. Braves in Boston, 184.
23 Siddhartha Mukherjee, The Emperor of All Maladies: A Biography of Cancer (New York: Simon & Schuster, 2010), 95-99.
24 Saul Wisnia, The Jimmy Fund of Dana-Farber Cancer Institute (Charleston, South Carolina: Arcadia, 2002), 10-15.
25 "Variety Club, Notables, Cited for Aiding Children's Cancer Research," Boston Globe, September 21, 1948.
26 Bevis, Red Sox vs. Braves in Boston, 204-205, 211-212.
27 Melville Webb, "Braves Arrange 11,000-Mile Trip to Interview Rookies," Boston Globe, January 15, 1952.
28 Joseph Dinneen, "Chance Meeting Led Sullivan to Land Met. Coal Co. Position," Boston Globe, April 6, 1958.
29 "Billy Sullivan Named Head of Coal Firm," Boston Globe, April 1, 1958.
30 Jerry Thornton, From Darkness to Dynasty: The First 40 Years of the New England Patriots (Lebanon, New Hampshire: University Press of New England, 2016), 14.
31 Ibid, 15-16.
32 Benjamin Lisle, Modern Coliseum: Stadiums and American Culture (Philadelphia: University of Pennsylvania Press, 2017), 51-53.
33 Lisle, Modern Coliseum, 73-75; "Stadium with Dome Studied by Dodgers," New York Times, October 1, 1955.
34 Thornton, From Darkness to Dynasty, 14.
35 "Big Sports Stadium Planned in Norwood," Boston Globe, February 27, 1958.
36 "Cronin Says Sox to Stay at Fenway," Boston Globe, April 5, 1958.
37 Ed Gruver, The American Football League: A Year-by-Year History, 1960-1969 (Jefferson, North Carolina: McFarland, 1997), 52.
38 Larry Fox, The New England Patriots: Triumph and Tragedy (New York: Atheneum, 1979), 17-20.
39 "The Braves' Bill," Lowell Sun, August 27, 1950.
40 "Hub Chamber to Investigate Building a 60,000-Seat Stadium," Boston Globe, January 8, 1960.
41 Bob Holbrook, "Hub Pros Eye South Bay for Possible Sports City," Boston Globe, February 16, 1960.
42 Thomas O'Connor, Building a New Boston: Politics and Urban Renewal 1950 to 1970 (Boston: Northeastern University Press, 1993), 188-205.
43 "No Football at Fenway – Yawkey," Boston Globe, March 9, 1960.
44 Arthur Siegel, "Yawkey Hails Sox System," Boston Globe, May 10, 1960.
45 Lisle, Modern Coliseum, 155.
46 Acts and Resolves Passed by the General Court of Massachusetts in the Year 1962 (Boston: Wright & Potter, 1962), chapter 778, pages 660-667.
47 Ibid.
48 Will McDonough, "Bill for Hub Stadium Awaits Senate Vote," Boston Globe, June 28, 1962.
49 Will McDonough, "$50 Million Stadium for Hub Wins House-Senate Approval," Boston Globe, July 26, 1962.
50 Bob Holbrook, "Yawkey Would Consider Using Stadium," Boston Globe, July 26, 1962.
51 "Volpe Appoints Sullivan Stadium Authority Head," Boston Globe, August 23, 1962.
52 Harold Kaese, "Sox Won't Move Unless They Get Ironclad Contract," Boston Globe, December 21, 1962.
53 John Ahearn, "Pats to Play in Fenway," Boston Globe, January 6, 1963.
54 Harold Kaese, "Stadium Near, Sullivan Says," Boston Globe, May 3, 1964.
55 Jerry Nason, "Looking Ahead to Stadium," Boston Globe, December 27, 1964.
56 C.R. Owens, "New Stadium Could Mean $100 Million Tax Bite," Boston Globe, January 31, 1965.
57 Will McDonough, "Sox Favor Stadium If They Control It," Boston Globe, January 27, 1965.
58 Jerry Nason, "Stadium Vital, Sox Say," Boston Globe, November 3, 1965; Larry Claflin, "Red Sox Okay New Stadium in Boston, But," The Sporting News, November 20, 1965.
59 "Larry Claflin, "'I Am Not Selling Red Sox,' Yawkey Declares," The Sporting News, December 18, 1965.
60 Owens, "New Stadium Could Mean $100 Million Tax Bite."
61 "House Blocks Bill on Stadium," Boston Globe, June 2, 1966.
62 "Sox Object to Proposed Stadium Rental Fee," Boston Globe, July 16, 1966; "Garageless Stadium Sought," Boston Globe, July 26, 1966.
63 Anthony Yudis, "Logue to Seek South Station Stadium," Boston Globe, July 20, 1967.
64 Will McDonough, "Yawkey Will Move Red Sox If Stadium Not Built Soon," Boston Globe, June 21, 1967.
65 William Lewis, "Stadium Needs Subsidy, Says Red Sox Official," Boston Globe, July 31, 1967.
66 Will McDonough, "Yawkey 'Gives Up' on Stadium," Boston Globe, May 11, 1968.
67 "Pats Can't Have Fenway Park," Boston Globe, May 1, 1969.
68 Robert Trumpbour, The New Cathedrals: Politics and Media in the History of Stadium Construction (Syracuse: Syracuse University Press, 2007), 167.
69 Ibid, 169-170.
70 Thornton, From Darkness to Dynasty, 82.
71 John Steinbreder, "The $126 Million Fumble," Sports Illustrated, March 14, 1988.
72 Peter King, "Kraft Work," Sports Illustrated, February 6, 2012.
73 Marvin Pave, "Billy Sullivan Dies in Florida at 82," Boston Globe, February 24, 1998.
Born
September 13, 1915 at Lowell, MA (US)
Died
February 23, 1998 at Atlantis, FL (US)
If you can help us improve this player's biography, contact us.
https://sabr.org/sites/default/files/Sullivan%20William%20H%20%28Pats%29.jpg
600
800
admin
/wp-content/uploads/2020/02/sabr_logo.png
admin
2018-02-23 13:15:54
2020-04-09 14:40:23
William H. Sullivan