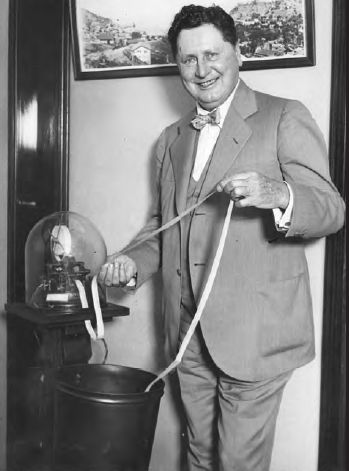 ---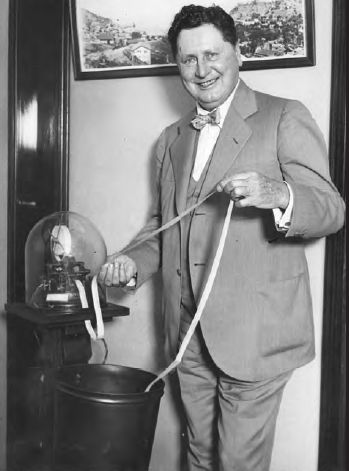 Tuesday, October 8, 1929, should have been the peak day of 68-year-old William Wrigley, Jr.'s life.
His Chicago Cubs had throttled the rest of the National League, winning the pennant by 10½ games after leading by as many as 14½ in mid-September. The thunder in the lineup, led by prize acquisition Rogers Hornsby's .380 average and Hack Wilson's 159 RBIs, powered the Cubs to 982 runs, 224 more than their regular-season opponents scored. And on this day, the march to Wrigley's coveted World Series title would begin at Clark and Addison against the Philadelphia Athletics and 35-year-old right-hander Howard Ehmke, who had pitched in just 11 games in 1929.
What could possibly go wrong? Supersalesman Wrigley, who had built his gum and baseball empire out of its humble origins of soap-peddling, couldn't see how his dream ballclub could fail. Neither could the 50,740 who crammed into the newly double-decked Wrigley Field to culminate four seasons of ever-rising Cubs mania in wide-open Chicago. Even Al Capone, the city's top businessman, so to speak(easy), was caught up in the baseball enthusiasm, posing for a photo with Cubs catcher Gabby Hartnett.
To cap off the euphoria, Time magazine was going to press with its October 15 issue featuring Wrigley as its cover boy. Henry Luce was not honoring Wrigley for his confectionery feats. "…Graduated from green shirts" was the caption below Wrigley's name, and referred the reader to the "Sport" section:
"This year, playing to 1,500,000 patrons in Chicago alone, the team must have been returning a profit on its investment at which General Motors or Standard Oil would probably turn enviously green. When his team made certain of winning the pennant, Mr. Wrigley told all the players to have a big evening at his expense; adding that he would not honor any expense account for less than $50."1
The outgoing Wrigley, who spared no expense to make his Cubs champion and build them to New York Yankees level and beyond, was sports' most successful mogul of the end of the Roaring Twenties, building upon the fabulous success of the gum empire to which he turned over day-to-day management to son Philip in 1925.
"During the first six months of this year the Wrigley Co. (chewing gum) had net earnings of $5,211,990, more than $300,000 more than the net income of the first six months of 1928 when the total annual net earnings were $11,068,618 or $6.15 a share. His business, still increasing, has tripled since 1920. He spends an average of $4,000,000 dollars a year on advertising," Time wrote.
"Red-cheeked, dewlapped and genial, given to exercise, to backslapping, to the indulgence of strange whims that usually turn out to be investments, and fond of uttering pungent aphorisms on salesmanship, of gravely handing new acquaintances packages of his gum, a supply of which he carries around with him at all times, William Wrigley Jr. is at 68 well-equipped to enjoy his amazing prosperity."2
Even from the context of history, Wrigley seemingly had the tiger by the tail with a lineup that would have stocked the All-Star team had the midsummer classic existed in 1929.
"These ('29) Cubs were a rip-snorting team which played its baseball for all it was worth. Small wonder then that Chicago went completely overboard for it, setting up a seasonal attendance record of 1,485,166.  In this highly productive season it was more of a novelty for a game to be played weekday or Sunday, without an overflow crowd on the field than with one," observed writer Warren Brown.3
Wrigley and his dynamic team president, William L. Veeck, were so popular they were tabbed to do a straw-hat advertisement at the beginning of the summer in '29, when men typically switched to their skimmers. The baseball world and more was his oyster in 1929.
Deep down, though, Wrigley must have understood that baseball is the cruelest sport. Failure is the constant companion at all levels of the game when a .330 percentage, which would earn a performer a seat on the bench or a boot off the team in football and basketball, wins a batting title. From the dawn of the modern World Series in 1903, favorites have been unceremoniously toppled by the most unexpected turns of events. On this day, the balloon-popping was not the stock market — its day would come soon enough by the end of the month — but the Cubs and Wrigley's dreams. It started in the form of Ehmke.
The 35-year-old journeyman right-hander, 7-2 in the regular season, shut out Hornsby, Wilson, Woody English, Riggs Stephenson, Kiki Cuyler, and Charlie Grimm for eight innings, during which he fanned an astounding 12 hitters. Ehmke took a 3-0 lead in the ninth, weakening a bit on Stephenson's one-out RBI single. But after another single followed by a force out, he reached back for his last reserves and struck out pinch-hitter Chick Tolson, stranding two runners to end the game and finishing with his baker's dozen whiff total. The Athletics won, 3-1.
Ehmke's shocking mastery of the Cubs set a bad tone for the World Series. The A's pounded the Cubs in Game Two the next day, 9-3, before 49,987 at Wrigley Field. The Cubs had lost the first two games, both at their home park. Shifting to Philadelphia's Shibe Park on October 11, the Cubs jumped back into the Series with a sixth-inning rally toward their 3-1 victory. However, the next day produced the most crushing postseason loss in Cubs history up until October 14, 2003 (the infamous "Bartman Game.")
Leading 8-0 going into the bottom of the seventh behind ace Charlie Root, the Cubs staged a collapse for the ages. They gave up ten runs in the inning as Hack Wilson misplayed two fly balls to center field in the late-afternoon Philadelphia sun. The 10-8 loss completely stunned the Cubs family. When Game Five was played, two days later (because Philadelphia did not allow Sunday baseball), the Cubs were a beaten ballclub as the A's clinched the fall classic with a 3-2 come-from-behind walk-off win behind Rube Walberg's 5⅓-inning, two-hit shutout stint in relief of Ehmke.
"There (would) be some changes made. All winter long that 1929 World Series was given a kicking around," a sportswriter penned years later. "That William Wrigley, Jr. was bitterly disappointed is putting it mildly. Whether there were words between him and Manager (Joe) McCarthy, or between President Bill Veeck and McCarthy, no one can say for sure.
"However, it can now be revealed here that on the way to the training camp at Catalina [Island] in the spring of 1930, McCarthy confided to one sports writer that win, lose, or draw, he would not be with the Cubs for longer than the current season — if that long. The sports writer was asked not to print it — and hasn't, until now," revealed Warren Brown in the seminal 1946 book Chicago Cubs (dedicated "To PK Wrigley and the World Championship That Has Yet to Come").4
Everything self-made man William Wrigley, Jr. had poured into the Cubs had been dashed. There's always next year, but that's never a given. And it wasn't. On September 4, 1930, the Cubs had a 79-54 record with a 4½-game lead. Hack Wilson had slugged his way to an eventual 56-homer, record 191-RBI season. No matter. The Cubs lost ten of their next 15 to fall three games back of the archrival St. Louis Cardinals. The pratfall brought back that crushing feeling of the World Series. That was enough for Wrigley, who suddenly made the ground even shakier underneath McCarthy's feet. As the season slipped away, Wrigley wouldn't even give McCarthy the dreaded vote of confidence.
"I will not say that McCarthy will not be manager next year," Wrigley told the Chicago Tribune's Irving Vaughan. "Neither will I say he will not be offered a new contract. … We have no way of knowing what McCarthy might demand in salary. He might ask $100,000 in salary. Or maybe McCarthy might not want the job any longer."5
Meanwhile, the Chicago Herald and Examiner's Warren Brown, discovered from a source close to Yankees owner Jacob Ruppert that Ruppert and Wrigley had agreed to shift McCarthy to the Yankees, who were dissatisfied with second-year manager Bob Shawkey. Brown had the scoop: Wrigley would name Rogers Hornsby, for whom he paid $200,000 to the Boston Braves late in 1928, as McCarthy's replacement. Wrigley craved the championship McCarthy had not given him. Hornsby already had won the World Series with the Cardinals in 1926 in the second of his four seasons as a player-manager.
"Rajah" — irascible and demanding to the players who had worked under him, and an inveterate horseplayer — had charmed Wrigley in a manner McCarthy never could. The astute team- builder/character judge Veeck was not fooled, but the decision to hire Hornsby was made at the only pay grade above him in the Cubs organization.
"We planned to offer Hornsby a contract a few days after the season closes," Wrigley said as the season dribbled to its conclusion in 1930 and his plan to elevate Hornsby leaked out. "We didn't want to embarrass McCarthy."
"I have always wanted a world's championship team and I am not sure that Joe McCarthy is the man to give me that kind of team."6
The Cubs would continue to win on an every-three-years schedule through the Depression-ravaged 1930s, beyond Wrigley's own passing on January 26, 1932, of heart disease in Phoenix. But the McCarthy-for-Hornsby switch tarnished all the good that he had done to bring the Cubs to the peak of franchise history, even beyond their 1908 World Series title. Granted ownership power under Wrigley's son, Philip K. Wrigley, Veeck fired Hornsby in 1932 as his gambling debts mounted and the Cubs clubhouse soured under Rajah's stifling yoke in the pennant race. Charlie Grimm proved to be an able replacement to rally the Cubs to the '32 flag and win 100 games and the pennant in 1935 — but he was still no Joe McCarthy. Marse Joe won seven World Series titles with the Yankees, taking two different teams, one helmed by Babe Ruth and Lou Gehrig, another led by Joe DiMaggio (whom the Cubs passed over signing as a minor leaguer) to the top. Only Casey Stengel equaled McCarthy's championship record.
Amazingly, the suspicion of Hornsby was not passed down to the next generation in the Veeck family. The younger Bill Veeck hired Rajah to juice the headlines for his sagging St. Louis Browns in 1952.
Veeck Junior recalled: "When I hired Rogers Hornsby, my mother (Grace Veeck) wrote me a note 'What you think — smarter than your daddy was?'… When I fired him before the season was two months old she wired: 'What DID I tell you?'… Before I had signed him, I had consulted [sportswriter] Gordon Cobbledick in Cleveland. 'Don't get involved with that guy,' Cobby warned me, 'You've got troubles enough already.'"7
In the end, the bungling away of McCarthy cannot tarnish the William Wrigley, Jr. record. He and Veeck built the Cubs' standing in Chicago to a level that the subsequent 45 years of eccentric, misinformed ownership by Philip K. Wrigley could never wipe away.
The demarcation line of father-and-son Wrigley couldn't have been more stark.
In spite of the ill-advised cashiering of McCarthy, William Wrigley, Jr. presided over a Cubs Golden Age that outlasted him by three pennants in six years, and even enjoyed some residual positive effects as late as the 1945 World Series. Philip Wrigley surely triggered the team's Dark Ages, placing them in so deep a rut with mismanagement that it sometimes seems two successor ownerships have not yet dug out of the hole.
Where William Wrigley, Jr. was an outgoing, nearly outspoken seeker of the limelight, a pure salesman, his son was an introvert who coolly mentioned that there was no need for a guest bedroom in his Phoenix home. The elder Wrigley loved sitting in his front-row seat, being recognized and photographed. Philip Wrigley was renowned for not attending Cubs games, at least in his public persona. In reality he slipped in in near-disguise to the bleachers and grandstand. The old man loved being recorded monitoring out-of-town Cubs scores via a ticker in his office. He even had a cable laid at the bottom of the San Pedro Strait to get scores on his beloved Catalina Island. Philip Wrigley was portrayed as watching games on TV, almost out of sight and out of mind, at his Lake Geneva, Wisconsin, estate.
The empire-building Wrigley Jr. developed baseball's most capable baseball executive in William L. Veeck. Ever the tinkerer with mechanical objects and manager of his father's gum business, Philip Wrigley was a prolific meddler in baseball management for which he had no aptitude. His inward-turning nature prevented him from networking throughout the game to find the most capable man to run the Cubs on his behalf. He instead continually recycled mediocrities throughout the baseball organization.
And where William Wrigley, Jr. spared no expense to make the Cubs into baseball's powerhouse, his offspring more often than not put on the financial brakes. Philip Wrigley even went as far as forbidding new signings of amateur players by his scouts in 1962 due to perceived wasted bonuses on failed prospects.
The Cubs were a family heirloom to be properly maintained, but not lovingly or knowledgeably nurtured, by Philip Wrigley.
The contrasts were simply the difference of generations. William Wrigley, Jr. was a business innovator and promoter.  Unlike the Veeck family, something was lost in the next generation, with Philip growing up in wealth and being charged with running a far-flung confectionery empire rather than building it brick-by-brick, product-by-product.
Two interesting stories, but the second could not have happened without the first. The sorrow was that the successor timeline did not match the original.
The Cubs William had built were an extension of his own Horatio Alger story. A native of Philadelphia who had dropped out of school at 13, he was the son of a soap manufacturer. He also loved baseball, sneaking off work and school to watch games. Moving to Chicago in 1891 at 29, Wrigley arrived with just $32 in his pocket. He sold Wrigley's Scouring Soap.
Adhering to Marketing 101, Wrigley offered premiums to customers to stoke sales. His first premium was baking powder, which proved more popular than the soap. Wrigley switched to selling baking powder. The successor premium was two packages of chewing gum with each can of baking powder.
He finally found his niche. Under his own name, Wrigley introduced his first two gum brands,  Lotta and Vassar, in 1892. The legacy Juicy Fruit and Spearmint brands made their debuts in 1893. The gum empire was off and running as the William Wrigley Jr. Co. soon took its place among the stalwarts of American industry.
William's self-made affluence enabled him to buy into his favorite game. When cafeteria king Charley Weeghman folded his Federal League Whales — playing at their two-year-old Weeghman ballpark at Clark and Addison — into the Cubs in 1916, he took on additional partners. Meatpacking king J. Ogden Armour came aboard and persuaded Wrigley to join him, each investing $50,000 while joining the Cubs' board. Wrigley fast became first among equals on the board. As Weeghman's business interests slumped, Wrigley persuaded him to sell his shares to him late in 1918. With Weeghman's departure, the North Side ballyard was renamed Cubs Park. By 1921 Wrigley had become majority owner, buying out Armour and other partners.
Wrigley's backing of Veeck to shift from sportswriter with the Chicago American to team treasurer and soon afterward president proved a stroke of genius. Even as the Cubs flirted with mediocrity through the first half of the 1920s, Veeck proved he could manage a baseball team as well as write about it under the alias Bill Bailey. One by one, starting with Gabby Hartnett in 1922, he acquired the future stars who would bring Wrigley to the edge of his championship promised land at the end of the decade.
Wrigley ran the Cubs, his ballpark, and other properties with the same philosophy as architect and urban designer Daniel Burnham with Chicago as a whole: "Make no small plans." He gave Veeck the approval to permit wall-to-wall exposure via the booming medium of radio, and Cubs games took to the airwaves regularly in 1925. Soon after, he boosted the capacity of Cubs Park, renamed Wrigley Field, with a two-year project to double-deck the stadium in 1927-1928. Wrigley took ballpark upkeep seriously. Wearing a pair of white gloves, he'd run his hands along grandstand railings to search for smudges or dust.
Wrigley Field was not the only lasting piece of real estate with Wrigley's hands, gloved or not, all over them.
As he gained control of the Cubs, he plowed back $3 million of his gum fortune into the purchase of Santa Catalina Island, in the Pacific 22 miles southwest of Los Angeles. Wrigley turned the island into a Jazz Age playpen for his family, his Cubs, and tourists. With the exception of four seasons during World War II, the Cubs conducted spring training on a field at Avalon Canyon from 1921 to 1951. Careers in and out of baseball were launched in the balmy climate. Covering spring training in 1937, a sportscaster from WHO-Radio in Des Moines was invited to go back to Los Angeles to take a screen test at Warner Brothers. Producers liked what they saw in the genial Ronald Reagan, native of Dixon, Illinois, and the rest was history.
At the same time as he became baron of Catalina, Wrigley commissioned the construction of the double-towered Wrigley Building, the white-colored, clock-bedecked, after-dark-floodlit gateway to North Michigan Avenue. Starting the 1920 construction boom north of the Chicago River, the 30-story main south tower was opened in April 1921. The 20-story north tower opened nearly three years later. Setting up as headquarters of the William Wrigley Jr. Co. and later radio stations WBBM and WIND along with its famous restaurant, the Wrigley Building was Chicago's first air-conditioned office building.  From this landmark edifice inspired by a tower in the Seville (Spain) Cathedral, three generations of Wrigleys would go on to conduct the Cubs' business as platoons of players trooped in to discuss financial and philosophical matters.
With the physical trappings of success all around his office and 2,000 miles distant, William Wrigley, Jr. decided to forgo some paid attendance to run with another Veeck-inspired innovation: Ladies Day, in which all women would be admitted free. The promotion proved wildly successful with as many as 30,000 women cramming into the ballpark for a 1930 game. The Cubs' popularity — and that of Wrigley himself — soared.
He would purchase a pennant if need be. Wrigley tried. With the Cubs climbing upward through the first division from 1926 to 1928, he and Veeck traded five players with $200,000 in cash to the Boston Braves on November 7, 1928, for the only man alive to hit .424 in a season. Rogers Hornsby may have moved from the St. Louis Cardinals to the New York Giants to the Braves in three years with his demanding, prickly personality, but he knew how to handle a bat better than anyone else in baseball.
Hornsby paid dividends immediately. Scoring a career-high 156 runs batting in front of Hack Wilson, he also slugged 39 homers and drove in 149 runs to set up an NL "Murderer's Row" in the Cubs lineup. But all went for naught in the cruel outcome of the 1929 World Series, in which a hot pitcher and bad breaks crushed the mightiest of Cubs lineups.
William Wrigley, Jr. spent the last two seasons of his life a frustrated man. He never realized his championship dream. But he probably could never have conceived that his team would enter the long, strange journey on which in the 21st century it was still traveling. He didn't scout his son well enough as successor owner.
Philip Wrigley stubbornly held on to the Cubs and Wrigley Field as family heirlooms and monuments to his father. William Wrigley, Jr. had bequeathed the Cubs directly to his son, who reportedly promised his father on his deathbed that he would never sell.
"The club and the park stand as memorials to my father," the younger Wrigley said in 1933. "I will never dispose of my holdings in the club as long as the chewing-gum business remains profitable enough to retain it." Decades later, he-reconfirmed his position to the Chicago Sun-Times' Irv Kupcinet: "I inherited the Cubs from my father and I feel an obligation to carry on in respect to him. But I'll leave the team to my son Bill and he can do whatever he pleases."8
Wrigley fulfilled these vows, resisting tempting offers from the likes of McDonald's impresario Ray Kroc, a Cubs fan since childhood. Sure enough, it was Bill Wrigley who finally sold to Tribune Co. in 1981, an inside deal of blueblood corporate partners meant to pay off a $40 million inheritance-tax bill after the 1977 deaths of Philip and Helen Wrigley.
In between his eccentric schemes, the younger Wrigley tried to emulate his father's moves, with mixed success:
Imitating the cash acquisition of the NL's most prominent player in Hornsby in 1928, Philip Wrigley sent $185,000 and three players to the Cardinals at the start of the 1938 season to acquire lame-armed Dizzy Dean. In spite of widespread knowledge throughout spring training in '38 that Dean had lost his fastball as the after-effects of a sore arm caused by a broken toe suffered in the 1937 All-Star Game, Wrigley went ahead and acquired the colorful pitcher. Pitching only with guts and guile, Dean never became more than a part-time starter for the Cubs and was through four years later.
Mimicking his father's hiring of sportswriter Veeck as team president, Philip Wrigley tapped James Gallagher, like Veeck a baseball writer for the Chicago American, as general manager in 1940. Gallagher was no Veeck, though. He got off on the wrong foot by trading second baseman Billy Herman to the Brooklyn Dodgers. Gallagher presided over a franchise decline through World War II as he and manager Jimmie Wilson were sarcastically dubbed the "James Boys."
The in-over-his-head GM's best deal was snaring ace Hank Borowy on waivers from the Yankees in mid-1945. Borowy's 11-2 record was the difference in a pennant race against the St. Louis Cardinals, lacking a Navy-bound Stan Musial for the only season missed in "The Man's" career. The Cubs resumed their downhill course in 1946. Gallagher was shifted to business manager in 1949 amid a front-office shakeup, eventually leaving the Cubs seven years later.
A strategy that did pay off down the line was exposing the Cubs at low cost to the new medium of TV in 1949, as William Wrigley, Jr. and William L. Veeck had done with the rise of radio in the 1920s. Three of the four Chicago TV stations on the air in '49 — WGN, WBKB, and WENR — broadcast the Cubs simultaneously with their own announcers and equipment. To accommodate their needs, Philip Wrigley paid $100,000 for construction of new camera positions and broadcast booths. The cost to each station was merely $5,000 toward construction; none were charged rights fees.
Eventually, when WGN obtained the exclusive TV deal in 1952, the Tribune Co.-owned outlet paid under-market rate for rights. The station made an assured profit while whetting generations of future fans' appetites for buying Cubs tickets. Kids would run home from school to catch the end of the daytime telecasts, then eventually found their way to Wrigley Field as they grew older and acquired more disposable income.
But the passion that William Wrigley, Jr. had for baseball and Wrigley Field never was shared by his tinkering son, self-professed as an auto mechanic at heart, and more comfortable with machines than with his fellow man. The Cubs basically lost their future when the elder Wrigley and William L. Veeck died in consecutive years, 1932-1933. They were never replaced as a one-two punch that spared no expense in putting winning as the first, second and last priority of the Chicago National League Ballclub.
Notes
1 Time, October 15, 1929.
2 Ibid.
3 Warren Brown, Chicago Cubs (New York, G.P. Putman, 1946), 108.
4 Warren Brown, 118.
5 Roberts Ehrgott, Mr. Wrigley's Ballclub: Chicago & The Cubs During the Jazz Age (Lincoln: University of Nebraska Press, 2013), 251.
6 The Sporting News, September 25, 1930.
7 Bill Veeck with Ed Linn, Veeck As In Wreck (New York, Putnam,  1962), 23.
8 Roberts Ehrgott, 251.
Born
September 30, 1861 at Philadelphia, PA (US)
Died
January 26, 1932 at Phoenix, AZ (US)
If you can help us improve this player's biography, contact us.
http://sabr.org/sites/default/files/WilliamWrigleyJr..JPG
600
800
admin
/wp-content/uploads/2020/02/sabr_logo.png
admin
2013-04-16 13:21:53
2020-10-18 22:31:07
William Wrigley Jr.