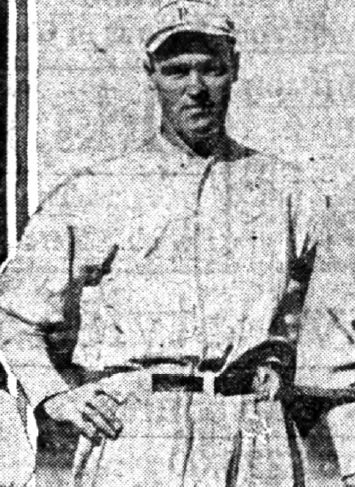 ---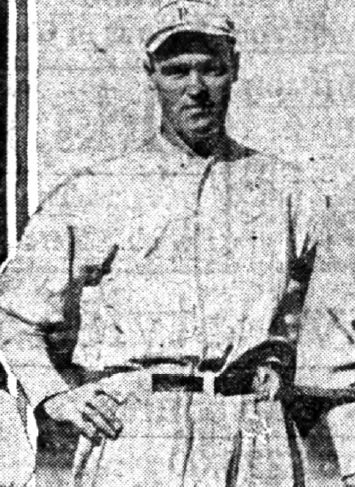 Win Noyes was one of several ballplayers for whom service in World War I interrupted a promising big-league career. His brief stint with the 1919 White Sox was merely a footnote in a long, if not especially distinguished, baseball career.
Various baseball references say Winfield Charles Noyes was born on June 16, 1889, in Pleasanton, Nebraska. However, on his 1942 World War II draft registration, he gave his date of birth as June 10, 1892, Social Security records say June 10, 1891, and his tombstone gives a June 10, 1889, date of birth. On the 1900 Census, his parents reported that he was born in June 1889, so the weight of evidence suggests the tombstone date is the correct one.
Noyes's parents, Illinois-born Enoch W. Noyes (1860-1931) and Rose Mary Rubart Noyes (1862-1947), farmed in Pleasanton. Enoch's father, Evan H. Noyes (1833-89), a farmer in Adams County, Illinois, served in the Civil War. Win and his three siblings grew up on a prosperous Midwest farm.1
Win attended Nebraska Wesleyan University. He studied dentistry while there, and he starred for the college's baseball team. He pitched for the local Pleasanton team in 1909, frequently striking out 15 or more batters a game and leading Pleasanton on a 22-game winning streak.
Noyes entered Organized Baseball in 1910, at the age of 21. He starred for his hometown Kearney Kapitalists, posting a 24-12 record for the third-place team in the Nebraska State League.2 He led the league in wins and strikeouts (323), earned 24 of the team's 60 wins, and tossed a no-hitter. When not pitching, Noyes worked as a salesman in a local drugstore, presaging his post-baseball career.
This stellar 1910 season led to an unsuccessful tryout the next spring with the St. Louis Browns.3 Noyes showed enough to land a job with a better Class D league, the Central Association. Pitching for the Ottumwa (Iowa) Speedboys, he won 12 games through July 1911, helping lead Ottumwa to first place in the league. On August 1 Ottumwa sold Noyes to the San Francisco Seals of the Pacific Coast League. Noyes got into nine games with the Seals, with an 0-1 record. In his August 11 debut, understandably nervous, he showed "a lot of speed, but he was wild," giving up two runs and one hit in 2⅓ innings.4 After that, Noyes pitched strictly mop-up duty. He didn't make much of an impression, with one newspaper lamenting that Noyes and another player "are both in bad with the local management. Neither have been putting in enough interest or energy in their work to please manager Long."5
Noyes began the 1912 season with the Seals. Much was hoped from the "angular, raw-boned"6 6-foot, 189-pound right-hander who was thought a "bloomer."7 His seven-inning preseason shutout of Soledad, with 10 strikeouts, caused sportswriters to gush on how "splendid" he looked. But at the end of that game Noyes got "knocked unconscious … by one of Favell's speeders. The sound of the contact could be heard in every part of the bleachers."8 Either because of that injury or inexperience, it soon became evident that Noyes had been promoted to the PCL too soon. The Oakland Tribune opined that he and others "have much to learn ere they will be big league timber."9
After appearing in only eight games, with an 0-2 record, Noyes was traded by the Seals with two other players to Spokane for Johnny Wuffli, an infielder who had torn up the Class D Northwestern League. Going back to Class D, Noyes (nicknamed Quiet Noyes by his punning San Francisco teammates) found his groove.10 He finished with a sparkling 26-8 record for the Indians. At one point he won 12 straight games. In September Spokane owner John Cehn sold Noyes to the Boston Nationals for $1,000.
Noyes signed with Boston in February 1913. At the time he was studying pharmacy at Northwestern University.11 He cut short his studies to join the Braves prior to the season, but his absence from spring training evidently didn't find favor with Boston's management. Manager George Stallings relegated Noyes to mop-up roles. His major-league debut was typical of his appearances that season: relieving Lefty Tyler on May 19 in a 9-8 loss.
Stallings didn't see enough promise in Noyes to keep him for 1914. Faced with a surplus of pitchers, he farmed Noyes to Rochester of the International League. Rochester manager John Ganzel started Noyes in several spring-training games, and Noyes was bombed in each, losing one game 19-0 to Birmingham. He was shuttled around to Montreal of the IL and then to Jersey City. Noyes' debut with Jersey City set the tone for this disappointing year: He was knocked out in the third inning. Jersey City went on the finish in the cellar with a dismal 48-106 record. But Noyes was long gone by season's end. In June, his old Spokane team purchased his contract. Back in the Northwest, Noyes fashioned a 14-9 record for Spokane, with Noyes laboring 219 innings in what was essentially half a season.
In 1915 Noyes once again spearheaded the Spokane staff.12 His 22-14 record essentially duplicated his 1912 season with the same team, and once again he pitched 310 innings. The highlight of his season came on July 9, when Noyes no-hit the Vancouver Canucks.13
Near the end of the Northwest League season, the Portland Beavers of the PCL purchased Noyes, who proclaimed himself in "good shape" for the Beavers' stretch run, though his arm was "a little tired."14 He started four games for Portland, and compiled a 1-1 record with a 1.66 ERA. Proclaimed one newspaper, "When Noyes was [last] in the Coast league he was lacking in experience. It is believed that he is seasoned now and in his prime. Should he show as well as Coveleski [Stan Coveleski led the PCL in games pitched that year], that is all the local owners will expect."15
In the winter of 1915-16 Portland's veteran manager, Walt McCreadie, helped turn Noyes' career around by teaching him the spitball. As with Stan Coveleski, the new pitch turned a good minor-league pitcher into a major-league prospect. "When he first joined the Beaver club … he depended upon only a fast one and a curve ball to win big games. The result was that he was batted out of the box frequently. McCreadie realized that Noyes should be taught the spit ball and since he has learned it, he has won game after game." McCreadie boasted that "Noyes, since he has mastered the spit ball, is now as good a pitcher as any in the league and I expect … that he will surely be grabbed by a major league club." Cleveland, with whom Portland had a working relationship, had already "expressed an interest."16
One incident much written about at the time featured Noyes beaning the popular Jack Coffey of the Seals. What bothered fans was not so much the beaning (Noyes' spitter had gotten away from him) but the impression that Noyes didn't come in from the mound to see how Coffey was doing. The unconscious Coffey recovered and walked away from the field, but local sportswriters labeled Noyes "cold blooded" for his alleged lack of concern.17
While mastering the spitball gave Noyes' career new life, the pitch came with its own unique problems. After the Los Angeles Angels walloped Noyes and Portland in a 15-2 loss, "Noyes complained to one and all that 'the Angels had sabotaged his spitter by putting alum in the water bucket.' This might have been true, for it was frequently done to overcome spitballers, and when Noyes puckered up after a drink he found he couldn't spit and the Angels took full advantage of the dry spell."18
A sportswriter looking at PCL players who might be drafted by the big leagues wrote in September that "Noyes will be the one selected [from Portland]. Noyes has been pitching consistent ball the greater part of the year, leads the Portland pitchers in percentage of victories, and is a different pitcher than he was when he was given a trial by the Boston Braves several years ago. Now he has acquired a spitter which makes him much more efficient." 19
Noyes finished with a so-so 21-19 record with a 3.14 ERA for a mediocre Portland team. Another 341-inning season showed that he possessed a rubber arm. Manager Connie Mack of the Philadelphia Athletics was once again beating the bushes for talent to revive the glories of the 1910-14 A's, and on the recommendation of scout Ira Thomas, a friend of McCreadie's, purchased Noyes. Noyes enjoyed by far his best big-league season in 1917. Labeled Philadelphia's "star recruit pitcher,"20 he started 22 games, going 10-10 for Mack's last-place team. His 2.95 ERA was better than the team ERA of 3.27 but higher than the league average.
It appeared that Noyes had finally established himself. Said one newspaper, "Where is the manager who wouldn't like to have … Noyes pitching for him?"21 In August he beat the league-leading White Sox, impressing the Sox with his "speed" and his "puzzle on the pill."22 Perhaps Noyes' best outing was a game in August in which he pitched a no-hitter for seven innings, and lost a shutout only when it became too dark for his fielders to follow the baseball.
In September the draft board called up Noyes and teammate Ray Bates. Although the call-ups wrecked Mack's plans to rebuild the A's (or at least this is what observers believed), Mack himself offered no complaints, observing, "Our country always comes first."23 Noyes served with the 342nd Field Artillery, making it over to France in 1918, and rising to the rank of sergeant major. While in uniform he played a lot of baseball, pitching for his Camp Funston, Kansas, team, and with a service team in France that featured such major-league stars as Grover Cleveland Alexander.
Noyes returned to the Athletics in August 1919. In his debut, on August 9, he pitched four hitless innings against the league-leading White Sox. "His spitter had the Sox as helpless as newborn kittens," gushed the Philadelphia Inquirer, reawakening hopes that he could recover the 1917 form that made him "one of the best pitchers on the Athletics payroll."24 But it soon became apparent that Noyes had lost something while in the Army. He pitched in ten games with the A's, starting six, but in contrast to 1917 compiled a 5.69 ERA and a 1-5 record. About his only noteworthy outing occurred when he gave up Babe Ruth's 25th homer of the season, tying what was then thought to be the major-league record set by Buck Freeman in 1899.
On September 19 the White Sox claimed Noyes on waivers. The White Sox had about clinched the pennant by then, but the team had pitching problems. One of their star pitchers, Red Faber, was lost for the season due to lingering influenza, complicated by arm injuries, which forced manager Kid Gleason to overwork his remaining two veteran starters, Eddie Cicotte and Lefty Williams. As the season wound down, rumors surfaced that Cicotte had a tired arm.
In any event, Gleason saw that the White Sox needed what would today be termed innings-eaters — rubber-armed pitchers who could soak up innings and give his stars a rest. Connie Mack, Gleason's close friend, may have recommended one-time prospect Noyes as both a September fill-in and someone with the potential to start in 1920. He had recently (September 12 and 15) pitched in relief against the White Sox, posting four scoreless innings in all, and perhaps impressing Gleason.
Noyes started one game for the White Sox — a meaningless game against Detroit on September 27. Pitching six innings, he gave up five runs and ten hits in a game that Detroit won in extra innings, 7-5.
Having been acquired so late in the season, Noyes was not eligible for the White Sox' World Series roster. As such, the gamblers never thought of recruiting him (or any of the other spare pitchers.) The question remains: Did Noyes know of the "fix"? He was new to the team, and most of the White Sox players who had been his teammates in the past — notably Grover Lowdermilk and Big Bill James — were part of the "Clean Sox" faction. However, Buck Weaver and Joe Gedeon had briefly been his teammates on the Seals, and it isn't beyond imagination that Noyes heard something. The fact that Noyes refused to report next year, and followed Black Sox fixer-in-chief Chick Gandil to an outlaw league in Idaho, may just be a coincidence, or it may suggest guilty knowledge.25 In later years Noyes proclaimed to one-and-all that the " 'skinflint"' Comiskeys who owned the Black Sox — and not Shoeless Joe Jackson — should have been banned from baseball.26
The White Sox hoped that Noyes could recover his prewar form and contribute in 1920. Doubts about Red Faber's recovery from his 1919 injuries, along with Cicotte's advancing age, caused dopesters to look to Noyes and others to fill out the rotation. One newspaper reported that Noyes was "out to be one of the Kid's regulars, but can't be figured as a brilliant hurler."27 Another writer thought Noyes "is as good a prospect as any of the others" behind Cicotte, Williams, and Kerr.28
But Noyes had other ideas. Dissatisfied with the money offered him, he refused to report, and dropped out of Organized Baseball for good. Another factor may have played a part — the banning of the spitball. During the winter of 1919-20, the league banned spitball throwing, except for two pitchers designated by each team, who were grandfathered in. The White Sox grandfathered in star pitchers Cicotte and Faber, so while Noyes already had lost some effectiveness, the banning of his "money" pitch signaled the end of any major-league career.
Former Black Sox first baseman Chick Gandil, like Noyes, refused to report in 1920, and managed in the Snake River League. Noyes bought into a drugstore business in Pocatello, and while not working he pitched and managed the Pocatello team in that league. In November he married Elsie MacKay, the daughter of Mr. and Mrs. Daniel MacKay of Salt Lake City, Utah, in a Mormon church ceremony. The couple divorced in the 1920s. When the Pocatello season ended in August, Noyes signed with Sterling, Colorado, in the Midwest League. In 1921 he hurled for Sterling again, but the one-time star was hit hard.
In 1922 Noyes approached Salt Lake City of the PCL for a tryout, but no job came of this.29 He returned to the Midwest to join the Pontiac (Illinois) Standards and (by July 22) Beloit in the Midwest (semipro) League. The Beloit Fairies (the nickname refers to the Fairchild-Morse Engine Company, which sponsored the team) was run by former Chicago City leaguer Al Chubb, who used his Windy City contacts to sign ballplayers. Much stronger than most clubs in the division, it featured ex-major leaguers Hippo Jim Vaughn, Dave Davenport, Herb Kemman, and Zip Zabel.
Noyes' eligibility to pitch for Beloit was challenged by charges that he'd signed with the Chicago Pyotts instead, and charges that Beloit had stolen Noyes from the Pontiac team. The chairman of the league ruled that he was Pontiac's property, and he was held out of the Beloit rotation until his eligibility to pitch for the Fairies was confirmed. Beloit won the pennant anyway. Later in the year, Noyes pitched for independent teams in downstate Illinois.
The next season proved to be Noyes' last year pitching. Although Beloit finished second in the league, Noyes' 4-7 record indicates that the old fastball simply wasn't there anymore. After 1923 he gave up baseball for good.
Noyes began working full-time as a druggist in Arizona, moving soon to Prairie City, Oregon, but by 1929 he had returned to the state of Washington, familiar from his days as a ballplayer. By 1930 he was operating a pharmacy in Sumas, a small town adjacent to the British Columbia border, living with his second wife, Elizabeth (Reul) Noyes (1897-1984), and young daughter Elizabeth. He ran his drugstore there for many years.
Noyes died on April 8, 1969, in Chelan, Washington. He is buried beside his second wife in the City Cemetery in Cashmere, Washington, in the central part of the state, with a "veteran's" stone marking his final resting place.30
Sources
Hogg, Clyde, Spitting on Diamonds: A Spitball Pitcher's Journey to the Major Leagues, 1911-1919 (Columbia, Missouri: University of Missouri Press, 2005).
Other newspapers: Chicago Tribune, New Oxford (Pennsylvania) Item, New Castle (Pennsylvania) News, Philadelphia Inquirer, Rockford (Illinois) Morning Star, Rockford Daily Register, Canton (Ohio) Repository, Idaho Statesman (Boise), Denver Post, Salt Lake City Telegram, Illinois Republic (Geneseo, Illinos), Omaha World Herald, San Francisco Chronicle, Cleveland Gazette, Boston Journal, The Oregonian (Portland), Seattle Daily Times, Wilkes-Barre Times, New Orleans Picayune, Jersey Journal (Jersey City), Springfield (Massachusetts) Republican, South Carolina State (Columbia, South Carolina), New York Times, Watertown (New York) Daily Times, Grand Forks (North Dakota) Herald, Muscatine (Iowa) Journal, Waterloo (Iowa) Evening Courier, Indianapolis Star, Salt Lake City Tribune, Oakland Tribune, Ogden (Utah) Standard, Beatrice (Nebraska) Daily Sun, Chicago Examiner, San Diego Union, San Jose Mercury News, California Evening News (San Jose), California Evening Tribune (San Diego), Sandusky (Ohio) Register, Washington Post, Trenton (New Jersey) Evening Times, Grand Rapids Press, Riverside (California) Daily Press, Spokane Daily Chronicle, Lincoln (Nebraska) Daily Star, Cedar Rapids (Iowa) Evening Gazette
1929 Journal of the American Pharmaceutical Assn.
Sporting Life
The Sporting News
Ancestry.com
Find-a-Grave.com
1880-1930 US Censuses
World War I and World War II draft registration records
Social Security records
Baseball-Almanac.com
Baseball-Reference.com
Nebraska State League website, nebaseballhistory.com
Player card, courtesy Ray Nemec
Northwestern University records
Utah Death Certificate, Mrs. Elsie Noyes
Notes
1 While his given name was properly Winfield, Noyes was seldom called by that name. Contemporary newspaper accounts call him Win, Winn, Winnie, Wynne, and Wynn.
2 The Kapitalists were also known as the Buffaloes and the Cotton Pickers.
3 "Sportlets," Cedar Rapids Evening Gazette, July 27, 1912.
4 "Baseball Notes," San Francisco Call, August 12, 1911.
5 F.A. Purner, "Manager Long Will Begin Weeding Out Superfluous Seals This Week," San Francisco Chronicle, March 19, 1912.
6 "Pitching Honors Belong to Noyes," Portland Oregonian, August 11, 1912.
7 "Ewing's Bunch Looks Good, If Records Count," Oakland Tribune, February 11, 1912.
8 "Wynn Is Injured," San Francisco Call, April 1, 1912. See also "Noyes Is Beaned," San Francisco Chronicle, April 1, 1912.
9 "Additional Sports," Oakland Tribune, May 6, 1912.
10 "Seals Have Great Assortment of Nicknames," San Francisco Chronicle, March 31, 1912.
11 Northwestern University records show Noyes earned his degree in pharmacy in June 1913. He had been attending Northwestern in his offseason.
12 In February 1915, Spokane dealt Noyes to Omaha for first baseman Earl Chase. However, the deal fell through.
13 "Noyes Does Not Allow Beavers a Single Safety," Seattle Daily Times, July 10, 1915. In the 11-1 win, Noyes gave up four walks (and struck out only two); the run came after three passed balls. See also "No Hits Given to Vancouver Team," Spokane Daily Chronicle, July 10, 1915.
14 "Noyes Reports to Portland Beavers," Salt Lake Tribune, September 28, 1915.
15 "McCreadie Lives in Hopes of Climbing," Salt Lake Tribune, August 24, 1915.
16 "Wynn Noyes May Also Go to Majors," Salt Lake City Telegram, July 18, 1916.
17 "Seals and Saints Open Series Today," Salt Lake Tribune, July 11, 1916, citing the Oakland Tribune. See also "Wynn Noyes Is Sorry," Portland Oregonian, July 7, 1916.
18 Clyde Hogg, Spitting on Diamonds, 175. The game referred to was an October 19 loss to Los Angeles, with Noyes lasting only 1⅓ innings.
19 "Drafting Seasons Will Open Here Next Friday," Oakland Tribune, September 13, 1916.
20 "Nebraskans Will Play Ball," Omaha World Herald, September 9, 1917.
21 H.C. Hamilton, "Fans Respect Mack's Players," Riverside Daily Press, July 20, 1917.
22 "Noyes Makes His List of Victories Seven Straight," Salt Lake Tribune, June 24, 1916.
23 "Ray Bates Quits Mack for Uncle Sam," Riverside Daily Press, August 9, 1917.
24 "Macks Again Share Bill with Leaders," Philadelphia Inquirer, August 9, 1917.
25 Since the gamblers would bet only on a sure thing, and since the only players on the Sox who could (more or less) guarantee a loss in a specified game were the starting pitchers, the only Sox the gamblers really needed to bribe were Cicotte and Williams — in particular, Cicotte. The participation of the other "eight men out" was merely window dressing. Since bullpen pitchers might not even pitch in the Series, bribing them wasn't necessary either.
26 Bruce Brown, Dr. Whacko's Guide to Slow-Pitch Softball (New York: Collier Books, 1991). Accessed online at astonisher.com/archives/drwhacko/drwhacko_intro.html.
27 Norman E. Brown, "Gleason Has Bad Wreck This Year," San Diego Evening Tribune, April 15, 1920.
28 James Crusinberry, "Gleason Faces Toughest Task in Big Leagues," Chicago Tribune, March 23, 1920.
29 L.H. Gregory, "Many New Faces to be Seen in Coast Pitching Circles," Portland Oregonian, February 6, 1922.
30 His second wife, Elizabeth Reul, is buried beside him in Cashmere Cemetery. Daughter Betty (1928-2002) married local newspaper owner Bruce Van Klinken and had four children. Noyes' first wife, Elsie (1895-1951), divorced Noyes around 1925.
Born
June 16, 1889 at Pleasanton, NE (USA)
Died
April 8, 1969 at Cashmere, WA (USA)
If you can help us improve this player's biography, contact us.
http://sabr.org/sites/default/files/WinNoyes.JPG
600
800
admin
/wp-content/uploads/2020/02/sabr_logo.png
admin
2012-01-04 19:50:24
2020-10-16 15:49:28
Win Noyes