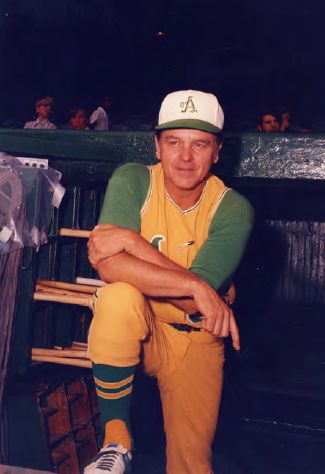 This article was written by Eric Aron
---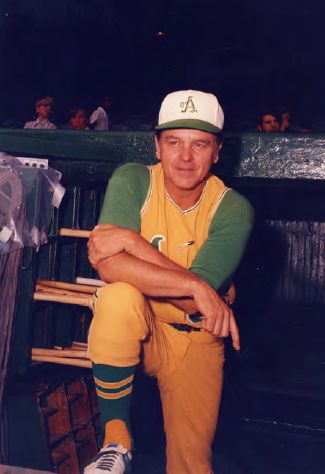 Dick Williams was regarded as one of baseball's premier managers and turnaround artists. He was only the second skipper to win pennants for three different teams — Boston, Oakland, and San Diego.1 As a rookie manager in 1967, Williams led the Red Sox from ninth place the year before to the World Series. Both personally and tactically, he took a no-nonsense, aggressive approach, which electrified several teams that he managed. His A's won back-to-back World Series, and he pushed the Padres to their first-ever postseason.
As a manager Williams compiled a record of 1,571 wins and 1,451 losses in 21 seasons, 20th on the career victory list as of 2014. Williams also enjoyed a fine playing career. As a versatile utilityman, he played with five teams in 13 seasons. After an appearance in the 1953 World Series with the Brooklyn Dodgers, Williams had three separate stints with the Baltimore Orioles, playing for manager and key mentor Paul Richards.
Richard Hirschfeld Williams was born on May 7, 1929, in St. Louis. He and his brother, Ellery, were raised in their grandfather's house during the Great Depression. Dick's father, Harvey, quit high school to join the Navy, and afterward found jobs delivering fish, cleaning brewery vats, and collecting insurance debts. Dick had fond memories of attending Browns and Cardinals games at Sportman's Park.
"I belonged to the Knothole Gang in St. Louis, and the seats were in left field. So (Browns left fielder) Chet Laabs and (Cardinals left fielder) Joe Medwick were my favorites," he said.2
When the elder Williams found regular employment, the family moved to Pasadena, California. Dick graduated from Pasadena High School and Pasadena Junior College, lettering in seven sports and even winning a city title in handball. Baseball, however, was his first love; he was 6 feet tall, weighed 190 pounds, and threw and batted right-handed.
In 1945, while playing a junior college football game, Williams suffered a leg injury. His father ran on to the field to check on him, only to suffer a fatal heart attack. Williams blamed himself for his father's death and never forgot how he felt that day. Harvey Williams left a lifelong impression on his son. A stern man, he accepted nothing but excellence from his boys, at times even physically abusing them. Consequently, Williams never accepted losing and constantly had to prove to himself that he was not a failure. Despite it all, he loved his father.
While playing for Pasadena Junior College, Williams was spotted by Brooklyn Dodgers scout Tom Downey and signed his first professional contract in 1947. After graduation he reported to Santa Barbara in the Class C California league. In 79 games he hit .246 with 4 home runs and 50 RBIs, playing the outfield and third base.
The next season Williams was invited to spring training with the Dodgers. Through repetition and systemization, the Dodgers drilled young players in basics like bunting, hitting the cutoff man, and breaking up double plays. As a manager, Williams himself stressed those details. He began the 1948 season in Santa Barbara (California League), earning a promotion to Double-A Fort Worth (Texas League) after batting .335 with 16 home runs and 90 RBIs. He played mainly the outfield, with a few games at third while playing for Fort Worth.
Williams played in Fort Worth again in 1949, under the tutelage of another influential manager, Bobby Bragan, and was a Texas league all-star, thanks to 23 home runs, 114 RBIs, and a .310 batting average. Although Bragan bore a losing record in the major leagues, Williams credited him for all of his own victories. Bragan taught Williams about discipline, winning at all costs, and not being afraid to demonstrate how much you hate losing.
Williams said, "Players give you 100 percent not because they want something, but because they hate something. Me I gave a hundred percent because I hate losing … for the ones who treated losing and failure lightly, I figured I'd better get something ever better to hate. Me."3
Despite his progress, Williams had a hard time getting promoted in the Dodgers' deep organization. In 1950 he was back In Fort Worth, and in 144 games he hit .300 with 11 home runs and 72 RBIs. After the season, he played winter ball in Havana, and faced a young pitcher named Fidel Castro in batting practice. That winter he was drafted into the US Army, but with two weeks left in basic training, he reinjured his knee during a camp baseball game and got a medical discharge. Missing all of 1951 spring training, Williams expected to play at Triple-A St. Paul, but baseball, trying to maintain competitive balance, required that minor leaguers returning from the service had to go through waivers. Both the Pirates and the Cardinals claimed Williams, so the Dodgers had to put him on the Brooklyn roster to keep him in the organization. As a returning serviceman, he was the 26th man on the 25-man roster and, not surprisingly, was first relegated to the bench. But he worked hard to earn playing time, and his opportunity finally came.
Williams made his major-league debut in the first game of a doubleheader against Pittsburgh at Ebbets Field on June 10, 1951. Pinch-hitting for Gene Hermanski, he grounded out to the pitcher. He started the second game in left field, batting leadoff, and went 4-for-5 with three singles and a triple. With an outfield of Carl Furillo, Duke Snider, and Andy Pafko, however, there simply wasn't a lot of playing time for Dick. He played in only 23 games in 1951, hitting .200 with one homer and five RBIs.
In 1952 Williams was on the verge of succeeding Pafko as left fielder but was injured again.4 On August 25 in St. Louis, he suffered a shoulder separation while diving for a ball. Unable to play the rest of the season, he sat on the bench during the 1952 World Series against the Yankees.
In 1953 Williams played for Brooklyn and Triple-A Montreal. The Dodgers won the pennant again. Williams batted three times as a pinch-hitter in the World Series, getting a hit and a walk as the Dodgers fell in six games.
In 1954 Williams again spent time with the Dodgers but also played for Triple-A St. Paul. He spent the entire 1955 season back in Fort Worth, where he hit .317 and, in a season-ending doubleheader on September 5, he won the first game with an inside-the-park grand slam, and played all nine positions in the second game, pitching a scoreless eighth inning.5
On June 25, 1956, while playing for Triple-A Montreal, Williams was sent on waivers to the Baltimore Orioles. He became the team's starting center fielder, batting .286 with 11 home runs. In 1957 Williams was a true utility guy for the first time, playing all three outfield positions by first base and third base for the Orioles before being traded to the Cleveland Indians for outfielder Jim Busby in June. He continued to play multiple positions for the Indians, as he did the rest of his career.
Just before the 1958 season, Williams was traded back to the Orioles, with outfielder Gene Woodling and pitcher Bud Daley, for outfielder Larry Doby and pitcher Don Ferrarese. He went on to play 128 games, all over the diamond, hitting .276. After the season, Williams was traded to the Kansas City Athletics for shortstop Chico Carrasquel. Playing multiple positions, A's he batted .266 with 16 home runs and 75 RBIs.
Once again, the Orioles felt compelled to call for Williams's services. Early in the 1961 season, he was on his way back to Baltimore, traded with pitcher Dick Hall for catcher Chuck Essegian and pitcher Jerry Walker. He did poorly this time, batting.206 in 103 games. Back the next season, he raised his average to .247 in 178 at-bats.
On October 12, 1962, Williams was sold to the Houston Colt .45s, then in December he was traded to the Boston Red Sox in exchange for outfielder Carroll Hardy. Williams spent the last two years of his big-league playing career in Boston, as a utility player. The Red Sox teams of 1963 and 1964 hardly reminded him of the "Boys of Summer." He even claimed that Boston management did not expect the players to win. Moreover, he observed that players were treated differently depending on team status, aggravating natural resentments between highly competitive athletes.
"The place was a country club," Williams said. "Players showed up when they felt like it and took extra work only when it didn't interfere with a card game."6
During the winter of 1964, Williams was named manager of Boston's Triple-A affiliate in Toronto. He led the Maple Leafs to records of 81-64 in 1965 and 82-65 in 1966, winning Governors' Cup championships in both seasons. While in Toronto he managed players who would later come with him to Boston, including Billy Rohr, Mike Andrews, Joe Foy, Russ Gibson, and Reggie Smith. Foy was the batting champion and MVP of the International League in 1965. Smith led the International League in hitting the following season, batting.320.
After the 1966 season, Red Sox general manager Dick O'Connell promoted Williams to replace Boston manager Billy Herman. At 37, he was the youngest manager in the American League.
Williams inherited a club that had grown complacent. In 1965 the team finished ninth in the 10-team American League with a dreadful mark of 62-100. In 1966 the Red Sox finished ninth again, 26 games behind the Orioles, although they played well in the second half. The 1967 Red Sox were considered a young team with talent, but no one could have predicted that they would win the pennant. Signing a one-year contract, Williams felt that he had a lot to prove. Remembering his own years with the Red Sox, he understood the country-club atmosphere and had a wealth of ideas about turning it around.
At spring training in Winter Haven, Florida, Williams made it perfectly clear that there would be only one person in charge — him — and that he would bring many changes to management's processes and rules. He began by stripping Carl Yastrzemski of his captaincy. All unmarried players were required to lodge at the team hotel. If players were late, they were fined. Williams stressed fundamentals, pitching, and defense. He was one of the first managers to use videotape to improve the adjustments.
Williams required his pitchers to play volleyball in the outfield to develop footwork skills while pushing their competitive instincts. Winning teams had to do only half of their post-workout sprints. When the great Ted Williams, incensed over the "boot camp" approach, walked out of spring training, the manager did not seem to mind.
In Las Vegas, Jimmy "The Greek" Snyder rated the Red Sox a 100-to-1 shot at winning the pennant. Williams promised that "we will win more games than we lose."7 Opening Day at Fenway Park drew only 8,324 fans. The Red Sox were among the youngest teams in the league. Led by Yastrzemski, Jim Lonborg, Rico Petrocelli, Tony Conigliaro, and George Scott, these still-young veterans were surrounded by ex-Maple Leafs Foy, Smith, Gibson, and Rohr.
Williams was not afraid to exert his authority. If someone played poorly, he was benched and even embarrassed in front of his teammates. Williams chastised first baseman George Scott for being overweight, and described discussions with Scott as "talking to cement."8 So many players were in the skipper's doghouse that it became a gag. One player said, "Listen, this thing is so full we're lucky we can field a team."9
On July 24 the team had rattled off a 10-game winning streak, including six on the road. Returning to Boston, the Red Sox were greeted wildly by thousands of fans. "I will never forget that night we landed at Logan Airport with that wild reception," Williams said later. "… I felt the franchise was practically reborn."10
Despite the odds, the Red Sox kept on winning, even overcoming Tony Conigliaro's beaning on August 18 that which sidelined the slugger for the remainder of the season. All season, it was a tight race. On October 1, the last day of the regular season, the Red Sox won the pennant by beating the Minnesota Twins. In the World Series, the Red Sox lost to the Cardinals in seven games. After the amazing season, Lonborg won the Cy Young Award, Yastrzemski, who won the Triple Crown, was voted MVP, and Williams won The Sporting News' Manager of the Year Award.
For re-establishing the team as a winner, Williams received a three-year contract extension. In 1968 Boston's pitching staff was decimated by injuries to Lonborg and Jose Santiago, and Conigliaro missed the entire season. The team finished in fourth place at 86-76, 17 games behind pennant winner and World Series champion Detroit.
In 1969 the Red Sox improved their victory total by one. Williams, however, was fired with nine games remaining in the season. His dismissal was attributed primarily to his acrimonious relationship with owner Tom Yawkey. Williams believed Yawkey was undermining his authority; pampering players after Williams had disciplined them. Media reports also claimed that Yawkey considered Williams disrespectful and unrealistic. In a game on August 1, Williams benched Yaztrzemski and fined him $500 for not hustling. Williams did not give special advantages to his star players. Rather, he was tougher on them because they were stars.
Williams spent the 1970 season with the Montreal Expos as Gene Mauch's third-base coach. That winter, he accepted an offer from Oakland owner Charlie Finley to manage the A's, becoming the 10th manager of the Athletics in Finley's short regime. John McNamara had been fired after leading the A's to a second-place record of 89-73. Finley charged that McNamara seemed unable to prevent bickering among his players. Backup catcher Dave Duncan remarked, "There's only one manager who manages this club — Charlie Finley … and we'll never win so long as he manages it."11
Right from the beginning, Williams knew he had talent on his team. There were outfielders Reggie Jackson and Joe Rudi, third baseman Sal Bando, shortstop Bert Campaneris, and pitchers Vida Blue, Blue Moon Odom, Catfish Hunter, and Rollie Fingers. Williams said, "This club is head and shoulders above the Boston club I had in '67."12
Oakland finished the 1971 season 16 games ahead of the Kansas City Royals, winning 101 games. Williams once again won the Manager of the Year award. Hunter went 21-11, and Blue finished a remarkable 24-8, winning both the Cy Young and MVP awards. But the A's didn't make the World Series: They were swept in three games by Baltimore in the American League Championship Series.
The 1972 A's were famous for their facial hair. It began when Reggie Jackson arrived at spring training sporting a mustache. When others decided to follow Jackson's lead, Finley seized another marketing opportunity, offering to pay anyone a $300 bonus if he would grow a mustache by Father's Day. The Mustache Gang was born. By now, Williams had changed as both a manager and a person, growing a mustache himself. Sal Bando said, "I think a lot of things are mislabeled on Dick, I mean, he was a strong disciplinarian, in terms of fundamental baseball and what he expected. … [But] as far as being a disciplinarian in terms of your curfew, your dress, your hair, Dick was very flexible there."13
The A's finished the season 93-62, winning the West by 5½ games over the Chicago White Sox. They won the League Championship Series by defeating Detroit three games to two.
In the World Series, the Oakland A's were matched up against the Big Red Machine, Sparky Anderson's Cincinnati Reds. With the hippie-like A's and the cleancut, conservative Reds, the Series was dubbed "the Bikers against the Boy Scouts."14 Sparky and Williams had been friends since they were teammates in the Dodgers organization. The A's led the Series two games to one when in Game Four, Williams' aggressive managerial moves paid off. With Oakland trailing 2-1 in the bottom of the ninth, Williams used two pinch-runners and three pinch-hitters for a 3-2-comeback victory. The A's lost Games Five and Six, but rallied in Game Seven to win the Series.
In 1973 Oakland had three 20-game winners, Ken Holtzman, Vida Blue, and Catfish Hunter. The team won the American League West with a 94-68 record, and then defeated Baltimore in the ALCS, three games to two. The World Series against the New York Mets, however, marked the beginning of the end of Williams's tenure in Oakland. In Game Two, with the score tied, 6-6, in the 12th inning, Oakland second baseman Mike Andrews made two costly errors that gave the Mets four runs. After the 10-7 loss, Andrews blamed himself for his mistakes. Remembering his own experience with the death of his father, Williams consoled Mike. Mental errors upset Williams, not physical ones.
After the game Finley told Williams that Andrews should be placed on the disabled list with a shoulder injury. In reality, Finley was trying to add Manny Trillo to the postseason roster. Andrews was coerced into signing a medical statement indicating that he was injured, and did not accompany the team to New York.
Before Game Three Finley announced that Andrews was officially unable to play. Sal Bando, the team captain, retaliated by asking all of his teammates to wear Andrews' number 17 on armbands to show their support. Finally, Commissioner Bowie Kuhn intervened, arguing that a player could be replaced on a postseason roster only after suffering a new injury. Kuhn added, "The handling of this matter by the Oakland club has had the unfortunate effect of embarrassing a player who has given many years of able service to professional baseball."15
In Game Four, Williams sent Andrews up as a pinch-hitter to a standing ovation from the 54,817 fans at Shea Stadium. For Williams, the Andrews incident was the last straw; he told his team in the locker room that he would resign immediately after the Series. After the A's defeated the Mets in Game Seven, 5-2, Finley announced that he would "not stand in [Williams's] way" should he decide not to return as manager.16 (Finley later said he meant not standing in the way of NON-baseball-related activities.)
It was no secret that Williams wanted to fill the managerial vacancy for the New York Yankees, and it was no secret that they wanted him. Before baseball's winter meetings, Yankees general manager Gabe Paul asked Finley for permission to talk to Williams. Since Williams had one year remaining on his Oakland contract, Finley demanded player compensation. Eventually American League President Joe Cronin intervened, determining that Finley was acting within his rights in retaining his manager. The Yankees hired Bill Virdon as their manager.
Williams left baseball to work for John D. MacArthur, one of the richest men in America, but realized that he missed baseball. California Angels general manager Harry Dalton persuaded Finley to allow him to hire Williams as manager. Williams replaced Bobby Winkles and interim manager Whitey Herzog on July 1, 1974. He took the job despite having been warned by former Tigers manager Mayo Smith against accepting it, saying, "I've scouted them and I know: They've got no talent in the major leagues and nothing in the minor leagues. Nothing … But enough about me. Good luck."17
Nine of the Angels' first 13 seasons had resulted in losing records, and 1974 was no exception. Behind Nolan Ryan, Frank Tanana, and an aging Frank Robinson, Williams led the Angels to a 36-48 record the remainder of the season. The team finished last in the American League West at 68-94, 22 games behind the eventual three-peat world champion A's. The Angels fared no better in 1975, again finishing in last place at 72-89. The entire infield consisted of rookie or sophomore players: first baseman Bruce Bochte, second baseman Jerry Remy, shortstop Orlando Ramirez, and third baseman Dave Chalk.
Williams's frustration was epitomized by a 1976 incident. While talking to sportswriters in Chicago on June 30, he accidentally penciled Nolan Ryan in as the game's starting pitcher. Although it was not Ryan's turn in the rotation, league rules stipulated that the starting pitcher must face at least one batter. After Ryan retired Chicago's leadoff hitter, Chet Lemon, Williams yanked him. Unable to cope with the Angels' losing attitude, Williams was fired on July 24.
After three disappointing seasons in California, Williams got an offer to return to Montreal to manage the Expos. The 1977 Expos had nowhere to go but up. The previous season they had lost 107 games. Williams knew that a promising farm system generated the opportunity to build a winner. Montreal's young outfield consisted of future Hall of Famer Andre Dawson, Warren Cromartie, and Ellis Valentine. Larry Parrish was at third base and Tony Perez at first. Chris Speier was shortstop. And then there was a catcher nicknamed "The Kid": future Hall of Famer Gary Carter.
The team finished in fifth place in 1977 at 75-87. In 1978 the Expos were one game better at 76-86, rising to fourth place in the National League East. In his autobiography Williams recalled, "As we entered the 1979 season, [we] helped put together a team that would make people actually come to the park to watch baseball."18
The biggest pitching star in Montreal was Steve Rogers, who pitched his entire 13-year major-league career for the Expos. Montreal also had Ross Grimsley, who had won 20 games in 1978, and added Bill Lee, who had broken in under Williams with the 1969 Red Sox. The team was in the divisional race until the final weekend of both 1979 and 1980. In 1979 the Expos finished at 95-65, two games behind Pittsburgh, and in 1980, they went 90-72, just one game behind Philadelphia. Attendance soared, and pennant fever arrived in Montreal.
The strike-shortened season of 1981 was split into two halves. In the first half, the Expos finished 30-25 for third place behind Philadelphia. In the second half, the team was 14-12 when Williams was fired on September 8. Team president John McHale cited "lack of communication with players and poor clubhouse skills."19 The team went on to win the "half-pennant," making the playoffs for the only time in franchise history, but after defeating the Phillies in the division series, the Expos lost to the Dodgers in the NLCS.
Williams's next stop was San Diego. In their first 13 seasons, the Padres had finished over .500 only once, in 1978. In 1981, the team finished 26 games out of first place. Credit for building the Padres into a pennant contender belonged to Jack McKeon, general manager since 1980. In 1982 McKeon gave Williams a three-year contract as manager, asking him to turn a franchise into a winner. Williams said in his autobiography, "At all my managerial stops I'd molded winners out of players already present. Doing it the San Diego way was perhaps a more difficult feat, considering that there was a chance that guys wouldn't just hate me, but hate each other."20
McKeon drafted outfielders Kevin McReynolds and Tony Gwynn in 1981. He traded shortstop Ozzie Smith to the Cardinals for Gary Templeton in 1982. He also signed Dodgers first baseman Steve Garvey as a free agent in 1983. Additional trades netted Carmelo Martinez and Craig Nettles. McKeon also signed closer Goose Gossage.
Under Williams, the Padres finished 81-81 in 1982 and 1983. They started the 1984 season poorly, losing seven consecutive games in May. They moved into first place on June 9, however, and never looked back. The Padres clinched the National League West on September 20.
On August 12, 1984, the Padres were involved in one of the ugliest scenes in major-league history. A brushback game in Atlanta resulted in two bench-clearing brawls, 16 ejections, and five fan arrests. On the very first pitch of the game Atlanta starter Pascual Perez plunked Padres second baseman Alan Wiggins in the ribs. For the rest of the game, the Padres tried to retaliate. By the time Perez was struck in the eighth inning, Williams had long been ejected from the game. For his role in the brawl, Williams was suspended for 10 games and fined $10,000, while Braves manager Joe Torre was suspended for three games.
The 1984 National League Championship Series against the Chicago Cubs provided the Padres with one of the greatest comebacks in playoff history. In Game One of a best-of-five series, the Cubs blanked the Padres, 13-0. After losing Game Two, 4-2, the Padres faced elimination. Only the 1982 Milwaukee Brewers had rebounded from a two-game deficit to win a best-of-five series. In a scene similar to the '67 welcoming at Logan Airport in Boston, the Padres were greeted by thousands of fans upon arriving in San Diego.
The Padres won Game Three, 7-1. In Game Four, Steve Garvey hit a walkoff home run in the ninth to win, 7-5. Game Five completed the comeback as the Padres, after trailing 3-0, won 6-3. Meeting Williams's old foe Sparky Anderson again in the World Series, the Padres were clearly overmatched by a Detroit team that had won 104 games during the regular season, and fell in five games. Still, Williams finished third in voting for National League Manager of the Year.
In 1985 Williams led the Padres to an 83-79 record, 12 games behind the division champion Dodgers. However, constant struggles with management forced him to resign on the first day of spring training in 1986. He wasn't out of work very long. A few weeks into the season, Williams accepted an offer to manage the Seattle Mariners. Knowing that it was likely his last chance at managing, he wanted to prove that he could still turn a bad team around. He signed a three-year deal to pilot a club for whom 76 wins marked a record high. He took over a 9-20 team (led by manager Chuck Cottier and Marty Martinez) and finished the 1986 season in last place at 67-95.
In 1987 Williams led Seattle to a then record finish of 78-84, seven games behind West Division champion Minnesota. However, he resented management for preventing him from replacing Billy Connors with a pitching coach who he felt would not coddle players or offer preferential treatment. Moreover, he lambasted pitcher Mark Langston for asking to be removed early from games rather than "tough it out." Clearly, Williams's hard-nosed management style had lost its effect. With the Mariners in sixth place at 23-33 on June 6, 1988, Seattle owner George Argyros fired him. Williams never managed again in the major leagues.
Williams became a skipper in the short-lived Senior Professional Baseball Association in Florida. Beginning play in November 1989, the eight-team league was made up of former players 35 and older. Williams managed the West Palm Tropics, who featured former A's Rollie Fingers and Dave Kingman.
In retrospect, a league consisting of aging stars seemed rather silly. As Williams remarked, "With pitchers who could barely throw and runners who could barely run [practice] games took nearly six hours."21 Williams enjoyed the spirit of the game, however, as his Tropics led the league with a 52-20 record. They came within one game of winning the championship, losing 12-4 to the St. Petersburg Pelicans. The league folded after its second season.
Williams worked as a scout for the New York Yankees until 2002. He also broadcast games for the University of Nevada-Las Vegas and the Las Vegas 51s of the Pacific Coast League. On November 9, 2009, Williams was inducted into the Red Sox Hall of Fame for managing the Impossible Dream team of '67.
Williams got the call from the National Baseball Hall of Fame just a year earlier. On July 27, 2008, after being voted in by the Veterans Committee, Williams was enshrined in Cooperstown along with Rich Gossage.
Williams, who had been married to his wife, Norma, since 1954 and lived in Henderson, Nevada, died on July 7, 2011, of a ruptured aortic aneurysm. He was 82. Besides his wife he was survived by three children, Kathi, Marc, and Rick, and five grandchildren.
Rick Williams was a Red Sox batboy for his father in 1967, and later pitched college ball under coach Eddie Stanky at the University of South Alabama. He was drafted by the Montreal Expos out of school. In 1977, he went 3-1 with a 2.90 ERA for the GLC Expos, and 1-0 in four innings for the Jamestown Expos. In 1978, he reached Triple-A, pitching for the Denver Bears, but an arm injury derailed his career. He was the first pitching coach of the Florida Marlins and Tampa Bay Devil Rays. He was an assistant to the Tampa Bays general manager and scouted for the Yankees. As of 2014, he worked for the Atlanta Braves as a special assistant to the general manager for pitching development.
Last revised: September 1, 2015
This article originally appeared in "Mustaches and Mayhem: Charlie O's Three Time Champions: The Oakland Athletics: 1972-74″ (SABR, 2015), edited by Chip Greene.
Sources
Chandler, Bob, with Bill Swank, Bob Chandler's Tales From the San Diego Padres (Champaign, Illinois: Sports Publishing LLC, 2006).
Crehan, Herb, Red Sox Heroes of Yesteryear (Cambridge, Massachusetts: Rounder Books, 2005).
Reynolds, Bill, Lost Summer: The '67 Red Sox and the Impossible Dream (New York: Warner Books, 1992).
Arbel, Allen, "Dick Williams Can Remember Baseball's 'Angry Days,' " Baseball Digest, July 1980.
Notes
1 The first was Bill McKechnie, who won pennants with the Pirates, Cardinals, and Reds.
2 Phone interview with Dick Williams by Jeff Angus, January 2006.
3Dick Williams and Bill Plaschke, No More Mr. Nice Guy (New York: Harcourt Brace Jovanovich, 1990), 78.
4 Williams, 62.
5 The Sporting News, September 14, 1955, 42.
6 Williams, 71-72.
7 "Dick Williams; Sox Skipper for Impossible Dream Season" (obituary), Boston Globe, April 8, 2011.
8Williams, 93.
9 Bill McSweeny, The Impossible Dream: The Story of the Miracle Boston Red Sox (New York: Coward McCann, 1968), 186.
10 Glenn Stout and Richard Johnson, Red Sox Century (Boston: Houghton Mifflin, 2004), 323.
11 Bruce Markusen, A Baseball Dynasty: Charlie Finley's Swingin' A's (Haworth, New Jersey: St. Johann Press, 2002), 1.
12 Markusen, 6.
13 Markusen, 117.
14 Markusen, 171.
15 Markusen, 248.
16 Markusen, 263.
17 Markusen, 183.
18 Williams, 206.
19 Williams, 225.
20 Williams, 233.
21 Williams, 316.
http://sabr.org/sites/default/files/DickWilliams.JPG
600
800
admin
/wp-content/uploads/2020/02/sabr_logo.png
admin
2014-09-12 23:37:44
2020-11-10 13:01:54
Manager Dick Williams