2017 Canadian Baseball History Symposium recap
Recap of the second annual Canadian Baseball History Symposium
November 18-19, 2017, St. Marys, Ontario
By Andrew North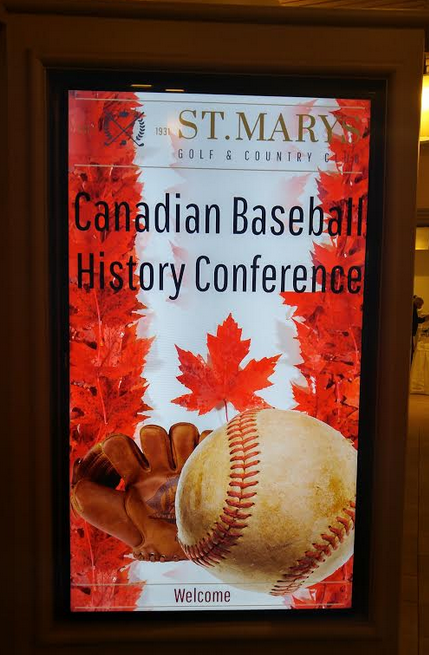 Some 65 Canadian baseball aficionados gathered for the weekend of November 18-19, 2017, in St. Marys, Ontario, home of the Canadian Baseball Hall of Fame and Museum. The occasion was the second annual Canadian Baseball History Symposium, exploring any and all aspects of Canada's rich baseball history. The program of 13 presentations ranged from the distant past to the future, from 18th-century European bat-and-ball games to preview film clips never before viewed by the public.
Presentations were preceded by an announcement of the incorporation of a not-for-profit entity named the Centre for Canadian Baseball Research, a group to encourage and facilitate the investigation of baseball's development in Canada. In partnership with the Canadian Baseball Hall of Fame and Museum, the Centre plans to maintain and operate a research library for public use. The library will consist of some 6,000 books and magazines, as well as voluminous correspondence files and research materials contributed jointly by the Museum and the Centre's directors.
The presentations themselves were varied, and both entertaining and informative. Capsule summaries follow.
Teacher Stephen Dame spoke about Canadian soldiers playing baseball in Europe in World War I, particularly in the Greater London area. Miriam Wright, Heidi Jacobs and Dave Johnston, all of the University of Windsor, provided background on their Chatham Coloured All-Stars Project, detailing their research processes in investigating black baseball in Chatham, Ontario in the 1930s.
Longtime SABR member David Matchett posed the question "What is a Canadian?" The answer to this seemingly simple query has numerous ramifications, including WBC eligibility, inclusion on lists of active and career statistical leaders, and even helps determine who was the first Canadian major leaguer! (an identification that has changed many times over the past 10 years!)
David was joined by SABR veteran Bill Humber and Scott Crawford, the Hall of Fame's Director of Operations, in a lively panel discussion of this issue.
Bill Humber introduced Bob Addy as the (latest) first Canadian major-leaguer, painting a balanced picture of his baseball accomplishments and his occasionally less-than-exemplary behavior.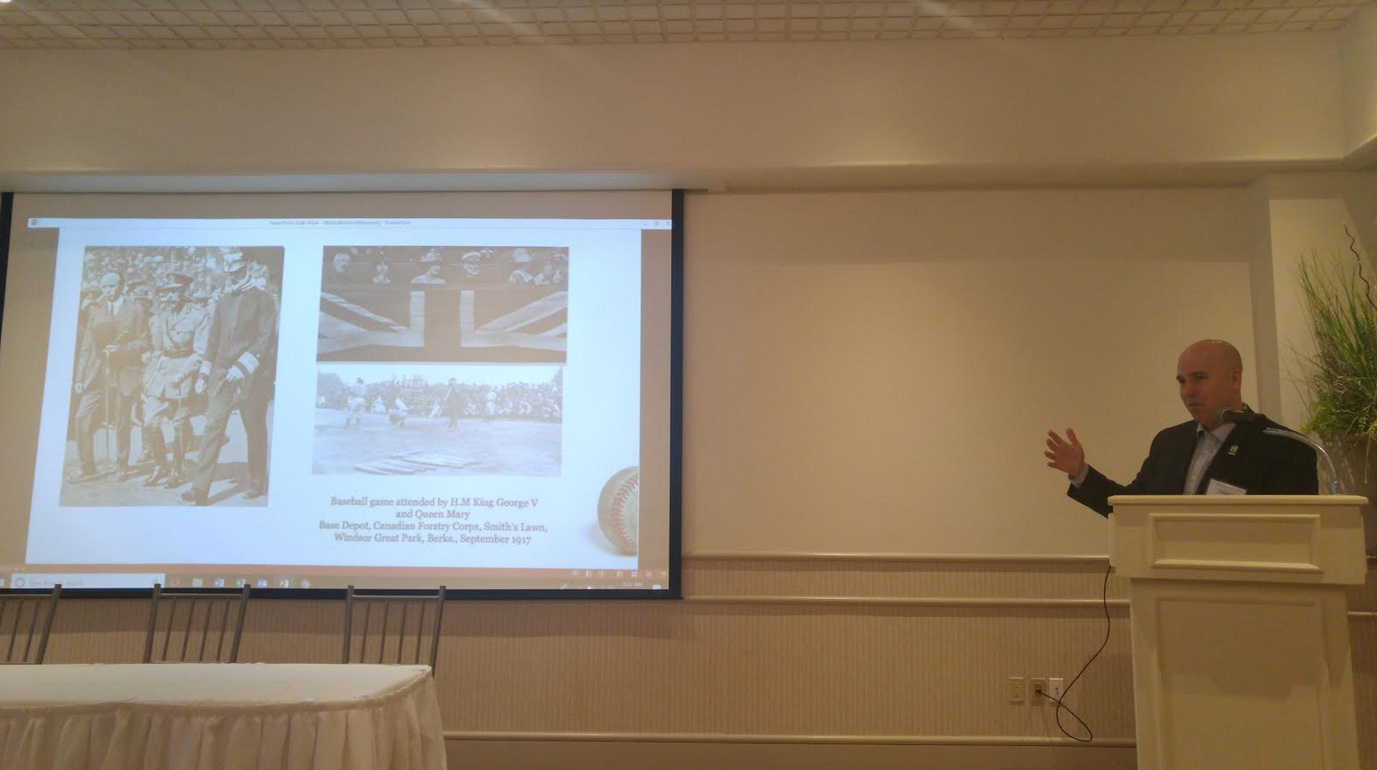 Former Jarry Park vendor Fred Toulch provided a suite of Montreal Royals vignettes, including particularly humorous tales of Van Lingle Mungo and Bruno Betzel.
Former Olympics, Canadian junior hockey, and CFL executive Michael Murray hosted an entertaining pictorial history quiz based on images from his personal collection.
Author Jerry Amernic suggested a number of Canadian connections to Babe Ruth. His presentation included some rarely seen images of Ruth hunting in Nova Scotia.
Longtime Western University professor Bob Barney described the life and theories of German instructor Johann Friedrich GutsMuths, one of the pioneers of physical education. In particular, he analysed GutsMuths' 1796 comparison of the English game of baseball with a similar German game of the same era. Bob's work was done using a translation of GutsMuths' work from Gothic German by his co-author Barbara Weis.
University of Toronto professor John Cairney provided a brief history of the 3-pitch inning in major-league baseball.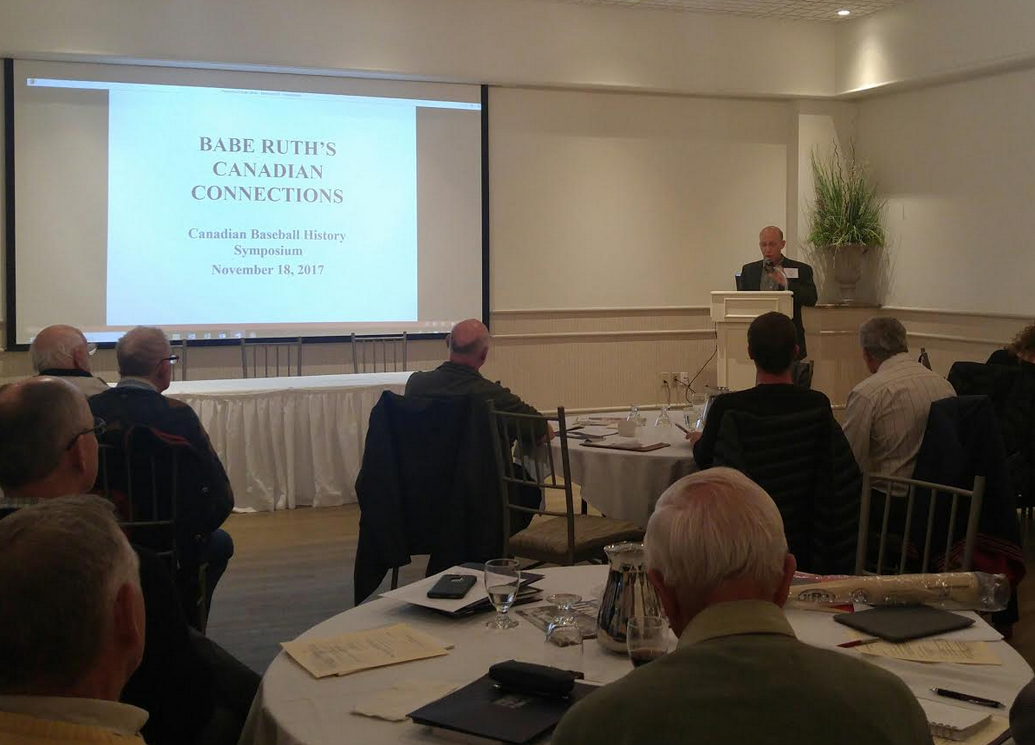 Longtime teacher and SABR member Bill Young described how many of the major-leaguers who jumped to the Mexican League in response to Jorge Pasquel's inducements later found redemption in the Quebec Provincial League in 1948 and 1949.
Journalist and SABR member Chip Martin presented on Brantford, Ontario native William Watkins and his penchant for collecting championships in whatever league he managed. Teacher Martin Lacoste provided a fascinating summary of the Canadian League season of 1885, highlighting those players who were major leaguers before and/or after, including Louis Bierbauer.
Veteran entertainment industry professional Warren Campbell outlined the history of baseball's involvement in various forms of entertainment, from vaudeville and early motion pictures, through television and commercials, to serious documentary films.
A good time was had by all. We look forward to our third get-together in the fall of 2018.
Photos: Stephen Dame (second from top), Jerry Amernic (third from top)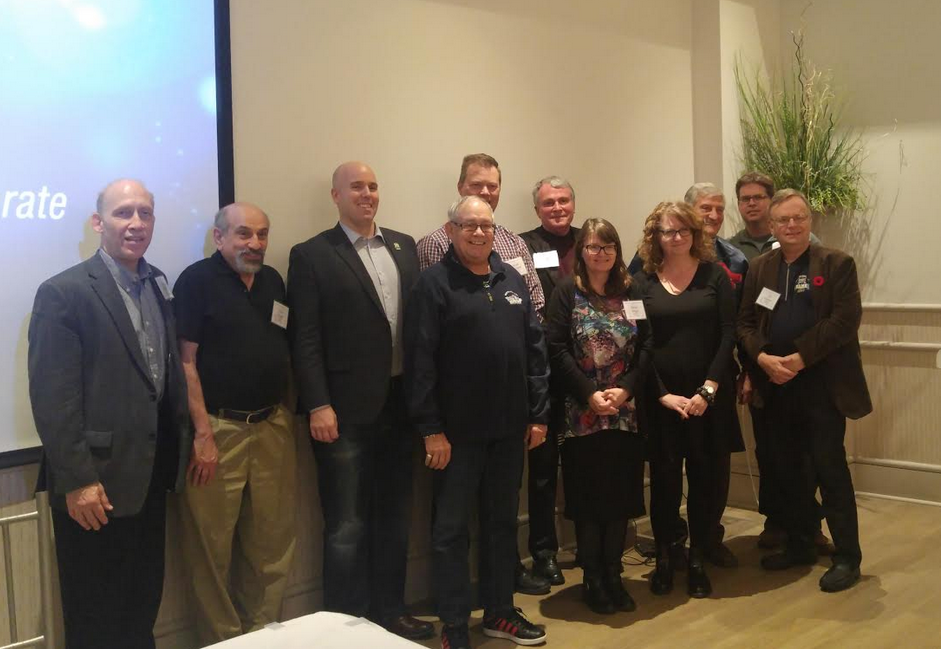 https://sabr.org/wp-content/uploads/2020/03/research-collection4_350x300.jpg
300
350
admin
/wp-content/uploads/2020/02/sabr_logo.png
admin
2017-11-21 16:17:50
2017-11-21 16:17:50
2017 Canadian Baseball History Symposium recap