Boston Chapter meeting recap – 6/3/2017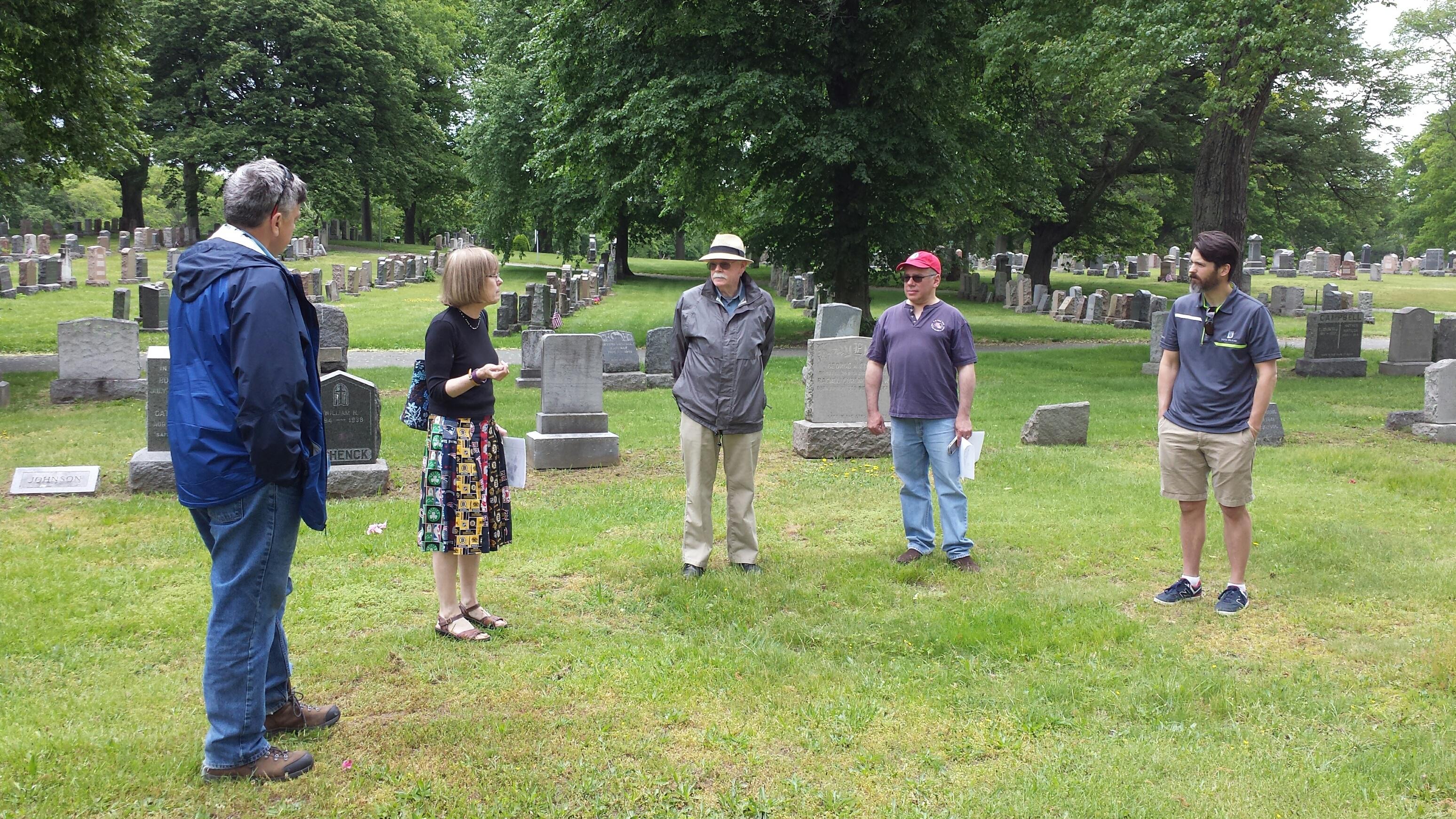 By Joanne Hulbert
SABR Boston Chapter members and friends met on Saturday, June 3, 2017, at Mount Hope Cemetery in Boston, to identify and visit the graves of 13 baseball players buried there. We suspect there may be more and will continue to research the history of this very historic City of Boston site.
Granted, there are other cemeteries in Boston that are the resting places of baseball players, but Mount Hope has a unique group of players — including Mike Kelly, David Birdsall, John Irwin, William Selden, Cannonball Jackman, Frank Shannon, Tom Sullivan, Herman Young, Alfred Jupiter, Pearley Johnson, Charlie Daniels, Jesse Brown, and George Bryant. A Hall of Fame player, a classic 19th-century player, Negro Leaguers, local Boston semipros, and a few with just a cup of coffee to fill out their Major League careers, this group of players was the most diverse group of players found among the lists we studied. Every position was represented, and if that ethereal ballgame breaks out after dark at Mount Hope, that'd be quite the ball game to experience, and since this is Boston, the grandstand of cranks will be SRO.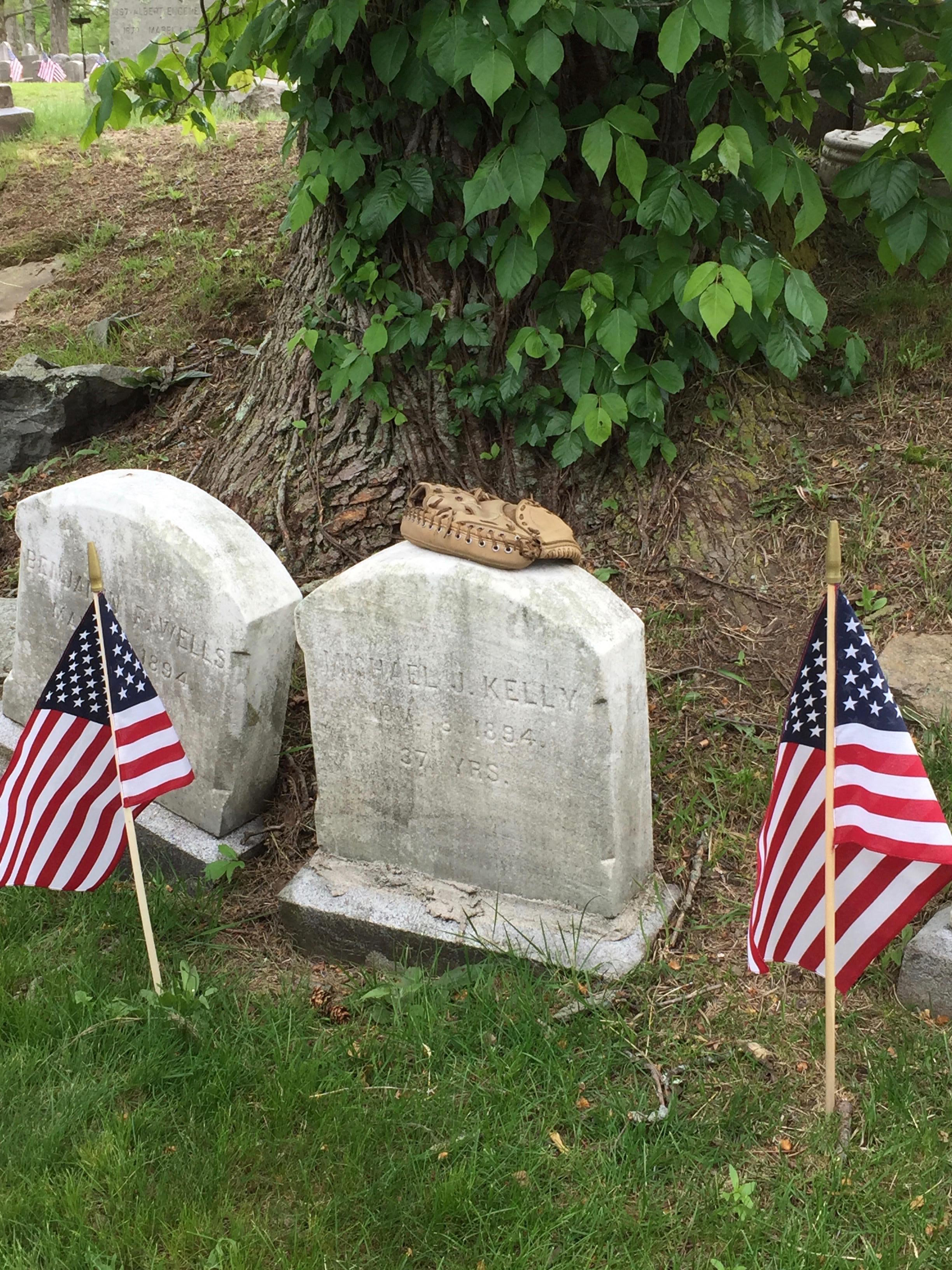 The Chapter also presented the Mount Hope staff with several pictures of some of the players that they can add to their "Hall of Fame" in order to keep company with the portrait of boxer George Dixoncurrently on the wall. Alas, we did not have pictures of all 13, but Kelly, Birdsall, Jackman, and Irwin will be there for now, and if we find photos of the rest, we will offer them as well. One discovery we made was that John Irwin is buried with his father, Arthur Irwin, and John's name is not on the stone. William Selden and Alfred Jupiter are located in unmarked graves, and we are still looking for Herman Young's stone.
The Chapter thanks Paul, the cemetery groundskeeper, for one day two weeks ago, I was there scouting out the grounds and happened to find him fixing David Birdsall's stone that had spent the winter face-down and nearly buried in the ground. He also gallantly washed King Kelly's stone too. Both stones are just a few feet away from each other in the Elks Lot.
A baseball mitt has been placed on Mike Kelly's stone by an unknown fan, and it has been there for several months, untouched, un-purloined, and looking so fitting.
And then, there is William "Cannonball" Jackman, the greatest baseball player you've never heard about." As the late, great SABR historian Dick Thompson wrote for the Baystate Banner in 2008:
"Hank Greenberg and Wes Ferrell were two of the many major leaguers who began their careers in East Douglas, Mass., playing semi-pro ball for Walter Schuster, the millionaire owner of a string of textile mills along the Blackstone River on the Massachusetts-Rhode Island border. Schuster hired Lefty Grove of the Philadelphia Athletics for a championship contest in October 1927, paying him $300 with a $10 bonus for each batter struck out.

For the 1929 Blackstone Valley league title game, Schuster paid Bill Jackman of the Philadelphia Giants $175 and gave him the same strikeout bonus. Greenberg played first base, and a pitch-by-pitch account of Jackman's work — he tossed 151 pitches and fanned 14 in winning the contest."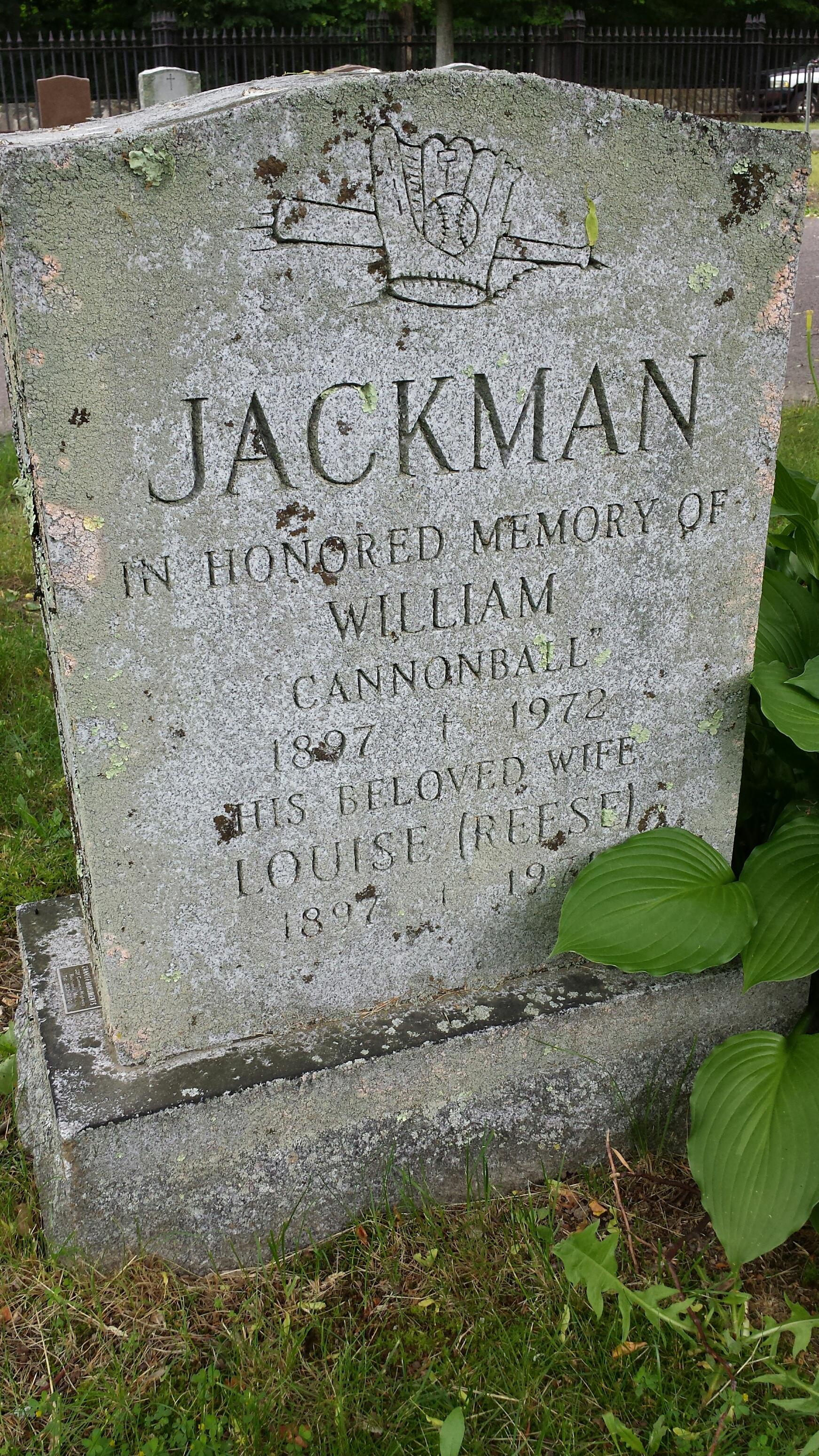 Thompson went on to say, "Jackman, fans will recall, has been pitching for more than 30 years, part of the time in the Negro National League but generally for touring teams," the Press Herald wrote. "He is a big, rangy, ageless underhanded [pitcher] regarded by big leaguers who have faced him and scouts who saw him work in his prime as one of the greatest pitchers of all time."
Thompson concluded, "Jackman would no doubt have become one of the greatest pitchers in the history of baseball."
What could have been, is the sentiment for several of the players we remembered and honored at Mount Hope. Both William Selden and Alfred Jupiter played for the Cuban Giants before 1900, and Selden had been the mascot and bat boy for the Boston Red Stockings of the 1870s, and both Selden and Jupiter occasionally played for white ball teams in the Boston area, augmenting their pitching staffs. John Irwin had hired Jupiter as his manager and right fielder on the Murray and Irwin baseball team, an otherwise white semi-pro team in 1896.
After the visit to Mount Hope, we proceeded on to Doyles Café on Washington Street, "a dive bar" — though Seamus qualified that remark that it is a good dive bar as there are the ubiquitous TVs everywhere turned to sports and they serve most of the "good" Boston beers on tap, and the walls are covered with memorabilia galore. We met in the Menino Room where we could recap our cemetery impressions while keeping an eye on the UCLA-Texas women's softball game — mostly the fight between the umpires and the UCLA pitching coach.
But there were many impressions made at Mount Hope that we discussed, and also we wandered to other baseball subject — as all SABR chapter meetings do — including all things Red Sox and whether Andrew Benintendi was done — not so fast; he's figured the problem out, we hope — and also meandered around what everyone was working on baseball-wise. Also, we talked about Jimmy Piersall and how he was valuable as a player and was an example of someone who overcame more monumental challenges than a sore arm. And come to find out the next day, Jimmy Piersall had died on Saturday.
https://sabr.org/wp-content/uploads/2020/03/research-collection4_350x300.jpg
300
350
admin
/wp-content/uploads/2020/02/sabr_logo.png
admin
2017-06-05 14:54:30
2017-06-05 14:54:30
Boston Chapter meeting recap – 6/3/2017