Connecticut Smoky Joe Wood Chapter meeting recap – 12/17/2016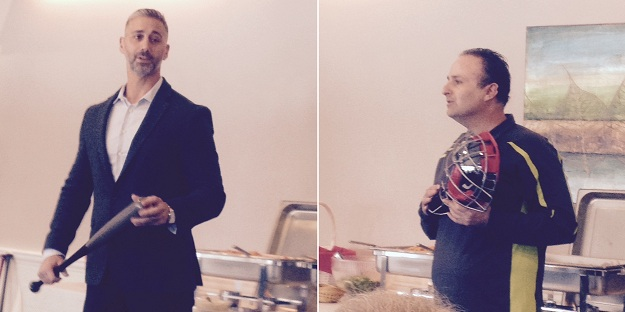 Slowed by snow and freezing rain, attendance was the only curtailed aspect of the Connecticut Smoky Joe Wood Chapter Holiday Luncheon on December 17, 2016, at Angelo's on Main in West Hartford, Connecticut.
There was a robust buffet. Ticket vouchers for the Yard Goats, Bees, and Defenders were given away. There were free books. Speakers included our own Marjorie Adams, Pete Tucci of Tucci Lumber (Norwalk, CT), and Jason Klein of Force3 Pro Gear (Derby, CT).
Klein, pictured at right above, is a baseball lifer and businessman with the proverbial tiger by the tail. He is a veteran minor league umpire and trainer of "Men In Blue." Klein is the creator of a revolutionary catcher's mask that reduces the severity index of a concussion by up to 50%.
Klein's mask is currently used by Kurt Suzuki, Matt Wieters, Tucker Barnhart, Anthony Recker, and Francisco Cervelli, all of whom began to use it in 2016.
Klein explained how his first MLB customer, Tyler Flowers of the Braves, agreed to meet before an April interleague game in Boston. The two men met in the visitor's bullpen, where the mask maker explained how the unique design offered a higher level of protection. Flowers did not give the mask back to Klein, who soon noticed that Flowers was spouting to other players in the bullpen what he had just been told about the mask's attributes.
Klein realized that his business had taken an important step forward when he subsequently noticed that Flowers went through his bullpen while using the new mask. Flowers' acceptance of the Force3 Defender mask led to a cover story in Baseball America and to other new player-customers on the Twins, O's, Reds, and Pirates.
Although no mention of it was made at the gathering, Mr. Klein survived a small plane crash in New York this past July. Three others perished in the crash. Now recovered and going about his business, Klein is aiming to revolutionize safety for baseball, softball and hockey players across the globe.
Klein was well prepped for his appearance before CT SABR. He pitched a trivia shutout, asking several questions about catching gear with answers rooted in the 19th century.
Pete Tucci of the Tucci Lumber Company (pictured at left above) makes game bats for 160+ current major leaguers including Bryce Harper, Xander Bogaerts, and Troy Tulowitzki. Although Mr. Tucci's firm is the fourth-most popular among the 36 MLB-approved bat makers, his start in bat crafting was anything but lofty.
After six seasons playing the outfield for minor league affiliates of the Blue Jays, Padres and Mets, Tucci retired from professional baseball with a BB Reference file that included a .318 season with 30 home runs in 1998.
After his playing career, Pete worked in HVAC for a few years until his wife gifted him a wood carving machine and 60 pieces of wood. Tucci made his first bat in his garage and was happy to find that said bat met his expectations of what a good piece of lumber should be.
Making bats in his garage became Pete's hobby until his life was transformed by the passing of a loved one. He decided to pivot from his HVAC business into that of a professional bat maker. The transformation took one year. Pete made the bats; his wife painted and finished them.
Former minor-league teammates who were in the big leagues helped Pete establish a small base of customers but the turning point came in 2011 when Nick Swisher bought Pete's bats. Eleven other Yankees followed. By the end of 2012, Tucci Lumber was being swung by 55 MLB players including five who played in the 2012 World Series.
Tucci shared one joyous story about a pre-game meeting at Fenway with Miguel Cabrera and Prince Fielder, a meeting that was necessarily arranged out of the view of the Tigers official clubhouse man. Fielder and Cabrera gave no indication that they would use Mr. Tucci's bats after the presentation. Later, after seeing Cabrera in the on deck circle with his bat and having been blocked from the box seats closest to the field by a young Fenway employee, Tucci told the young man, "Believe it or not, kid, that's my bat that Miguel Cabrera is swinging down there."
Mr. Tucci and a friend were then given free access to seats close to the playing field to watch the Tigers and Sox play. Fenway faithful seated near Tucci soon decoded what was going on as Tucci and his friend cheered hits by Cabrera and Fielder. The Red Sox fans join in with vigor. In the end, Fielder hit a home run over the 420 mark with a Tucci bat and Cabrera put one over the Sports Authority sign with his.
A red letter day for Pete Tucci – for sure.
Batting in the third spot was Majorie Adams, great-granddaughter of Doc Adams, the 19th-century Knickerbocker who chaired Base Ball's early efforts to organize the game. Marjorie displayed a photo copy of the Laws of Base Ball, authored in 1856 by her great-grandfather, and reviewed its elements. The original Laws of Base Ball sold at auction (not by the Adams family, but by a collector) this past April for $3.26 million.
— Karl Cicitto
https://sabr.org/wp-content/uploads/2020/03/research-collection4_350x300.jpg
300
350
admin
/wp-content/uploads/2020/02/sabr_logo.png
admin
2016-12-19 13:53:17
2016-12-19 13:53:17
Connecticut Smoky Joe Wood Chapter meeting recap – 12/17/2016