Quebec Chapter meeting recap – 11/10/2018
The SABR-Quebec Chapter met on November 10, 2018 at Madison's Restaurant in Montreal for its fall gathering.
We had a special guest in Robert Elias, a member of the Lefty O'Doul Chapter based in San Francisco, who is in Montreal for the current university semester. A Professor at the University of San Francisco, he is currently a guest lecturer at McGill University where he teaches a class on sports and society focussing on the history of baseball in Canada. Some of the members of our chapter have been guest presenters at his seminars, including Marcel Dugas who spoke about the Montreal Royals, and Jacques Doucet, who spoke about the Expos.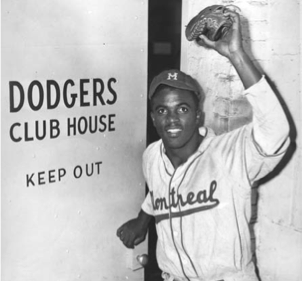 We took advantage of Mr. Elias's presence to exchange on some of the topics he covers in his course, and on which he has conducted additional research during his stay here. Among others, we touched on the beginnings of baseball in Canada and Quebec (the history of baseball in our lands is much older than most people believe); relations between baseball and hockey (hockey has not always been the number one sport in Canada); college baseball (why it is almost invisible here); the stints in Montreal with the Royals by two pioneers of baseball's integration, Jackie Robinson and Roberto Clemente; and prospects for the return of major league baseball in Montreal, including the political and economic aspects of the construction of a new ballpark.
The discussion on Robinson and Clemente was particularly rich given the presence of Marcel Dugas, who will publish shortly a book on Robinson and the Royals. This great player's stay in Montreal can still be felt in a number of places associated with him around the city, but that of Clemente has been relatively forgotten. Marcel has dug out some old newspaper articles from that period that refer to Clemente by announcing the arrival of a « Negro » player, which was still the common term in those days. The chapter will work over the coming months to highlight on its website the links these two all-time baseball greats have with Montreal.
Finally, the chapter took note of the re-election of Patrick Carpentier for a two-year term as president and confirmed that Robert Duval will assist him as vice-president. The chapter's next meeting will take place in January, on the occasion of SABR Day.
— Patrick Carpentier
ppcarpentier@compuserve.com
Le chapitre du Québec de SABR s'est réuni le 10 novembre 2018 au restaurant Madison's à Montréal pour sa rencontre de l'automne. Nous avions un invité spécial en Robert Elias, membre du chapitre Lefty O'Doul de San Francisco, qui est présentement de passage à Montréal pour un trimestre. Professeur à l'université de San Francisco, M. Elias est professeur-invité à l'université McGill où il donne un cours sur le sport et la société qui se concentre sur l'histoire du baseball au Canada. Quelques-uns de nos membres ont été invités à faire des présentations dans le cadre de ses séminaires, dont Marcel Dugas, qui a parlé des Royaux de Montréal et Jacques Doucet, qui a parlé des Expos.
Nous avons donc profité de la présence de M. Elias pour échanger sur certains des thèmes qu'il aborde dans son cours, et qu'il a pu approfondir par les recherches qu'il effectue lors de son séjour ici. Entre autres, nous avons discuté des débuts du baseball au Canada et au Québec (l'histoire du baseball chez nous est plus ancienne que la plupart des gens le pensent) ; des relations entre le baseball et le hockey (le hockey n'a pas toujours été le sport-roi au Canada) ; le baseball universitaire (pourquoi est-il pratiquement invisible ici) ; le passage de deux pionniers de l'intégration du baseball, Jackie Robinson et Roberto Clemente, dans l'uniforme des Royaux ; et les perspectives pour un retour du baseball majeur à Montréal, y compris les enjeux politiques et économiques associés à la construction d'un stade.
La discussion sur Robinson et Clemente a été particulièrement étoffée en raison de la présence de Marcel Dugas, qui va prochainement publier un livre sur Robinson et les Royaux. La présence de ce grand joueur est encore palpable en de nombreux lieux de Montréal qui lui sont associés, mais celle de Clemente a été relativement oubliée. M. Dugas a déterré pour nous quelques articles de l'époque évoquant Clemente en annonçant l'arrivée prochaine d'un joueur « nègre », comme on le disait encore. Le chapitre va travailler au cours des prochains mois à mettre en vedette sur son site le lien de ces deux grands du baseball avec Montréal.
Enfin, le chapitre a pris note de la ré-election de Patrick Carpentier à titre de président pour une période de deux ans, et a entériné la candidature de Robert Duval pour le seconder à titre de vice-président. La prochaine réunion aura lieu en janvier, à l'occasion du traditionnel SABR Day.
https://sabr.org/wp-content/uploads/2020/03/research-collection4_350x300.jpg
300
350
admin
/wp-content/uploads/2020/02/sabr_logo.png
admin
2018-11-19 12:01:49
2018-11-19 12:01:49
Quebec Chapter meeting recap – 11/10/2018