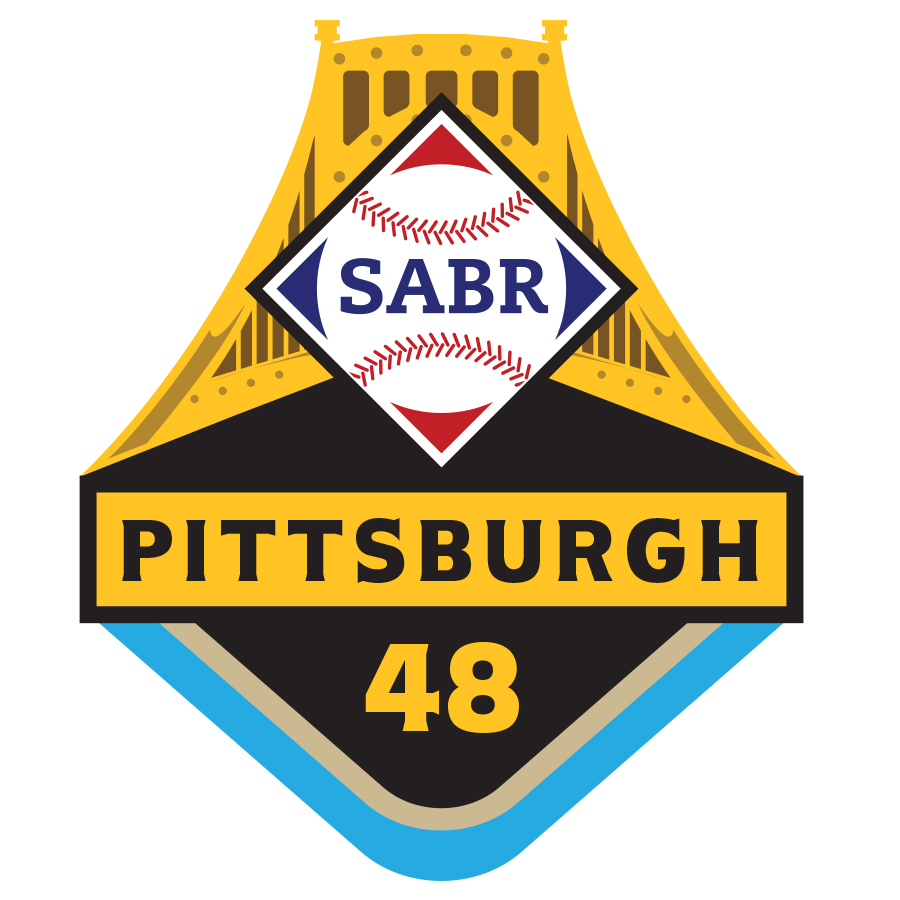 From 12:00-1:00 p.m. on Saturday, June 23, 2018, attendees at SABR 48 will have the opportunity to ask questions and talk with presenters of the poster presentations at the Wyndham Grand hotel in downtown Pittsburgh.
The posters will be available for viewing all week during the convention.
The top poster presentation, as selected by on-site judging, will win the SABR Convention Poster Presentation Award. Check out a list of past winners here. Full presentation abstracts and presenter bios are available below.
To view the list of SABR 48 oral research presentations, click here. For tips on designing and displaying your SABR poster presentation, click here.
P1: Isn't This Ever Going to End? Addressing Baseball's Perceived Time Problem
Chuck Hildebrandt
For some years now, there have been complaints within various circles that as a game, especially during the 21st Century, baseball takes too long and moves too slowly. Some complainants have pointed to increasing average times of game to support their contention; others have focused on the need to improve "pace of play", which MLB has addressed with recent changes. Hildebrandt examines these issues and presents the hypothesis that there might be another, more existential problem that Baseball should consider addressing. Hildebrandt will reveal this potential problem and offer up potential solutions that do not require radical changes to the structure of the game or impose artificial limits on what strategies teams may employ.
Chuck Hildebrandt <chuck.sabr@gmail.com> has served as chair of the Baseball and the Media Committee since its inception in 2013. Chuck is a two-time Doug Pappas Award winner for his oral presentations "'Little League Home Runs' in MLB History" (2015) and "Does Changing Leagues Affect Player Performance, and How?" (2017), and authored the cover story for the Spring 2015 Baseball Research Journal, "The Retroactive All-Star Game Project". Chuck lives with his lovely wife Terrie in Chicago, where he also plays in an adult hardball league. Chuck has also been a Chicago Cubs season ticket holder since 1999, although he is a proud native of Detroit. So, while Chuck's checkbook may belong to the Cubs, his heart still belongs to the Tigers.
P2: Roy Face's Incredible 1959 Season
Ed Edmonds 
In 1959, Pittsburgh Pirates ace fireman Roy Face set a Major League record by winning 18 games in his relief efforts against a solitary loss. Face also established the record for winning percentage by a hurler with at least 15 decisions. Face's incredible season totals far exceeded that of the Bucs, a fourth place team with a 78-76 season record, Was his season a result of entering numerous tie games and benefiting from a Pittsburgh rally? Did he surrender a tying or go ahead run/runs to be bailed out by his team's offense? Edmonds will provide an analytical breakdown of each of his 19 wins-loss decisions, his saves, and his blown saves.
Ed Edmonds <ebedmonds@comcast.net> is Professor Emeritus of Law at the Notre Dame Law School after serving as the law library director at William & Mary, Loyola New Orleans, St. Thomas (MN), and Notre Dame. He is the co-author with Frank Houdek of Baseball Meets the Law, published by McFarland in 2017. He has written numerous articles on labor and antitrust issues involving baseball as well as salary arbitration. He maintains salary arbitration information, including information of the decisions of every arbitrator, on NDLScholarship, the Notre Dame Law School institutional repository. He is a frequent speaker at the Nine Spring Train
P3: On the Road Again … Pittsburgh's Opening Games from 1894 through 1954
Gordon Gattie and Lisa Gattie
Baseball fans, players, and everyone associated with the game looks forward to Opening Day. The day's festivities are often planned weeks or months in advance. Hopeful fans are excited to see how their ballclub has improved during the off-season and all teams are tied for first place. Unfortunately, Pittsburgh Pirates' fans were often deprived from seeing their Pirates play their first game of the new season in person. From 1894 through 1954, the Pirates opened the National League regular season on the road. Gattie and Gattie will show information about this Opening Day road streak, various other interesting observations and statistics about Pirate Opening Days, including player feats and other streaks noteworthy for their uniqueness considering the emphasis placed on Opening Day records and milestones, and the psychological benefit for starting the season with a winning record. In addition to generating Opening Day team performance metrics, this research will uncover how often Opening Day lineups were used throughout the season, and how Opening Day pitchers fared during the season.
Gordon J. Gattie <ggattie@gmail.com> serves as a human-systems integration engineer for the U.S. Navy. His baseball research interests involve historical records, ballparks, and statistical analysis. Gordon earned his Ph.D. from SUNY Buffalo, where he used baseball to investigate judgment performance in complex dynamic environments. Lisa M. Gattie chairs the English Department at Chancellor High School in Fredericksburg, VA, where she also teaches Journalism, Photojournalism, and Yearbook. Lisa earned her M.A. from the University of Mary Washington. Lisa cheers for the New York Yankees while Gordon agonizes over the Cleveland Indians. Collectively, they support the local Washington Nationals and travel nationwide visiting various ballparks.
P4: Dealing along the Pennsylvania Turnpike—A History of Transactions between Pittsburgh and Philadelphia
Steven Glassman
When the Pittsburgh Alleghenys purchased pitcher Al Maul from the Philadelphia Quakers for $1,000 on January 3, 1888, it was the first of 65 trades between the two Major League cities. Some the notable players dealt between Pittsburgh and Philadelphia were Casey Stengel (1919), Dick Bartell (1930), Jim Bunning (1967), Dave Cash (1973), and Kent Tekulve (1985). There were also purchases and Rule Five Draft (Major League Phase) and waiver wire selections between the two cities. Glassman explores these and other transactions in greater detail. He will use statistical measurements from Bill James (Approximate Value and Win Shares), Baseball-Reference and Fangraphs (Wins above Replacement), and Retrosheet (Pete Palmer's Linear Weights
Steven Glassman <sportsphan@comcast.net> has been a SABR member since 1994 and regularly makes presentations for the Connie Mack Chapter. This is his 13th convention. "Pennsylvania Turnpike—A History of Transactions between Pittsburgh and Philadelphia" will be his ninth convention poster presentation. The Temple University graduate in Sport and Recreation Management is currently the Manor College Director of Sports Information in Jenkintown, Pennsylvania. He is also a Phanstormer for the Philadelphia Phillies. Steven was also certified in Microsoft Office Word 2016. He has attended Phillies games since the 1970s. Steven serves as first base coach/scorekeeper for his summer league softball team. He currently resides in Warminster, Pennsylvania.
P5: Never on a Sunday: The Saga of Attempts to Finally Bring Sunday Baseball to Pittsburgh in 1934
Alan Cohen
Dating back to the nineteenth century, municipalities throughout the country were uncomfortable with baseball being played on what was, to most Americans, the Sabbath, and, at the time represented a day for rest and prayer. Laws impacted play in both the major leagues and the minor leagues. Cohen will present instances where legislation, clergy, baseball, and other interests met head on with results that ranged from the serious to the humorous. These battles continued into the twentieth century and many of us can still remember that when we were growing up, there was little if any Sunday night baseball and the Commonwealth of Pennsylvania dictated that no inning could commence after 7:00 P. M. on Sundays. The stories of attempts to play Sunday baseball and the staunch opposition for more than 50 years is a series of adventures at all levels ranging from the sandlot to the minor leagues to major league baseball. From the silly to the serious, the stories represent an important part of Pittsburgh's baseball history.
Alan Cohen <adc0317@comcast.net has been a SABR member since 2011, serves as Vice President-Treasurer of the Connecticut Smoky Joe Wood Chapter, and is the datacaster (stringer) for the Hartford Yard Goats of the Double-A Eastern League. He has written more than 40 biographies for SABR's bio-project and has contributed stories to The National Pastime and the Baseball Research Journal. He is expanding his research on the Hearst Sandlot Classic, an annual youth All-Star game of bygone years. He has four children and six grandchildren and resides in West Hartford, Connecticut with his wife Frances, a cat (Morty) and a dog (Sam).
P6: Predictive Models for MLB Arbitration Hearings
Nanveet Vishwanathan
Given the growth of advanced metrics in baseball, various factors may affect the valuation and compensation of players. Arbitration offers a particularly unique method for evaluating these effects as the one-year contracts provide a controlled system of analysis. Nanveet will address the following research questions: What are general trends in modeling players' value and how does it vary between bargaining parties? How do final-offer arbitration models affect a party's bid and likelihood to settle prior to arbitration hearings? Ultimately, this will provide two strong contributions to baseball research: First, the analysis of how new methods of player valuation have been translated to arbitration compensation. And second, how differences in negotiation factors affect a player's likelihood to follow the arbitration process through to hearing rather than settling early. The data drawn from this study consists primarily of pooled-cross sectional data aggregated from MLB Trade Rumors and Fangraphs. His approach tests Burgess and Marburger's 1993 study, which argues that large bid differences foment less likelihood to head to trial since the risk of losing an arbitration hearing would mean more absolute dollar loss than that created by early settlement. While this conflicts with conventional logic, it would serve as a serious value add to baseball research by providing a framework for understanding which players are likely to head to a hearing and how performance factors may affect the valuation framework.
Nanveet Vishwanathan <navneetv54@gmail.com> is a recent graduate of Georgetown University where he majored in International Economics. Formerly a Baseball Operations Intern for the San Diego Padres, he is currently a Business Analyst for a major consulting firm in Washington, D.C. and is keen on resuming a career in baseball analytics. His baseball research passions include labor-market analysis, player development and valuation, as well as baseball abroad.  
P7: Measuring Relief Pitching in the Hall of Fame (HOF) Golden Days (1950-1969): HOF Hoyt Wilhelm and the Four "Lost Boys": Roy Face, Lindy McDaniel, Ron Perranoski and Dick Radatz
Wayne Towers
In The Relief Pitcher (1979), John Thorn identified ten quality relievers primarily from baseball's pre-Designated Hitter (pre-DH) period (before 1973). Of the ten, five pitched predominantly during the Hall of Fame (HOF) Golden Days (1950-1969): Hoyt Wilhelm (227 career saves:1952-1972); Roy Face (193:1953-1969); Lindy McDaniel (172:1955-1975); Dick Radatz (122:1962-1969); and, left-hander Ron Perranoski (179:1961-1973). During 1958-1964, at least one of the five appeared on each All-Star roster and/or finished first or second in individual saves each season, but only Wilhelm has been enshrined in Cooperstown. SABR biographer Mark Armour noted more attention was paid to his advanced age and merriment caused by his knuckleball than to his pitching. Towers will review the record and describe how, overall, this period proved fertile for quality pre-DH relieving. Perhaps HOF Wilhelm was the brightest relief star, but he was not the only star. Despite less spectacular careers, Face, McDaniel, Perranoski and Radatz distinguished themselves from their contemporaries, and did not necessarily deserve fading into historical obscurity.
Wayne Towers, Ph.D. <wctowers@yahoo.com> is a retired college professor and works in the Education and Conservation Department at SeaWorld San Diego. Along the way, he worked as a data analyst at the Oklahoman and Times daily newspaper and for multiple business research firms. He is a schizophrenic fan of the Pittsburgh Pirates of his youth and the San Diego Padres of his son's youth. His published work includes "World Series Coverage in the 1920s" (Journalism Monographs).
P8: Predicting a Prospect's Success in Majors
Choonghwan (Jason) Lee
In 2013, the Pirates finally had a winning record, one which Pirates fans could not celebrate for twenty years prior. Among many other reasons, the Pirates' young crop of prospects were key to the Pirates' winning record and playoff berth. In an age where more and more teams are opting to rebuild their team bottom-up from the farm system, one would think that teams have a solid idea as to how their drafted prospects will perform down the road. However, only 10.5% of players drafted from the NCAA, the college-level baseball league, ever make the Majors, let alone have a successful career. For High School students, this figure drops to 0.5%. How can we use statistics to better project a college player's success in the MLB? Lee builds a formula that applies a linear regression of past prospects' statistics throughout their years in MiLB and MLB in order to distinguish between 'soft' factors — player strengths that can easily be developed — and 'hard' factors — player strengths that are hard to develop. Lee believes that a college player's 'hard' factors are a great indicator to their success in the MLB. In Michael Lewis' award-winning book, Moneyball: The Art of Winning an Unfair Game, this came through OBP. Are there any other such statistics that teams can look into? As teams opt to rebuild instead of contend, such research can potentially shed important conclusions paramount to finding the next Andrew McCutchen or Gerrit Cole.
Jason Lee <190654@hkis.edu.hk> is a rising high school senior studying at Hong Kong International School. He started playing baseball in 7th grade and developed an interest in baseball statistics since entering High School. He runs his own baseball statistics blog, designed and is currently performing an Independent Study course on sabermetrics, helped his Varsity coaches analyze player strengths and weaknesses, interned at the NC Dinos — a professional baseball team in the Korea Baseball Organization (KBO) — and studied at the Wharton Moneyball Academy last summer. He wishes to study data science in college and find a career in an MLB front office.
P9: From Usenet Joke to Baseball Flashpoint: The Growth of "Three True Outcomes"
Diane Firstman
Much has been written lately regarding the ever-expanding portion of games taken up by walks, strikeouts and homers. The so-called "three true outcomes" (TTO) have grown from a novelty topic of UseNet newsgroups of the 1990s to a flashpoint for what may or may not be "wrong" with today's game. Firstman will present the statistical trends in the three "outcome" components, especially within the last 30 years, highlighting the players that epitomize those trends. She will explore five distinct reasons why the components have grown in prominence in today's game.
Diane Firstman <diane1stman@gmail.com> is a Data Analyst for the City of New York, crunching large datasets using SPSS and Excel. She has been a member of SABR off and on since the late 1980s. Besides her own baseball blog (Value Over Replacement Grit), her work has appeared at ESPN.com, Bronx Banter, Baseball Prospectus, The Hardball Times, and in The Village Voice. She wonders if the Royals will ever learn to love the Three True Outcomes. 
P10: Investigating Major League Baseball Amateur Draft Patterns Pertaining to Climate
Michael Dudkin
In Major League Baseball, about 75% of the player pool is composed of players acquired through the amateur draft, held every June. The draft is the single most important amateur talent pipeline to MLB, and the core of each team's talent acquisition strategy, supplementing talent from the Dominican Republic, Cuba, and other places where talent can be signed outside the confines of the draft process. One common perception in the baseball community is that amateur — particularly high school — draftees from "cold weather" places are less likely to develop into major leaguers, due to only being able to play in the spring/summer versus year-round for their counterparts in "warm weather" locations. This "cold weather bias" may affect the draft position of prospects from Northeastern and other cold weather states. The most prominent recent example of this phenomenon is Mike Trout, who dropped all the way to 25th in the 1st round of the 2009 draft due in part to concerns that he played at a cold-weather high school in Millville, New Jersey. Dudkin will investigate if there a cold weather effect in the draft positions of prospects, and if cold-weather state prospects are systemically undervalued by teams
Michael Dudkin <michaeld85@gmail.com> is a Master's student at Penn State University, majoring in Geographic Information Systems. He graduated from the University of Maryland, College Park in 2008 with a Government and Politics degree, and works near Baltimore, MD as an Accounting and IT manager at a major cosmetics and beauty care distributor. He is a lifelong baseball fan, cheering for the Nationals after switching allegiance from the Orioles when the Expos came to town in 2005. He resides near Washington, DC with his wife and baby daughter.
P11: Honus Wagner: A Footnote in the History of Pirates Skippers
Gregory H. Wolf
Few players in Pirates history were associated with the team for as long as Honus Wagner. After his Hall of Fame career as a player, he was a coach for decades. Wolf will explore Wagner's very brief career as the Pirates manager in 1917. Following the 1916 season, the 42-year-old Wagner retired. In early June, team owner Barney Dreyfuss persuaded Wagner to return to the team as a first baseman; less than two weeks later, Wagner was player-manager. His stint lasted only five games and he won only once. Even after Wagner took the reigns as player-manager, there was speculation how long he'd remain in the post, or if the Pirates would eventually hire someone else. The other name tossed around by Pittsburgh sportswriters was Hugo Bezdek, one of the most well-known coaches in the US, albeit in football, after leading the University of Oregon to a Rose Bowl victory on January 1, 1917.
A lifelong Pirates fan, Gregory H. Wolf, Ph.D. <ghwolf1967@gmail.com> was born in Pittsburgh, but now resides in the Chicagoland area with his wife, Margaret, and daughter, Gabriela. A professor of German studies and holder of the Dennis and Jean Bauman Endowed Chair in the Humanities at North Central College in Naperville, Illinois, he has edited eight books for SABR. He is currently working on projects about Wrigley Field and Comiskey Park in Chicago, and the 1982 Milwaukee Brewers. As of January 2017, he serves as co-director of SABR's BioProject, which you can follow on Facebook and Twitter.
P12: The relationship between team and player status
Curtis Sproul and Karen Nicholas
Organizations possessing higher status are shown to reap benefits in the form of prestige and preferential treatment and increased access to resources. Status is seen as indicating quality yet is also valued in and of itself. Status is defined as an agreed-upon social ranking or position within the social structure and is considered relatively stable. Major League Baseball teams possess status, and based on theory, teams with higher status will have increased access to valuable resources. However, while high status teams may have increased access to resources – viewed as players in this context – the resources in question are not commodity products, in that they are not all equal. Further, high-status teams likely want to maintain or increase their status by signing high-status resources. Sproul and Nicholas will examine the relationship between team status and player status of new players signed, as well as the player's contract. This study examines the relationship between the status level of teams and players, and how status levels affect player contracts. Multiple controls account for team and player quality, team payroll, and market size will be included. Sproul and Nicholas's study can provide additional understanding of the free agent market and benefit both teams and players who seek to understand the role that their own status plays in contractual outcomes.
Curtis Sproul, Ph.D. <csproul@georgiasouthern.edu> is an Assistant Professor of Management at Georgia Southern University. He studies entrepreneurship, interorganizational relationships, and is interested in decision making in baseball. His research specifically investigates how firms successfully work together. Curtis is a lifelong Pittsburgh Pirates fan.

Karen Nicholas, Ph.D., is an Assistant Professor at Boise State University. She studies networks, social evaluation, and seeks out opportunities where these topics relate to sports.
P13: Coco Laboy, Chris Cannizzaro, and More Than a Hundred Other Guys: The 1969 MLB Expansion, Focusing on Players and Their Plate Appearances
Brendan Bingham
The number of active MLB players tends to remain constant from one season to the next. The number of players retiring or otherwise ending careers one year is usually similar to the number getting their first call-up to a Major League team in the next season. Plate appearances (PA) are also in equilibrium. In 1969, when the number of MLB teams expanded from 20 to 24, the number of active players increased by more than 100, and PA in MLB games went up by more than 27,000. From PA information available from www.baseball-reference.com, Bingham assembled a dataset of year-to-year changes in PA (ΔPA) for all MLB players in each season from 1966 to 1972. The dataset consists of seven sets of year-to-year transitions: three pre-expansion and three post-expansion transitions, in addition to the transition associated with the 1969 expansion. For the 1969 transition, the ΔPA frequency distribution is distinctly right-shifted: fewer players with decreases and more with increases in PA. Expansion in 1969 was a career-shaping event for many players – Coco Laboy and Chris Cannizzaro among them. Other players, those who filled back-up roles for MLB teams in 1969, also benefitted from the unusual opportunities afforded by the presence of the four new MLB teams. Many of these players might never have emerged from the Minor Leagues if not for expansion.
Brendan Bingham <brendanbingham@verizon.net> a SABR member since 2009, has been baseball obsessed since the mid-1960s. He was a poster presenter at SABR 43 and has contributed to three SABR publications, most recently The National Pastime: North Side, South Side, All Around the Town (2015). Currently working in the medical device industry, Brendan has published original work in genetics, endocrinology and neuroscience during a 30-year research career.
P14: Analysis of Pirates' Schedule from 1900 through 2018
J.R. Wildridge
This presentation analyzes the regular season travel schedules of the Pirates from 1900 through 2018. Wildridge's research uncovered some scheduling anomalies — some that would be unfathomable today: 4 and even 5 game series, back-to-back doubleheaders, one-day trips, etc. He compared and analyzed the travel schedule of the Pirates vs. other teams, highlighting similarity and differences of travel over time. He will present the effects of the Sunday "Blue Laws", the World Wars, franchise relocations, changing playing formats, and expansion.
J.R. Wildridge <j.r.wildridge@gmail.com> is Director of T-50 Marketing at Lockheed Martin Aeronautics Company in Fort Worth, Texas. He is responsible for the strategy and guidance of worldwide marketing of the T-50 aircraft, an advanced jet trainer co-developed with Korea Aerospace Industries (KAI). He has traveled the globe promoting the aircraft and training system and directed LM Aero activities in support of T-50 sales campaigns, in close coordination with KAI. Among his awards and achievements, he is the recipient of Lockheed Martin's AeroStar award for management efforts with international aircraft sales and upgrade programs, and a Stellar award for campaign proposal efforts and program integration. He obtained a Master of Science in Management from Purdue's Krannert School of Management in 1984. He also holds a Bachelor of Science degree in Mechanical Engineering from Purdue. A member of SABR since 1994, his particular baseball interests lie in Ballparks, the Negro Leagues and statistical analyses. He looks forward to seeing MLB "Opening Day" in Korea sometime soon.
P15: The 1960 World Series as Seen Through the Prism of Baseball Player Won-Lost Records
Tom Thress
The 1960 World Series was one of the most remarkable World Series ever. The New York Yankees outscored the Pittsburgh Pirates by a combined score of 55–27, setting World Series records for total runs scored and total run margin that remain to this day, but the Pirates won the World Series in seven games. Thress will provide a detailed look at Player won-lost records, which allows for comparisons across all positions and all facets of the game (batting, baserunning, fielding, and pitching) while tying to actual team performance. He also will provide a fresh look at one of the most significant World Series ever played with hopefully some new insights into the key contributors to the historical results.
Tom Thress <tomthress@aol.com> has been a SABR member since 2003 and is a member of the Board of Directors for Retrosheet. Mr. Thress has had research published in the SABR publications By the Numbers and the Baseball Research Journal and is the author of two books, Player Won-Lost Records in Baseball: Measuring Performance in Context (McFarland, 2017) and Baseball Player Won-Lost Records: 150 Players, 50 Seasons (self-published, 2018). In his day job, Mr. Thress is a professional economist with a Master's Degree in Economics from the University of Chicago.
P16: The Tale of Three Teams: A Content Analysis Of The Narratives Used To Describe Success And Failure In A Simulation Baseball League
John L. Williams
The paper examines the narratives found in the annuals published by the Transcontinental Baseball League (TBL). The TBL describes itself as a "continuous ownership APBA Baseball League that plays a 162-game season using the Master Board Game and the Computer Game" (TBL Webpage). The TBL like many simulations leagues is designed to allow its participants the opportunity to play three roles: (1) Team Owner, (2) General Manager, and (3) Field Manager. In 2003 the TBL started posting the annuals to their website. The annuals typically exceed 130 pages and chronicle the successes/failures of the league's 24 teams. At the core of each annual is a four-page narrative analysis/descriptions of each of the TBL's 24-teams. A close reading of the annuals' four-page narrative analysis/descriptions was used to address the following questions: "To what extent are the successes/failures of a team attributed to the owner's skill or luck?" Rather than look at all 24 of the league's teams the paper focused on the teams that joined the TBL as expansion franchises during the late 1990s when the league grew from 20 to 24 teams. Some twenty plus years later three of the four teams are still under the same ownership. Williams focuses on these three teams and reviews the TBL annuals to review the rhetoric used to describe the skill of the owner of the team with average success balanced between skill and luck.
John L. Williams <laudercsus@gmail.com> is a Professor in the Communication Studies Department of Sacramento State. He has been researching simulation baseball leagues for several years. This presentation is part of an ongoing research effort that examines the content of the Transcontinental Baseball League's (TBL) annuals, which are available at the team's website. The TBL has been in existence for over 35 years and uses the baseball simulation published by APBA to play a 162-game schedule.
For more information on SABR 48, or to register, visit SABR.org/convention.