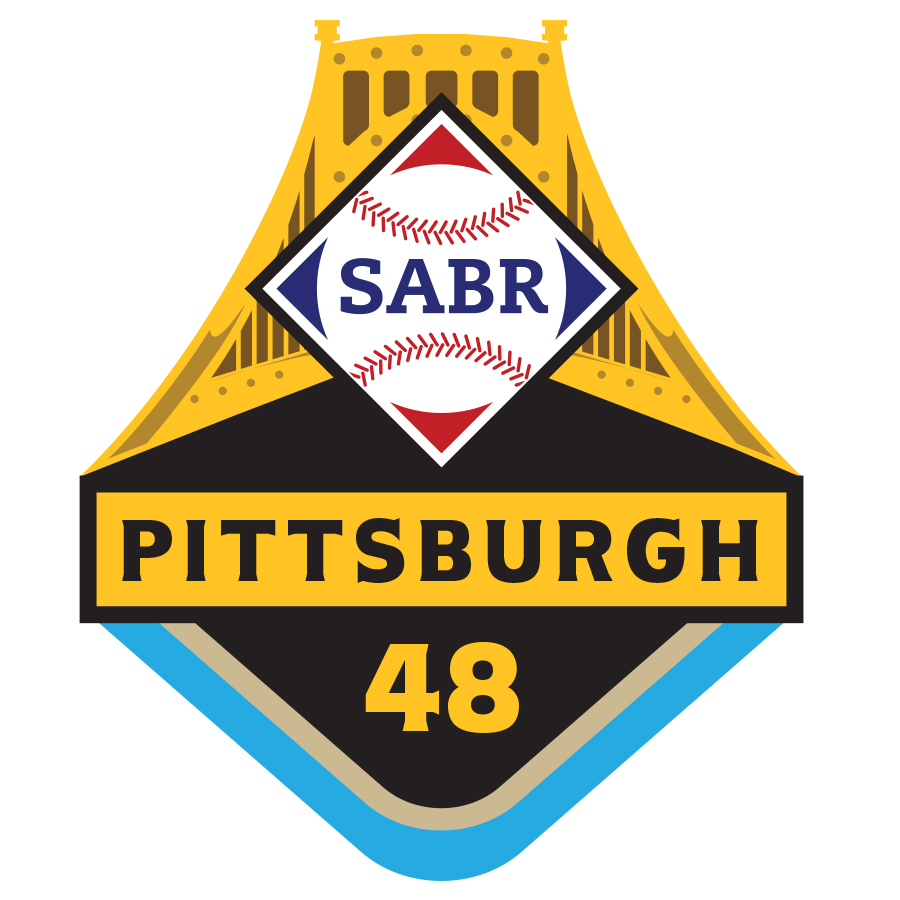 SABR 48 will be held June 20-24, 2018, at the Wyndham Grand hotel in downtown Pittsburgh.
We hope you'll join us for what promises to be a spectacular SABR 48 convention in the Steel City.
Registration: Click here for complete information on SABR 48 registration rates. Or click here to register for SABR 48! Full conference and single-day registration is now available online. The regular registration rate is $279 for SABR members or $354 for non-members. Please note: The early-bird discount and all-inclusive package are no longer available. 
Hotel: Please note: Our special SABR room block of $149/night (plus tax) at the Wyndham Grand Pittsburgh is now sold out! To find other hotels nearby, visit visitpittsburgh.com/hotels-resorts for more information. The Wyndham Grand Pittsburgh is located at 600 Commonwealth Place, Pittsburgh, PA 15222. The Wyndham Grand Pittsburgh is conveniently located within walking distance from PNC Park and a light rail station, many downtown cultural amenities, and right across the street from the picturesque 36-acre Point State Park where the three rivers converge.
Members of the host Forbes Field Chapter have compiled a list of transportation tips to help visitors and convention attendees enjoy their stay in the Steel City. If you have any questions during your stay, please don't hesitate to ask a friendly SABR 48 volunteer for assistance.
For more information on Pittsburgh's award-winning restaurants, upcoming events, and other attractions, go to visitpittsburgh.com.
Directions to the hotel
The Wyndham Grand Downtown Pittsburgh is located downtown at 600 Commonwealth Place, Pittsburgh, PA 15222. Click here for a map and directions.
From Pittsburgh International Airport (PIT)
Driving: Go north on Airport Blvd. and bear slight left to exit the airport. Take 376E toward Pittsburgh to 279N. Exit at 70A for CONSOL Center and take the Blvd of Allies / Liberty Avenue exit. Make a left at the end of ramp onto Commonwealth Place. The hotel will be immediately on your right.
Taxicab: A taxi from Pittsburgh International Airport is approximately $30-45 for a one-way trip of about 20 miles. Ride-share options, including Uber, Lyft, and zTrip, are also available at the airport.
Public transit: Port Authority of Allegheny County is pleased to offer service to Pittsburgh International Airport via the West Busway (28X Airport Flyer). The route runs to and from Pittsburgh International Airport, Downtown Pittsburgh and Oakland approximately every 30 minutes. A one-way fare is $2.50. Click here for more details.
Shuttle: Our recommended shuttle transportation company is

Super Shuttle

, which is pleased to offer a $4 discount on a roundtrip shared ride to SABR 48 attendees or $6 off a roundtrip ExecuCar Private Sedan for any trips between June 15 and June 27. Book your trip online at

SuperShuttle.com

using the exclusive discount code W2Q3Z.
Parking at or near the hotel
The Wyndham Grand hotel offers valet parking on-site. There are also several self-parking options within walking distance for a fee:
On-site Valet Parking: $30 overnight
Click here to download a Parking Map (PDF) of public lots near the Wyndham Grand hotel.
You can also try the iParkit app, available on iPhones and Androids, to find additional parking lots at a discounted price. There are sevearl lots near the Wyndham Grand hotel.
For more details, visit wyndhamgrandpittsburgh.com.
Walking directions to PNC Park
For the third year in a row and fourth time in five years, SABR will present "A Day at the Ballpark" before the Pittsburgh Pirates game on Friday, June 22 at PNC Park. A special ballpark session will be held at PNC Park on Friday afternoon, followed by the game that night between the Pirates and the Diamondbacks. Here's how you can get to the ballpark from our convention hotel.
From the Wyndham Grand, it's about a 10-minute walk (0.7 miles) to PNC Park. Turn right out of the hotel's main entrance, and follow the curve. Soon you'll pass KDKA, which is not only the United States' first radio station, but also broadcast the first major-league game on August 5, 1921, from Forbes Field. Cross the Roberto Clemente Bridge and you're practically there. If you're meeting friends, you may want to gather at the Roberto Clemente statue outside the ballpark. The SABR block of tickets is in the Corner Box section in left field. (Hint: If you walk in the direction of the old Pittsburgh Post-Gazette building—the sign is still atop the building—you're going the wrong way.)
Getting around Pittsburgh
Visit visitpittsburgh.com for complete information on getting into and around Pittsburgh during your stay.
Public transportation: Port Authority of Allegheny County is the public transit agency for the greater Pittsburgh area, providing bus, light rail, incline and paratransit service to about 230,000 riders daily. For bus service and the "T" - Pittsburgh's light rail system - pay as you enter at the front door. This policy is in effect at all times. Click here for a detailed schedule and maps of the Port Authority system. Single rides are $2.50 with a ConnectCard, while unlimited-ride day passes are $7 and weekly passes are $25. Click here for fare information.
You can transfer between the 28X (from Pittsburgh International Airport) and most other Port Authority bus or "T" routes in downtown Pittsburgh. A transfer costs $1 for those with a ConnectCard and is good for three hours in any direction aboard a connecting vehicle. Request a transfer from the operator before paying your fare. Riders paying with cash will pay $2.75. Exact change is required when paying with cash as bus drivers do not carry change. Travel within Downtown and the North Shore is free 24/7 on the "T".
Taxi: Click here for more information on Pittsburgh taxi services.
Checker Cab: (412) 664-5600
Cranberry Taxi dba Veterans Taxi: (412) 481-8387
Yellow Cab Co. of Pittsburgh: (412) 321-8100
zTrip: (412) 777-7777
Incline service: The Monongahela Incline and Duquesne Incline overlook one of the world's great cityscapes. Tourists marvel at the skyline view while riding two of only a few remaining inclines in the country. The inclines remain the best way for thousands of Mount Washington residents get to their jobs, entertainment and shopping in Downtown Pittsburgh and Station Square. Click here for schedules and more information.
Uber/Lyft: Click here for more information on using Uber or Lyft to get around town using an app on your smartphone.
Area attractions
Enter from the airport through the Fort Pitt Tunnel and see the skyline burst into view. It's why Pittsburgh is said to be the "only city with an entrance." With its lush green hillsides and beautiful rivers, the appropriately nicknamed "Golden Triangle" is a glittering gem.
Market Square
Located just two blocks from the Wyndham Grand Pittsburgh Downtown, Market Square features a summer farmer's market and outdoor ice-skating in winter. Enjoy great restaurants and shopping year round.
Point State Park
This 36-acre park is located where the famous three rivers of Pittsburgh meet. Stand in one spot and see the mighty Ohio, Allegheny and Monongahela rivers all at once, and watch as the famed 200-foot wide fountain sends streams soaring 150 feet into the air. This lush urban park is directly across from the Wyndham Grand Pittsburgh Downtown hotel.
Pittsburgh Cultural District
This 14 square-block area is home to Downtown Pittsburgh's dynamic art and entertainment scene. Discover a multitude of live entertainment, including theater shows, classical music, opera, ballet, and performing arts at one of seven theaters.
Roberto Clemente Museum
The Clemente Museum is housed in historic Engine House 25, 3339 Penn Avenue, in the revitalized Lawrenceville section of Pittsburgh. Executive Director and Curator Duane Rieder has meticulously renovated Engine House 25 to showcase the world's largest exhibited collection of baseball artifacts, works of art, literature, photographs, memorabilia, and related materials which focus on Roberto Clemente, his teammates, his personal life, and his humanitarian causes. Open by appointment only.
Forbes Field/University of Pittsburgh
Built in 1909, Forbes Field was the home of the Pittsburgh Pirates until 1970. The left outfield wall still stands on the campus of the University of Pittsburgh in tribute to the field itself and one of the most historic plays in baseball: Bill Mazeroski's walk-off home run to end Game 7 of the 1960 World Series. A plaque embedded in the sidewalk on Roberto Clemete Drive, just around the corner, marks the spot where Mazeroski's game-winning home run cleared the wall in the 1960 World Series. The left-center and center field brick wall with "457 FT" and "436 FT" painted on it still stands at its original location, along with the stadium's flagpole, adjacent to the University of Pittsburgh's Mervis and Posvar Halls. The home plate used in the ballpark's final game is preserved in the floor of the lobby of Posvar Hall.
Heinz History Center
An affiliate of the Smithsonian Institution, the History Center features the Western Pennsylvania Sports Museum, and is the largest history museum in Pennsylvania.
Carnegie Museum of Art
Industrialist and philanthropist Andrew Carnegie founded this museum in 1895. Today, it is recognized world-wide for its distinguished collection of American and European works from the 16th century to the present.
Andy Warhol Museum
Explore seven floors filled with fascinating works by Pittsburgh-born Pop Art icon Andy Warhol. The collection features 900 paintings, 100 sculptures, prints, photos, feature films, and his famous "Screen Tests." The Andy Warhol Museum is the largest museum in the United States dedicated to a single artist.
Nearby restaurants
In Pittsburgh, you can find everything from James Beard-nominated chefs and restaurants to the inventive Smallman Galley, where you can enjoy delectable bites from aspiring chefs. Choose from casual family spots, upscale and romantic eateries, late-night bites or convenient take-out. Visit visitpittsburgh.com for more information.
If you can't decide what to eat or where to go, 'Burgh Bits and Bites offers food tours to help you move beyond the downtown area into the local neighborhoods in search of fabulous foods. And don't forget while you're in town to try two of the most iconic Pittsburgh foods: Heinz Ketchup and the Primanti Brothers sandwich, an entire meal of meat, cheese, coleslaw and french fries stacked between two thick slices of fresh Italian bread, which was created to feed hungry truck drivers while their trucks were unloaded in the Strip District.
For more information on SABR 48, visit SABR.org/convention.