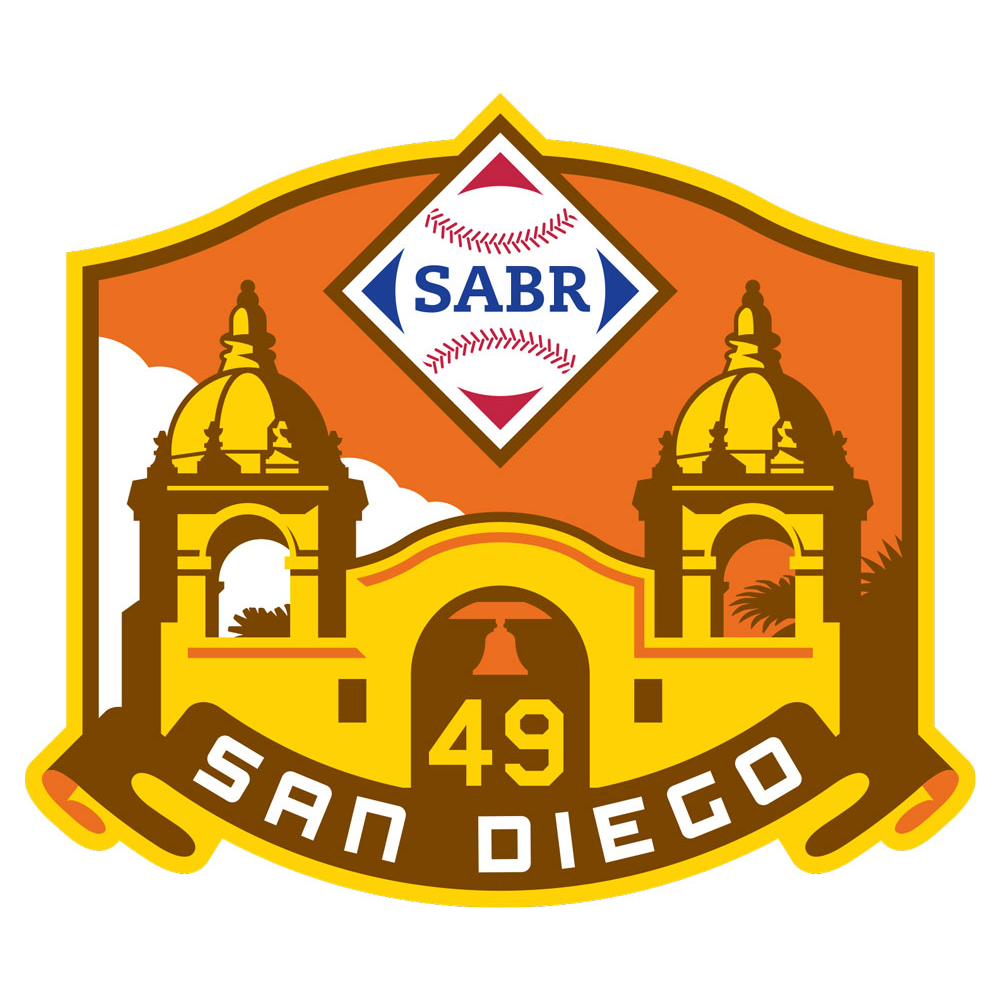 SABR 49 will be held June 26-30, 2019, at the Manchester Grand Hyatt hotel in downtown San Diego. We hope you'll join us for what promises to be a spectacular SABR 49 convention!
Members of the host Ted Williams Chapter have compiled a list of transportation tips to help visitors and convention attendees enjoy their stay in San Diego. If you have any questions during your stay, please don't hesitate to ask a friendly SABR 49 volunteer for assistance.
San Diego's climate is moderately warm all year-round, with average temperatures ranging from daytime highs around 72º F to evening lows around 62º F in June.
For more information on San Diego's award-winning restaurants, upcoming events, and other attractions, go to sandiego.org.
Directions to Grand Manchester Hyatt
The Manchester Grand Hyatt is conveniently located for access from air and inter-city rail; click here for a map and directions. The hotel is located in downtown San Diego at 1 Market Place, along Harbor Drive, 2.9 miles from the San Diego International Airport and 0.5 miles from the Santa Fe Depot (AMTRAK).
From San Diego International Airport (SAN)
Driving a Rental Car: Exit the Airport Rental Car Center via Admiral Boland Way, then turn right on Pacific Highway. In a half-mile, turn right on W. Laurel Street, then left on N. Harbor Drive. Stay on Harbor Drive until Kettner Boulevard. The hotel entrance will be immediately on your right.
Taxicab: If you need a taxi, simply follow the signs leading to the Transportation Plazas. A Customer Service Representative will place you with the first available taxi, unless you specify a particular taxicab company. The fare to downtown is about $15-20 for a one-way trip.
Uber/Lyft: Ride-share options including Uber, Lyft, and others are also available at the airport. See ride.guru/airports/SAN for more information.
Public transit: Public transit is available to and from the Airport and downtown San Diego on the Metropolitan Transit System's Route 992, which stops at Terminals 1 and 2, and operates between 5:00 a.m. and 11:30 p.m., every 15 minutes on weekdays and every 30 minutes on weekends and holidays. The bus trip takes 16 minutes. Get off at Broadway and Kettner, and walk south on Kettner (toward the right as you face the direction in which the bus is going) across Harbor Drive to the hotel (0.4 miles). The one-way bus fare is $2.25, $1.10 for seniors (you must have a photo ID).
Shuttle: The SuperShuttle fare is $6 one way or $11.50 round trip. Find them at SuperShuttle.com.
Getting around San Diego
MTS' San Diego Trolley is San Diego's light rail transit network. The Trolley does not serve the airport directly, but the Seaport Village Station on the Green Line is just a short walk to the left along Harbor Drive when exiting the hotel.
There are three trolley lines serving many popular areas and attractions, such as Downtown, the Convention Center, San Diego State University, Old Town, and the Mexican border. The one-way trolley fare is $2.50, $1.25 for seniors (photo ID required).
Another fare payment option is the Compass Card, a smart card that you tap when boarding a bus or trolley. A four-day pass is available on-line for $15 (plus a $2 fee). Find more information on local transit options at www.sdmts.com.
Amtrak intercity service and the Coaster commuter rail service operate from Santa Fe Depot. Take the Green Line toward Santee for one stop or walk north on Kettner Boulevard (1/2 mile, about 10 minutes). The Coaster serves coastal communities in San Diego County as far north as Oceanside, while the Amtrak Pacific Surfliner route has frequent service to Orange County and Los Angeles, with less frequent service beyond Los Angeles to San Luis Obispo.
Free rides around downtown on FRED
The FRED is a free shuttle service that uses electric vehicles to help get people around downtown San Diego, including to Petco Park and the San Diego Central Library. You can download the FRED app on your smartphone and then schedule a free ride to anywhere within the downtown area just like you would on a ride-share app. Visit http://thefreeride.com/fred to learn more.

Parking at or near the hotel
The Manchester Grand Hyatt has parking for overnight guests:
Self-Parking: $35 per night
Valet Parking: $49 per night
Visitor parking:
First Hour, Self-Parking: $8, Valet $10 (and $8 each additional hour)
Daily Maximum: Self-Parking $40, Valet $55
For more information, visit the Manchester Grand Hyatt website.
For other parking availability, and tips on public lots and garages near the Grand Hyatt, check out:
Walking around town
Centre City San Diego

Most of downtown San Diego follows a grid pattern. Harbor Drive is the western-most street, the one closest to San Diego Bay, and rings along the south side of downtown past the Manchester Grand Hyatt and the Convention Center. There may be a few intervening street names (like Pacific Highway) if you're more to the northern parts of downtown. Then, the north-south streets are simply named 1st Avenue, 2nd Avenue, 3rd Avenue, etc., up to 17th on the eastern edge of downtown. The one exception is Park Boulevard, at what would be 12th Avenue. Heading north on Park Boulevard will take you to the east side of Balboa Park in a matter of minutes.
As for the east-west streets, they are called A Street, B Street, C Street, etc., up to L Street on the southern edge. There are three exceptions: (1) What would be D Street is actually Broadway, which is pretty much the "main drag," (2) H Street is called Market Street, and (3) I Street is called Island Avenue.
While Centre City San Diego is considered a safe environment, general advice would be to stay west of Park Boulevard. Also, if you're partying in the Gaslamp District you may want to clear out a little before 2:00 a.m. when the bars close.
Getting to Petco Park
There are several walking routes that can be used to go from the hotel to Petco Park. In each case, you should exit the Grand Hyatt hotel and turn right on Harbor Drive. Turn left on 1st Avenue and cross the railroad tracks. Immediately on your right, on the north side of the tracks will be the MLK Promenade, a walking/bicycle path.
The shortest, most direct path to Petco Park will be to use the MLK Promenade and walk to its intersection with 3rd Avenue and K Street then head east on K and it will lead directly to the ballpark's left-field gate. The total walk length is about 0.7 miles.
San Diego Central Library and the Sullivan Family Baseball Research Center
The Baseball Research Center (BRC) is inside the San Diego Central Library, which is located on 11th Avenue between J Street and K Street (two blocks from the east end of Petco Park.) It's about 1 mile from the hotel and will take about 25 minutes to walk from the Manchester Grand Hyatt.
Walking directions: Exit the Grand Hyatt hotel and turn right on Harbor Drive. Turn left on 1st Avenue and cross the railroad tracks and walk past the entrance to the MLK Promenade and within about 50 feet will be a pedestrian intersection with J Street. Turn right on J Street and walk 0.5 miles past the Petco Park plaza to 11th Avenue. Turn right on 11th Avenue and the library entrance will be on your left.
For more information about the BRC, visit the San Diego Central Library website.
There also will be information available for attendees to allow "self-guided tours" of the San Diego Central Library and the BRC. This information will be available at the concierge desk next to the SABR registration area at the Grand Hyatt. In addition, attendees with specific questions can contact Tom Larwin or Bob Surratt, SABR's liaison at the Library.
Area attractions
The Ted Williams Chapter will have a concierge desk located adjacent to the SABR 49 registration area throughout the convention. A local member will be there to help provide information on attractions and restaurants generally between the hours of 10:00 a.m.-1:00 p.m. and 2:00 p.m.-5:00 p.m., Thursday-Saturday.
The San Diego Visitor INFO Center is nearby on the Embarcadero, at 996 N. Harbor Drive, between Broadway and E Street. It is open daily at 9:00 a.m. The phone number is (619) 236-1242.
The San Diego Tourist Authority should also be checked out for visitor information and special events happening in San Diego at (619) 232-3101 or sandiego.org.
Things to see and do
San Diego boasts a variety of places to visit and explore, from shops and museums to harbor cruises and hiking trails that allow visitors to take full advantage of the city's great weather.
Nearby restaurants
Whether in the mood for casual or fancy, light or decadent, American or international, you're sure to find something that suits your palate. Being so close to the border, San Diego is known for its excellent Mexican cuisine, and fresh Pacific seafood is plentiful in a wide variety of preparations. For those who like to enjoy a pint with their meal, the local craft beer scene is second to none, with award-winning ales being available almost everywhere. Visit sandiego.org for more information.
For nearby restaurant locations check out Seaport Village, the Headquarters at Seaport, Gaslamp Quarter, and Little Italy.
The Ted Williams Chapter has compiled a list of notable baseball-related sites around San Diego that you can visit during the SABR 49 convention — including the sites of Lane Field, Westgate Park, and Jack Murphy Stadium; Ted Williams' high school field and childhood homes; the Breitbard Hall of Fame, and more.
To learn more about SABR 49, visit SABR.org/convention.