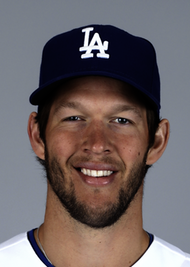 April 1, 2013: Kershaw's bat decides Opening Day pitchers' duel at Dodger Stadium
---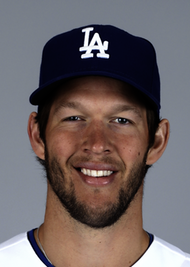 As part of its Opening Day lineup of nationally televised games aired on April 1, 2013, ESPN featured for one of its marquee matchups the defending World Series champion San Francisco Giants going head-to-head with their ancient arch-nemesis, the Los Angeles Dodgers.
On a sunny Southern California afternoon, and in a ballpark that was unveiling a $100 million offseason renovation, an exuberant crowd of 53,136 settled into their seats. Among pregame festivities, Hall of Fame 77-year-old left-hander Sandy Koufax walked to the pitcher's mound at Dodger Stadium, where he had last pitched in 1966, and tossed a ceremonial ball to Orel Hershiser, the MVP of the 1988 World Series.1
Taking the mound for the Dodgers this afternoon was 25-year-old Dodgers southpaw Clayton Kershaw, beginning his sixth season with the ballclub, and making his third consecutive Opening Day start. In the top of the first inning, after the first two Giants made out, third baseman Pablo Sandoval, the 2012 World Series MVP, singled and then reached second base on a wild pitch. Catcher Buster Posey, the reigning NL batting champion, hitting in the cleanup spot, was caught looking at a Kershaw curveball and struck out.2
It was the Dodgers' turn to take their first at-bats of the new season. The Giants handed the Opening Day assignment to Matt Cain for the first time in his career. The 28-year-old right-hander, who had begun his big-league career with San Francisco in 2005, forged a 16-5 won-lost record in 2012, helping his team get to the World Series. One of the pitcher's gems the previous season had been one for the record books: a perfect game against the Houston Astros on June 13, 2012.
In this game, however, Cain immediately ran into some trouble. In the bottom of the first inning, batting in the leadoff spot, left fielder Carl Crawford, who was making his Dodgers debut, banged a single. He moved up a bag when second baseman Mark Ellis was nicked by a pitch. The next batter, center fielder Matt Kemp, promptly found himself in an 0-and-2 hole, but he patiently worked to a full count. He saw 11 pitches before being finally called out on a third strike looking. Crawford made the second out of the inning when a laser throw from the arm of the catcher Posey, 2012 National League MVP, nailed him trying to steal third. First baseman Adrian Gonzalez walked, but Cain eventually got out of the jam by striking out right fielder Andre Ethier on a swing and miss. The Giants hurler had thrown 29 pitches in the opening frame, but he would largely settle down going forward.
As the game progressed, Cain continued to handcuff Dodgers batters, tossing six scoreless innings. Over that span he struck out eight, scattered four hits, and walked one. He got out of trouble in the fourth inning, when with one out Gonzalez and Ethier hit back-to-back singles, and again in the sixth inning, when Mark Ellis led off with a double. Each time Cain skillfully plied his craft, ultimately stranding the baserunners and getting back to the Giants dugout unscathed.
Meanwhile, Kershaw's blend of fastballs and curves, coming in at different speeds and angles, worked masterfully against the Giants lineup.3 With two outs in the top of the third, center fielder Angel Pagan singled, but the inning concluded when he was easily thrown out by catcher A.J. Ellis attempting to steal second. Then Kershaw set down 10 consecutive batters before Sandoval singled with one out in the top of the seventh. Posey, however, hit a line-drive bullet to the third baseman, Luis Cruz, and outfielder Hunter Pence flied out to center field to end the threat.
With each pitcher clearly on his game and baffling opposing hitters, the game moved along at a fast clip. The score was still 0-0 in the bottom of the seventh inning when Giants manager Bruce Bochy decided it was time to lift his starter. Cain had thrown 93 pitches. "It was his first outing. It's a long season. You always look at the big picture," Bochy later explained.4 Reliever George Kontos was brought in from the bullpen and he retired each of the three Dodgers he faced in the seventh inning.
Kershaw retired the side in the top of eighth, three Giants up and three Giants down, and was due to bat first in the bottom of the eighth. He hadn't proved himself much of a hitter in his first five seasons. In fact, Kershaw had mustered just one extra-base hit and carried a .144 batting average (38 hits in 263 at-bats) over the course of his major-league career, including striking out in his first two plate appearances against Cain this afternoon. But Dodgers manager Don Mattingly was alert to his left-hander having thrown only 85 pitches and still possessing pinpoint accuracy. He chose to leave his ace in the game to pitch another inning rather than remove him for a pinch-hitter, and he would let him hit for himself.
On Kontos's first pitch, a fastball in the middle of the strike zone, Kershaw rewarded his manager's decision. Vin Scully, then beginning his 64th consecutive season in the Dodgers broadcast booth, told listeners, "And a high fly ball to center. Pagan going back. It is over his head! It is over the fence!"5
The 400-foot blast was Kershaw's first major-league home run. He rounded the bases quickly and high-fived his joyous teammates when he entered the dugout. The highly partisan fans erupted; "the thunder set the press box to jiggling," wrote the veteran sportswriter Scott Ostler of the San Francisco Chronicle.6 It was the first time a Dodgers pitcher had hit a home run on Opening Day since 1965, when Hall of Famer Don Drysdale homered against the New York Mets, and the first time any pitcher in the major leagues had accomplished it in an opening game since 1988, when Joe Magrane of the St. Louis Cardinals went deep against the Cincinnati Reds.7
But despite the general hysteria among the fans in attendance in Los Angeles, the Dodgers still had but a 1-0 lead. The Kershaw blast, however, seemed to ignite the team. Crawford next stepped up to the plate and sliced a double down the left-field line, his second hit of the game. Mark Ellis followed with a bunt single, also for his second hit. Kontos, who had given up three consecutive hits and would eventually be tagged with the loss, was lifted for Santiago Casilla, whose wild pitch scored Crawford for a Dodgers 2-0 lead. After Kemp walked, Bochy called on his third fireman of the inning, Jeremy Affeldt. The strategy continued to misfire. Two more runners reached base: Gonzalez was hit in the shoulder by a pitch, then an intentional pass issued to Cruz loaded the bases. The Dodgers tallied their final two runs on groundout RBIs from Ethier and A.J. Ellis.
Staked to a 4-0 lead, Kershaw went back out to the pitcher's mound in the ninth inning and recorded a shutout; the game ended when Sandoval was thrown out at first on his groundball to third base. As it turned out, Kershaw's bomb would have been plenty, after all.
In tossing his sixth career shutout, his third against the Giants, Kershaw was a model of efficiency, throwing only 94 pitches in a game that lasted 2 hours and 25 minutes. He surrendered four hits, two each to Pagan and Sandoval, while walking none. The only runner to reach second base was Sandoval in the first inning.
Kershaw was creating an impressive record in pitching Opening Day games. In his three consecutive starts from the 2011 through 2013 seasons, facing the Giants, Padres, and Giants again, totaling 19 innings, he hadn't allowed a run and had fanned 19.
Baseball fans also witnessed something that had not been achieved in 60 years: Kershaw became the first pitcher on Opening Day to hit a home run and throw a shutout since Hall of Famer Bob Lemon accomplished the feat for the Cleveland Indians in 1953.8
In postgame interviews, several Dodgers looked back on a frustrating first inning in which they missed an opportunity to take an early lead, but found some solace once the victory had been secured. Kemp's 11-pitch duel with Cain, albeit ultimately resulting in a strikeout, had seemingly paid dividends later when the Giants starter had to be lifted for a reliever after completing only six innings, due to a high pitch count, while he was still pitching a shutout. "You look at the good of what comes out of something like that," said Ethier. "Guys went out there and had tough at-bats."9
Cain, whose performance that afternoon certainly deserved better than getting a no-decision, remained the gracious player he had always been throughout his career. After the game he reflected on his first-ever Opening Day start. "It was great to have," the Giants pitcher said. "I've seen some guys do it, and I wondered what it felt like. There's always a lot of hype, maybe a little over-reporting leading up to the game. But that's the fun part of it. It was a great experience. I enjoyed it."10
After the game, Kershaw's batterymate A.J. Ellis told a reporter, "This was one of those games everyone is going to say they were at the game." He hastened to add, "I'll never forget it."11
This initial win by Kershaw was followed by 15 more during the 2013 regular season, and in leading the NL both with 232 strikeouts and a 1.83 ERA, he would be selected as the NL Cy Young Award winner, his second. The Dodgers went on to claim the Western Division in 2013, their first division title since 2009.
Sources
In addition to the sources cited in the Notes, the author consulted Baseball-reference.com and Retrosheet.org.
https://www.baseball-reference.com/boxes/LAN/LAN201304010.shtml
https://www.retrosheet.org/boxesetc/2013/B04010LAN2013.htm
Notes
1 Bill Plaschke, "New Blue Harmony," Los Angeles Times, April 2, 2013: A1. On April 14, 1964, Koufax pitched the first Opening Day shutout in Dodger Stadium, beating the St. Louis Cardinals, 4-0.
2 The game's highlights can be viewed in a YouTube.com video uploaded on July 18, 2013, accessed at https://youtu.be/U9d5O6GVeAM.
3 Beth Harris, "Giants Drop L.A. Opener," San Francisco Examiner, April 2, 2013: 19.
4 Dylan Hernandez, "Working the Count Works Out Nicely," Los Angeles Times, April 2, 2013: C3.
5 Scully's call of Kershaw's home run can be viewed in a YouTube.com video uploaded on April 9, 2013, accessed at https://youtu.be/E8pZiV03YYM.
6 Scott Ostler, "Uh-Oh — Looks Like Things Are Getting Serious in L.A.," San Francisco Chronicle, April 2, 2013: B1.
7 Los Angeles Times, April 2, 2013: C3. Drysdale also hit an Opening Day home run in 1959, against the Chicago Cubs; Mike Hiserman, "Kershaw Is Money – Again," Chicago Tribune, April 2, 2013: 3-1.
8 Lemon pitched a one-hitter against the Chicago White Sox on April 14, 1953.
9 Hernandez, "Working the Count": C3.
10 Henry Schulman, "Too Much Kershaw," San Francisco Chronicle, April 2, 2013: B1.
11 Plaschke, "New Blue Harmony": A1.
Additional Stats
Los Angeles Dodgers 4
San Francisco Giants 0
---
Dodger Stadium
Los Angeles, CA
Box Score + PBP:
Corrections? Additions?
If you can help us improve this game story, contact us.
Tags
https://sabr.org/sites/default/files/KershawClayton.png
600
800
admin
/wp-content/uploads/2020/02/sabr_logo.png
admin
2020-03-19 22:34:40
2020-06-01 09:39:17
April 1, 2013: Kershaw's bat decides Opening Day pitchers' duel at Dodger Stadium