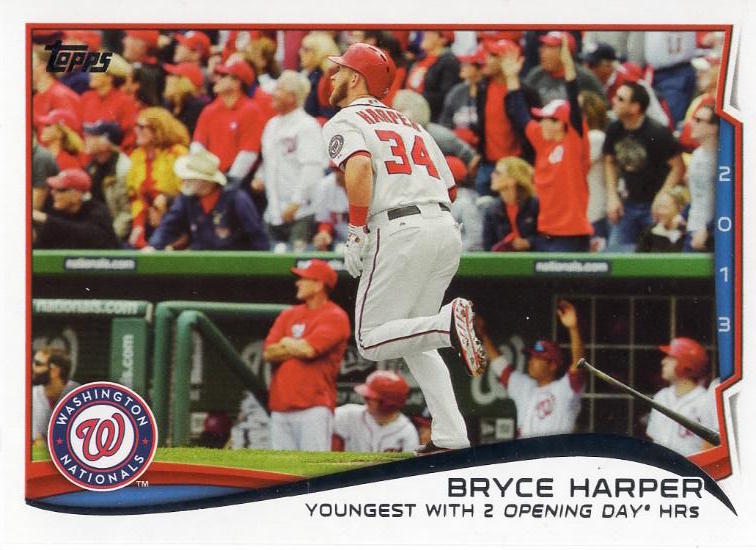 April 1, 2013: Strasburg's pitching, Harper's two homers propel Nats to Opening Day win
---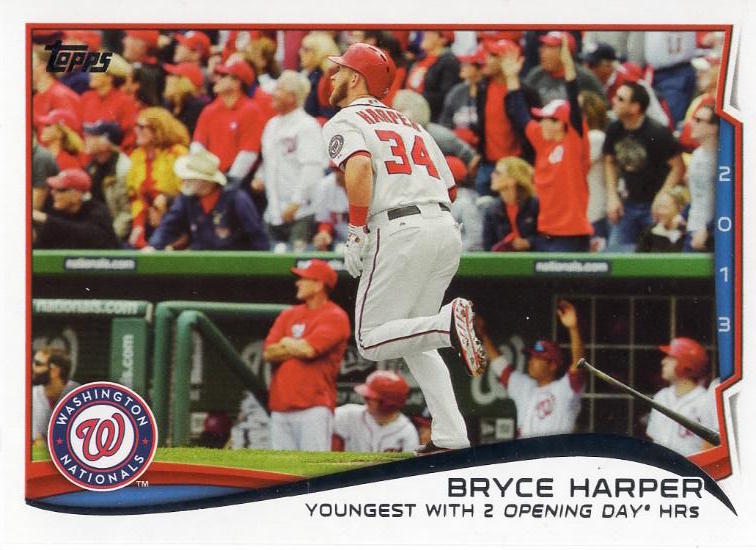 Washington Post columnist and author Thomas Boswell once wrote, "There are oceans of consolation, seas of restored appetite, in as humble a thing as a baseball season."1 No truer were these words than when 45,274 Washington Nationals fans returned to Nationals Park for Opening Day 2013. Entering the 2018 season, only once had more fans (45,966) attended a game at Nationals Park — NLDS Game Five vs. the Cardinals on October 12, 2012. The irony!
Nearly six months earlier, the Nationals' remarkable 2012 season had ended in unforgiving fashion in that very same Game Five. It was the top of the ninth inning and the Nationals led the Cardinals, 7-5. Drew Storen came in for the save. After Carlos Beltran doubled, Storen retired the next two batters. One out to go for a shot at the National League pennant in the NLCS! Against Yadier Molina, Storen was one strike away on two pitches, but walked him. Against David Freese, Storen was one strike away on three pitches, but also walked him. And then consecutive singles by Daniel Descalso and Pete Kozma plated four runs for the Cardinals for a 9-7 lead. The lead held as the top of the Nationals' batting order went three up, three down, in the ninth.
It was past midnight; the crowd was stunned. The euphoria created by Jayson Werth's stunning walk-off home run the previous night to win Game Four and tie the NLDS seemed like a distant memory.2 The shock and disbelief at this season's sudden ending had never been experienced by Nationals fans since the team's arrival from Montreal for the 2005 season. Nationals general manager Mike Rizzo expressed what many felt: "We don't know what to do tomorrow. It's Saturday, and we don't have a game."3
Nonetheless, there was much to celebrate for the Nationals after the 2012 season, the most successful in their brief history. They finished with the best record in baseball, 98-64, and Ian Desmond, Gio Gonzalez, Bryce Harper, and Stephen Strasburg were selected for the All-Star Game. Silver Slugger awards went to Strasburg, Desmond, and Adam LaRoche, who also won a Gold Glove award at first base. Bryce Harper was also named National League Rookie of the Year as a 19-year old.
Strasburg (15-6, 3.16 ERA, 197 SO, 159⅓ IP) was the choice to take the mound for Opening Day 2013, but controversy from the 2012 season followed him, well into the 2013 season and beyond.4 His last start had been September 7 at Nationals Park against these same Marlins and didn't go well, as he yielded five earned runs in three innings. Strasburg had Tommy John surgery in 2010 and an innings-pitched limit in his post-surgery rehabilitation was to be expected. The decision by the Nationals to shut him down meant that he did not pitch in their first venture into postseason baseball. Would the outcome have been different if Strasburg had pitched in that NLDS?
The presence of both Strasburg and Harper in the starting lineup on this day represented how far the Nationals had progressed since 2008. In the 2008 and 2009 seasons, they finished with the worst record in baseball, losing over 100 games in each season and ensuring the first draft pick overall in consecutive first-year player drafts. Those picks, Strasburg from 2009 and Harper from 2010, were each making their first Opening Day starts at Nationals Park.
Strasburg's mound opponent, Ricky Nolasco (12-13, 4.48 ERA), had a workmanlike 2012 season for the last-place Marlins that became remarkable for two late-season performances. In consecutive starts against the Nationals, Nolasco pitched complete-game shutouts.5
The game opened with Marlins left fielder Juan Pierre lining a single to center off Strasburg; that was it for the Marlins until one out in the seventh inning. Strasburg retired 19 consecutive batters before Giancarlo Stanton doubled to left and advanced to third on an infield single by Placido Polanco. Any thought of a Marlins comeback here was erased when catcher Rob Brantly lined out to left and Stanton was caught in a rundown between third and home in an inning-ending double play.
Meanwhile, the anticipation of the home crowd was met almost immediately. Harper lined a home run to deep right-center off Nolasco with two outs in the first inning. Nolasco didn't allow another hit until Harper led off the fourth inning with another homer, this one to deep right field. With that blast, the 20-year-old Harper became the youngest major leaguer ever to hit two home runs on Opening Day.6 (Don Money was 21 years, 305 days old on April 8, 1969, when he hit two home runs for the Philadelphia Phillies in their Opening Day 7-6 loss to the Chicago Cubs.7)
The game was now ready for the new back end of the Nationals' bullpen. Now that the Nationals were a competitive team, there was no denying the increasing importance of a strong bullpen, one that could efficiently close out games such as this one. In their first three seasons at RFK Stadium, Chad Cordero was that closer. However, since the team moved to Nationals Park in 2008, five different pitchers led the Nationals in saves.8
In January 2013, the Nationals signed reliever Rafael Soriano, a right-hander with a 2.78 ERA and 1.05 WHIP over his 11-year career. At that time, Nationals general manager Mike Rizzo was very clear about Soriano's role. "Suffice it to say, Raffy is here to pitch the ninth inning," Rizzo said. "He has done it successfully everywhere he has been, and we expect him to continue that."9 The acquisition meant that manager Davey Johnson now had Tyler Clippard, Drew Storen, and Soriano for the seventh, eighth, and ninth innings, respectively.
On this day, Johnson went to Clippard for the eighth inning in anticipation that Marlins manager Mike Redmond would use pinch-hitter Greg Dobbs at some point in the inning. Clippard's pitching record against Dobbs was better than Storen's.10 That's exactly what happened—Dobbs hit for the pitcher with two outs, and Clippard retired him on a fly ball to short left field, stranding a runner on first.
Soriano's debut in the ninth inning as the Nationals' closer was refreshingly uneventful. He retired the side on 11 pitches to nail down the 2-0 win for Strasburg, including a game-ending strikeout looking by Marlins slugger Giancarlo Stanton. It was the first of 43 saves for Soriano in 2013.
The long grind of the 2013 baseball season was successfully underway, but it would not end well for the Nationals. For virtually the entire season, the NL East Division champion Atlanta Braves held first place while the Nationals remained in second. Although Washington ultimately finished 10 games out, as late as August 19, the Nationals were 16 games behind with a rather mediocre 60-64 record. Why, after the high expectations borne out of the 2012 season? Pitcher Jordan Zimmermann captured the feeling succinctly. "You guys keep asking the question. And we don't really have an answer," Zimmermann said. "I think we're better than everyone out there. It's not showing."11 Another drive to postseason baseball would have to wait for the 2014 season.
Author's note
From a seat in Section 105 in left field, this fan had a perfect view as eyes traced the trajectory of Jayson Werth's walk-off home run in 2012 NLDS Game Four. As events unfolded in the ninth inning of Game Five, no Nationals fan was immune to the stunned disbelief in the outcome. On Opening Day 2013, seats everywhere in the ballpark became "…oceans of consolation, seas of restored appetite, in as humble a thing as a baseball season."12
Sources
The author accessed Baseball-Reference.com for box scores/play-by-play information (baseball-reference.com/boxes/WAS/WAS201304010.shtml) and other data, as well as Retrosheet.org (retrosheet.org/boxesetc/2013/B04010WAS2013.htm).
Notes
1 Thomas Boswell, Why Time Begins on Opening Day (Garden City, NY: Doubleday & Company, 1984), 289.
2 Steven C. Weiner, "October 11, 2012: Jayson Werth walkoff HR beats Cardinals in NLDS Game 4," SABR Games Project.
3 Adam Kilgore, "Washington Nationals Lose, 9-7; St. Louis Cardinals Advance to NLCS," Washington Post, October 13, 2012.
4 John Feinstein, "Washington Nationals' Stephen Strasburg Shutdown Decision in 2012 Still Haunts Team," Washington Post, September 24, 2013.
5 On August 28, 2012, Nolasco beat the Nationals, 9-0, at Marlins Park; on September 8, 2012, he shut them out, 8-0, at Nationals Park. Nolasco had lost two decisions to the Nationals earlier in the season.
6 "Bryce Harper," TOPPS Card No. 390, 2013 Baseball Highlights.
7 Associated Press, "Bryce Harper Becomes Youngest MLB Player to Hit 2 Homers During Season Opener," CTV News.ca, April 1, 2013, accessed April 4, 2018, ctvnews.ca/mobile/sports/bryce-harper-becomes-youngest-mlb-player-to-hit-2-homers-during-season-opener-1.1219564.
8 Jon Rauch (17 saves, 2008), Mike MacDougal (20, 2009), Matt Capps (26, 2010), Drew Storen (43, 2011), Tyler Clippard (32, 2012).
9 Adam Kilgore, "Rafael Soriano Introduced at Nationals Park," Washington Post, January 17, 2013.
10 James Wagner, "Why Davey Johnson Tapped Tyler Clippard for the Eighth Inning," Washington Post, April 1, 2013.
11 Adam Kilgore, "Why the Washington Nationals' 2013 Season Has Been Such a Letdown," Washington Post, July 27, 2013.
12 Boswell.
Additional Stats
Washington Nationals 2
Miami Marlins 0
---
Nationals Park
Washington, DC
Box Score + PBP:
Corrections? Additions?
If you can help us improve this game story, contact us.
Tags
https://sabr.org/sites/default/files/HarperBryce-2013.jpg
600
800
admin
/wp-content/uploads/2020/02/sabr_logo.png
admin
2018-06-12 14:06:55
2020-04-17 10:24:46
April 1, 2013: Strasburg's pitching, Harper's two homers propel Nats to Opening Day win