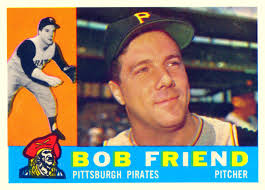 April 15, 1961: Bob Friend bests Don Drysdale in a record-setting game
---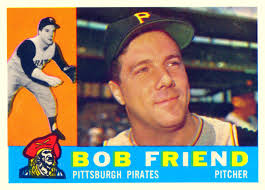 Possibly the most intriguing thing about baseball is its unpredictability. Fans attending a game have no idea what they are about to see. On April 15, 1961, the 36,783 spectators at the Los Angeles Coliseum watched as the Pittsburgh Pirates and Los Angeles Dodgers tied a major-league record by hitting into nine double plays, seven on groundballs, and two on line drives. A couple of other noteworthy events occurred that evening: Pirates starter Bob Friend completed his first game in Los Angeles since his first Coliseum start on April 29, 1958, and for the third and final time in his major-league career, Pittsburgh center fielder Bill Virdon had a multiple-home-run game.
The early-season contest featured two highly regarded teams. The Dodgers won the World Series in 1959 and Pirates were defending World Series champions as the 1961 season began. J.G. Taylor Spink picked the Dodgers first and the Pirates second in his 1961 predictions in The Sporting News. Sports Illustrated echoed Spink's enthusiasm, writing, "This could be the beginning of a Dodger dynasty to rival that of the Yankees or that of the old Brooklyn Dodgers (circa 1946-56). The talent is there; if it doesn't jell this year, it will next, or next after that." As for the Pirates, Sports Illustrated predicted: "Buoyed by a champion's esprit de corps and confidence, Pirates will be one-two."1
That Saturday evening, right-hander Friend made his second start of the 1961 season. He had come up to the majors in 1951 and pitched for some dreadful Pirates teams in the 1950s. Between 1951 and 1957, Pittsburgh finished last four times, seventh twice, and tied for seventh once. The club posted records of 42-112, 50-104, and 53-101 from 1952 through 1954. In Friend's first seven seasons in the majors, his team went 397-681. After four major-league seasons, Friend's record stood at 28-50. However, he blossomed in 1955 as he went 14-9 for a 60-94 last-place team and led the National League with a 2.83 ERA. In 1956, Friend became the workhorse of the Pittsburgh pitching staff.
In the next 10 seasons, he made 368 starts and pitched 2,604⅓ innings, tops in the majors in both categories. In 1956 and 1957, the Pirates struggled to reach respectability, and in 1958, they broke their nine-year streak of losing seasons by finishing in second with an 84-70 record. Improving with his team, Friend led the majors (tied with Warren Spahn) with 22 wins that season. Both Friend and his team regressed in 1959; the Pirates finished fourth with a 78-76 mark and Friend had a disastrous 8-19 season. The 1960 season was a wonderland for Pittsburgh and Friend as the team won its first pennant since 1927, its first World Series since 1925, and the pitcher bounced back with an 18-12 record and a 3.00 ERA.
In contrast to the regular season, Friend had a nightmarish World Series. He started and lost Games Two and Six in Forbes Field, the first a 16-3 Yankees victory, the second a 12-0 drubbing. In Game Two, Friend turned in a fair performance; going four innings and allowing two earned runs before leaving for a pinch-hitter while trailing, 3-1. He then watched four of the five Pittsburgh relievers allow the Yankees 13 more runs. In Game Six, Friend started and went only two-plus innings, allowing five hits and five earned runs. Then, in Game Seven, he started the ninth inning with a 9-7 lead. With a chance to nail down the World Series crown and redeem himself in the balance, Friend gave up singles to Bobby Richardson and pinch-hitter Dale Long. Having seen enough, Pirates manager Danny Murtaugh yanked him and brought in eventual winner Harvey Haddix. When the two runs for which Friend was responsible scored, his 1960 World Series pitching ledger stood at 0-2 with a 13.50 ERA in six innings.
His poor 1959 performance along with his disastrous outings against the Yankees spurred some doubts about his 1961 prospects. The Sporting News wondered whether Friend and other Pirates who had comeback years in 1960 were "now due to suffer relapses …?" Friend's teammate, third baseman Don Hoak, acknowledged that Friend "still carries a bit of a scar from the Series" and hopefully added, "and he'll be a better pitcher because of his experience with the Yankees."2 Friend's Opening Day performance did nothing to ease the doubts. He lasted only 4⅔ innings against the San Francisco Giants, allowing six earned runs and two home runs, leaving with a 6-3 deficit. He managed to escape being tagged with the loss when the Pirates rallied for an 8-7 victory.
On April 15, both teams started the game with 2-2 records. The Dodgers sent Don Drysdale to the mound to oppose Friend. A durable, hard-throwing right-hander prone to temper tantrums, Drysdale was coming off a mediocre 15-14 mark in 1960, although he sported a stellar 2.84 ERA. Drysdale had come up at 19 with the Brooklyn Dodgers in 1956 and had won 17 games in two separate seasons, but had yet to harness his potential. He came into the game with a 1-0 record, having pitched seven innings against the Philadelphia Phillies in a 6-2 win on April 11. As with all games played in the Coliseum, pitchers always had to be cognizant of the short distance to left field, 250 feet with a 40-foot screen. With cavernous distances to right field, pop flies often settled into the left-field stands while tremendous drives to right died in outfielders' gloves. Drysdale hated pitching in the ballpark, telling Bob Verdi, "It's nothing but a sideshow. Who feels like playing baseball in this place?"3
The Pirates started with a bang, as leadoff man Virdon homered. The game remained 1-0 through the fifth inning. Although both teams managed to put runners on base, by the end of five frames, they had hit into eight double plays, four for each side. The Pirates extended their lead to 3-0 in the top of the sixth. Virdon singled and Dick Groat doubled, sending Virdon to third. After Drysdale walked Bob Skinner intentionally, he struck out Dick Stuart and got Roberto Clemente on a popout. However, Hoak doubled to left, scoring Virdon and Groat and giving Friend some breathing room.
In the top of the seventh inning, Virdon touched Dodgers right-handed reliever Larry Sherry for his second homer of the game, giving Friend a 4-0 lead. In the top of the eighth, Clemente grounded into the game's ninth double play. The 4-0 score held until the bottom of the eighth when the Dodgers struck for their only run of the game on a triple by pinch-hitter Jim Gilliam and a single by Willie Davis. Friend then struck out Tommy Davis and pitched a scoreless ninth inning for a 4-1 win, his first of 1961.4
For a short time, it looked as though the Pirates might be up to defending their National League title. On May 2, they went into first place with a 6-0 victory over the St. Louis Cardinals, running their record to 10-6. On May 24, the team stood in second place at 20-13, one game behind the San Francisco Giants. The club then bumped along at a .500 clip for the next seven weeks, finding itself in third at the first All-Star break on July 9, with a 42-35 mark, 8½ games behind the league-leading Cincinnati Reds. On that date, Friend's record stood at 9-9 with a 4.15 ERA. The season's second half proved disastrous for him and the Pirates. The team went 33-44 to finish sixth with a disappointing 75-79 record. Although he lowered his season ERA to a final 3.85, Friend won only five games the second half, losing 10 to make his final mark 14-19.
Friend pitched another four years for the Pirates, posting a 56-60 record and running his Pittsburgh win total to 191. In December 1965, the Pirates traded him to the New York Yankees and after a brief stay in the Bronx, Friend was sold to the Mets in June 1966. He retired after the 1966 season with a lifetime mark of 197-230 and an ERA of 3.58. Respectable totals for a pitcher who labored many years for a dreadful team. In an interview on November 17, 2012, Friend pointed to two career highlights: "[H]is 22 wins in 1958 and his durability — perhaps above all — stood out in his mind. 'I was able to pitch every third or fourth day for more than ten years and not miss starts,' he said." Friend's April 15 victory over the Dodgers provided a glimpse at a workmanlike and utterly dependable major-league pitcher turning in a professional effort. The hallmarks of a proud player nicknamed "The Warrior."5
This article appears in "Moments of Joy and Heartbreak: 66 Significant Episodes in the History of the Pittsburgh Pirates" (SABR, 2018), edited by Jorge Iber and Bill Nowlin. To read more stories from this book at the SABR Games Project, click here.
Notes
1 J.G. Taylor Spink, "Swami Spink Sees Dodger, Oriole Flags," The Sporting News, April 26, 1961: 7; Sports Illustrated, April 10, 1961: 55, 61.
2 The Sporting News, April 26, 1961: 7; Les Biederman, "Super-Heated Don Hoak Raps Experts Who 'Overlooked' Bucs," The Sporting News, April 19, 1961: 10.
3 Don Drysdale with Bob Verdi, Once a Bum, Always a Dodger: My Life in Baseball from Brooklyn to Los Angeles (New York: St. Martin's Press, 1990), 71; quoted in Don Zminda, "A Home Like No Other: The Dodgers in L.A. Memorial Coliseum," The National Pastime (SABR, 2011). sabr.org/research/home-no-other-dodgers-la-memorial-coliseum. Accessed July 7, 2017. Between 1956 and 1965, Drysdale made 334 starts, pitching 2574⅔ innings, both marks second in the majors to Friend.
4 Game account from Retrosheet: retrosheet.org/boxesetc/1961/B04150LAN1961.htm, accessed August 14, 2017.
5 Clifton Parker, "Bob Friend," SABR BioProject, sabr.org/bioproj/person/c90d66d9, accessed August 15, 2017.
Additional Stats
Pittsburgh Pirates 4
Los Angeles Dodgers 1
---
Los Angeles Coliseum
Los Angeles, CA
Box Score + PBP:
Corrections? Additions?
If you can help us improve this game story, contact us.
Tags
https://sabr.org/sites/default/files/images/FriendBob.jpg
600
800
admin
/wp-content/uploads/2020/02/sabr_logo.png
admin
2019-01-30 09:21:05
2020-04-17 10:23:41
April 15, 1961: Bob Friend bests Don Drysdale in a record-setting game