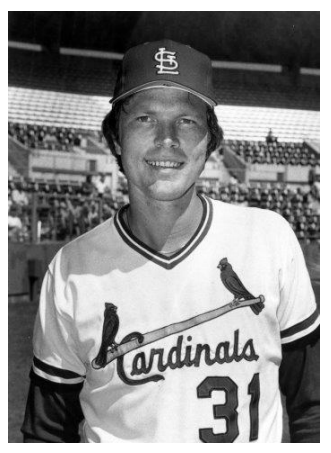 April 16, 1978: Cardinals' Bob Forsch pitches his first no-hitter
---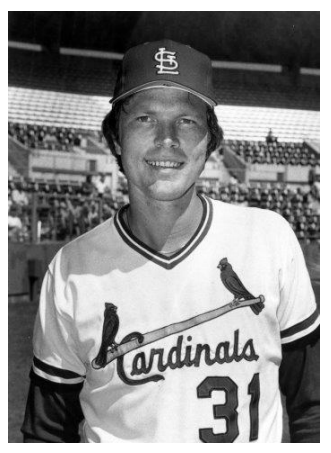 April 16, 1978, was not an ideal day for baseball in St. Louis. As a sparse crowd sauntered into Busch Memorial Stadium (Busch II) that afternoon, the temperature was under 45 degrees.1 The Cardinals had been losing crowd appeal throughout the 1970s. Their home opener, six days earlier, had drawn only 19,241. Only 11,495 showed up to watch Bob Forsch start his third game of the season, against the defending National League East champion Philadelphia Phillies.
Unlike the Cardinals' ticket sales, Forsch was in a good place. He had rebounded from a shoulder injury in to win 20 games in 1977. He started on Opening Day 1978, and gave up just one run on five hits through 7⅓ innings as the Cardinals won, 5-1. His second start was even better: With his parents on hand, he struck out nine Pirates, walked only three, and allowed just four hits in a complete game. Again the Cardinals won, 5-1. Forsch described it as one of the best games he ever pitched.2 "I really felt proud," he recalled.3
Although Forsch was at the top of his game on April 16, he didn't feel like it. "My arm just felt weak, like I'd spent it all the game before."4 A start against the Phillies in 1978 was not the best time to have a tired arm. They had an impressive lineup, and had their eyes on a third consecutive division title.
After Forsch retired Bake McBride and Larry Bowa, Mike Schmidt gave him an early scare by pounding a high fly ball deep to center field. Outfielder Tony Scott hauled it in at the warning track, ending the top of the first inning. The Cardinals threatened in the bottom of the first when Phillies starter Randy Lerch walked the Cardinals leadoff hitter, speedster Lou Brock. Three pop flies, however, kept the Cardinals off the scoreboard.
Two pop flies then worked in Forsch's favor before the Phillies' Garry Maddox pounded a pitch into the infield turf. Cardinals catcher Ted Simmons handled it and threw to first baseman Keith Hernandez, bringing the Cardinals back to the plate for the bottom of the second. They too were retired in order. Forsch then set down the bottom of the Phillies order in the top of the third, via a pop fly and two infield groundballs, before he struck out to lead off the bottom of the third. Brock and shortstop Garry Templeton each lined out.
With the top of the Phillies order due in the fourth to get its second look at Forsch, now was as likely a time as any for Forsch's tired arm to falter. McBride flied to center, however, and Bowa hit a hard grounder to Hernandez, who tossed to Forsch, covering first base. Schmidt again scared the Cardinals by taking a pitch deep to center; it was caught, again, by Tony Scott.
The Cardinals broke the deadlock in the bottom of the fourth when catcher Ted Simmons doubled, advanced to third on a grounder by Hernandez, and scored on a single by Ken Reitz. Forsch took the mound for the top of the fifth with a one-run lead.
After the Phillies' leadoff hitter ground out to first, Forsch walked Richie Hebner. The first Phillies baserunner of the game, Hebner put himself in scoring position and removed himself from double-play candidacy by stealing second. With a runner on second, a groundball could advance the runner to third or tie the game, especially on the thin Astroturf of Busch II. Forsch reached back for more power, and found it. He struck out Garry Maddox and Bob Boone to strand Hebner on second.
The next three Cardinals hitters went down in order. The bottom of the Phillies lineup returned the favor in the top of the sixth. "You don't even think about a no-hitter until after the sixth inning," Forsch wrote, "when you only have to go through the lineup one more time."5
With two outs in the bottom of the sixth, Hernandez appeared to ground out. Lerch bobbled the ball, however, extending the inning and allowing Garry Templeton (who had doubled) to take third base. Lerch then hit Reitz to load the bases before Roger Freed, pinch-hitting for Tony Scott, doubled to right field, clearing the bases and giving the Cardinals a 4-0 lead.
In the top of the seventh, Forsch faced the heart of the Phillies order. After Larry Bowa ground out — again — Mike Schmidt hit a pitch deep to center field — again. This time it was Jerry Mumphrey, Scott's replacement in center field, who hauled it in. If Cardinals manager Vern Rapp eyed the bullpen phone when Forsch issued his second walk of the day, he would have stopped when the next batter popped up harmlessly to short. Lerch rediscovered his footing in the bottom of the seventh and retired Forsch, Brock, and Templeton in order.
Leading off the top of the eighth, Garry Maddox hit a hard groundball to Reitz at third base. Reitz "reached for the ball but it went under his glove."6 Forsch wrote, "I knew I had a no-hitter. So did everybody who was there. Everybody in the stadium was watching the scoreboard to see whether it was called a hit or an error. … Neal Russo of the St. Louis Post-Dispatch — who was the official scorer — called it an error. … I later asked Neal about it. … He told me, 'That far along in the game, the first hit has to be a clean hit.'"7
The next Phillies batter, Bob Boone, hit a groundball to the shortstop. Templeton threw quickly to second baseman Mike Tyson, who forced out Maddox and threw to Hernandez, completing a 6-4-3 double play. Ted Sizemore then hit a line drive directly to Templeton. Forsch was just three outs away.
Whenever Forsch made it into the Cardinals clubhouse between innings, he could hear a radio tuned to local station KMOX; "he heard plenty about [his performance;] …'They were saying on the radio that no no-hitter had been pitched by a Cardinal in St. Louis in 54 years.'"8
In the bottom of the eighth, right fielder Jerry Morales led off with a single. Keith Hernandez appeared to hit a double-play ball to the Phillies' shortstop, but Bowa committed an error that allowed the runners to advance to third and second. Lerch was replaced by reliever Gene Garber, who intentionally loaded the bases before retiring the next two batters. Close as he was to getting out of the jam, Garber then walked Dane Iorg, pinch-hitting for Tyson. The Cardinals led 5-0. With the bases loaded, Forsch flied out to center field.
The crowd "'pumped me up,' Forsch said. 'It was a tremendous feeling. With all that cheering when I went out in the ninth, I felt like I could lick the world.'"9 Hitting for the pitcher, the Phillies' Jay Johnstone led off. Cardinals catcher Ted Simmons said a pivotal pitch that inning was "'the first pitch to Johnstone. … [I]f he took that pitch for a strike, we had him.'"10 They did, on a groundout.
The Phillies' number-one and number-two hitters, McBride and Bowa, were next. "'McBride?'" Simmons said, "'He hadn't hit at all during the series. We kept feeding him slow stuff.'"11 McBride grounded out to Mike Phillips, who came in for Dane Iorg and took Tyson's spot at second base. Bowa then hit a groundball to Reitz, who threw to first for the out. "Forsch said he didn't remember the last inning. 'But I did know there were three outs and it was over.'"12 He had shut out the Phillies, 5-0, on two walks, three strikeouts, one error, and no hits: a no-hitter.
As Forsch and the Cardinals celebrated, the Phillies protested. They claimed Garry Maddox's grounder in the eighth inning beat Ken Reitz for a hit, despite the score keeper's ruling. Lucky or not, Forsch had thrown a complete game on just 96 pitches.13 That day he had been a very good pitcher at his very best.
A little less than a year later, Bob Forsch's brother, Ken, celebrated his own no-hitter in Houston. "'I thought of all the great brother acts in baseball,' " he said. " 'The Niekros, the Perrys, and Dizzy and Daffy Dean.'"14 On April 7, 1979, the Forsch brothers did something none of those others ever did: They became the only brothers to throw no-hitters in major-league baseball.
Between celebratory hugs and champagne-soaked interviews, Ken received a telegram. It read: "Congratulations on your no-hitter. I know how it feels. Enjoy every minute of it. Your Little Brother."15
This article was published in SABR's "No-Hitters" (2017), edited by Bill Nowlin. To read more Games Project stories from this book, click here.
Sources
In addition to the sources in the Notes, the author also consulted baseball-reference.com and Amy Forsch's remarks at the Cardinals Hall of Fame Induction Ceremony, St. Louis, August 15, 2015.
Notes
1 Weather Underground, "Weather History for St. Louis, MO," https://wunderground.com/history/airport/KSTL/1978/4/16/DailyHistory.html?req_city=&req_state=&req_statename=&reqdb.zip=&reqdb.magic=&reqdb.wmo=&MR=1.
2 Bob Forsch and Tom Wheatley, Tales From the St. Louis Cardinals Dugout: A Collection of the Greatest Cardinals Stories Ever Told (New York: Sports Publishing, 2006), 131.
3 Forsch and Wheatley, 132.
4 Ibid.
5 Ibid.
6 Allen Lewis, "Tainted No-Hitters," Baseball Digest, February 2002: 60.
7 Forsch and Wheatley, 132.
8 Neal Russo, "Forsch Avoids Jinxes, Gets No-Hitter," St. Louis Post-Dispatch, April 17, 1978: 4C.
9 Ibid.
10 Ibid.
11 Ibid.
12 Neal Russo, "Freed Breaks Ice: 'I Know I Can Hit,'" St. Louis Post-Dispatch, 1978: 4C.
13 Ibid.
14 News Services, "Ken Forsch Makes Little Brother Proud," St. Louis Post-Dispatch, April 9, 1979: 2B.
15 Ibid.
Additional Stats
St. Louis Cardinals 5
Philadelphia Phillies 0
---
Busch Stadium
St. Louis, MO
Box Score + PBP:
Corrections? Additions?
If you can help us improve this game story, contact us.
Tags
https://sabr.org/sites/default/files/Forsch_Bob.png
600
800
admin
/wp-content/uploads/2020/02/sabr_logo.png
admin
2018-10-17 13:48:30
2020-04-17 10:23:52
April 16, 1978: Cardinals' Bob Forsch pitches his first no-hitter