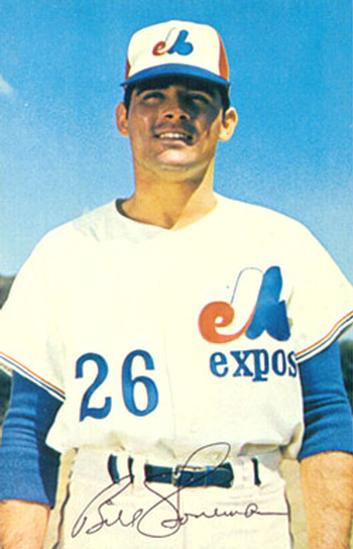 April 17, 1969: Expos' Bill Stoneman sets record for fastest no-hitter by MLB team
---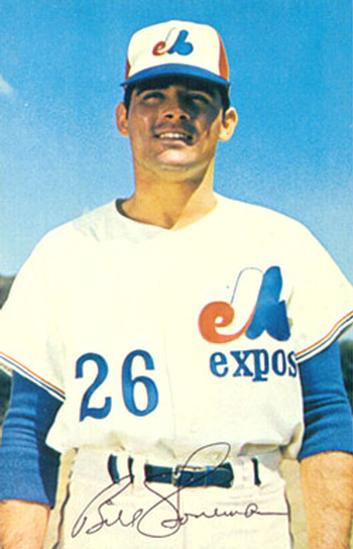 It seems that the Expos wanted to give their fans a lifetime of memories as quickly as possible.
As if the inaugural game at Shea Stadium or the first home win at Jarry Park weren't memorable enough, the Expos quickly adopted a flair for the dramatic in just the franchise's ninth game, on April 17, 1969. That night, Bill Stoneman pitched a no-hitter against the Philadelphia Phillies, allowing Nos Amours–a French expression meaning Our Loves–to achieve the feat more quickly than any other team.1
Montreal came into the game at Connie Mack Stadium with a 3-5 record and was playing its seventh game on the road after two at Jarry Park. What made this game more improbable was Stoneman's career to date. Drafted in 1966 in the 31st round by the Chicago Cubs, he was called up to the big leagues in 1967 and went 2-5 over the next two years, mostly as a reliever. He earned the nickname Toy Tiger as much for his size (5-feet-10), as for his determination. Chicago manager Leo Durocher gave Stoneman only two starts, while using him in relief 44 times. The Expos selected Stoneman with the 10th pick in the 1968 expansion draft, viewing him as a starter even though he had only two starts in his major-league career. Going into this contest, he had an 0-2 record and a 5.00 ERA.
Stoneman's inexperience showed in his first appearance of the season, when he gave up four earned runs in 1/3 of an inning against the Mets and left the game with a 108.00 ERA. His second outing was slightly better: He pitched 8⅔ innings and gave up all seven runs (but only one earned) in a 7-6 loss to the Cubs. His teammates made three errors behind him.
In this game, though, the defense was excellent from the beginning. Center fielder Don Bosch recovered from a late jump to grab a sinking fly ball by Don Money in the second. In the next inning, Rusty Staub preserved the no-hitter when he snared a liner off the bat of Tony Taylor.
As historic a night as it was for Stoneman, some of his teammates also had noteworthy evenings. In addition to his fielding heroics, Staub put on a batting clinic with four hits, including three doubles and a fourth-inning home run, his third of the season. Staub had 10 total bases in the game and drove in three runs. Le Grand Orange was blossoming.
Also joining the hit parade was rookie Coco Laboy, who rapped out four singles and drove in a run to help the Expos to their fourth win of the year.
Phillies pitchers had forgettable nights. Starter Jerry Johnson went eight innings and gave up four runs (three earned) on 11 hits. The Expos opened the scoring with an unearned run in the third. Laboy singled and went to second when Gary Sutherland reached on an error. After Stoneman struck out, Laboy scored when Tony Taylor made the Phillies' second error of the inning, this time on a Bosch grounder.
Staub homered leading off the fourth inning and with the Expos in front 2-0 in the sixth, run-scoring singles by Ty Cline and Laboy upped the lead to 4-0. In the ninth the Expos put the game away for good with three more runs off Bill Wilson. Staub doubled with the bases loaded, plating Stoneman and Bosch and moving Maury Wills to third. Turk Farrell replaced Wilson and allowed Wills to score on a wild pitch to make the score 7-0.
Stoneman's determination showed in the ninth inning as he finished the game in style, striking out Ron Stone and Johnny Briggs, and then inducing the dangerous Deron Johnson to ground out to Wills. Overall, Stoneman faced 31 batters, struck out eight and walked five. Stoneman later admitted that he wasn't overpowering that night.
"People think that a pitcher who throws a no-hitter totally dominates the game, but that isn't always true," he said. "I had trouble with my control and gave up five walks, which is something that happened a lot in my career."2
As sweet as the win was for the players, this game also provided some revenge for Expos manager Gene Mauch, who was fired by the Phillies after 53 games the previous season. Not only did his new team lay a beating on his old one, but he was serenaded by the fans chanting "we want Mauch" from the seventh inning until the end of the game.3
The Expos' reaction to the event seems almost quaint by today's standards. Management ripped up Stoneman's contract and gave him a new one with a $2,000 raise. Then, between games of an April 20 doubleheader against the Cubs, public address announcer Claude Mouton asked fans to stay in their seats and then called Stoneman out of the dugout. Team president John McHale pointed to a new Renault car in center field, a gift from the Renault Company. However, the big surprise came when one of the car's doors opened and out stepped Stoneman's mother along with a brother just back from Vietnam.
Nonetheless, Stoneman's first no-hitter was no fluke. He repeated the feat on October 2, 1972, at Montreal's Jarry Park against the Mets, winning by the same 7–0 score. Stoneman struck out nine, but had control problems, walking seven. Ironically, this was the last complete game of his career. He is the only pitcher in major league history to pitch no-hitters in his first and last career complete games.
This article appeared in "Au jeu/Play Ball: The 50 Greatest Games in the History of the Montreal Expos" (SABR, 2016), edited by Norm King. To read more articles from this book, click here. It also appeared in SABR's "No-Hitters" (2017), edited by Bill Nowlin. To read more articles from this book, click here.
Sources
In addition to the sources listed in the notes, the author consulted:
Ballparks.com
Blackman, Ted. "Stoney Staggered by Montreal Huzzahs Over No-Hitter," The Sporting News, May 3, 1969.
Baseball-reference.com.
Conniemackstadium.com.
King, Norman. "Expos get first franchise no-hitter right out of the gate," Baseball Research Journal, Spring 2002.
Philadelphia Athletics Historical Society.
https://www.baseball-reference.com/boxes/PHI/PHI196904170.shtml
http://www.retrosheet.org/boxesetc/1969/B04170PHI1969.htm
Notes
1 In the expansion era, the California Angels held the previous record, when Bo Belinsky pitched a 2-0 no-hitter against Baltimore on May 5, 1962, in the franchise's 181st game.
2 Al Doyle, "Bill Stoneman: The Game I'll Never Forget: Right-Hander Who Tossed Two No-Hitters During His Career Recalls Victory Over Padres in Which He Fanned 14 Batters," Baseball Digest, June 2005.
3 Jacques Doucet and Marc Robitaille, Il était une fois les Expos, Volume I (Montreal: Éditions Hurtubise Inc.), 82.
Additional Stats
Montreal Expos 7
Philadelphia Phillies 0
---
Connie Mack Stadium
Philadelphia, PA
Box Score + PBP:
Corrections? Additions?
If you can help us improve this game story, contact us.
Tags
https://sabr.org/sites/default/files/StonemanBill.jpg
600
800
admin
/wp-content/uploads/2020/02/sabr_logo.png
admin
2017-08-18 00:15:01
2022-10-20 16:52:17
April 17, 1969: Expos' Bill Stoneman sets record for fastest no-hitter by MLB team