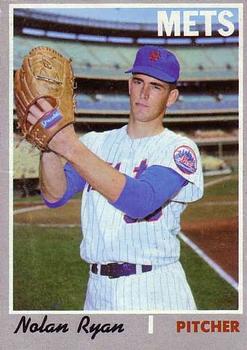 April 18, 1970: Mets' Nolan Ryan sets team record with 15 strikeouts in first career shutout
---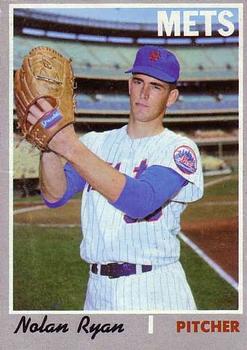 It was "perhaps the most remarkable pitching performance in the nine-year history of the Amazin' Mets," gushed Gotham City sportswriter Dana Mozley after 23-year-old flamethrower Nolan Ryan surrendered a single to the first batter he faced, then finished with a sparkling one-hitter and a team-record 15 strikeouts in his 1970 debut.1 "Nobody throws the ball like that," said Philadelphia Phillies slugger Deron Johnson, who whiffed three times. "His fastball rises and his ball is alive."2
Widely regarded as baseball's hardest thrower, Ryan faced pressure to emerge as a front-line starter in 1970. He had fanned more than a batter an inning thus far in his brief career, but struggled mightily with his control and sported a lackluster 12-13 lifetime slate with a 3.42 ERA as a spot starter and reliever. He gave glimpses of his limitless potential in the Mets' unlikely run to the World Series title the previous October, holding the Atlanta Braves to three hits over seven frames to win the deciding Game Three in the NLCS and then earned a save in Game Three of the World Series by tossing 2⅓ scoreless innings against the Baltimore Orioles.
On a mild Saturday afternoon, 23,500 spectators came to Shea Stadium to see their beloved Mets take on the Phillies. The previous afternoon, staff ace and reigning NL Cy Young Award winner Tom Seaver had blanked the Phils on eight hits to improve the record of skipper Gil Hodges' squad to 4-4. It was the Phillies' sixth straight loss after beginning the season with three wins. First-year manager Frank Lucchesi was already in crisis mode and called a team meeting before this weekend game to demand better results.
As Ryan warmed up, he could tell he was rusty. He hadn't pitched since April 2, when he fanned nine in six innings in an exhibition game hurling for the Mets' Class-A Visalia farm team against the Washington Senators' Burlington squad,3 then left the team to complete his required two-week military duty in the National Guard.4 During the spring Ryan had bothered by nagging injuries, but seemed to overcome chronic blistering of his fingers by taking the advice of the club's press secretary and former featherweight boxer Lou Napoli who suggested the hurler soak his digits in olive brine.5
Leadoff hitter Denny Doyle greeted Ryan with a single to left. The 1969 MVP of the Pacific Coast League, Doyle had made his professional debut against Ryan four years earlier in the Class-A Western Carolinas League. "I was trying to keep it outside," said Ryan, "but it had part of the plate and he just reached out and stroked it."6 Ryan loaded the bases on two walks sandwiched around two punchouts, then ended the threat by whiffing Larry Hisle.
The Mets gave a rude New York welcome to Phillies starter Jim Bunning, in search of his 210th big-league victory. The future Hall of Famer and US Senator from Kentucky yielded singles to the first three batters he faced, the final of which, by Joe Foy, led to two runs. Right fielder Ron Stone bobbled the ball and then "fired it into the dirt" near second base, reported sportswriter Joseph Durso.7 The ball bounced into short left field for a second error, enabling Bud Harrelson to score and Foy to reach third. Two batters later, the Phillies' third miscue resulted in another run. Foy was trapped in a rundown on Art Shamsky's infield grounder. Catcher Tim McCarver heaved the ball over third baseman Don Money's head and Foy crossed the plate.
Spotted a three-run lead, Ryan looked anything but comfortable in the second, issuing two one-out walks, then fanned the side in the third. His teammates mauled Bunning in the bottom of the frame and threatened to blow the game open. With two on via singles and no outs, Shamsky blasted a double off the right-field wall ("missing home run by inches," noted Durso8) to drive in another one and sent Bunning to the showers. Reliever Barry Lersch did some nifty pitching, loading the bases with an intentional walk with one out, then retired weak-hitting Jerry Grote and Ryan.
Ryan led off the fifth by issuing his fifth and six walks of the game and then suddenly something changed with his delivery. "I got my rhythm about the fifth inning," he said, "and everything fit into place after that."9 He found his groove and got locked in, retiring the next three hitters, two by strikeouts, giving him 11 for the game. Through five innings, Ryan had already tossed 107 pitches (26, 22 17, 15, and 27 in each inning, respectively),10 but Hodges gave his right-hander a long leash to prove himself. "[Pitching coach] Rube Walker and I studied him real closely from the sixth inning on," said Hodges. "The later it got, the better a pitcher Nolan was getting to be. He didn't have to rely on his fastball."11
The Mets tacked on three more runs by the long ball to put the game out of reach with an unhittable Ryan on the mound. Ken Boswell, who missed the previous two games nursing a sprained ankle, led off the sixth with a solo shot. Notoriously woeful at the plate, Ryan got into the hit parade by lining a one-out single in the eighth, earning a standing ovation from the Mets faithful. Tommie Agee followed with a blast off reliever Lowell Palmer for the final two Mets tallies.
Ryan fanned the side for the third time, in the bottom of the sixth. With 14 punchouts through six innings, Ryan had tied the club record for strikeouts in a nine-inning game that he himself had set in 1968 and Seaver had tied the next year. He was also well within reach of Steve Carlton's major-league record of 19 strikeouts from the previous September against the Mets in a game he lost, 4-3.12
The Express kept rolling, but it changed tracks. "I lost the good zip on the fastball in the seventh inning," declared Ryan, adding that "after the fifth or sixth innings I started getting the ball over better."13 Over the final three frames Ryan faced the minimum nine batters, displaying excellent command of his heater and swooping roundhouse curve and changeup. He breezed through the seventh, working around Agee's second error in center field, and benefiting from a 6-4-3 inning-ending twin killing.Setting the side down in order in the eighth, Ryan whiffed Johnson for his record 15th punchout of the game; that strikeout also tied the team record for the most in a game, set by Jerry Koosman in a 10-inning no-decision in 1969.14
Ryan's Mets strikeout record did not last long. Four days later, on April 22 in Shea Stadium, Seaver hurled a brilliant two-hitter, tying Carlton's major-league record with 19 strikeouts while setting a new big-league record with 10 consecutive strikeouts in a 2-1 decision over the San Diego Padres.
"There was never any serious thought of taking (Ryan) out, even though we realized he had pitched more than the normal amount," Hodges said.15 Ryan, making his 30th career start, had completed only five games and had never tossed a shutout. He quickly dispatched Hisle, Stone, and Larry Bowa to complete the 7-0 victory in 2 hours and 20 minutes.
"I've never thrown so many changeups, and with such great success," said Ryan, seemingly surprised by his performance. "They were particularly good against left-handers. And my curveball was working well."16 Ryan's gem was the fifth one-hitter in franchise history; it was also the fifth consecutive game the Mets blanked the Phillies.17
"When you consider how little work I've had and how long I've gone since pitching, I'm awfully proud of this shutout," Ryan said about his first of 61 shutouts in his Hall of Fame career.18
The Phillies raved about Ryan's heater. "He's number 1," McCarver said when asked to compare Ryan to other hard throwers. Quite a compliment given that McCarver was Bob Gibson's and Steve Carlton's batterymate with the St. Louis Cardinals until the catcher's trade to the Phillies in the offseason.19 Quipped Bowa, who also debuted professionally in 1966 and faced a 19-year-old Ryan in Class-A ball, "He throws a lot harder now than he did then. He had no breaking ball at all then."20 Hisle claimed Ryan's wildness made him more effective because batters needed to be loose at the plate.21
Ryan was not yet ready to emerge as one of the best pitchers in baseball despite starting the season with a one-hitter, losing a two-hitter, and fashioning a three-hitter in his first three starts of the season. He was marred by inconsistency — his 6.6 walks per nine innings were the highest in the majors for any hurler with more than 50 innings. He finished the season with a 7-11 slate and a 3.42 ERA in 131⅔ innings, riding out the last three weeks of the season in the bullpen.
Acknowledgements
The essay was edited by Len Levin and fact-checked by Bruce Slutsky.
Sources
In addition to the sources cited in the Notes, the author also accessed Retrosheet.org, Baseball-Reference.com, Newspapers.com, and SABR.org.
baseball-reference.com/boxes/NYN/NYN197004180.shtml
retrosheet.org/boxesetc/1970/B04180NYN1970.htm
Notes
1 Dana Mozley, "Ryan 1-Hits Phils, 7-0; K's Record 15," (New York) Daily News, April 19, 1970: 134.
2 Allen Lewis, "Phils Limited to One Hit as Mets Win, 7-0," Philadelphia Inquirer, April 19, 1970: Section 3, 1.
3 Red Foley, "Tom's Tuneup a 2-0 Rhapsody," (New York) Daily News, April 3, 1970: 87.
4 Red Foley, "Twins Club Kooz, 6-2, Spoil Gil's 46th Birthday," (New York) Daily News, April 5, 1970: 131.
5 Mozley.
6 Lewis.
7 Joseph Durso, "Phils Get Single. Ryan Gives Leadoff Hit, Then Sets Club Strike-Out Mark," New York Times, April 19, 1970: 177.
8 Ibid.
9 Mozley.
10 Pitch counts come from Mozley.
11 Ibid.
12 Carlton and the St. Louis Cardinals lost to the Mets, 4-3, on September 15, 1969, at Busch Stadium despite the left-hander's 19 strikeouts.
13 Lewis.
14 Jerry Koosman held the San Diego Padres to four hits over 10 scoreless innings on May 28, 1969, but emerged with a no-decision in the Mets' eventual 1-0 win in 11 innings at Shea Stadium.
15 Mozley.
16 Ibid.
17 The other Mets one-hitters were thrown by Al Jackson (twice), Jack Hamilton, and Seaver. The Mets blanked the Phillies in their final three games (September 26-28) of the 1969 season. Koosman tossed a four-hitter; Seaver a three-hitter, and then Gary Gentry, Ron Taylor, and Ryan combined on a four-hitter. Seaver and Ryan continued the streak in 1970.
18 Mozley.
19 Lewis.
20 Ibid.
21 Ibid.
Additional Stats
New York Mets 7
Philadelphia Phillies 0
---
Shea Stadium
New York, NY
Box Score + PBP:
Corrections? Additions?
If you can help us improve this game story, contact us.
Tags
https://sabr.org/sites/default/files/Ryan-Nolan-NYM.jpg
600
800
admin
/wp-content/uploads/2020/02/sabr_logo.png
admin
2018-08-27 15:17:19
2020-04-17 10:24:43
April 18, 1970: Mets' Nolan Ryan sets team record with 15 strikeouts in first career shutout