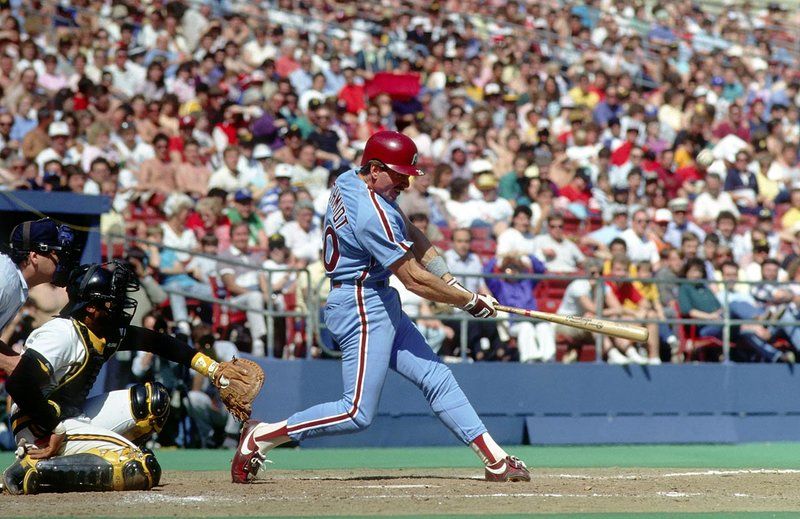 April 18, 1987: Mike Schmidt's 500th home run rallies Phillies over Pirates
---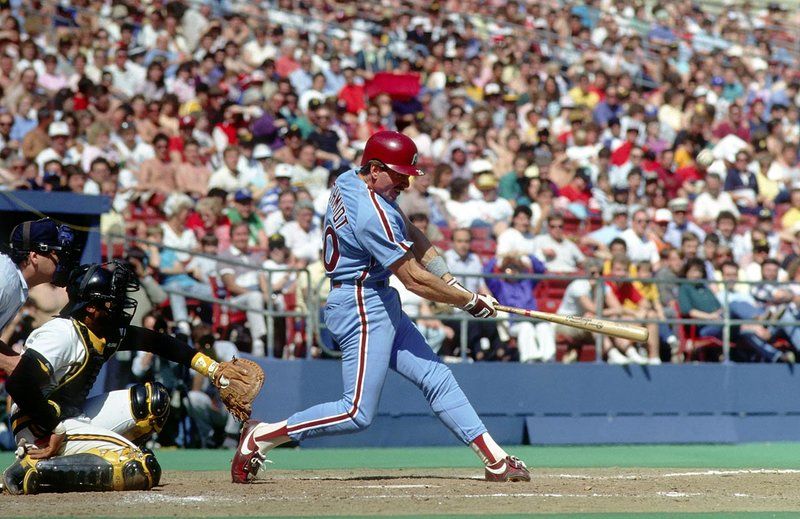 Mike Schmidt began 1987 needing five home runs for admission to baseball's 500-home-run club. On a sunny April afternoon in Pittsburgh, he punched his ticket with a ninth-inning game-winner, rescuing the Phillies from collapse and sinking a Pirates' comeback.
Already entrenched among the game's all-time greats,1 Schmidt bolstered his legend in 1986 by posting a .290/.390/.547 batting line, leading the National League with 37 home runs and 119 RBIs, and becoming the seventh player in major-league history with three Most Valuable Player Awards.2 He also earned his 10th Gold Glove and sixth Silver Slugger Award.3 Schmidt's final home run of 1986, off Pittsburgh's John Smiley on September 22, sent him into the winter with a career total of 495.4
As 1987 approached, only the "when" of Schmidt's arrival at 500 homers remained undetermined. At a spring press conference, the 37-year-old Schmidt speculated that he would hit number 500 on April 20.5 He mused, "I'm looking forward to it so much you won't believe it. I might kiss home plate."6
Held homerless in two season-opening losses in Atlanta, Schmidt started his climb toward history during a seven-game homestand against the Cubs and Mets. At Philadelphia's home opener, on April 10, he received the MVP Award in a pregame ceremony and hit number 496 against Chicago's Ed Lynch.7 Home run number 497 was a day later, off Rick Sutcliffe.8 The Mets' visit yielded number 498, a two-run shot off Ron Darling on April 14.9
Despite's Schmidt's slugging, the homestand was a disaster. Six losses in seven games dropped the Phillies to 1-8.10 They headed to Pittsburgh for an Easter weekend series at Three Rivers Stadium, where Schmidt's 22 career home runs led all visitors during the ballpark's first 17 seasons.11
Schmidt reached the next to last rung of his quest in the series opener, on April 17. He drove Bob Patterson's second-inning changeup into the left-field seats for a leadoff home run, his 499th.12 The Pirates retired Schmidt in his next three at-bats and intentionally walked him in the 10th inning as the Phillies won, 6-2.13
Schmidt's wife, Donna, planned to spend Easter in Philadelphia and meet the team in Montreal after the series in Pittsburgh.14 After his Friday night home run, Schmidt called Donna and urged her to fly in for Saturday afternoon's game.15 She arrived at her seat behind the Phillies' dugout in the first inning, with Schmidt slotted to hit fourth.16
By Schmidt's first plate appearance, Philadelphia's speed had yielded an early edge. Milt Thompson led off against Bob Walk with a single. With Juan Samuel batting, Thompson stole second and reached third on Junior Ortiz's throwing error. Samuel walked. When Walk, seven years removed from winning Game One of the 1980 World Series for the Phillies, flinched his knees before a pickoff to first, umpire Bob Davidson called a balk and waved Thompson home.17
Von Hayes drew another walk, bringing up Schmidt and luring out Pittsburgh pitching coach Ray Miller for a mound meeting. Attempting to hit to the right side to advance the runners, Schmidt popped to first.18 Walk then retired Mike Easler and Lance Parrish to limit Philadelphia to one run.
In the third Hayes singled sharply to right and Schmidt walked on four pitches. Both runners moved up on a wild pitch, rousting Miller for another mound meeting.
This time, his counsel was no cure. Easler, a former Pirate, lined a curveball into right for a single, scoring Hayes. Parrish missed two off-speed pitches badly but worked the count full, then crushed Walk's fastball over the left-field wall for his first home run as a Phillie and a 5-0 Philadelphia lead.19
A broken thumb on Phillies starter Don Carman's pitching hand, the result of a January 3 vehicle accident, had sidetracked the 27-year-old left-hander's preseason preparation, delaying his 1987 debut until April 13.20 In this, his second outing of the year, Carman looked fully fit for duty, allowing only one hit through four innings, setting down 11 consecutive batters, and hustling to first base on a groundball to catch Hayes's flip and retire a sliding Andy Van Slyke.
In November 1986 the Pirates had traded veteran starter Rick Rhoden to the Yankees.21 The six-pitcher exchange brought three young right-handed pitchers to Pittsburgh: Logan Easley, Brian Fisher, and Doug Drabek.22 Lifting Walk after three innings, Pirates manager Jim Leyland inserted Easley, then Fisher, to stall the Phillies' runaway.23
Easley, brandishing a split-fingered fastball, retired eight in a row, and surrendered only one hit over three innings. Fisher contributed two more clean innings. Both relievers delayed Schmidt's milestone. Easley induced a first-pitch fly ball to left in the fifth;24 two innings later, Schmidt flied to left on Fisher's full-count pitch.
As Easley and Fisher quieted Philadelphia's bats, the Pirates cut into the 5-0 deficit. Mike Diaz led off the fifth by driving a Carman fastball over the center-field fence.25 Pittsburgh added a second run two innings later, when Jim Morrison scored from second on shortstop Luis Aguayo's throwing error.
Phillies manager John Felske removed Carman after 81 pitches and entrusted the 5-2 lead to closer Steve Bedrosian in the eighth.26 Leyland's starting lineup had skewed right-handed; against Bedrosian, he went lefty. Batting for Bill Almon to lead off the eighth, Barry Bonds worked the count full and drew a walk. Sid Bream hit for Fisher and lined Bedrosian's first pitch to right for a single.
Struggling with command, Bedrosian walked John Cangelosi to load the bases with no outs. Van Slyke's sacrifice fly scored Bonds, reducing Philadelphia's lead to 5-3.
Switch-hitting second baseman Johnny Ray batted left-handed for the first time in the game. Bedrosian fell behind, three balls and one strike. Ray lined his next pitch over the right-field fence for a three-run homer. The sun-splashed Three Rivers Stadium crowd of 19,361 demanded a curtain call. Pittsburgh took a 6-5 lead to the ninth.27
Leyland summoned closer Don Robinson and fortified the defense, moving Bonds to center and inserting Bream at first and Rafael Belliard at shortstop.28 After pinch-hitter Greg Gross grounded to second for the first out, Thompson slapped a single to left. Ray turned Samuel's slow bouncer into a force out, but Samuel beat Belliard's relay to first to avoid a game-ending double play.
With Hayes batting, Samuel stole second. He took third when Robinson bounced the next pitch past Ortiz. Ortiz's diving grab of ball four to Hayes kept Samuel on third. With first and third now occupied, Schmidt was next.
Leyland huddled with Robinson. In National League East clashes dating back to 1978, the big righty had limited Schmidt to seven hits in 57 at-bats, although four were home runs.29 A base was open, but Leyland instructed Robinson to pitch, carefully, to Schmidt.30
Robinson started with a fastball, low and outside. The second was also low, reaching Ortiz's mitt just above the plate. Schmidt watched another offering, slightly higher but still too low for a strike call, for ball three.
Robinson's 3-and-0 fastball arrived knee-high and over the plate. Schmidt swung and connected with history. The ball soared over the left-field wall, striking a concrete structure beyond the fence.31 Radios throughout Eastern Pennsylvania reverberated with longtime Phillies broadcaster Harry Kalas's eyewitness description: "Swing and a long drive … There it is! Number 500! The career 500th home run … for Michael Jack Schmidt!"32
Schmidt clapped his hands, pumped his arms and legs, and trotted around the bases.33 His teammates, bench and bullpen alike, celebrated at home plate.34 The partisan Pittsburgh crowd even gave a standing ovation.35 An out from defeat before Schmidt's intervention, Philadelphia now led, 8-6.
Schmidt moved to shortstop for the ninth inning as Rick Schu entered the game at third base. Now a Phillie, former Pittsburgh fan favorite Kent Tekulve36 retired the Pirates, yielding only a one-out single, to preserve the victory.
"Whoever wrote the script for this should win a Pulitzer Prize," said an elated Schmidt, the 14th member of the 500-home-run club. "Because when I think of this at-bat, the most important thing to keep in mind was the game situation. They don't walk me, even when the count went to 3-and-0. They don't want to put the winning run at second base. And there's no reason to fear me based on my at-bats today. I had walked and had three other very poor at-bats. The game situation dictates that they go right after me."37
"In that situation, I'm not thinking home run at all. We don't need a home run there. We need to score a run. Because of that, I wasn't jumpy on the first few pitches like I had been most of the day. All I wanted to do was hit the ball hard on the ground or a line drive."38
Having reached 500 home runs in this game, Schmidt retired in May 1989 with 548, more than all but six players in major-league history.39
Author's note
I was 12 years old and living in a Pittsburgh suburb in April 1987. I returned home from Little League practice in time to catch the final two innings of this game on the radio, including the Pirates' rally and Schmidt's home run. Reading the Pittsburgh Press the next morning gave me a greater appreciation of the milestone and moment. Foremost was Gene Collier's column, drawing on his experience covering the Phillies for the Philadelphia Journal from 1977 to 1981. Collier celebrated "the hundreds of facets that comprised this career's crown jewel and the hundreds of hues of appreciation with which the witnesses gripped it," and continued:
"There were the glove-carrying kids whose eyes went to saucers at the enormity of it. There were the old men who lived the game's history and went home with this in their back pocket. There were the yuppies and the young toughs, who made it part of their persona — 'I was there,' 'I told ya,' 'I knew it.' There was Donna Schmidt, a nightclub singer when she married an alleged baseball player a long time ago."40
Sources
In addition to the Sources cited in the Notes, I consulted the Baseball-Reference.com and Retrosheet.org websites for pertinent material and the box scores noted below. My sources also included a recording of PRISM's Philadelphia cable broadcast, available at the YouTube link noted below, and email correspondence with Logan Easley, one of the Pittsburgh pitchers in this game.
baseball-reference.com/boxes/PIT/PIT198704180.shtml
retrosheet.org/boxesetc/1987/B04180PIT1987.htm
youtube.com/watch?v=AS4B4pVLqC8
Notes
1 In the Bill James Historical Baseball Abstract, published as the 1986 season approached, James asserted, "at this time [Schmidt] is clearly the greatest" third baseman in major-league history. Bill James, The Bill James Historical Baseball Abstract (New York: Willard Books, 1986), 359.
2 Jayson Stark, "A Sign of Schmidt's Enduring Stardom," Philadelphia Inquirer, November 20. 1986: 1-C.
3 The Phillies moved Schmidt to first base when they called up 23-year-old third-base prospect Rick Schu from Triple-A Portland in late May 1985. Schu batted .252/.318/.373 in 112 games. After the 1985 season, the Phillies traded for outfielders Milt Thompson and Gary Redus, reassigned Von Hayes from the outfield to first base, and returned Schmidt to third. Bill Conlin, "Phillies Shuffle, Deal Again: Denny Sent to Reds for Redus, Hume," Philadelphia Daily News, December 12, 1985: 132.
4 Bob Hertzel, "Kipper Learning the Hard Lessons," Pittsburgh Press, September 23, 1986: B13.
5 Paul Hagen, "Schmidt Saving Best for Last?" Philadelphia Daily News, February 28, 1987: 44; Jayson Stark, "In Midseason Form: Already, Schmidt Has Lots to Say," Philadelphia Inquirer, February 28, 1987: 1-D.
6 Hagen, "Schmidt Saving Best for Last?" Stark, "In Midseason Form: Already, Schmidt Has Lots to Say."
7 Bill Conlin, "Schmidt Unnerved in Home Opener," Philadelphia Daily News, April 11, 1987: 43.
8 Peter Pascarelli, "Cubs Rip Winless Phillies: Schmidt Hits 497th in 9-1 Setback," Philadelphia Inquirer, April 12, 1987: 1-C.
9 Bill Conlin, "Phils Soiling Schmidt's Chase," Philadelphia Daily News, April 15, 1987: 93.
10 Paul Hagen, "Phils Lose Again, Take Show on the Road," Philadelphia Daily News, April 17, 1987: 114.
11 Schmidt's 1986 appearances at Three Rivers Stadium included a two-homer, four-RBI game on April 24, a two-run double that broke Ed Delahanty's 85-year-old franchise record for career RBIs on April 26, and a game-winning 12th-inning home run on July 1.
12 Bill Conlin, "No. 500 Isn't Schmidt's Top Priority," Philadelphia Daily News, April 18, 1987: 38.
13 Phil Axelrod, "Schmidt's Home Run Count at 499," Pittsburgh Post-Gazette, April 18, 1987: 17.
14 Frank Dolson, "Schmidt's Blast Was Better Than a Movie," Philadelphia Inquirer, April 19, 1987: 1-F.
15 Dolson.
16 Dolson.
17 Over 30 seasons as a major-league umpire, Davidson received the nickname "Balkin' Bob" for a series of controversial calls, many involving application of the balk rule. Paul Hagen, "Upset Phils Strike Out at Umpires," Philadelphia Daily News, June 1, 1993: 88.
18 Rich Ashburn, "Reviewing Schmidt's Greatest Thrill," Philadelphia Daily News, April 21, 1987: 79.
19 Parrish had signed with Philadelphia as a free agent during spring training after 10 seasons with the Detroit Tigers. In the Philadelphia Inquirer, Peter Pascarelli described Parrish's home run as "the first ball he's hit hard all year." Peter Pascarelli, "Phillies Tip Bucs in Style," Philadelphia Inquirer, April 19, 1987: 1-F.
20 Carman's offseason vehicle accident occurred on a road near Reading, Pennsylvania, when a vehicle driving in the opposite direction skidded in front of his vehicle on an icy road. A 14-year old passenger in the other vehicle was fatally injured. Besides the broken thumb, Carman also suffered a broken nose. Paul Hagen, "Carman's Outlook Thrown a Curve in Auto Tragedy," Philadelphia Daily News, March 12, 1987: 84.
21 Charley Feeney, "Rhoden Agrees to Yankees-Pirates Deal," Pittsburgh Post-Gazette, November 27, 1986: H-1.
22 Feeney.
23 Drabek, at 24 the youngest of the three pitchers obtained from the Yankees, started the final game of the series on April 19. He pitched into the eighth inning to earn his first National League victory in the Pirates' 5-2 win. Bob Hertzel, "Bonds' Triple Juices Up Pirates," Pittsburgh Press, April 20, 1987: D1.
24 "I was having a good outing and felt like [Schmidt] was just another hitter," Easley remembered in 2020. "I was aware of the 499 [home runs], but in my mind it didn't matter who was hitting or what the situation was. I felt like I could get anyone out at that time. Schmidt swung at the first pitch and popped it up to left. I think he wanted to get to me early in the count, maybe. When he hit number 500 later in the game, it sort of sunk in that I had faced him and possibly could have given up 500." Logan Easley, email to the author, April 7, 2020.
25 Diaz was a key countermeasure against left-handed pitching for the Pirates in 1986 and 1987. In 1987 14 of his 16 home runs came against left-handers.
26 During the preseason, Felske indicated that Carman would be limited to between 80 and 100 pitches early in the season while he recovered from the broken thumb. Paul Hagen, "Frustration Grows; Felske, Gross Bicker," Philadelphia Daily News, April 16, 1987: 102. Carman's pitch count is from the Philadelphia Inquirer's game story. Pascarelli, "Phillies Tip Bucs in Style."
27 Bedrosian recovered to lead the major leagues with 40 saves in 1987. In November he received the National League Cy Young Award. Peter Pascarelli, "Bedrosian Wins the Cy Young," Philadelphia Inquirer, November 11, 1987: 1-A.
28 Six weeks later, for the Pirates' May 30 game against the Reds, Leyland shifted Bonds to left field and Van Slyke, who initially played right field after coming from St. Louis in the April 1 Tony Peña trade, to center; this outfield alignment remained through the 1992 season. Steve Hubbard, "Van Slyke Becomes Center of Leyland's Juggling Act," Pittsburgh Press, June 1, 1987: D3.
29 Bob Hertzel, "Schmidt's Clout Tops Pirates, 8-6," Pittsburgh Press, April 19, 1987: D1.
30 Hertzel.
31 Phillies relief pitcher Tom Hume, watching from the visiting bullpen in the left-field corner, retrieved Schmidt's home-run ball. Hume gave the ball to Philadelphia bullpen coach Mike Ryan, Schmidt's teammate when he reached the major leagues in 1972, who presented it to Schmidt. Gerry Dulac, "Schmidt's Historic Blast Ignites an Explosion of Emotion," Pittsburgh Press, April 19, 1987: D4.
32 Kalas, the Phillies' lead broadcaster from 1971 until his death in 2009, and the 2002 recipient of the Ford C. Frick Award, called all 548 of Schmidt's career home runs. Jeff McLane, "Call of 500th Home Run Links Kalas and Schmidt," Philadelphia Inquirer, April 18, 2009: D6. A recording of Kalas's radio call is available at youtube.com/watch?v=pYeOOxlbBbs.
33 "I've seen all of Schmidt's 500 home runs and I've seen no significant emotion displayed on 498 of them," wrote Hall of Famer Richie Ashburn, a Phillies broadcaster and Philadelphia columnist for many years after his playing career. The exceptions, according to Ashburn, were Schmidt's home run in the Phillies' 1980 division-clinching win in Montreal and his 500th home run. Rich Ashburn, "Reviewing Schmidt's Greatest Thrill."
34 Notwithstanding his preseason claim, Schmidt stepped on home plate with his right foot, rather than kissing it. "There were two reasons I didn't kiss home plate," he noted. "One was that all my teammates were standing there. The other was that the plate looked kind of dirty." Paul Hagen, "And 5 Makes 500," Philadelphia Daily News, April 20, 1987: S-4.
35 "Here, he got a standing ovation, a measure of the respect he has earned, the stature he has attained," Frank Dolson wrote in the Philadelphia Inquirer. "Think of it. One moment the people were rooting the home team toward what had the look of a memorable come-from-behind-win; the next moment they were on their feet, cheering for the guy who beat them out of it." Dolson, "Schmidt's Blast Was Better Than a Movie."
36 The Pirates had traded Tekulve to Philadelphia early in the 1985 season.
37 Peter Pascarelli, "Phillies Tip Bucs in Style."
38 Pascarelli.
39 By 2020, Schmidt stood number 16 on the major leagues' all-time home run list. Baseball-Almanac.com, Career Leaders for Home Runs entry, accessed April 15, 2020, baseball-almanac.com/hitting/hihr1.shtml.
40 Gene Collier, "History Receives Memorable Gem," Pittsburgh Press, April 19, 1987: D1.
Additional Stats
Philadelphia Phillies 8
Pittsburgh Pirates 6
---
Three Rivers Stadium
Pittsburgh, PA
Box Score + PBP:
Corrections? Additions?
If you can help us improve this game story, contact us.
Tags
https://sabr.org/sites/default/files/Schmidt-Mike-1987-MLB.jpg
600
800
admin
/wp-content/uploads/2020/02/sabr_logo.png
admin
2020-05-21 19:31:14
2020-06-18 11:48:08
April 18, 1987: Mike Schmidt's 500th home run rallies Phillies over Pirates