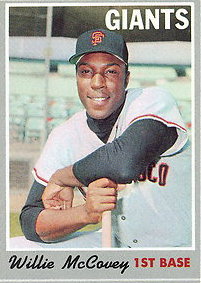 April 22, 1964: McCovey's three homers sink Braves in home opener
---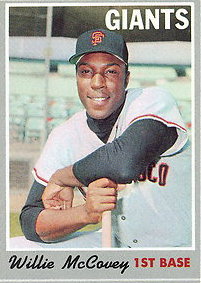 To Milwaukee fandom, the 1964 home opener represented a potential turning point for their baseball franchise. After back-to-back World Series appearances in 1957 and '58, the Braves had settled into a string of lackluster campaigns, finishing generally in the middle of the pack. More critically, attendance at County Stadium had declined in the post-Series years, and the Braves' 1963 attendance was next to lowest in the National League. Rumors abounded that the team might soon move. To forestall such an eventuality, there was a drive to spur attendance as the 1964 season began. The city promoted a "Fill 'er Up!" campaign, specifically targeting the first home game, on April 22, against the San Francisco Giants. As an editorial in the Milwaukee Journal put it: "Fans are the fuel that make Milwaukee a big league community. The Stadium is the tank. Fill 'er up!"1
Early indications were that the promotional campaign would be a successful one. On Sunday, April 19, while the Braves were busy eking out a 12-inning, 3-2 win over the Dodgers in Los Angeles, an estimated 30,000 fans enjoyed an "Open House" season preview back at County Stadium. Braves ticket director Bill Eberly declared, "We haven't seen such preseason enthusiasm since 1960."2
Another win over the Dodgers on Monday night meant the Braves would take a 4-3 record into the 12th home opener of their Milwaukee tenure. For the big game, manager Bobby Bragan tapped left-hander Denny Lemaster, a third-year hurler who had pitched his team to its first victory the previous Thursday in Houston.
Starting for Alvin Dark's Giants was Bob Hendley, who a year earlier had been the third man in a trio of Braves southpaw starters (along with Lemaster and Warren Spahn). After a 9-9 season, in which he saw action as both starter and reliever, the Braves dealt Hendley to San Francisco in a seven-player transaction.
The Giants were playing their first away game; their record stood at 5-2, which included wins over the Braves in Candlestick Park in the first two contests of the season.
Opening ceremonies on the 22nd included introductions of home and visiting players, and the presentation of colors by a Marine guard ensemble.3 Legendary spitballer and Clear Lake, Wisconsin, native Burleigh Grimes (who was elected to the Baseball Hall of Fame later in the year), was on hand to throw out the ceremonial first pitch. Skies were sunny and temperatures were mild, around 60 degrees. In a hint of things to come, the Milwaukee Sentinel noted, "By 11:45 a.m., concession stands were doing a brisk business as early arrivals fortified themselves against the hour and 45 minute wait until game time."4
The Braves opened the scoring in the bottom of the first. With Hank Aaron aboard after a walk, Joe Torre, fresh off the first All-Star season of his career, took ex-teammate Hendley deep to left field for his first homer of the season and a 2-0 lead.
Leading off the second for San Francisco was 26-year-old Willie McCovey. "Stretch" was suffering through a miserable April so far, batting only .080. In fact, 1964 on the whole would turn out to be one of his poorest seasons at the plate. A nagging foot ailment5 and the ongoing dilemma of accommodating two hugely talented hitters (McCovey and Orlando Cepeda) who were both natural first basemen resulted in McCovey's spending much of the season in left field. Today was one of his infrequent starts at first base. And for this one day in April at least, he seemed to regain the form that had made him the 1963 NL home-run champ. He began his tear by planting a Lemaster pitch in the right-field stands, cutting Milwaukee's lead in half.
Advice from a former teammate, now with the Braves, may have helped McCovey shake his slump. "I'll tell you one thing … this lighter bat helps," he said after the game. "I was using a 37-ouncer and Ed Bailey said to me last week, 'You hit 44 home runs last year with a 34-ounce bat, so why switch?' He was right. I was a little overmatched — couldn't get the bat around. I went to a 36 and then to a 35, and now I'm ready."6
The Braves answered in their half of the inning, as Frank Bolling reached on an error and eventually scored on Lemaster's sacrifice fly to center.
Catcher Del Crandall, another component of the Hendley trade, got things going for the visitors in the third with a single to left. A double by Jesus Alou brought him home to make it 3-2. Felipe Alou muffed Harvey Kuenn's fly to center, allowing younger brother Jesus to tie the score for San Francisco. Kuenn, who made it to third on the play, nudged the Giants ahead, scoring on a single by Willie Mays.
Bragan had seen enough from Lemaster and summoned Tony Cloninger from the bullpen. Unfortunately for Cloninger, the first batter he faced was McCovey, who bashed his second consecutive round-tripper, a two-run job this time. The inning ended with Dark's team leading 6-3.
Things stayed quiet until the fifth. By this time, Cloninger was gone, replaced by rookie knuckleballer Phil Niekro. Making only the third appearance of his career, the future Hall of Famer got Kuenn on strikes and Mays on a grounder, but then fell victim to McCovey's third homer in as many at-bats.7 The Giants now boasted a four-run advantage.
Torre continued his own power display with a solo shot into the center-field seats to begin the Braves' sixth inning. Back-to-back singles then drove Hendley from the box, but reliever Bobby Bolin induced a fly out and a double-play grounder to squelch the threat.
Milwaukee managed another run in the seventh, as Felipe Alou scored on Aaron's single to left. But with two men on, Torre lined into a rally-killing double play, leaving Bragan's crew at a 7-5 deficit.
Mays started the San Francisco eighth with a double, and anticipation mounted as McCovey returned to the plate. Another four-bagger would make him only the 10th major leaguer to collect four in one game (and only the fourth to do so in consecutive plate appearances). Again there was a new arm on the mound for Milwaukee, Billy Hoeft. Now in his 13th big-league season, he was another acquisition in the Hendley trade. For the Braves, the fourth "arm" was the charm, as the 6-foot-3 lefty, employing inside fastballs,8 rang up McCovey on strikes. Mays, three batters later, scored on a Jose Pagan single for the Giants' final tally.
Perhaps the stymieing of McCovey in his record attempt — along with the cumulative effects of the "joy juice"9 — lent extra verve to the enthusiasm of the crowd. For around this point, a series of fan-based disruptions began.10 Fans showered the field with a volley of debris. An angry Dark fumed after the game: "If just one more incident had occurred, I would have declared to the umpires that the game was being played under protest. … the fans were throwing beer cans and refuse out at my players. Willie Mays narrowly missed getting hit by a beer can."11
The teams slogged on amid the distractions. A botched bunt spoiled a Milwaukee opportunity in the eighth, and their chances came down to the bottom of the ninth. McCovey's batting adviser, Ed Bailey, drew a pinch-hit walk to lead off. This hopeful spark was a signal for renewed spectator nonsense, as no fewer than 10 overzealous fans paid visits to the field during the inning. One made it all the way to second base, sliding in for good measure, but all were rounded up by the ground crew in due time.12
The resulting 14-minute delay caused Bolin's arm to tighten up, and Dark called for closer Bob Shaw, yet another part of the Hendley swap. Woody Woodward went in to run for Bailey and, after a hit and an infield error, crossed the plate with the Braves' sixth run. That was the last hurrah, however, as Eddie Mathews grounded into a double play — the Braves' fourth in the last four innings — and Aaron struck out to end it.
With their 8-6 victory, San Francisco had taken some of the wind out of Milwaukee's sails, but there was at least comfort in the stellar showing at the gate. Paid attendance was 38,693 (40,958 if one counts the 2,265 kids who enjoyed 50-cent admission), the largest for a home opener in four years, and larger than the total attendance in the first three home games in 1963.13 The inevitable would be delayed for a while longer.
This article appears in "From the Braves to the Brewers: Great Games and Exciting History at Milwaukee's County Stadium" (SABR, 2016), edited by Gregory H. Wolf. To read more stories from this book at the SABR Games Project, click here.
Notes

1 Milwaukee Sentinel, April 22, 1964.
2 Milwaukee Journal, April 20, 1964. Milwaukee Sentinel, April 20, 1964.
3 Milwaukee Sentinel, April 23, 1964.
4 Milwaukee Sentinel, April 23, 1964.
5 Mark Armour, "Willie McCovey" biography at sabr.org/bioproj/person/2a692514.
6 Milwaukee Journal, April 23, 1964. Catcher Bailey went from San Francisco to Milwaukee in the offseason Hendley deal.
7 McCovey himself was the last previous major leaguer to hit three homers in a game, on September 22, 1963, against the New York Mets.
8 Milwaukee Journal, April 23, 1964.
9 Evans Kirkby, "Fans on Field Add To Opening Day Hysteria," Milwaukee Journal, April 23, 1964.
10 Even before the game, several incidents of vandalism, assault, and robbery had taken place outside the park. Then in the second or third inning (depending on which newspaper account was correct), youngsters looking for seating spilled into the normally empty stands in dead center and play was delayed as the stadium crew attempted to evacuate them. After much discussion, Bragan, Dark, and the umpires agreed to let the young fans stay. Dark bemoaned his decision later, after repeated requests for the kids to remain seated (for the benefit of the batters' vision) went largely ignored.
11 Milwaukee Sentinel, April 23, 1964.
12 Milwaukee Journal, April 23, 1964. Ultimately, nine fence-jumpers (all college students), two drunken adults, and one litter-thrower were arrested, and 15 disorderly youths were "turned over to juvenile authorities."
13 Milwaukee Journal, April 23, 1964.
Additional Stats
San Fransisco Giants 8
Milwaukee Braves 6
---
County Stadium
Milwaukee, WI
Box Score + PBP:
Corrections? Additions?
If you can help us improve this game story, contact us.
Tags
https://sabr.org/sites/default/files/images/McCoveyWillie1970.jpg
600
800
admin
/wp-content/uploads/2020/02/sabr_logo.png
admin
2018-04-04 12:55:47
2020-04-17 10:24:50
April 22, 1964: McCovey's three homers sink Braves in home opener