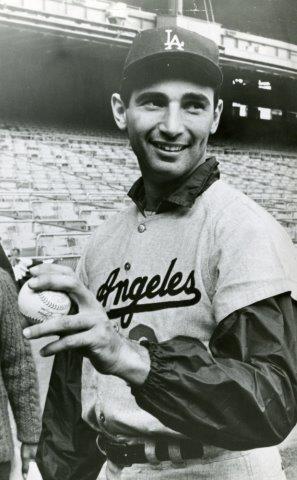 April 24, 1962: 'Human Strikeout Machine' Sandy Koufax strikes out 18 in the Windy City
---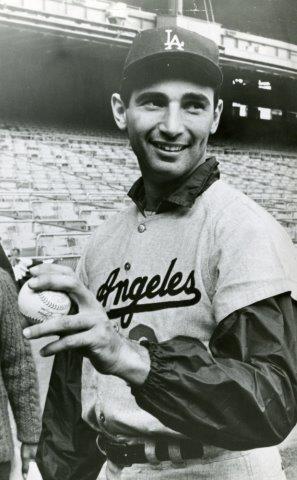 "I lost track," replied Sandy Koufax when asked if he knew how many batters he struck out. "[I] didn't know I'd tied the record until everybody came off the bench to shake my hand."1 Koufax fanned 18 to equal Bob Feller's nine-inning record set in 1938 and match his own personal best three seasons earlier.2 "Strikeouts are nice to have, particularly in a jam, and they are going to come to a pitcher who throws hard," noted Koufax, "but I wouldn't trade a 20-game season for all the strikeout records in the books."3
Skipper Walter Alston's fourth-place Dodgers (8-5) were looking for some momentum when they arrived in Chicago for a three-game set to conclude a 10-game road swing. The Cubs, who at 3-9 were tied with the Milwaukee Brewers and better only than the winless, expansion New York Mets, seemed like the perfect victim. The North Siders were in the second campaign of club owner Philip K. Wrigley's bizarre experiment with the college of coaches and its revolving "head coach," a position currently occupied by El Tappe.
By the start of the 1962 season, Koufax had long been known as one of the hardest throwers in baseball history, but he was not yet the consistently dominating pitcher who combined power with control. "[S]ometimes erratic and sometimes unbeatable," according to the Pasadena Independent, the 26-year-old Koufax had a pedestrian 54-53 record in parts of seven seasons, but had averaged more than a strikeout an inning.4 The southpaw whom sportswriter Frank Finch of the Los Angeles Times lauded as the "human strikeout machine" was coming off a breakout season.5 In 1961 he won 18 games, whiffed an NL-record 269 batters, and set another standard by fanning at least 10 batters in a game 11 times to bring his career total to 31. Koufax's success could be attributed to his newfound control, his hitherto most glaring weakness. On backup catcher Norm Sherry's recommendation, Koufax began throwing more changeups, which made his heater seem even faster and his knee-buckling curve even more devastating.6 Koufax had emerged victorious in two of his first three starts in '62, but seemed to suffer from fatigue late in games. "I never pace myself," said Koufax about his approach. "I pitch as strong as hard as I can. If I run into trouble, I know there are a few guys in the bullpen who can come in and do the job."7
A crowd of only 8,938 patrons made its way to the intersection of Clark and Addison to take in an afternoon of baseball on a cool yet sunny Tuesday afternoon at Wrigley Field. After one inning, it looked as though it could be a long afternoon for both clubs' hitters. Cubs right-hander Don Cardwell, who had posted a 15-14 record and by some modern metrics was the best pitcher in baseball in 1961, fanned two in a 1-2-3 inning while Koufax fanned the side.8
Cardwell, who had lost all three of his starts with a 7.62 ERA thus far in '62, came undone in the second. Duke Snider, the 35-year-old gray-haired former Brooklyn icon, led off with a walk, moved up on a wild pitch, and scored on Tommy Davis's single. After Johnny Roseboro stroked a double that center fielder Lou Brock lost in the sun, Willie Davis's sacrifice fly gave the Dodgers a 2-0 lead.
Koufax continued his pitching clinic the next few frames. He fanned nine of the first 10 batters he faced, and had registered 10 strikeouts by the end of the fourth. Ron Santo collected the Cubs' first safety, a fourth-inning double. "Sandy's curve was marvelous in the early innings," said All-Star batterymate Roseboro. "But as the shadows came along, we started going more with the fastball."9
Meanwhile the Dodgers continued to whack Cardwell. After Wally Moon reached on a wind-aided single with two outs in the third, Snider hit a liner that eluded right-fielder Bob Will's shoestring attempt, and Moon scored. The Dodgers added another run, in the fourth, on Andy Carey's line drive round-tripper to left field, his first as a Dodger after spending his first 10 seasons in the AL. Los Angeles blew the game open in the fifth when Tommy Davis, en route to leading the NL in RBIs with 153, belted a three-run home run with Jim Gilliam and Moon on base via singles for a seemingly insurmountable 7-0 lead.
Koufax hit a bump in the fifth. Billy Williams reached second when his deep fly bounced off center fielder Willie Davis's glove. The play was generously ruled a double and not an error. Koufax loaded the bases on walks to Will and Elder White, then fanned Moe Thacker and pinch-hitter Andre Rodgers. One pitch from escaping the jam, Koufax issued his third free pass of the inning, to Brock, to force Williams across the plate. "I was afraid in the fifth that I might be tiring," said Koufax after the game.10 He was obviously laboring and admitted that he started "aiming the ball."11
The Dodgers made it 8-1 in the seventh when Tony Balsamo, who had relieved Cardwell to start the sixth, balked with bases loaded, forcing Wills home. Tappe protested the ruling and was ejected. Sportswriter Richard Dozer of the Chicago Tribune noted that Balsamo had Wills picked off at third; however, first-base umpire Stan Landes overruled the decision with his balk call.12 The Dodgers' scoring explosion culminated in the ninth when Snider walloped a two-run homer after Moon had singled.
After his hiccup in the fifth, Koufax was much less overpowering in the next three frames, yielding two singles, issuing a walk, and fanning three. Slugger Billy Williams, whose 25 homers in '61 catapulted him to the NL Rookie of the Year Award, led off the final inning with a solo home run for the Cubs' second run. "It was a good pitch to a left-hander's strength," joked Koufax after the game. "A high inside curve, and he hit it good. If I could take two pitches back, I'd take that one and the ball to Brock [in the fifth]."13
The Dodgers bullpen remained silent in the ninth. It was the Brooklyn native's game to complete. No doubt Alston also knew that his prized southpaw still had a chance to tie his own record for most strikeouts in a game. Koufax punched out Will and White to raise his strikeout total to 17 and tie Dizzy Dean (1933) and Art Mahaffey (1961) for the most strikeouts in a day game in the NL. Thacker followed with what appeared to be a routine pop fly to first baseman Tim Harkness, who had replaced Moon to start the frame. Playing first for just the ninth time in his big-league career, Harkness lost the ball in the swirling wind coming off Lake Michigan, one mile to the east, and watched the orb drop in fair territory just feet away him for a single. Koufax unexpectedly had another shot at the record. To the plate stepped rookie Moe Morhardt, who had led the Class-B Northwest League in hitting with a .339 average the previous year. Koufax struck him out looking to end the game in 2 hours and 41 minutes.
As expected, teammates euphorically congratulated Koufax, who yielded six hits and walked four to go along with his 18 strikeouts. "I was trying to make them hit it," he said. "I just wanted to get the game over."14 Frank Finch of the Times reported that Koufax threw 144 pitches, including 96 for strikes.15 Koufax seemed unconcerned by that number, claiming that the total was "not high" for a fastball pitcher, while he soaked his bulging, swollen elbow in ice after the game.16
Koufax's record-tying strikeout performance quieted detractors who had claimed that his 18 punchouts in a complete-game, seven-hit victory over the San Francisco Giants on August 31, 1959, were the product of the "lousy" lights and poor visibility at the LA Coliseum, where the Dodgers played their home games from 1958 through 1961.17 Koufax himself scoffed at comparing the games, noting only that there were more than 60,000 spectators in LA cheering for the Dodgers while fewer than 9,000 fans were at Wrigley Field.
Koufax suffered a career-threatening injury, not to his elbow or shoulder, but to his index finger, in his next start, on April 28, against the Pirates. In his BioProject bio on Koufax, SABR member Marc Z. Aaron writes how Koufax was hit by a pitch on his left index finger, causing a trauma that developed into Raynaud's phenomenon, a circulatory condition.18 Koufax played through the numbness and even tossed his first of four no-hitters, on June 30. But the pain proved too intense. Koufax ultimately landed on the DL in mid-July and missed nine weeks. He returned in late September, but pitched ineffectively as the Dodgers lost to the San Francisco Giants in a three-game playoff for the pennant. Koufax finished with a 14-7 slate, and led the NL in ERA (2.54) for the first of five consecutive seasons.
This article appears in "Wrigley Field: The Friendly Confines at Clark and Addison" (SABR, 2019), edited by Gregory H. Wolf. To read more stories from this book online, click here.
Sources
In addition to the sources cited in the Notes, the author also accessed Retrosheet.org, Baseball-Reference.com, SABR.org, and The Sporting News archive via Paper of Record.
https://www.baseball-reference.com/boxes/CHN/CHN196204240.shtml
https://www.retrosheet.org/boxesetc/1962/B04240CHN1962.htm
Notes
1 United Press International, "Trying to Make 'Em Hit — Koufax," Los Angeles Times, April 25, 1962: III, 3.
2 Warren Spahn also struck out 18 batters, but those came in 15 innings in a route-going loss, 3-1, to the Cubs as a member of the Boston Braves on June 14, 1952, at Braves Field.
3 Frank Finch, "Koufax Whiff Pace Fastest in History," The Sporting News, May 23, 1962: 6.
4 "Koufax Fans 18 For Record," Pasadena Independent, April 25, 1962: 16.
5 Frank Finch, "Koufax Fans 18 Cubs, Equals Record," Los Angeles Times, April 25, 1962: III, 1.
6 Finch, "Koufax Whiff Pace Fastest in History."
7 UPI, "Sandy Aimed It in Bad 5th Inning," Pasadena Independent, April 26, 1962: 54.
8 In his fifth big-league season, Cardwell posted a 15-14 record in 1961 which improved his career record to 40-54. He also logged 259⅓ innings and led the NL with 38 starts. By one contemporary metric, WAR (wins above replacement, which attempts to quantify the value of a player by measuring the number of wins the player added to his team compared with what a replacement player would add), Cardwell was the most valuable pitcher in baseball with a 6.1 WAR. Jack Kralick of the Minnesota Twins also had 6.1 WAR.
9 UPI, "Sandy Aimed It in Bad 5th Inning."
10 Ibid.
11 UPI, "Trying to Make 'Em Hit — Koufax."
12 Richard Dozer, "Koufax Fans 18 Cubs to Tie Own Mark," Chicago Tribune, April 25, 1962: IV, 1.
13 UPI, "Sandy Aimed It in Bad 5th Inning."
14 UPI, "Trying to Make 'Em Hit — Koufax."
15 Finch, "Koufax Fans 18 Cubs, Equals Record."
16 UPI, "Trying to Make 'Em Hit — Koufax."
17 Finch, "Koufax Whiff Pace Fastest in History."
18 Marc Z. Aaron, "Sandy Koufax," BioProject, Society for American Baseball Research. sabr.org/bioproj/person/e463317c.
Additional Stats
Lost Angeles Dodgers 10
Chicago Cubs 2
---
Wrigley Field
Chicago, IL
Box Score + PBP:
Corrections? Additions?
If you can help us improve this game story, contact us.
Tags
https://sabr.org/sites/default/files/images/Koufax-Sandy-NBHOF.jpg
600
800
admin
/wp-content/uploads/2020/02/sabr_logo.png
admin
2019-12-10 14:16:31
2020-04-17 10:22:22
April 24, 1962: 'Human Strikeout Machine' Sandy Koufax strikes out 18 in the Windy City