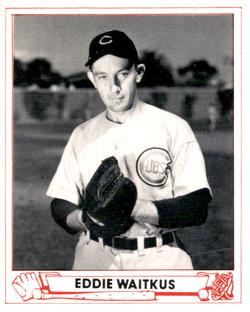 April 27, 1947: A 'good look' at Eddie Waitkus on Babe Ruth Day at Wrigley
---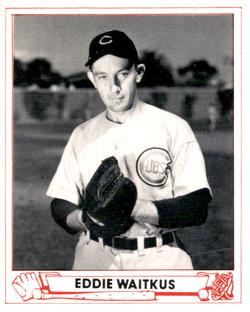 In the interrogation room at Cook County Jail, Ruth Ann Steinhagen said, "I had my first good look at him on April 27, 1947. All the time I was watching I was building in my mind the idea of killing him."1
One of the largest crowds of the season came out for that cold game at Wrigley Field in 1947. Temperatures were in the lower 40s but 36,839 came early.2 It was Babe Ruth Day throughout the country and a pregame ceremony would take place at 12:50, ahead of the 1:30 game. In attendance was 17-year-old Steinhagen and her best friend, Helen Farazis.3
Commissioner Happy Chandler planned Babe Ruth Day and all Organized Baseball was requested to pay tribute.4 The commissioner declared that the last Sunday in April would celebrate the great baseball legend Babe Ruth, who was in failing health. Baseball would recognize him in person with a grand event at Yankee Stadium that day and, in a display of modern technology, the ceremony including Ruth's speech, would be aired live on public-address systems in all major- and minor-league ballparks across the nation and Japan. The Mutual Broadcasting System would also air it on radio stations across the country. It was Ruth's most emotional moment behind a microphone. At Yankee Stadium he received the "greatest ovation in the history of the national pastime" in front of 58,000.5 The raspy voiced, 52-year-old Ruth directed his speech to the youth of America, the effects of his throat cancer painfully obvious.6 Several of the game's dignitaries and clergy spoke and Ruth was showered with gifts. It was one of the most touching moments in baseball history. Sixteen months later Ruth died.
While Ruth's speech was coming across the PA speakers at Wrigley Field. Ruth Ann Steinhagen was experiencing overwhelming thoughts. During pregame warm ups alongside a group of Baseball Annies a young woman yelled, "Hey Funny Face!" and the Cubs' first baseman looked back at the girls.7 This was the first time femme fatale Steinhagen laid eyes on Eddie Waitkus. Her friend Farazis developed a crush on starting pitcher Johnny Schmitz.8 Baseball Annies were young women who were obsessed with players, a phenomenon in the late 1940s.
Waitkus earned the starting first-base job in April of 1946 as a slick-fielding first baseman and contact hitter. He possessed attributes uncharacteristic of baseball players. Sporty and debonair, he was intelligent. He was fluent in four languages, quoted poetry and was awarded four Bronze Star medals in World War II. For the Baseball Annies, he was a sharp dresser, a ballroom dancer who loved going to the opera.9 A two-time All-Star (1948 and 1949), he was dubbed "a natural" early in his career because of his silky-smooth movements on the diamond.10 He retired with a career .285 batting average and an impressive lifetime fielding percentage of .993. Known as the Fred Astaire of first basemen, he had such a smooth swing that he was chosen for action scenes in the 1942 film The Pride of the Yankees.11
There was certainly a lot to like about Eddie Waitkus. On this chilly April day, however, he did not see game action. He was injured at the start of the season and had 13 only at bats to date. Cubs mainstay Phil Cavarretta started at first base. Steinhagen would not get a chance to see her new obsession play.
Farazis, Steinhagen's best friend since grade school, watched her crush put on a great pitching performance. Johnny Schmitz pitched a four-hit complete game against the reigning World Series champions for their fourth win in a row.12 Schmitz, a German-American from Wisconsin, walked the game's first batter, Red Schoendienst, then settled down to walk only two more. Enos Slaughter earned two hits on infield dribblers in the third and ninth innings, for two of the Cardinals' four hits. After scoring a run in the fourth, the Cubs added two more in the eighth. They mustered just five hits themselves, including one by Waitkus's replacement, Cavarretta.13 Cavarretta, who would later become the last living person to play against Babe Ruth, was likely moved by the pregame ceremony.14 The Cubs won their fifth in a row.
The next day the Cubs left for Brooklyn and Steinhagen's crush on Waitkus became unhealthy, as infatuation turned into obsession. Steinhagen would attend more than 50 games over the next two years and her bedroom became a Waitkus shrine. She slept with his picture under her pillow and set a plate for him at the dinner table. She learned Lithuanian and ate Boston baked beans as an homage to his nationality and hometown. When it was announced that he was traded to the Phillies, she cried for two days and told her family she was moving. In May 1949 she bought a .22 rifle and booked a room at Chicago's Edgewater Hotel, where opposing teams stayed. Steinhagen saw Waitkus play for the last time on June 14, 1949, leaving her friend Farazis at her seat shortly after he hit a single in the top of the third.
Steinhagen lured Waitkus to her room with a phony note at the front desk. Few words were spoken before she shot Waitkus just before midnight in room 1297-A.
The timing could not have been worse as Waitkus was playing the best ball of his life and was the leading vote-getter for first basemen for the 1949 All-Star Game. Waitkus was popular among fans, players, and coaches and was emerging as the best first basemen in the game. He was one of the first opposing players to befriend Jackie Robinson. Doctors said that surviving the shooting was "nothing short of a miracle." Steinhagen was diagnosed with schizophrenia and admitted to the state mental hospital. Waitkus never pressed charges. The prime of his life, first robbed by World War II, was taken again by an obsessive fan. Waitkus slowly recouped in Florida and planned to return for the 1950 season. The Baseball Hall of Fame wanted the bullet and Baseball Annies were treated as possible criminal stalkers.15
Waitkus won the Associated Press's Comeback Player of the Year award with Philadelphia's Whiz Kids in 1950. But he was never the same. He was often tired, slumping, and plagued by back problems from the bullet or the surgery. His career dragged on until 1955, but his drinking and smoking — a staple of nightlife on the road — turned problematic. Anxiety, depression, and what we now know as post-traumatic stress disorder (PTSD) dominated his life. When empty cups were stepped on in empty stadiums, Waitkus jerked. By the end of the '50s he was divorced, away from his children, frequently unemployed and — most frustrating — out of baseball. Waitkus died in 1972. The funeral for one of baseball's once most liked payers was sparse. Hall of Famer and fellow Phillies Whiz Kid, Richie Ashburn said, "He wasn't the regular normal ballplayer. … Looking back at his other talents and interests, I used to think it was a shame that he had to play baseball."16
In 1985 the film The Natural opened in theaters, with Robert Redford playing a glorified Waitkus character and Barbara Hershey as Steinhagen. The film has become one of the most beloved baseball movies of all time. Redford and Hershey replayed the shooting from that Chicago hotel room and created the legend familiar to baseball fans today. The real-life saga began on a cold April day in Chicago as the closing chapter of another baseball story ended. Both Waitkus and Ruth died at 53 years old and neither took the field on April 27, 1947.
Sources
Edelman, Rob. "Eddie Waitkus and 'The Natural': What is Assumption? What is Fact?," The National Pastime, SABR, 2013.
baseball-reference.com/boxes/CHN/CHN194704270.shtml
retrosheet.org/boxesetc/1947/B04270CHN1947.htm
Notes
1 John Theodore, Baseball's Natural: The Story of Eddie Waitkus (Carbondale: Southern Illinois University Press, 2002), 7.
2 Weather, Chicago Tribune, Monday April 28: 1947: 1.
3 Theodore, 7.
4 "'Babe Ruth Day' April 27 Proclaimed by Chandler," Boston Globe, March 9, 1947: page 33.
5 "Ruth at Home Plate Again, Bats Out Cheers — and Tears," Chicago Tribune, April 28, 1947: page 29.
6 Chicago Tribune.
7 Theodore, 7.
8 "Babe Ruth Day — 1947 Newsreel." Found online at youtube.com/watch?v=20glDlJIcC4. Accessed December 22, 2019.
9 Theodore, 134.
10 Theodore, 25.
11 Theodore, 27.
12 "36,839 Watch Schmitz Yield Only Four Hits," Chicago Tribune, April 28, 1947: page 29.
13 https://en.wikipedia.org/wiki/Phil_Cavarretta.
14 Rob Edelman, "Eddie Waitkus and 'The Natural': What is Assumption? What is Fact?," The National Pastime, SABR, 2013.
15 Theodore, 13.
16 Theodore, 134.
Additional Stats
Chicago Cubs 3
St. Louis Cardinals 0
---
Wrigley Field
Chicago, IL
Box Score + PBP:
Corrections? Additions?
If you can help us improve this game story, contact us.
Tags
https://sabr.org/sites/default/files/Waitkus-Eddie-CHC.jpg
600
800
admin
/wp-content/uploads/2020/02/sabr_logo.png
admin
2020-05-05 18:00:01
2020-05-28 15:33:38
April 27, 1947: A 'good look' at Eddie Waitkus on Babe Ruth Day at Wrigley