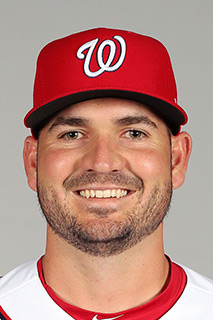 April 3, 2019: Mr. Walk-On wins it for Nationals with a walk-off walk
---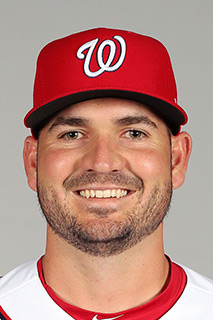 Despite the chill (62 degrees with a 16 MPH breeze) 23,050 fans watched an early-season daytime matchup between these division rivals. The early spring weather matched the game: With the baserunning gaffes and errors and the short outings for the starters followed by a parade of relievers, the game looked like a spring training game—except that the score counted. The Phillies were 4-0 but the Nationals had stumbled out of the gate at 1-3. The Phillies had won the first game of this two-game series the previous night. Interest in this series was perhaps higher than usual since former Nationals' star Bryce Harper had signed with the Phillies in the offseason.
Aníbal Sánchez made his first start of the season. He started with a strikeout of Andrew McCutchen. Jean Segura reached on a poor throw by shortstop Wilmer Difo (The Nationals' regular shortstop, Trea Turner, had broken at least one finger while bunting the previous night.) Harper stepped up to substantial boos from the Nationals fans. He was intentionally walked after Segura reached second on an errant pickoff attempt. Rhys Hoskins lined one into center scoring Segura. Next up was J.T. Realmuto, who was out at first on a great throw by Sánchez, but Harper scored. Odúbel Herrera lined out to end the half-inning with the Phillies leading 2-0.
Adam Eaton stepped in against Aaron Nola (1-0, 1.50 ERA). Maikel Franco battled the sun to catch Eaton's shallow popup. After Brian Dozier grounded out, Anthony Rendon started the Nationals' scoring with a home run halfway to the concourse in left. Juan Soto doubled, then Ryan Zimmerman gave the Nationals a 3-2 lead with a homer just into the flowerbed at the edge of the stands. Kurt Suzuki lined out to end the inning.
Each pitcher worked a 1-2-3 second inning.
In the top of the third, McCutchen lined a comebacker right at Sánchez, who caught the ball but was injured when the ball hit his leg. After a visit from the trainer, he walked it out and stayed in the game. Although he walked Harper on a close pitch, he got the other two outs. In the bottom of the third Eaton singled, stole second, then took third on a bad throw by the catcher Realmuto. After Rendon walked, Soto homered into the center field seats to put the Nationals up, 6-2. When Nola walked Zimmerman Edubray Ramos started warming in the Phillies' pen, but Nola got the next two outs.
Sánchez walked the first two batters in the fourth inning although most pitches were close. Suzuki, who had caught Sánchez the previous year in Atlanta, paid a mound visit. César Hernández doubled down the left field line: With the ball rolling into foul territory Realmuto scored easily. Franco popped out to short center so the runners had to hold. Nick Williams stepped in as pinch-hitter for Nola1 and singled, scoring Hernández. Sánchez got out of the inning with a strikeout and a flyout with the score 6-4, Nationals.
Ramos took the mound for the bottom of the fourth. Sánchez was up first, although Matt Grace had been warming in the Nationals bullpen. Sánchez did not look good swinging: The trainer checked on him. He struck out looking at the third pitch and headed unhappily back to the bench. After Victor Robles walked and Eaton flied out, Dozier grounded down the third base line. He was safe at first, but quick-thinking third baseman Franco caught the rookie Robles rounding second too far and threw to second to end the inning.
Sánchez tried to warm up in the top of the fifth but couldn't continue. He left the game with a 9.00 ERA.2 Grace came in to face his old teammate Harper. Harper got an infield hit beating Difo's accurate throw to first. Hoskins flied out to Robles who was running in from center, making a strong throw to Zimmerman at first trying to double off Harper. Realmuto doubled down the right field line: Harper stopped at third although Eaton's throw in was wild. After Herrera struck out, Hernández lined out to leave the tying runs on base. Ramos continued pitching the bottom of the fifth. Rendon doubled, then ran for third on a wild pitch to Soto. Rendon didn't get a great jump: He wasn't sure where the ball was, but Soto was signaling him to run. Rendon beat the throw and was initially called safe, but replay determined that he momentarily lost contact with the bag, so he was called out. Soto singled, followed by a Zimmerman lineout. Phillies manager Gabe Kapler decided that was enough for Ramos, bringing in Juan Nicasio to face Suzuki, who grounded out leaving the score unchanged.
The Nationals had a new battery in the top of the sixth: Justin Miller pitching and Yan Gomes catching. Miller worked a 1-2-3 inning. Nicasio continued pitching in the bottom of the frame. Difo slapped a grounder for a single. Gomes hit what looked like a perfect double play ball, but Segura booted it and everyone was safe. With Robles batting, Difo took off from second and was caught off the bag. After Robles struck out and Eaton walked, Dozier worked the count full, then took a called third strike leaving two on and the score still 6-4, Nationals.
All that happened in the seventh was a Harper single.
In the top of the eighth, Tony Sipp, the Nationals' fourth pitcher, faced Herrera who slipped one past a diving Rendon for a single. After Sipp struck out pinch-hitter Andrew Knapp, Nationals manager Davey Martinez brought in Trevor Rosenthal. Rosenthal had faced five batters in his two previous 2019 appearances and all of them had scored. He had yet to record an out so his ERA was infinity.3 Since he walked both batters he faced his ERA remained infinite. Martinez then tried Kyle Barraclough who allowed a three-run double to McCutchen, putting the Phillies up by one. The third runner, Scott Kingery, used a Matrix-type slide to avoid Gomes' tag at the plate.4 Segura singled, scoring McCutchen: 8-6, Phillies. The Nationals' bullpen had now given up 20 runs in just five games. The Nationals intentionally walked Harper again, bringing Hoskins to the plate. He popped up, invoking the infield fly rule. Realmuto, the ninth batter of the inning, struck out to finally end the half-inning.
The Nationals tied the game in the bottom of the eighth. Andrew Stevenson singled off Seranthony Domínguez, advanced on Difo's groundout, and scored on Gomes' double. After Robles struck out, Eaton reached safely when Domínguez threw the ball off Hoskins' glove at first (the Phillies' third error of the game), allowing Gomes to score. Dozier struck out again to end the inning with the score tied, 8-8.
Sean Doolittle pitched a 1-2-3 top of the ninth. Despite the shadows between plate and mound, Rendon singled into center off Phillies closer David Robertson5 followed by walks by Soto and Zimmerman to load the bases. Pinch-hitter Jake Noll stepped to the plate (0-for-2 in his major league career). He patiently worked the count full, then took a ball inside. Rendon trotted home: final score 9-8, Nationals. Noll jogged to first where he was mobbed and drenched as he earned his first RBI before his first hit.6 This was followed by two Gatorade showers during his postgame interview. Not bad for a seventh-round draft pick who was a walk-on at Florida Gulf Coast University.7
The Nationals recovered from their rocky start (and frustrating bullpen) to win their first World Series. The Phillies led the NL East as late as June 11, but finished fourth.
Sources
In addition to the sources cited in the Notes, the author consulted:
baseball-reference.com/boxes/WAS/WAS201904030.shtml
https://www.retrosheet.org/boxesetc/2019/B04030WAS2019.htm
Notes
1 His ERA when he left the game was 7.00, but it was 3.87 by year-end.
2 Sanchez started poorly but finished strong. In his first nine starts, he was 0-6 with a 5.10 ERA. After a brief IL stint, he won 11 of his next 13 to finish at 11-8 with a 3.85 ERA. Mark Zuckerman, "Sánchez will return to start Wednesday's finale," MASN, May 28, 2019. masnsports.com/nationals-pastime/2019/05/sanchez-could-return-to-start-wednesdays-finale.html.
3 He finally recorded an out in his fifth appearance on April 10, giving him an ERA of 72.00. After an IL stint he was still ineffective: he was released after a three-walk, no-out appearance June 22. He went briefly to Detroit, finishing his season with a 13.50 ERA. Sam Fortier, "Trevor Rosenthal released by Nationals after ghastly outing against Braves," Washington Post, June 23, 2019. washingtonpost.com/sports/2019/06/23/after-ghastly-outing-against-braves-trevor-rosenthal-arrives-potential-crossroads/.
4 This play was reviewed and the decision on the field stood.
5 Despite a career 2.88 ERA entering 2019, he was not effective for the Phillies. He had Tommy John surgery later in 2019. Todd Zolecki, "Robertson has TJ," mlb.com, August 17, 2019. mlb.com/news/david-robertson-jake-arrieta-surgeries.
6 Three weeks later, in his next plate appearance, he hit an RBI double for his first hit.
7 Jesse Dougherty, "Jake Noll, once a college walk-on, is having a great spring with the Nationals," Washington Post, March 17, 2019. washingtonpost.com/sports/2019/03/17/jake-noll-was-college-walk-on-now-hes-having-great-spring-with-nationals/.
Additional Stats
Washington Nationals 9
Philadelphia Phillies 8
---
Nationals Park
Washington, DC
Box Score + PBP:
Corrections? Additions?
If you can help us improve this game story, contact us.
Tags
https://sabr.org/sites/default/files/Noll-Jake-WSN.jpg
600
800
admin
/wp-content/uploads/2020/02/sabr_logo.png
admin
2020-01-22 13:02:58
2020-04-17 10:22:19
April 3, 2019: Mr. Walk-On wins it for Nationals with a walk-off walk