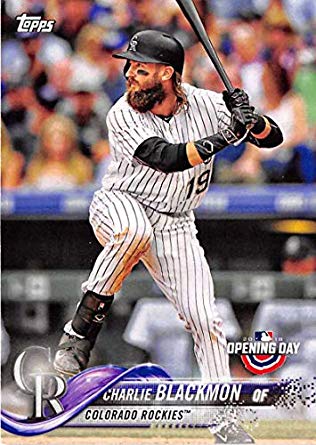 April 4, 2014: A record, the rooftop, and a Rockies rout on Opening Day at Coors Field
---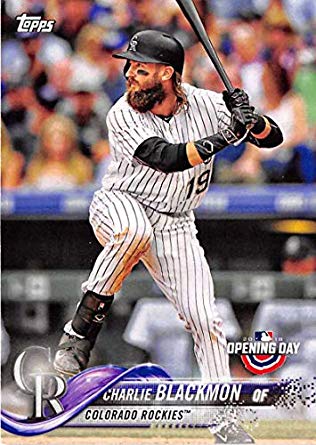 Charlie Blackmon hadn't expected to be in Denver. After a difficult spring, the Rockies outfielder expected to open the season in Colorado Springs with the Triple-A SkySox.1 Instead, Blackmon stayed with the Rockies when they broke camp to form an outfield platoon with Drew Stubbs and Corey Dickerson.2 He started two games and pitch-hit in two more during Colorado's season-opening series in Miami, in which the Rockies lost three of four. Blackmon would announce himself forcefully in front of the home fans at Coors Field.
Arriving home to meet the Arizona Diamondbacks, the Rockies found changes to the physical structure of Coors Field that seemed to generate more excitement for Opening Day than the players on the field. To provide space for fans who prefer to move around the ballpark during games or meet up with friends, the Rockies spent approximately $10 million creating The Rooftop in the upper deck of right field. After consecutive last-place finishes, the 3,500 seats that were removed to make way for the party deck had been largely unused in recent seasons. Rockies owner Dick Monfort hoped the new adult playground would prove an attractive option for fans. Monfort said, "The sightlines are truly incredible, and I think the food and amenities are top of the line."3
The capital investment did not necessarily deter those critical of Monfort's investment in the on-field product, something disputed by the owner. Monfort countered, "I live and die by games…. I care more about winning than anybody. I worry about it more than anybody."4 To be sure, Monfort also invested in the on-field product when he signed Justin Morneau on a two-year, $12.5 million deal to assume first base responsibilities from the recently retired Todd Helton.
Juan Nicasio made his first start of the season for Colorado. The Rockies pitching staff had collectively struggled in Miami: No starter made it past the sixth inning and the bullpen surrendered 11 earned runs in 12 innings. After posting a 5.14 ERA in 2013, Nicasio used the offseason to develop a hard slider and a split-finger fastball.5 The effort would show. In the first inning, Nicasio allowed only a two-out walk in a scoreless frame. Nicasio's counterpart on the mound, Arizona's Randall Delgado, was also making his first start of the season.6 In a sign of things to come, Blackmon ripped a pitch from Delgado to center field for a leadoff double. He scored when Michael Cuddyer, facing a full count, singled with a groundball to right field. Carlos Gonzalez hit into a 4-6-3 double play and Troy Tulowitzki grounded out to third baseman Martin Prado, but the Rockies had grabbed an early 1-0 advantage.
After a scoreless second, Nicasio struck out A.J. Pollock and Delgado to start the third inning and got Gerardo Parra to tap an 0-and-2 pitch to Morneau. Nicasio grounded out to open the Rockies third, but his teammates extended Colorado's lead. Blackmon and Cuddyer hit back-to-back singles to put runners at the corners for Gonzalez,7 who plated both runners when he drove the ball against the right-field wall for a triple. Tulowitzki singled to center, scoring Gonzalez and putting the Rockies ahead, 4-0. Pollock snared Morneau's line drive to center for the second out. Wilin Rosario singled to keep the inning alive but Nolan Arenado struck out to end the frame.
The Rockies padded the lead in the bottom of the fourth. D.J. LeMahieu rapped a leadoff single to left field. Nicasio's attempted two-strike bunt went foul for the strikeout, bringing Blackmon to the plate. Blackmon blasted Delgado's 0-and-1 pitch over the right-field wall for a 6-0 Rockies lead. Cuddyer stared at the third strike on a full-count delivery from Delgado and Gonzalez's fly to Parra in right field ended the inning. Mark Trumbo blemished Nicasio's line with a solo home run to start the Diamondbacks fifth, but his teammates failed to follow up. Chris Owings grounded out to second basemen LeMahieu and Pollock struck out on three pitches. Morneau proved his value in the field when he scooped an offline throw from third baseman Arenado on Delgado's grounder.8 When Delgado allowed Tulowitzki and Morneau to reach base to open the home fifth, manager Kirk Gibson brought in J.J. Putz. The change ended a rough outing for Delgado. Gibson seemed to know the reason for his starter's undoing, "Fastball command is essential to everybody. Randall couldn't do it."9 Rosario's grounder to shortstop Owings forced Morneau at second before Arenado struck out. Putz intentionally walked LeMahieu to pitch to Nicasio, a move that worked when Nicasio grounded to second baseman Aaron Hill for the third out.
Nicasio continued to pitch well into the later innings, a result he credited to his off-speed pitches. "The slider. It was important," said Nicasio afterward.10 His pitching coach, Jim Wright, praised Nicasio's work, "He's definitely matured. It's a big step for him."11 Hill reached base for Arizona in the sixth on a ground-rule double following fan interference. Colorado made the plays in the field to keep the score at 6-1, including another rescue by Morneau of an errant throw (this time by LeMahieu) for the third out. In the home half of the inning, reliever Joe Thatcher resembled Delgado more than Putz to the Diamondbacks' detriment. Blackmon led off with a double, but was thrown out by catcher Miguel Montero attempting to steal third. On the play, third baseman Prado was spiked when his glove was caught between the base and Blackmon's spikes. Bleeding, Prado exited the game, but did not require stitches. "Fortunately for me, it just took a little skin off," he said.12 An Owings error allowed Cuddyer to claim first base ahead of Gonzalez's bomb to deep right field for an 8-1 advantage. In the top of the seventh, Owings recovered to line a two-out single to center field but that was all Nicasio allowed. Although it could be argued that Nicasio might have continued, having only thrown 88 pitches, manager Walt Weiss lifted his starter after seven innings. "Pretty much what the doctor ordered," said Weiss of Nicasio's performance.13
Brad Ziegler continued the pattern of struggle for Diamondbacks pitchers in the bottom of the seventh. Although Ziegler began his stint with a groundout by Arenado and a fly out by LeMahieu, Ziegler would face six more batters before achieving the third out. Hitting for Nicasio, Brandon Barnes tripled on a liner to deep right-center. Blackmon singled through the gap between first and second to score Barnes. Cuddyer singled to left field and Gonzalez walked on four pitches to load the bases. Bereft of his command, Ziegler hit pinch-hitter Charlie Culberson with his first pitch. Blackmon trotted home, allowing Culberson to collect an RBI without swinging his bat. Morneau could not add to the 10-1 lead as Ziegler cleanly fielded his groundball for the third out.
The Rockies made a series of changes to start the eighth inning, which included bringing in Chad Bettis to pitch. With one out, Bettis struck out Parra but strike three was a wild pitch that sent Parra to first base. That play proved costly — relatively speaking in a 10-1 game — when Parra scored two batters later on Goldschmidt's infield single. Oliver Perez started positively against the Rockies in the eighth, inducing a groundout from Rosario and a fly out from Arenado. Consecutive walks to LeMahieu and Barnes brought Blackmon to the plate. Blackmon rapped a 2-and-2 pitch down the left-field line, scoring both baserunners and extending the Rockies' lead to 12-2. With that hit — his sixth of the game — Blackmon tied a club record established by Andres Galarraga in 1995.14 Blackmon joked later about his performance: "It's like something you get when you are 12 when you hit a home run. Sure I have had six hits before. I remember one game in Whiffle (sic) Ball in 1989."15
The Rockies closed out the win in the ninth, as Wilton Lopez allowed singles by Trumbo and Pollock without permitting either to cross the plate. With the loss, the Diamondbacks fell to 1-6, equaling the worst start in club history. For the Rockies, there were a number of contributors to the home-opening rout but Nicasio and Blackmon stood out. Nicasio provided Weiss with a sorely needed quality start to ease the pressure on the struggling bullpen. About Blackmon, Weiss announced his plans to continue platooning his young outfielder but added, "He'll be in there tomorrow."16
This story originally appeared in "Major League Baseball A Mile High: The First Quarter Century of the Colorado Rockies" (SABR, 2018), edited by Bill Nowlin and Paul T. Parker. To read more articles from this book at the SABR Games Project, click here.
Sources
In addition to the articles cited in the Notes, the author also referenced baseball-reference.com.
Notes
1 Troy E. Renck, "Deep Sixed," Denver Post, April 5, 2014: 1B.
2 "Charlie Blackmon Ties Rockies' Record With Six Hits in 12-2 Rout," espn.com, April 4, 2014, accessed at: espn.com/mlb/recap/_/id/340404127.
3 Patrick Saunders, "Rooftop Stunning Addition," Denver Post, April 3, 2014: 1B.
4 Saunders, "Time to Play Ball Arrives With Guarded Optimism," Denver Post, April 4, 2014: 1B.
5 Nick Groke, "Weiss: Strong Start by Nicasio 'Pretty Much What the Doctor Ordered' for Bullpen Breather," Denver Post, April 5, 2014: 11B.
6 Delgado had made a short relief stint during the Diamondbacks' season-opening series against the Los Angeles Dodgers in Australia.
7 With his second hit, Cuddyer secured his fourth multihit game out of the campaign's five games to date.
8 Saunders, "Justin Fitting in Just Fine," Denver Post, April, 5, 2014: 9B.
9 Nick Piecoro, "D-Backs Aren't Pushing Panic Button Yet," Arizona Republic (Phoenix), April 5, 2014: C7.
10 Renck.
11 Ibid.
12 "Charlie Blackmon Ties."
13 Groke.
14 Renck.
15 Ibid.
16 "Charlie Blackmon Ties."
Additional Stats
Colorado Rockies 12
Arizona Diamondbacks 2
---
Coors Field
Denver, CO
Box Score + PBP:
Corrections? Additions?
If you can help us improve this game story, contact us.
Tags
https://sabr.org/sites/default/files/51cJaYJ0%2BaL._SY445_.jpg
600
800
admin
/wp-content/uploads/2020/02/sabr_logo.png
admin
2019-04-10 14:52:09
2020-04-17 10:23:36
April 4, 2014: A record, the rooftop, and a Rockies rout on Opening Day at Coors Field