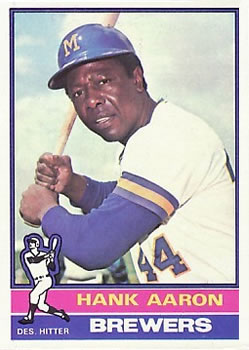 April 8, 1975: Luis Tiant spoils Hank Aaron's Brewers debut
---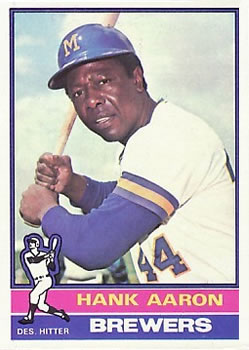 Leading up to the Opening Day game between the Milwaukee Brewers and Boston Red Sox at Fenway Park on April 8, 1975, much of the media attention had focused on two players making notable appearances. Hank Aaron, acquired in the offseason by the Brewers, was making his American League debut after 21 seasons in the National League. Tony Conigliaro, one of the brightest young stars in baseball before he was almost blinded by a tragic beaning in 1967 during Boston's improbable run to the pennant, made his first big-league appearance in 3½ years. Said Carl Yastrzemski, "If some of Tony's determination doesn't rub off on us, there's something wrong with us. It's a great story having him come back to baseball."1
The excitement surrounding Aaron and Conigliaro contrasted sharply with the tense atmosphere prevailing in the Red Sox dugout. Team captain and first baseman Yastrzemski chewed out his teammates in a pregame speech. "[We had] the worst attitude I ever saw in spring training. If it keeps up, we'll finish in last place. We laid back and waited to get beat in every game and we did get beat."2 Yaz was still steaming from the club's late-season collapse in 1974. Boston had been poised to take the AL East crown but an 8-20 skid transformed a seven-game lead in the standings into a five-game deficit by September 22. Sportswriter Larry Claflin of the Boston Herald American offered an even harsher assessment of the team: "[T]he Red Sox have too many question marks to win anything. They had their big chance last year and faded down the stretch. They won't come that close in 1975."3 The Brewers harbored few title aspirations; rather, skipper Del Crandall hoped the return of Aaron, his former teammate on the Milwaukee Braves from 1954 to 1963, would catapult the club to its first winning season since its relocation from Seattle in 1970.
On a cool, 52-degree, sunny, yet windy day, 34,055 spectators packed Fenway Park, celebrating the Diamond Jubilee of the Red Sox franchise. Rene Rancourt, who had developed into a Boston institution, sang the national anthem, while 87-year-old former Red Sox outfielder Duffy Lewis (a member of Boston's 1912, 1915, and 1916 World Series winners) threw out the first pitch. At 2:06 P.M., home-plate umpire Marty Springstead yelled, "Play ball!"
Boston manager Darrell Johnson, booed in the pregame introduction, tabbed 34-year-old Luis Tiant, a 20-game winner the previous two seasons, to start his third consecutive season opener for the Red Sox. Tiant escaped a jam in the first inning after walking designated hitter Aaron and slugging first baseman (and former Red Sox player) George Scott, when the wind kept Don Money's long fly ball to left field from being a three-run homer.
The Red Sox wasted no time energizing their fans. With two outs in the first and Yastrzemski on first base, Conigliaro got the green light for a hit-and-run and lined Jim Slaton's outside pitch to right field for a single. The Boston faithful gave Tony C. a three-minute standing ovation (one of his four during the day). With a 2-and-2 count on third sacker Rico Petrocelli, Conigliaro broke for second base. Just as shortstop Robin Yount cut off catcher Darrell Porter's throw, Yaz raced home on a delayed double steal to score the game's first run. "I was supposed to hold up and get caught in a rundown so Yaz could score," said Conigliaro after the game. "But when I saw the throw was bad I kept heading for second base."4 The Red Sox scored another run in the second when second baseman Doug Griffin collected the club's third single of the inning, driving in right fielder Dwight Evans.
The third inning proved to be the turning point of the game. Yount put the Brewers on the board with a solo home run. In the bottom half of the frame, with Yastrzemski (double) on second and Evans on first (walk), catcher Bob Montgomery and Slaton engaged in a classic confrontation. According to Peter Gammons of the Boston Globe, "Monty" fouled off "nine straight two-strike pitches" before drilling a two-run double to left field.5 The next batter, shortstop Rick Burleson, lined a single to drive in Montgomery, giving Boston a 5-1 lead and driving Slaton from the mound.
Bill Castro, a 23-year-old reliever in his first full season in the majors, relieved Slaton. In what was described by Lou Chapman of the Milwaukee Sentinel as a "brilliant performance," Castro shut down the Red Sox by tossing no-hit ball over the final 5⅓ innings. His only blemish was a walk to Evans in the fifth inning.6
But the game belonged to Tiant, who put a damper on Aaron's debut, stole Conigliaro's thunder, and kept the Brewers off balance with his unorthodox, whirling delivery. "El Conquistador" went the route yet, according to sportswriter Tim Horgan of the Boston Herald American, "detested every minute of it," and had trouble staying loose and unleashing his fastball. 7 "I was so cold in the fifth inning, I couldn't even feel my legs," said Tiant. "I hate this weather, especially the wind. Anybody has to be lucky to go nine innings in this stuff."8 The Cuban-born right-hander with stylish sideburns and a Fu Manchu mustache surrendered a run-scoring single to Porter in the seventh, but was at his best in the final two frames. With one out, two men on, and the tying run at the plate, Tiant erased Aaron and Scott on two pitches (both sliders) in the eighth. The Brewers connected for two more hits in the ninth, but with runners on the corners and one out, El Tiante induced light-hitting second baseman Pedro Garcia to hit into a game-ending 6-4-3 double play. Tiant completed the game in 2 hours and 24 minutes and improved his record to 35-15 at Fenway Park since he was released by the Atlanta Braves and signed with Boston in May 1971.
"The Red Sox played good, sharp, daredevil baseball, of the very sort that once made the Impossible Dream (of 1967) materialize," wrote Tim Horgan approvingly.9 Boston's victory, 5-2, was a team effort which included a successful hit-and-run and double steal, an attempted suicide squeeze, as well as good defense and pitching. In light of Conigliaro's emotional return, Aaron's historic appearance, and Tiant's show-stealing performance, Ray Fitzgerald of the Boston Globe called the game "one of the most dramatic opening days in Fenway Park history."10
This essay originally appeared in " '75: The Red Sox Team that Saved Baseball" (SABR, 2015), edited by Bill Nowlin and Cecilia Tan.
Notes
Additional Stats
Boston Red Sox 5
Milwaukee Brewers 2
---
Fenway Park
Boston, MA
Box Score + PBP:
Corrections? Additions?
If you can help us improve this game story, contact us.
Tags
http://sabr.org/sites/default/files/AaronHank-1976Topps.jpg
600
800
admin
/wp-content/uploads/2020/02/sabr_logo.png
admin
2016-06-20 19:29:55
2020-04-17 10:26:04
April 8, 1975: Luis Tiant spoils Hank Aaron's Brewers debut