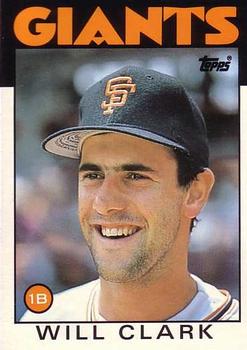 April 8, 1986: Will Clark produces thrill in major-league debut
---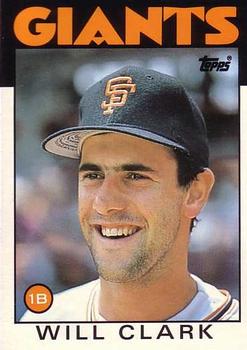 Will Clark acquired his nickname, "The Thrill," shortly after he began his rookie season with the San Francisco Giants in 1986. It was given to him by Giants teammate Bob Brenly because of Clark's early-season heroics. One of those thrills was a home run in his first major-league at-bat against Houston Astros fireballer Nolan Ryan on April 8 in the Astrodome.
Clark entered professional baseball in 1985 with a lot of fanfare from his college days and the 1984 Olympics in Los Angeles. He was named the Golden Spikes Award winner (as the best college player in the nation) after his junior season at Mississippi State University and was selected by the Giants as the second overall pick in the 1985 major-league draft.
The Giants assigned Clark to the Class-A Fresno Giants of the California League and he immediately established himself as a solid hitter. The left-handed-hitting first baseman homered in his first at-bat with Fresno and wound up batting .309 with 10 home runs and 48 RBIs in 65 games.
In spring training the next year, the Giants hadn't expected Clark to break camp with the major-league team. But when he produced five home runs (including one in his first game) and a .297 batting average during spring exhibition games, it was hard for manager Roger Craig to rationalize keeping 14-year veteran first baseman Dan Driessen over Clark.1 Confident of his decision to start the regular season with Clark, Craig said, "He had done everything we've asked and he has major league written all over him. Sometimes it takes six or eight weeks to find out about a young man's ability, but we think he's ready to step in and play first base now.2
Clark was following in the footsteps of fellow New Orleans native Rusty Staub, who made his first major-league club, the Houston Colt .45s, 23 years earlier. Both had played baseball at Jesuit High School, where Clark broke Staub's record for home runs.3
Playing in front of 35 or so relatives who made the five-hour trek from New Orleans, Clark made his major-league debut in the Giants' season-opening game in Houston on April 8. After Dan Gladden grounded out in the top of the first inning, Clark's first major-league swing, at a letter-high fastball off 39-year-old Ryan, produced a home run into the center-field bleachers 420 feet away. Clark became the 53rd player to hit a home run in his debut game. After the game, Clark said of his dramatic shot, "I was just looking for a pitch I could drive. I knew I hit it well, but I wasn't sure the ball would carry out of here. By the time I hit second base, I was floating. It was a great trip around the bases."4
Houston quickly rebounded with two runs in the bottom of the inning. With Bill Doran on base after a walk, Glenn Davis homered off Giants right-hander Mike Krukow.
In the second inning, Kevin Bass led off with a triple and scored on Dickie Thon's squeeze-play bunt to give the Astros a 3-1 lead.
Ryan gained a measure of revenge against Clark in the top of the third when he caught the rookie looking at a third strike to end the inning with a runner on second base. Clark questioned the call with plate umpire Lee Weyer and had to be schooled after the game by teammate Chris Brown to know that umpires have long memories.5
In the fourth inning, Ryan gave up a solo home run to Jeffrey Leonard, and the Giants evened the score in the next inning when Jose Uribe singled in Robby Thompson. (Thompson was also making his major-league debut that night and would finish as runner-up for NL Rookie of the Year.)
Hal Lanier, in his first game as manager of the Astros, pulled Ryan in the top of the seventh after he loaded the bases with one out. Jeff Calhoun relieved him and promptly gave up a bases-clearing triple to Candy Maldonado to put the Giants ahead, 6-3. The game was Maldonado's first as a Giant after having been traded from the Los Angeles Dodgers over the winter.
The Giants added an unearned run in the eighth and a run on Brenly's solo homer to lead off the ninth the for a final score of 8-3.
Krukow was credited with the Giants' victory; he gave up three runs on five hits and four walks in six innings. Mark Davis pitched three scoreless innings in relief to claim the save. Ryan took the loss by giving up six runs in 6⅓ innings. Five of the eight hits yielded by Astros pitchers went for extra bases.
Brenly was one of Clark's biggest cheerleaders on the team, having tagged him with the "Will the Thrill" moniker. He gushed with praise for Clark after the game. "That — first AB against Nolan Ryan — is the stuff legends are made of," Brenly said.6 The attention "is nothing new for him," he added. "The man's been through the wringer. I've never seen someone as well prepared to handle this as Will."7
Clark tried to downplay his dramatic homer, while at the same time he showed the cockiness and confidence for which he would become known throughout his career. "Everybody tries to make a big deal of it — the pressure and all," he said. "They ain't dealing with a kid. I've been all over the place. I've been around."8 Clark added to his list of impressive debut games when he hit a home run in his first Giants home game, on April 15 at Candlestick Park.
Clark embraced facing the game's best pitchers throughout his career. Against future Hall of Famer Ryan, for example, he belted six home runs, drove in 11 runs, and posted an OPS of 1.274 in 39 career plate appearances.
Clark injured his elbow in a collision with Montreal's Andres Galarraga in early June and was on the disabled list for almost two months. He still finished fifth in the NL Rookie of the Year voting.
He was part of a new crop of young players who helped the 1986 Giants post their first winning season since 1982. They went on to win the NL West Division in 1987, as well as in 1989, when they also made their first World Series appearance since 1962.
Houston finished the 1986 season in first place in the National League West Division. Their 96 wins were the most in the franchise's history at the time.
Sources
In addition to the sources cited in the Notes, the author also consulted:
baseball-reference.com/boxes/HOU/HOU198604080.shtml.
retrosheet.org/boxesetc/1986/B04080HOU1986.htm.
Barrouquere, Peter. "Will Clark Earning Giants' Respect," New Orleans Times-Picayune, March 20, 1986: B1.
"Will Clark Hits Homer, Double for Giants in Exhibition Opener," New Orleans Times-Picayune, March 8, 1986: B6.
Notes
1 Nick Peters, "Baby Boomers: They're Young, Strong, and Filled With Springtime's Promise," The Sporting News, April 21, 1986: 10.
2 "Clark Will Start for Giants," New Orleans Times-Picayune, March 24, 1986: B5.
3 Peters: 12.
4 Dave Lagarde, "Clark Homers in First Time at Bat for Giants," New Orleans Times-Picayune, April 9, 1986: C1.
5 Dave Lagarde, "Clark's First Big-League Swing Proved He Belongs," New Orleans Times-Picayune, April 10, 1986: C1.
6 Lagarde, "Clark Homers."
7 Lagarde, "Clark's First Big-League Swing."
8 Lagarde, "Clark Homers."
Additional Stats
San Francisco Giants 8
Houston Astros 3
---
Astrodome
Houston, TX
Box Score + PBP:
Corrections? Additions?
If you can help us improve this game story, contact us.
Tags
https://sabr.org/sites/default/files/ClarkWill-1986.jpg
600
800
admin
/wp-content/uploads/2020/02/sabr_logo.png
admin
2019-07-09 15:14:23
2020-04-17 10:22:36
April 8, 1986: Will Clark produces thrill in major-league debut