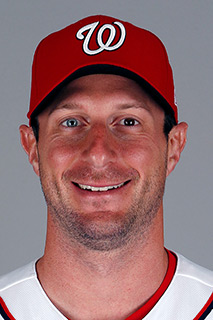 April 9, 2018: Max Scherzer pitches a complete-game shutout, steals his first base
---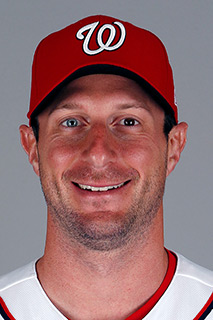 Yes, it was early in the season but the Washington Nationals were not in a good place coming into this Monday night game. At 4-5 with a five-game losing streak, they were third in the NL East, 3½ games behind the division-leading New York Mets. This was the first time in three years that they'd been below .500.1 The night before they had lost a 12-inning game which had ended after midnight.2 So their bullpen was taxed, the team was tired, their primary catcher was already on the DL,3 and it was 45 degrees at game time. Help was needed to right the ship: Enter Max Scherzer (1-1, 1.64 ERA).
The visiting Atlanta Braves (6-3, 1½ games back of the Mets) had their own challenges: They had flown in from Colorado after a Sunday afternoon game — and it had been warmer in Colorado! Their starting pitcher, Julio Teheran (0-0), had not been effective in either of his first two outings, pitching to a 10.12 ERA over a total of eight innings.
Max took the hill and made short work of the top of the Braves order: A foul out and two strikeouts on 13 pitches and he was back in the dugout. Teheran, the only player4 not wearing long sleeves, started the bottom of the first by striking out Trea Turner on three pitches. Anthony Rendon battled, finally doubling on the 10th pitch of the at-bat. Teheran walked Bryce Harper on four pitches, then caught Ryan Zimmerman looking at strike three. Howie Kendrick doubled just inches inside the third-base bag. Third baseman Ryan Flaherty made a diving attempt for it but the ball bounced off the angled wall, allowing Rendon and Harper to score. As usual, Harper lost his batting helmet while rounding third base. Kendrick was left on second when Brian Goodwin struck out with the score 2-0, Nationals.
After Nick Markakis lined out on the first pitch to start the second inning, Kurt Suzuki ended any no-hitter possibilities by singling into center. He was erased when Preston Tucker grounded into a double play, so Max was out of the inning on nine pitches. In the bottom of the frame, Michael A. Taylor attempted a bunt hit on the first pitch. It was fielded by Freddie Freeman to Teheran covering first. The initial call was safe but Braves manager Brian Snitker challenged, and the call was overturned, as it was clear on the slow-motion video that Teheran was there first by a hair. Pedro Severino and Scherzer were strikeout victims, with Max swinging wildly at a ball almost in the dirt.
In the top of the third Scherzer had another nine-pitch inning, as Dansby Swanson, Flaherty, and Teheran all grounded out. In the bottom of the third Turner and Harper walked, but that was all for the Nationals. Zimmerman did hit one to the warning track in front of the Nationals bullpen, where the relievers were huddled in their red warmup jackets on their raised viewing platform like so many cardinals on a fence.
In the fourth Ender Inciarte worked the count full but struck out looking. Ozzie Albies wasted no time: He was out swinging on three pitches. Freeman popped out to give Max another 1-2-3 inning, although this one took 13 pitches. In the bottom of the fourth, Goodwin worked a walk, but was erased on the next pitch when Taylor grounded to the shortstop. Severino, apparently suffering no ill effects from catching back-to-back games, doubled to left. Scherzer tried to bunt but popped it foul for the second out, heading back to the dugout clearly expressing his frustration (given the temperature and occasional drizzle, the remaining crowd was nowhere near the announced attendance of 19,528, so the home-plate mike picked up every word). Turner grounded out on the next pitch, leaving the runners on second and third.
Nick Markakis singled to open the fifth, but Suzuki popped out and Tucker and Swanson struck out to leave Markakis on first. All the Nationals accomplished in their half of the fifth was a single by Rendon.
The top of the sixth was another quick inning for Scherzer: 10 pitches for two groundouts and a fly out. Goodwin struck out to start the home half of the sixth, then Taylor was credited with a double when he hit a pop fly to short left-center. Four Atlanta fielders converged but no one caught the ball. By the time someone picked it up, Taylor was on second. Atlanta had its revenge, however, when Teheran immediately picked him off. He was originally called safe but Snitker challenged. The video replay showed that Albies got his glove down before Taylor could get his hand back to the bag. Severino flied out to end the inning.
After Albies popped out on the first pitch of the seventh, Freeman and Markakis struck out swinging to give Scherzer another 1-2-3 inning. Max opened the bottom of the seventh by singling down the right-field line off the new Atlanta pitcher, Peter Moylan. (With Teheran at 96 pitches, the replacement seemed logical.) When Moylan got two strikes on Turner, Scherzer began sidling off first. He had wanted to steal a base for years, but neither of his previous Nationals managers (Dusty Baker and Matt Williams) had allowed it.5 Davey Martinez had given him permission — and off he went for second, legs churning, arms pumping, ending with a pop-up slide. There was no throw by the catcher. The fans gave him a standing ovation. He advanced no further, though: Turner grounded out, Rendon lined out. Atlanta chose to walk Harper (.345 BA) to pitch to Zimmerman (.100 BA). The strategy worked: Zimmerman struck out.
With Max only at 82 pitches at the beginning of the eighth, a complete game seemed well within reach, especially when he induced two groundouts and a fly out on 10 pitches. Wilmer Difo worked a walk from the Braves' third pitcher, Luke Jackson. After Goodwin struck out, Difo advanced to second on a wild pitch to Taylor. After Taylor struck out as well, Atlanta intentionally walked Severino to pitch to Scherzer. He hit one well to short right field but Inciarte made a diving catch to end the inning.
Since Max had faced only one batter over the minimum, the bottom of the Atlanta order would be up in the top of the ninth. To the cheers of the crowd, he got Flaherty to ground out on the first pitch. When pinch-hitter Charlie Culberson struck out on three pitches, the fans realized that a "Maddux"6 (complete-game shutout on fewer than 100 pitches) was within reach, and were on their feet cheering each pitch, hoping to see some history. Alas, it took Scherzer six pitches to strike out Inciarte, so the fans who stayed through the cold and drizzle had to settle for seeing the first pitcher since Nolan Ryan7 pitch a shutout, strike out 10, and steal a base. The 2-0 win got the Nationals back to .500.
This was Scherzer's ninth complete game and his fifth shutout. He had allowed only two hits and no runner advanced beyond first base. His game score was 93.8
The time of the game was only 2:21. In addition to Scherzer being on top of his game, the cold may have encouraged the players on both teams to swing early in the count.9
After the game, instead of a game ball or lineup card, Martinez presented Scherzer with second base.10
Sources
baseball-reference.com/boxes/WAS/WAS201804090.shtml
retrosheet.org/boxesetc/2018/B04090WAS2018.htm
MLB.com recorded game (subscription required) mlb.com/tv/g529548/vcbdd3824-cfd6-41f1-9052-0bc674ea9746#game=529548,tfs=20180409_230500,game_state=live
Author's Note
I was at the game. It was bitterly cold and drizzly as it often is in Washington in April. But it was worth it to see Max finally get to steal a base.
Notes
1 The Nationals did end the season over .500, but just barely, at 82-80. Atlanta took over the division lead for good in mid-August, and won the division over the second-place Nationals by eight games.
2 In 2018 and prior years, the ESPN "Sunday Night Game of the Week" started at 8 P.M. EDT.
3 Mark Zuckerman, "Wieters to Rehab with Potomac, Severino Could Stay with Nats," MASN, April 9, 2018, masnsports.com/nationals-pastime/2018/04/wieters-to-rehab-with-potomac-severino-could-stay-with-nats.html.
4 And probably the only person in the ballpark not wearing long sleeves. The umpires were bundled up to Michelin-man standards. Many players were wearing balaclavas as well as extra shirts under their jerseys.
5 Chelsea Janes, "Max Scherzer's Latest Masterpiece Helps Nationals End Skid Against Braves," Washington Post, April 9, 2018, washingtonpost.com/sports/nationals/max-scherzers-latest-masterpiece-helps-nationals-end-skid-against-braves/2018/04/09/307268c6-3c08-11e8-a7d1-e4efec6389f0_story.html.
6 Named for Greg Maddux. m.mlb.com/glossary/idioms/maddux.
7 May 16, 1984.
8 This was his fourth-best outing: His 2015 no-hitters were 100 and 104 game scores, and he pitched a one-hitter on June 14, 2015 with a 97 game score. Game score is a metric created by Bill James that adds or subtracts points to determine a pitcher's effectiveness in a game. The highest possible game score is 114.
9 Janes.
10 Janes.
Additional Stats
Washington Nationals 2
Atlanta Braves 0
---
Nationals Park
Washington, DC
Box Score + PBP:
Corrections? Additions?
If you can help us improve this game story, contact us.
Tags
https://sabr.org/sites/default/files/ScherzerMax.jpg
600
800
admin
/wp-content/uploads/2020/02/sabr_logo.png
admin
2019-05-16 13:15:49
2020-04-17 10:23:35
April 9, 2018: Max Scherzer pitches a complete-game shutout, steals his first base