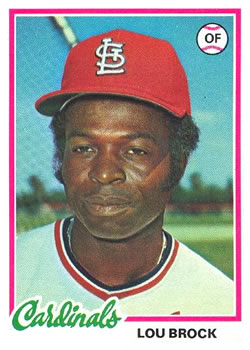 August 13, 1979: Lou Brock collects his 3,000th hit
---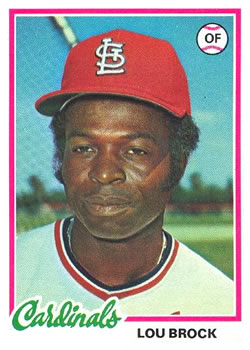 The Stolen Base King was in the twilight of his magnificent career. Lou Brock had shattered the all-time stolen base record on August 29, 1977, when he stole two bases to surpass Ty Cobb with his 892nd and 893rd stolen bases. Now, he had accumulated 929 in his great career. But as the saying goes, "You can't steal first base." In Brock's case he didn't worry all that much about getting "on board."
Brock batted .279 or above for 13 straight seasons (1964-76) as a member of the St. Louis Cardinals. Predominantly a leadoff hitter, the left-handed-swinging Brock was the stolen-base champ of the National League in eight of those 13 seasons. Now 40, Brock had announced in spring training that the 1979 season would be his last in the big leagues.
Heading into an evening game against the Chicago Cubs, Brock needed only two hits to become the 14th player in major league history to attain 3,000 hits in his career. It was the final game of a five-game series with the Cardinals' arch-rivals. Brock sat out the opener, but recorded two hits in each of the next three games. Could he possibly duplicate that effort in the finale to enable him to join baseball's elite?
The Cards and the Cubs split the first four games of the series. Before the fifth game, the East Division of the NL was getting a bit tight in the dog days of summer. Pittsburgh, the "We Are Family" bunch, had a 1½-game lead over second-place Montreal. Chicago was in third place, four games off the pace. They were followed by St. Louis at 6½ games back and Philadelphia, an even seven.
On the hill for Chicago was Dennis Lamp (8-7, 4.32 ERA). The right-handed pitcher was a third-round pick by the Cubs in 1971. He was in his third season in the big leagues, his second as a full-time member of the Cubs' pitching rotation.
St. Louis manager Ken Boyer countered with right-handed hurler Pete Vuckovich (11-8, 3.78 ERA). The Johnston, Pennsylvania, native had been acquired from Toronto two years earlier for pitchers Tom Underwood and Victor Cruz. St. Louis obtained outfielder John Scott to complete the transaction on December 16, 1977. The 1978 season was his first with the Cardinals and the first in which he got some regular work as a member of the rotation. He went 12-12 with a 2.54 ERA.
Busch Stadium was packed with 44,457 patrons in the baseball-crazed city on the banks of the Mississippi.1 And it did not take long for their hometown heroes to give them something to cheer about. Vuckovich retired the Cubs in the top of the first inning, but not without some drama. The Cubs loaded the bases against him before he got out of the inning by fanning Jerry Martin.
The Cardinals jumped out in the bottom of the frame when Garry Templeton led off with an infield single. Brock stepped to the plate and stadium organist Ernie Hays played music from Close Encounters of the Third Kind. The tunes were in response to Brock's telling Hays, "This is my last close encounter."2 Brock singled to left field, sending Templeton to third base. Keith Hernandez followed and slapped a grounder to third baseman Steve Ontiveros. Templeton scored as Ontiveros fired the ball to first base. But Chicago first baseman Bill Buckner threw back to third to nail Brock, who was trying to take the extra base. Cubs shortstop Ivan De Jesus took the throw for the putout.
The Cardinals tacked on another run in the bottom of the fourth inning. Brock led off with a shot headed for center field, but the ball struck the pitching hand of Lamp, and it scurried to the third base line. Brock scampered to first base, his 3,000 hit in his back pocket. His teammates rushed to the base line to greet their teammate. Stan Musial was on hand to present the "3,000 hit" baseball to Brock. "As a fan, I was first in line," Brock told the crowd. "I had never seen 3,000 hits before. I was glad to be a part of it."3
Lamp left the game and left-handed reliever Doug Capilla emerged from the Chicago bullpen. Hernandez grounded to Buckner, who threw to second base to get the force on Brock. Ted Simmons stepped to the plate. Capilla had Hernandez picked off, but a throwing error by Buckner allowed Hernandez to get to second base safely. Capilla whiffed Simmons, but George Hendrick singled to center. Hernandez scored and the Redbirds led, 2-0.
Vuckovich was seemingly in control through six innings. Although the Cubs were getting men on base, Vuckovich was getting out of jams and the 2-0 Cardinal advantage held.
But in the top of the seventh inning, the visitors put a crooked number on the board. Back-to-back doubles to left field by Steve Dillard and Larry Biittner scored Chicago's first run. De Jesus then singled to right field, advancing Biittner to third. Boyer sent Vuckovich to the showers, and called on reliever Will McEnaney to snuff out the Cubs' rally. Mike Vail lined out to left field to score Biittner and knot the score at 2-2. After Buckner flied out, Dave Kingman doubled to left field. Ontiveros was given an intentional pass. McEnaney got off the hook by getting pinch-hitter Ken Henderson to fly out to center field for the third out.
The score stayed 2-2 until the bottom of the ninth inning. With one away, Ken Reitz singled to center. Reitz was replaced by pinch-runner Tom Herr, who was making his major-league debut. Cubs reliever Guillermo Hernandez, who was in his third inning of relief, plunked Ken Oberkfell to put runners on first and second with nobody out.
Cubs manager Herman Franks went to his ace in the pen and brought in Bruce Sutter. But instead of his usual practice of entering a game for a save, the hard-throwing Sutter was called on to keep the Cards at bay, and hold the score to a tie.
Boyer countered with left-handed pinch-hitter Dane Iorg, who singled to center field to load the bases. Templeton followed with a sacrifice fly to left. Herr scored the winning run and the Cardinals topped Chicago, 3-2.
"Nothing surprises me about Lou," Bob Forsch said. "But there have been a lot of great ballplayers. The thing I'll remember most about Lou was how helpful he's always been. I know he made me feel welcome and I've seen him do the same with other players.
"I'll never forget seeing him take Jimmy Dwyer out into left field a couple of years ago. He was showing him how to play the bounce off the wet turf. This was another guy they were bringing up to take Lou's position, and he was out there helping him."4
"The fans here deserved to see the 3,000 hit," Brock said. "Stan (Musial) came close but didn't quite make it. Mr. Busch said, 'You're going to do it here.' I said, 'I am?'
"I've always wanted to leave baseball in a blaze of glory. I've always wanted to orchestrate my own exodus, and I've done a pretty good job of it."5
Lou Brock retired after the 1979 season with 3,023 hits, a batting average of .293, and 938 stolen bases. He was elected to the National Baseball Hall of Fame in 1985. He was the 20th player to be selected in his first year of eligibility, garnering 79.7 percent of the votes needed for election.
Sources
The author accessed Baseball-Reference.com for box scores/play-by-play information and other data, as well as Retrosheet.
baseball-reference.com/boxes/SLN/SLN197908130.shtml. retrosheet.org/boxesetc/1979/B08130SLN1979.htm.
Notes
1 Paul Wagman, "Brock's Popularity Has Big Impact Here," St. Louis Post-Dispatch, August 14, 1979: 1A. The Post-Dispatch gave two figures for the attendance at this game. A picture caption gave the figure at 46,161.
2 Rick Hummel, "Brock's 3rd Jewel Is Winner for Cards," St. Louis Post-Dispatch, August 14, 1979: 11A.
3 Tom Barnidge, "When the Moment Arrived, It Seemed Time Stood Still," St. Louis Post-Dispatch, August 14, 1979: 12A.
4 Ibid.
5 Rick Hummel, "3,000th Hit: The Star in Lou's Crown," St. Louis Post-Dispatch, August 14, 1979: 1A.
Additional Stats
St. Louis Cardinals 3
Chicago Cubs 2
---
Busch Stadium
St. Louis, MO
Box Score + PBP:
Corrections? Additions?
If you can help us improve this game story, contact us.
Tags
https://sabr.org/sites/default/files/BrockLou-1978-Topps.jpg
600
800
admin
/wp-content/uploads/2020/02/sabr_logo.png
admin
2018-06-14 01:53:29
2020-04-17 10:24:45
August 13, 1979: Lou Brock collects his 3,000th hit