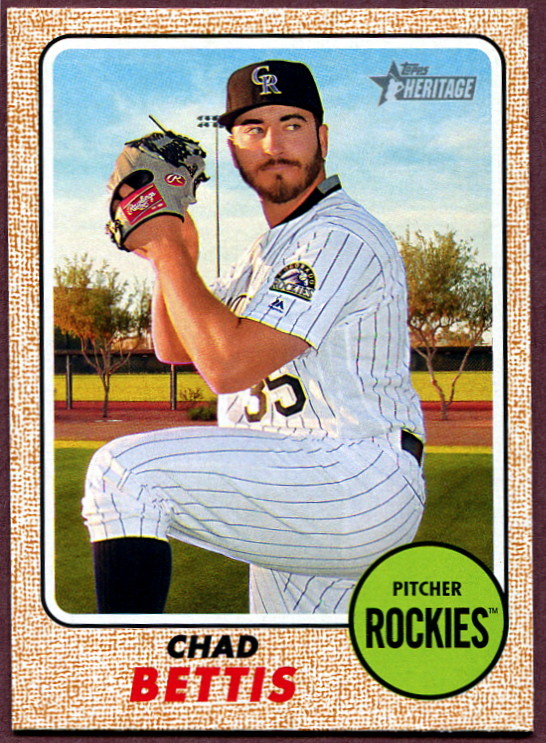 August 14, 2017: Chad Bettis comes home to Colorado
---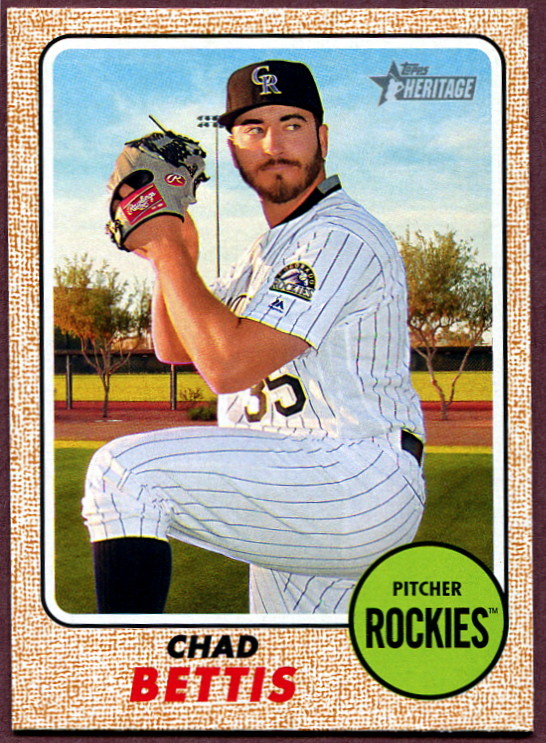 "Tho' much is taken, much abides … that which we are, we are; One equal temper of heroic hearts, Made weak by time and fate, but strong in will To strive, to seek, to find, and not to yield." — Alfred Lord Tennyson, Ulysses
The night was perfect for baseball, as so many nights are at Coors Field; the temperature hovered around 70 degrees and the wind blew around 8 miles per hour. This night was perfect, however, because Chad Bettis, who would go on to be honored of the Tony Conigliaro Award, returned to the mound for the first time in 2017.
This was no ordinary game. The Rockies were tied for second place in the NL West. It was mid-August and there were thoughts of a possible return to the postseason. Bettis had led the Rockies in wins the year before (14-8), in starts (32), and in innings pitched (186). At age 28, he was older than any other starter on the 2017 team. But he hadn't pitched all year. The night of August 14 was his first start. He'd been battling cancer.
In November 2016, just a few days before his first wedding anniversary and with his first child due in March, Bettis learned he had testicular cancer. After surgery, no more disease was evident. But in March he learned that cancer had spread to his lymph nodes. Intensive chemotherapy began on March 20. Treatment for his recurrence was nine weeks of chemotherapy which left him weakened. Bettis lost his hair as well, and concern for his condition was widespread. Despite his immune system being suppressed, he was able to be present with his wife, Kristina, for the birth of their daughter, Everleigh Rae, who was born nine days later. "Everleigh's birth completely took the attention off me, which was really nice," he said later. "It's what I needed."1 Reflecting nearly six months later, Bettis said, "I never wanted that kind of attention on me. It wasn't like, 'How are you feeling today?' It went straight to Kristina and Everleigh, and it was like 'How's she doing? How are they doing?'"2
There followed the process of regaining strength to his core and especially to his arm. He rejoined the Rockies in early June to begin training.3
As he approached the mound in the top of the first, he was greeted by a standing ovation from the fans at Coors Field and high-fived by his teammates. The game was already overshadowed by the reminder of what cancer can do. The first manager in Colorado Rockies history, Don Baylor, had died exactly one week earlier — after a 14-year battle with multiple myeloma — and Baylor's jersey was hung in the Rockies' dugout in his honor.
Bettis had done the best he could to approach the game in a businesslike fashion. It was back to work. That morning, however, the magnitude of the moment hit him. "It crept in when I woke up. Just thinking about everything that happened, everything my family went through. I was holding back tears until the game started."4
The first batter he faced was Braves center fielder Ender Inciarte, who pounced on an 0-and-2 pitch and tripled down the left-field line. Gerardo Parra valiantly dove for the ball but it got by him. He quickly recovered the ball, threw a strike to Trevor Story at short, and then watched Story fire the ball to Jonathan Lucroy at the plate, cutting down Inciarte, who'd been going for an inside-the-park home run. One out, but a dramatic one. Bettis admitted his heart had sunk for a moment. "I went from incredibly high to 'Oh, no, we're about to be down 1-0.' I've never had a problem with guys laying out, Parra tried to make a spectacular play and ended up still making a spectacular play."5 Two groundouts sandwiched around a single got Bettis through the first.
Defense played a big role one more time. In the top of the fourth, with two outs and Nick Markakis on second base, Atlanta left fielder Danny Santana shot the ball toward right field but second baseman DJ LeMahieu "slid on his knees" to snare the ball and throw out Santana at first base.
In the top of the seventh, Kurt Suzuki doubled to lead off the inning. He advanced to third base on a sacrifice bunt by Santana, Bettis fielding it cleanly and throwing to Mark Reynolds at first base. A fly ball to center field by Ozzie Albies wasn't deep enough to allow Suzuki to score, and another fly ball to deep center field by Dansby Swanson was also tracked down and caught by Charlie Blackmon.
Rockies manager Bud Black was in his first year running the team. He had seen Bettis pitch two innings in spring training but was now watching him pitch in his first regular-season game during Black's tenure. During the bottom of the sixth, as the Rockies batted, Black sat with his pitcher in the dugout. Bettis said, "He came and sat by me and said, 'How do you feel? Be honest with me. We're kind of in uncharted territory,' which is true. And I looked him in the eyes and said, 'I feel great. And, to be honest with you, we're going to get through this.'"6
In the bottom of the seventh, Black said, "You're done. We couldn't ask for much more from you right now."7 With a runner on second and one out, Nolan Arenado pinch-hit for Trevor Story and fouled out. Then Bettis was removed for a pinch-hitter, whom Braves starter Julio Teheran retired on a swinging strikeout. Bettis's evening was done.
Teheran was as stingy with hits as Bettis and the two battled each other for seven full innings. Bettis gave up six hits and walked no one; Teheran allowed four hits and walked three (one of them Bettis8 ). Bettis had thrown 90 pitches.
The game was still scoreless.
Mike Dunn pitched a scoreless eighth inning. Charlie Blackmon led off with a triple to center field off Atlanta's Rex Brothers in the bottom of the eighth. After an intentional walk, a single to left by Parra drove in Blackmon. Jason Motte replaced Brothers and walked Reynolds to load the bases. A single into center field by Carlos Gonzales drove in two more runs.
Greg Holland held the Braves in the ninth, and the Rockies scored a 3-0 win over the Braves, bringing them to 66-52 for the season.
The Rockies were in the race for the postseason and Chad Bettis had come home to help try to get them there.
After the game, Bettis admitted, "I don't think I was really in tune with what was going on until the fifth. Just so many emotions and I was trying to get them under control, but it was taking longer than I expected."9
He also said, "[Kristina] doesn't know how big of a façade I was putting on. As strong as I was trying to be, I was more leaning more on her and our families and our teammates and everybody that was lending support, whether it was via social media, letters, prayers, everything."10
Bettis received a no-decision. Dunn got the win. Bettis was 2-4 for the rest of the season, but he got 46⅓innings under his belt. The two wins were both over the NL champion Los Angeles Dodgers, with a 3.00 ERA in 12 innings. He saw the Rockies reach the wild-card game with the Diamondbacks, and started to set his sights on 2018.
In December, it was announced that Chad Bettis would be the recipient of the Tony Conigliaro Award, to be presented in Boston in January. On January 11 and 12, he hosted the Chad Bettis Charity Classic at Talking Stick Resort in Scottsdale, teaming with the Testicular Cancer Society.11
Of the experience he had gone through, he said, "That was a very big teaching. We don't get to control everything that happens to us; we have to just roll with what's going on. Without my family and my support system and my wife, with Everleigh coming along, it would have been a completely different experience."12 He added, "Having gone through it and being on the other side now [in remission], I feel extremely blessed in the sense that everything went as smoothly as it did. There are some potential side effects that are essentially irreversible. Your livelihood, your profession is at stake and some of those side effects can affect your profession. To have gone through it and to go as smoothly as it did was remarkable."
This story originally appeared in "Major League Baseball A Mile High: The First Quarter Century of the Colorado Rockies" (SABR, 2018), edited by Bill Nowlin and Paul T. Parker. To read more articles from this book at the SABR Games Project, click here.
Sources
In addition to the sources cited in the Notes, the author also consulted Baseball-Reference.com, and replay of the game highlights on MLB TV. Thanks to Nicolette Cavallaro for the Tennyson quotation and important assistance with this article. Thanks as well to Gordon Edes of the Boston Red Sox, and to Chad and Kristina Bettis.
Notes
1 Patrick Saunders, "Chad Bettis' Return to Rockies Is a Story of Love, Not a Story of Cancer," Denver Post, August 14, 2017.
2 Author interview with Chad Bettis on January 18, 2018.
3 Ibid. "If it was up to me, I probably would have wanted to come back sooner, but it wouldn't have been in the best interest of my health," Bettis said. Kristina added, during the discussion, "He wanted to play through chemo."
4 Nick Groke, "Chad Bettis Returns to the Rockies With Flair in a Commanding Outing Against the Braves at Coors Field," Denver Post, August 15, 2017.
5 Associated Press, "Bettis Back from Cancer Treatment, Rockies Blank Braves 3-0," August 15, 2017.
6 Thomas Harding, "Smile High! Bettis Awes in Return from Cancer," MLB.com, August 14, 2017.
7 Ibid.
8 "Which was remarkable in itself!" Bettis added in the author interview.
9 Groke.
10 Harding, "Smile High!" In the October 18, 2018, interview, Bettis said that former major leaguer John Kruk reached out personally to him, and Mike Lowell (also a testicular cancer survivor, and a fellow Tony Conigliaro Award recipient) sent his condolences through Kruk. Bettis said, "It was very surprising to me how the whole baseball community in general responded and offered support — not just to me, but to my wife and my family. It was unbelievable."
11 Photographs from the event, and information on how to support the Testicular Cancer Society's efforts in increasing awareness, access and quality of care may be found at: https://cbccevent.org/?utm_source=tcs-page&utm_content=button.
12 Thomas Harding, "Bettis Ready to Block Noise, Rediscover Calm," MLB.com, January 5, 2018. He added, "Having gone through it and being on the other side now [in remission], I feel extremely blessed in the sense that everything went as smoothly as it did. There are some potential side effects that are essentially irreversible. Your livelihood, your profession is at stake and some of those side effects can affect your profession. To have gone through it and to go as smoothly as it did was remarkable." Author interview.
Additional Stats
Colorado Rockies 3
Atlanta Braves 0
---
Coors Field
Denver, CO
Box Score + PBP:
Corrections? Additions?
If you can help us improve this game story, contact us.
Tags
https://sabr.org/sites/default/files/2017-topps-heritage-169-chad-bettis-baseball-card-colorado-rockies-2.gif.jpeg
600
800
admin
/wp-content/uploads/2020/02/sabr_logo.png
admin
2019-04-10 15:23:40
2020-04-17 10:23:36
August 14, 2017: Chad Bettis comes home to Colorado