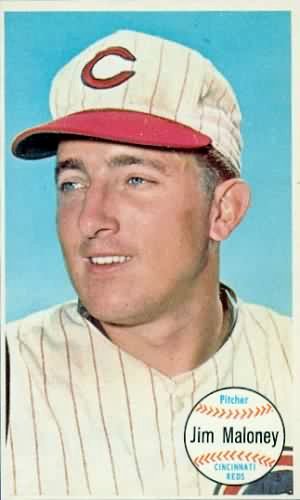 August 19, 1965: Reds' Jim Maloney tosses 10-inning no-hitter — with 187 pitches, 10 walks, and 12 strikeouts
---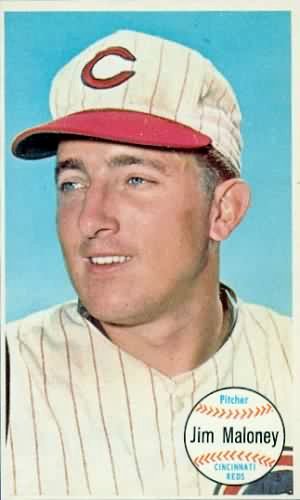 Let's ponder these statistics for a moment: 187 pitches in a 10-inning complete game, 10 walks and 12 punchouts, one hit batter, at least 13 full counts, bases filled twice, 10 stranded runners, and three outfield flies. Together they produced Cincinnati Reds speedballer Jim Maloney's no-hitter, arguably the most astounding in big-league history.1
"It was unbelievable," Maloney's batterymate, three-time All-Star Johnny Edwards, told the author. "He walked 10 batters and every time I looked up it seemed like there was a man in scoring position. He was so wild, I had to do everything just to block the ball. He threw 187 pitches. He was worn out after the game, and I was right there with him."2 Queen City sportswriter Bill Ford seemed equally astonished by Maloney's perseverance against the hard-hitting Chicago Cubs: "When trouble loomed — and there was plenty — he called on his resourcefulness to wriggle free."3 Windy City scribe Richard Dozer was flabbergasted by the big right-hander's in-game Jekyll-and-Hyde act, quipping, Maloney "put together an incongruous blend of untouchable hurling and frequent brushes with trouble."4
The decade of the 1960s was an era defined by hard throwers, like Sandy Koufax and Don Drysdale, Jim Bunning, and Sam McDowell. Often overlooked, Maloney's name doesn't carry the cachet of the aforementioned; however, he was a threat to no-hit an opponent every time he took the mound. As a 23-year-old, he enjoyed a break-out season in 1963, winning 23 and leading the NL in whiffs per nine innings (9.5), the only time the legendary Koufax didn't pace the circuit over a seven-year stretch (1960-66). Already in 1965, Maloney had twice flirted with a no-no. On Opening Day, April 19, he held the Milwaukee Braves hitless for seven frames before yielding a leadoff single to Denis Menke to start the eighth, and settled for his third career one-hitter. In a tense pitchers' duel against the New York Mets on June 14 at Crosley Field, he tossed 10 no-hit innings. In the 11th, he surrendered a heartbreaking leadoff home run to Johnny Lewis and lost, 1-0, yielding just two hits while fanning a career-high 18 with just one walk.
Skipper Dick Sisler's fourth-place Reds (65-52) pulled into Wrigley Field for a twin bill on Thursday, August 19, as part of a 13-game road swing. Just 3½ games behind the Milwaukee Braves, the Reds still harbored pennant aspirations. That was not the case for the eighth-place Cubs (56-65), losers of four straight for skipper Lou Klein, who had replaced Bob Kennedy in mid-June.
As the crowd of 11,342 settled into their seats at the Friendly Confines, 34-year-old right-hander Larry Jackson worked a scoreless first, surrendering a two-out single to Vada Pinson, en route to his fourth season of at least 200 hits in the last seven years. One of the era's most dependable workhorses, Jackson was a four-time All-Star coming off an NL-leading 24 victories in '64. Eight days earlier he had beaten the Reds at Crosley Field to record his 150th career victory (along with 129 losses) and sported an 11-14 slate thus far in '65.
With a little luck, sportswriters might have been praising Jackson's tough gamesmanship in the following day's newspapers instead of Maloney. Jackson was steady, mixing heaters and breaking balls to keep the Reds, the highest-scoring and best-hitting team in the league, off-balance. Through six innings, Jackson had yielded only four baserunners, all by singles. With one out in the seventh, Frank Robinson hit what appeared to be a home run, but the swirling wind coming off Lake Michigan, about one mile to the east, held up the ball, which according to Bill Ford, caromed "high off the leftfield fence" for a triple; the former MVP was stranded at third.5 The Reds threatened in the ninth when Pete Rose reached on Ernie Banks' fielding error at first base followed by Pinson's single. With no outs, successive deep blasts, by Robinson and Gordy Coleman, were slowed down by the wind. Jackson retired Deron Johnson, who was leading the NL with 97 RBIs, to end the threat.
Jackson's efficiency contrasted sharply with Maloney's wildness. After Maloney retired the first six batters he faced, he began the third inning by walking two and then filled the bases with his third walk, with two outs. Then he retired Billy Williams, who entered the game with 18 hits in his last 45 at-bats. A fastball pitcher, Maloney did not normally struggle with his control like McDowell or Koufax (early in his career), averaging about 3.5 walks per nine innings over a four-year stretch (1963-66) when he recorded 200 or more strikeouts each season, but this game was different. Two more free passes followed in the next frame, but Maloney fanned Don Kessinger to end the frame. Finding his groove, Maloney struck out the side in the fifth and then set the Cubs down in order in the sixth and seventh. Maloney commenced the eighth by committing a cardinal sin, issuing a leadoff walk to Jackson, who advanced a station on Don Landrum's sacrifice bunt. After Doug Clemens was retired on the Cubs' first popup to the outfield, Dick Sisler came to the mound for the first time all afternoon to discuss what to do with Williams at bat and Banks on deck. They decided to walk the left-handed-hitting Williams intentionally to face righty Banks, who whiffed.
Depending on one's perspective, the bottom of the ninth was probably the most exciting or most disappointing inning of the game. Maloney plunked Ron Santo to start the frame, then walked Ed Bailey. Glenn Beckert fouled off two pitches trying execute a sacrifice bunt, then struck out looking. Another walk to Jackson, with two outs, loaded the bases, but Maloney retired Landrum on a popup to short to end the frame and send the game into extra innings. "So after nine innings, I was wondering plenty," said Maloney when asked if he thought about a no-hitter or another heartbreaking loss like the one to the Mets. "Larry Jackson was pitching just as good as I was."6
Jackson, en route to his seventh of 10 consecutive seasons with at least 200 innings pitched, was back on the mound for the 10th. After Edwards grounded to first, the wind died down as Chico Cardenas came to the plate. The All-Star shortstop hit a liner to left field that looked as if it might be curving foul. Described as a "radar" by Richard Dozer in the Chicago Tribune, the ball hit just above the yellow line in foul territory, caromed off the screen, and bounced back onto the field for a home run to give the Reds the only run of the game.7 "Cardenas homered," said Maloney, "but it couldn't be any closer to going foul instead of fair."8
Maloney took the mound to start the 10th, three outs away from an unlikely no-hitter, yet victory was far from assured given the hurler's troubles in the previous two frames. The stout 6-foot-2, 200-pound Californian was determined to make it interesting. He issued a leadoff walk to Clemens, who entered the season batting .243 in fewer than 400 career at-bats. With the heart of the order coming up, Maloney earned his no-no by retiring Williams on a fly to left field, then inducing Banks to hit what Bill Ford called a "hard chopper" to Cardenas, who initiated a routine 6-4-3 double play to end the game in 2 hours and 51 minutes.9
"I wasn't real sharp today," Maloney told Cubs TV announcer Lou Boudreau in an onfield interview after the game. "I made some good pitches when I had to. When I had to come in, they popped it up. I had a lot of walks." Visibly exhausted and out of breath, Maloney added, "Edwards told me, said in the last three innings my fastball's sinking and tailing real good."10
Maloney's gem was just the third extra-inning no-hitter in major-league history. George "Hooks" Wiltse of the New York Giants fired the first, on July 4, 1908, followed by Fred Toney of the Reds on May 2, 1917; both were also 10 innings. The definition of a no-hitter was altered in September 1991 when the Committee for Statistical Accuracy declared it a game of nine innings or more that ends with no hits. That decision removed 12 no-hitters that went into the 10th inning, including Maloney's 1965 masterpiece against the Mets which he lost. Following his no-no against the Cubs, newspapers widely reported that Maloney became just the fourth pitcher to author two no-hitters in a season, joining Johnny Vander Meer, Allie Reynolds (1951), and Virgil Trucks (1952).11 As of 2018, Maloney's 10 walks are the most in a no-hitter. He hurled his second and final no-no April 30, 1969, fanning 13 and walking five Houston Astros.
In the second game of the doubleheader the Cubs atoned for their missed opportunities, overcoming a 4-0 deficit by scoring three runs in the eighth and winning the game on Landrum's two-run home run with two outs in the ninth.
This article appears in "Wrigley Field: The Friendly Confines at Clark and Addison" (SABR, 2019), edited by Gregory H. Wolf. To read more stories from this book online, click here.
Sources
In addition to the sources mentioned in the notes, the author consulted baseball-reference.com, mlb.com, retrosheet.org, and SABR.org.
https://www.baseball-reference.com/boxes/CHN/CHN196508191.shtml
https://www.retrosheet.org/boxesetc/1965/B08191CHN1965.htm
Notes
1 Several clips of Jim Maloney's no-hitter are available on YouTube. The following show the complete 10th inning and an interview with the pitcher after the game. https://youtube.com/watch?v=SoE6-JbGRDc&t=40s.
2 Author's interview with Johnny Edwards on March 7, 2017.
3 Bill Ford, "000 000 000 0," Cincinnati Enquirer, August 20, 1965: 39.
4 Richard Dozer, "Maloney's No-Hitter Beats Cubs, 1-0," Chicago Tribune, August 20, 1965: 53.
5 Ford.
6 Associated Press, "Big Jim Pulls It Out," Atlanta Constitution, August 20, 1965: 49.
7 Dozer.
8 "Big Jim Pulls It Out,"
9 Ford.
10 You Tube video of interview. youtube.com/watch?v=SoE6-JbGRDc&t=40s.
11 See the complete list of these "lost" extra-inning no-hitters at Nohitter.com, nonohitters.com/near-no-hitters/.
Additional Stats
Cincinnati Reds 1
Chicago Cubs 0
10 innings
Game 1, DH
---
Wrigley Field
Chicago, IL
Box Score + PBP:
Corrections? Additions?
If you can help us improve this game story, contact us.
Tags
https://sabr.org/sites/default/files/images/MaloneyJim1.jpg
600
800
admin
/wp-content/uploads/2020/02/sabr_logo.png
admin
2019-12-10 15:21:17
2021-03-15 17:50:07
August 19, 1965: Reds' Jim Maloney tosses 10-inning no-hitter — with 187 pitches, 10 walks, and 12 strikeouts