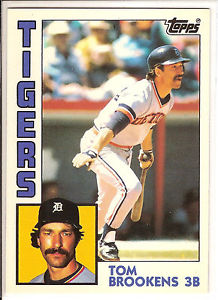 August 20, 1980: Tom Brookens gets five hits, starts triple play
---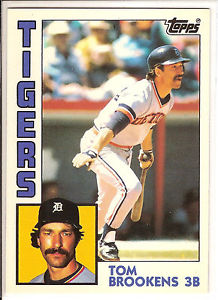 Before the 1980 season, Detroit manager Sparky Anderson had a goal of 90 wins.1 The Tigers had won 85 games the year before but finished fifth in the tough American League East Division. Anderson, starting his first full season in Detroit after having had success with the Big Red Machine in Cincinnati, was looking for more.
However, a 2-9 start dropped the Tigers to last, and they were never in the race. Detroit got as high as second place in late July, peaked at 12 games over .500 (56-44) on August 3, but then dropped 12 of the next 17.
Slugger Kirk Gibson had hurt his left wrist holding up on a swing in June, and the rookie's season finished before the halfway mark. He had surgery to repair the cartilage in the wrist on Friday, August 22.2
Two days before that, the Tigers were finishing a three-game series in Milwaukee. Another rookie, Jerry Ujdur, was making his first start in the majors.
Anderson had been piecing together a rotation, working around struggles that included a brief demotion to the bullpen for Jack Morris and two missed starts for Milt Wilcox after he was attacked and injured by Kansas City's George Brett3 earlier in August. Another pitcher, Roger Weaver, went on the disabled list with tendinitis, and on August 16 the Tigers called up Ujdur from Evansville of the American Association; the right-hander had finished his minor-league season with 22 scoreless innings.4
Ujdur made his debut with 2⅓ innings in relief of Mark Fidrych the day after his call-up; three days later he was the starter in Milwaukee. Slumping Tom Brookens — who started the first game of the series on the bench after three straight hitless games — was at his usual spot at third base and batting eighth.
Ujdur retired the first five Brewers in the game and almost got the sixth as Sixto Lezcano popped up into foul territory. However, second baseman Lou Whitaker, after a long run, dropped the ball for an error. Given another chance, three pitches5 later Lezcano homered to left for a 1-0 Milwaukee lead.
The Tigers pounced back, Brookens leading off the third with a single to start a four-run rally capped by a three-run homer by John Wockenfuss. Sal Bando dropped a homer over the left-field fence just inside the foul pole to start the bottom of the inning and cut the Detroit lead to 4-2.
Brookens singled in the fourth with two out and stole second, but he was left on when Whitaker grounded out. His next time up, in the sixth, Brookens homered with Richie Hebner aboard to up the lead to 6-2 and drive Brewers starter Mike Caldwell from the game.
Detroit continued with the power show in the seventh as Lance Parrish led off with a home run. With two out Brookens tripled to right and, after Whitaker walked, scored on a single by Rick Peters.
Down by six runs, the Brewers rallied in the seventh. A leadoff double by Bando, followed by Jim Gantner's single, sent Anderson to the mound to relieve Ujdur with Dave Rozema, who got out of the inning with only one run scoring, that on a sacrifice fly by Paul Molitor that brought Bando home.
Rozema didn't last long in the eighth. Gorman Thomas led off with a single, and Ben Oglivie homered to cut the lead to 8-5. After Lezcano singled, Rozema was pulled for Aurelio Lopez. Charlie Moore bunted for a base hit to get the potential go-ahead run to the plate as Bando stepped in.
The veteran third baseman — a star on the Oakland teams that had won three straight World Series in the 1970s — already had a single and a double. He hit the ball sharply again, a grounder right at Brookens near third base. Brookens stepped on the bag and fired to Whitaker, who made the pivot at second and relayed to Hebner to get Bando, end the inning, and give the Tigers their first triple play since July 15, 1969.6
Milwaukee rallied again in the ninth, scoring another run and getting the tying run to first before Oglivie lifted a short fly to left that was corralled on the run by Steve Kemp to end the game, giving Ujdur his first major-league pitching victory.
Although the Tigers hadn't scored in the top of the ninth, Brookens got another single, giving him five hits (with a home run and triple among them), a stolen base, and a triple play. His big play continued as he got three hits the next night in a doubleheader in Minnesota and followed that up with three hits in each of the next two games.
The brief benching7 invigorated Brookens to the point that he was named the American League Player of the Week.
Led by Brookens, the Tigers had a brief surge in which they won six of eight games. Detroit finished the season with 84 wins, although all it got them was another fifth-place finish.8
Sources
Memories of the author, who attended this game, with confirmation of the play-by-play from Retrosheet.
retrosheet.org/boxesetc/1980/B08200MIL1980.htm.
baseball-reference.com/boxes/MIL/MIL198008200.shtml.
Notes
1 Brian Bragg, "Q: Sparky Anderson," Detroit Free Press, August 21, 1980: 1A.
2 Lynn Henning, "Gibson Career Threatened by Freak Injury," The Sporting News, September 6, 1980: 34.
3 On August 5 Brett had taken umbrage after a couple of inside pitches. He flied out and, after rounding first, charged Wilcox, who strained a muscle in the fight.
4 Ujdur had a break to preserve his streak. He had pitched a shutout in a seven-inning game and followed with another shutout before giving up a home run to Brad Mills of Denver in his next start; however, the game was rained out before it became official and all records were erased.
5 Brian Bragg, "Triple Play in 8th Saves Tigers," Detroit Free Press, August 21, 1980: 1F.
6 Ibid.
7 In the August 18 game, which he did not start, Brookens entered in the eighth inning and homered his only time up, in the ninth.
8 Detroit finished 1980 in a virtual tie with Boston, ending up percentage points behind the Red Sox (.51875 to .51851).
Additional Stats
Detroit Tigers 8
Milwaukee Brewers 6
---
County Stadium
Milwaukee, WI
Box Score + PBP:
Corrections? Additions?
If you can help us improve this game story, contact us.
Tags
https://sabr.org/sites/default/files/images/BrookensTom.jpg
600
800
admin
/wp-content/uploads/2020/02/sabr_logo.png
admin
2018-03-27 13:46:39
2020-04-17 10:24:52
August 20, 1980: Tom Brookens gets five hits, starts triple play