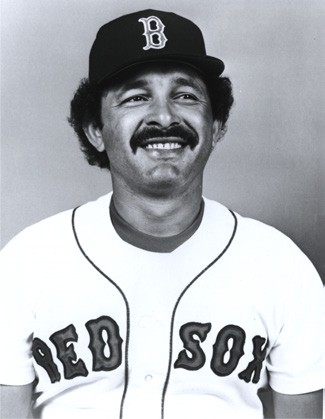 August 21, 1986: Red Sox offense unleashes 'havoc and devastation' on Cleveland
---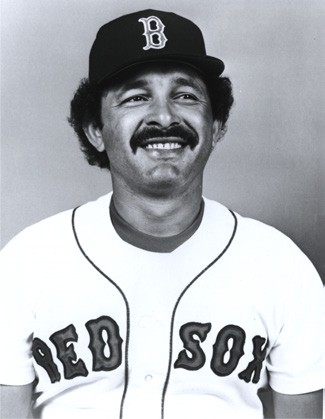 Baseball purists claim to love a 1-0 game settled in extra innings. Partisans of a particular team often take great pleasure in a true blowout – when it's their team that comes out on top.
Through the 2014 season the Red Sox have played in only four games in which they scored at least two dozen runs. The 29-4 game on June 8, 1950, ranks first. There was a 25-8 game in 2003, and then there were two 24-run games – one in 1940 and this game in 1986.
The Sox were in first place, 5½ games ahead of the Yankees, visiting the sixth-place Cleveland Indians, who still had a winning record at 62-59. The August 21 7:30 P.M. matchup pitted 21-year-old Indians southpaw starter Greg Swindell against Boston's Oil Can Boyd. It was Swindell's big-league debut. Though he won 123 games over 17 years, this was not one of them. He started well, though, inducing three infield grounders in the top of the first and then seeing Cleveland's leadoff batter, Tony Bernazard, homer into the right-field seats to give him an early lead.
It was in the top of the third that Swindell started to get in trouble, walking two batters and then seeing Jim Rice single in Spike Owen to tie the score. He walked the bases loaded then, and balked – bringing another run home. Dwight Evans singled in two more and it was 4-1, Red Sox.
A single, error, and two more singles saw the Sox up their lead to 6-1 in the fourth. The third single was off reliever Dickie Noles.
Boyd was pitching well, and it was still 6-1 after five. Then the Boston batters went to town. Most of the damage was done with two outs. The Sox scored once, and had runners on first and second. Marty Barrett took third on Don Baylor's fly ball to center, the second out. Evans walked to load the bases. Then Bill Buckner walked, and Noles was excused, replaced by Jose Roman. The first batter Roman faced was Tony Armas, who "jumped on his second pitch and lined a cannon shot over the fence in left center."1
It was a large crowd – 26,316 – and they had come hoping to see a good game. Indeed, Bob Dolgan of the Cleveland Plain Dealer wrote, "The crowd, out for a good time, refused to be deterred. When the Red Sox pounded Swindell's successors for 12 runs in the sixth inning, to take a ridiculous 18-1 lead, the people, bless 'em, began cheering wildly for Boston to pour it on and score more runs."2
After Armas's grand slam, Roman promptly loaded the bases again with a walk, a single, and another walk. Enough, concluded Indians manager Pat Corrales, who called on Bryan Oelkers to take over from Roman. The hapless Roman had faced four batters and seen them all score, three on hits off Oelkers by Barrett and Rice. Oelkers loaded the bases again with a walk to Baylor, followed that with a pitch Evans smacked for two more runs, and then saw Buckner single in the 12th run of the frame. Tony Armas flied out to end the torture. Seventeen Boston batters had come to the plate. Eleven straight batters reached base, one short of the American League record, according to the Boston Globe. Eleven of the 12 runs in the inning had scored after two outs.
It was indeed 18-1. In the seventh, Spike Owen hit a solo home run to make it 19-1. Three singles off Oil Can in the bottom of the seventh narrowed the gap just a bit: It was 19-2 in Boston's favor.
Mike Greenwell and a couple of others were brought into the game; Greenie doubled to lead off the eighth. There were two outs made. Then Buckner singled Greenwell in. Then Tony Armas hit his second homer of the game, scoring Buckner ahead of him. Oelkers then hit Marc Sullivan, and Owen singled. Dave Stapleton pinch-hit for Wade Boggs (!) and singled in Sullivan. Ed Romero, who'd subbed in for Barrett, singled in Owen. Ten men had come to the plate, and five runs had scored – again, every one of them after there were two outs. Now the score was 24-2.
Bob Stanley pitched the eighth. Nothing happened of note. Joe Sambito pitched the bottom of the ninth, and he had some difficulty, giving up three runs on four hits – but there was a lot of room for a few runs. The Indians had scored first, and they had scored last, but the final score was Boston 24 to Cleveland 5. Boyd's record improved to 12-9, with a 3.94 ERA.
All but two of the Red Sox runs were earned; two of the six runs scored off Swindell were unearned.
Oddly, three Red Sox batters had gone hitless. Boggs was 0-for-5, though he scored one run. Baylor was 0-for-5, though he scored two runs. And Marc Sullivan was 0-for-4, and he scored two runs.
The number-nine batter, Spike Owen, scored six runs in the game. The only American Leaguer who had done so previously was another Red Sox player – Johnny Pesky, on May 8, 1946. It was only Owen's third game for the Red Sox. One of the runs he scored came on his homer, the first homer he'd hit in 424 at-bats. Owen hit 46 in the course of his career.
Tony Armas had six RBIs. The grand slam was the sixth of his career.
Larry Whiteside of the Boston Globe concluded, "Nothing on Shock Theater or the late night movie on HBO comes close to the havoc and devastation that was the sum total of Boston's 24-5 crushing of the Cleveland Indians last night."3
Master of understatement, Red Sox manager John McNamara said, "It was a good night." In the other clubhouse, Corrales was quoted: "Twenty-four to 5," he kept muttering after the game. "Twenty- four to 5."4 To be fair to McNamara, he did add, "But I like to think some of the tough games we won on the last homestand after the West Coast trip had more impact than this one.
"The hitting was nice to see. And so was the pitching of Boyd. After the second inning, he showed us the way he is capable of pitching. I'm glad for the team and I'm glad for Oil Can. I hope this helps restore his confidence in himself."5 It was Can's first win since July 8. And Boyd did go 4-1 for the rest of the regular season, lowering his earned run average to 3.78.
The Yankees were rained out, so the Red Sox gained a half-game in the standings. They had held first place since May 14 and never relinquished the lead.
This article originally appeared in "The 1986 Boston Red Sox: There Was More Than Game Six" (SABR, 2016), edited by Leslie Heaphy and Bill Nowlin. Read more game stories from the book at the SABR Games Project by clicking here.
Sources
https://www.baseball-reference.com/boxes/CLE/CLE198608210.shtml
http://www.retrosheet.org/boxesetc/1986/B08210CLE1986.htm
Notes
1 Joe Giuliotti, Boston Herald, August 22, 1986.
2 Bob Dolgan, Cleveland Plain Dealer, August 22, 1986.
3 Larry Whiteside, Boston Globe, August 22, 1986.
4 Ibid.
5 &nbs
Additional Stats
Boston Red Sox 24
Cleveland Indians 5
---
Cleveland Stadium
Cleveland, OH
Box Score + PBP:
Corrections? Additions?
If you can help us improve this game story, contact us.
Tags
http://sabr.org/sites/default/files/ArmasTony.jpg
600
800
admin
/wp-content/uploads/2020/02/sabr_logo.png
admin
2018-02-16 15:04:59
2020-04-17 10:24:55
August 21, 1986: Red Sox offense unleashes 'havoc and devastation' on Cleveland