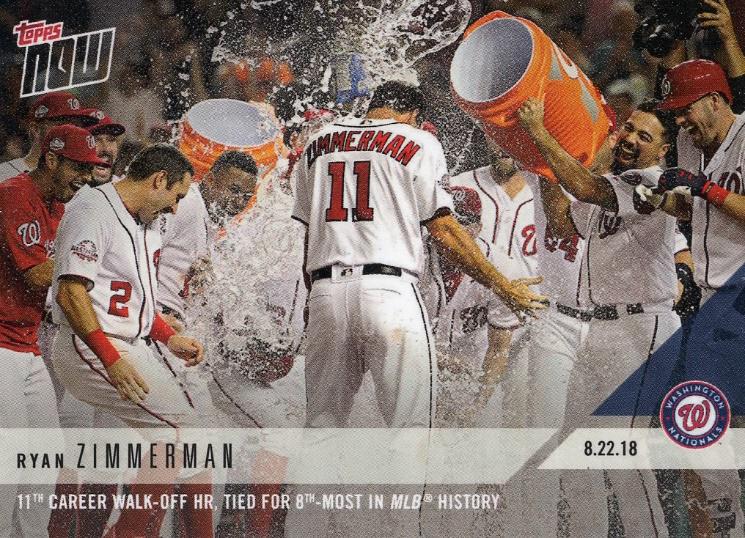 August 22, 2018: Ryan Zimmerman's 11th walk-off home run, a play in two acts
---
"The pressure is on him, man. It's not on me. I'm supposed to get out." — Ryan Zimmerman1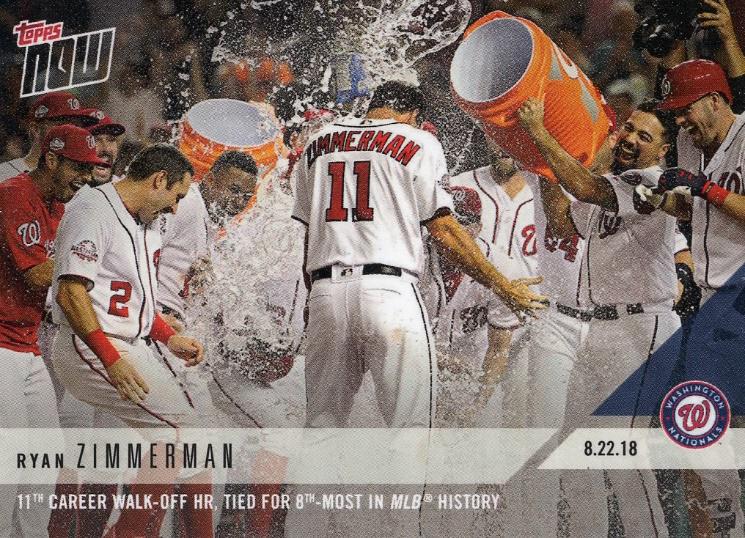 Baseball games are filled with moments of great theater. Before the curtain rises, Washington Nationals third-base coach Bob Henley emerges from the dugout and trots to his position, but not before presenting a baseball to an unsuspecting youngster watching along the third-base railing. The drama might build slowly and finish with a flourish, remembering the most acrobatic of performances by Steven Souza for the last out to preserve a no-hitter by Jordan Zimmermann2 on the last day of the 2014 season. Each game is different. But when Ryan Zimmerman steps to the plate in the bottom of the ninth inning as the winning run, we think of only a climactic ending with a walk-off home run. Have we seen this play before? Yes, 10 times to be exact! More about that later.
The evening started with the Nationals, a .500 team (63-63), trailing the NL East Division-leading Atlanta Braves by 7½ games and the second-place Phillies by 5½. Stephen Strasburg (6-7, 3.90 ERA) was making only his second start since June 8 because of bouts with shoulder inflammation.
Strasburg started well enough, getting the first two batters, Cesar Hernandez and Rhys Hoskins, on called third strikes, but consecutive line-drive doubles by Asdrubal Cabrera and Justin Bour and Maikel Franco's 21st home run put the Phillies up 3-0 in the first inning. The Nationals got one back against Phillies starter Zach Eflin (9-4, 3.70 ERA) in the first. Bryce Harper's two-out bunt single preceded an RBI double by Anthony Rendon.
After Bour took Strasburg deep in the third inning for his 20th home run, the Nationals came back to make it a new game in their half of the third inning. With one out and Trea Turner on first base, Harper doubled to right to make it 4-2. Juan Soto's single scored Harper, then consecutive singles by Zimmerman and Matt Wieters tied the score at 4-4. The Phillies came right back in the fourth to take the lead 5-4 when Strasburg walked Nick Williams and yielded singles to Jorge Alfaro and Roman Quinn. Alas, the Nationals made it a new ballgame for a second time in their half of the fourth inning. Singles by Turner and Harper put runners on first and third. When Harper stole second, Alfaro's throwing error allowed Turner to score. Hector Neris replaced Eflin, getting the last two outs of the inning to keep the score knotted at 5-5.
Strasburg was done after four innings, replaced by Wander Suero. His fifth inning was three-up, three-down, but the Phillies took the lead against him in the sixth when Williams singled and scored on a two-out double down the right-field line by pinch-hitter Carlos Santana. They added one more in the seventh inning when Hernandez tagged reliever Nationals reliever Justin Miller for a solo homer and a 7-5 Phillies lead. The Nationals managed to cut the Phillies' lead in half when Wilmer Difo opened the eighth inning with a triple to right off Phillies reliever Pat Neshek and scored on pinch-hitter Andrew Stevenson's sacrifice fly.
The Phillies tried to add their lead in the ninth inning. Jimmy Cordero came in from the bullpen to pitch for the Nationals and the first batter, Odubel Herrara, reached base on a groundball error by first baseman Ryan Zimmerman. Quinn's single and a walk to Rhys Hoskins sandwiched a fielder's-choice groundout, leaving the bases loaded with one out. Cordero retired Asdrubal Cabrera on a foul pop to third baseman Anthony Rendon. Matt Grace replaced Cordero on the mound to get a lefty-lefty matchup against Justin Bour. It worked: Bour struck out swinging to retire the side.
If you happened to be listening to the radio broadcast of a game such as this one, you might have heard the following dialogue in some form, "So we go to the bottom of the ninth. The Nationals trail 7-6 and are down to their last three outs as the Phillies bring in Seranthony Dominguez to close it out." In fact, they were down to their last out after Harper flied out to short left and Rendon flied a first pitch to right.
Juan Soto's double down the right-field line gave the fans what they wanted — Ryan Zimmerman coming to the plate as the winning run. The hometown fans had already been treated to two Nationals comebacks, reminding literary buffs in the crowd that "the third time's a charm."3
But wait, this play took a strange turn. In act one, Zimmerman hit Dominguez's 2-and-1 offering just barely over the right-field wall. He reacted as if he had just hit his 11th walk-off home run, but the blast was initially ruled a double, with Soto scoring to tie the game at 7-7. The umpires went to video replay to review the initial call while Zimmerman stood on second base. When the home-run signal came from the umpires, act two began. The 19-year-old Soto started running from home plate toward Zimmerman, who had resumed his home run trot. Soto just wanted to start an early celebration, but manager Dave Martinez thought about the rules and said, "If he touches Ryan, he's out. I was screaming bloody murder."4 Soto got the message and retreated to home plate to await the arrival of "Mr. Walk-Off" and the official celebration that followed.5
The walk-off home run was the 11th of Zimmerman's career and his first since 2015.6 He now trailed all-time leader Jim Thome by two and active leader Albert Pujols by one. The walk-off home run was Zimmerman's fifth when his team was trailing at the time, tied for the most in major-league history with Babe Ruth, Frank Robinson, and Fred McGriff.7 Pressure? What pressure?
For Nationals fans, the reaction to the walk-off home run was joyous and spontaneous, but others have not always thought of walk-offs in a similar way. An article in Sports Illustrated in 2000 noted, "Like crabgrass invading someone's lawn, "walk-off!" has taken root in sports lingo and gotten out of control. The term should appear in quotes and be followed by an exclamation point because, without TV's dime-a-dozen talking heads repeating it endlessly and effusively, there would be no "Aaron Boone wins the game with a walk-off!" Instead, we would simply (and gracefully) call a game-ending home run what we've always called it: a game-ending home run."8 Reds third baseman Boone felt the same way after his walk-off home run on May 11, 2000, gave Cincinnati an 11-9 victory over the San Diego Padres. "I refuse to call it a walk-off home run," said Boone. "It was a game-winning home run."9
The last word belongs to the 2019 Opening Day introductions at Nationals Park. As Zimmerman took his spot along the first-base line, the capacity crowd heard, "Number 11, Mr. Walk-Off, Ryan Zimmerman." It can't be any other way!
Author's note
Analysis of Retrosheet data through the 2018 season provides us with a statistical glimpse of Ryan Zimmerman's performance in the most dramatic of circumstances.10 The career .279 hitter's batting line when a walk-off situation confronts him is noted here.
| AB | R | H | 2B | 3B | HR | RBI | BB | SO | BA |
| --- | --- | --- | --- | --- | --- | --- | --- | --- | --- |
| 108 | 11 | 33 | 4 | 0 | 11 | 35 | 16 | 23 | .306 |
In addition to 11 walk-off home runs, Zimmerman knocked in the winning run in the last at-bat in six other games with four singles, a walk, and a sacrifice fly. His 17 walk-off events place him in a tie for 24th place for the 1937-2018 seasons. How does that compare to others? Ironically, two of his former managers, Frank Robinson (27) and Dusty Baker (25), are the leaders, but Albert Pujols (21) is the only player active in 2019 with more walk-off events than Zimmerman. Aaron Boone concluded his playing career with six game-ending home runs and three other game-ending batting events.
Sources
The author accessed Baseball-Reference.com for box scores/play-by-play information (baseball-reference.com/boxes/WAS/WAS201808220.shtml) and other data, as well as Retrosheet.org (retrosheet.org/boxesetc/2018/B08220WAS2018.htm). Tom Ruane (Retrosheet) provided data and analysis for Ryan Zimmerman's career performance in walk-off situations.
Notes
1 Amanda Comak, "Zimmerman's Walk-Off Grand Slam Lifts Nats to 8-4 Comeback Win Over Phillies," Washington Times, August 20, 2011.
2 Steven C. Weiner, "September 28, 2014: Jordan Zimmermann no-hits Marlins to end regular season," SABR Baseball Games Project.
3 The phrase is of uncertain origin but has literary antecedents that date back to 1602 in the first act, fifth scene of Shakespeare's The Merry Wives of Windsor.
4 "Zimmerman hits 2-run HR in 9th, Nationals beat Phillies 8-7," USAToday.com, August 22, 2018, accessed April 20, 2019, usatoday.com/story/sports/mlb/2018/08/22/zimmerman-hits-2-run-hr-in-9th-nationals-beat-phillies-8-7/37575047/. According to MLB umpire Gerry Davis (personal communication with author, June 29, 2019), Martinez' assertion is incorrect because the ball is dead. "While the ball is dead no player may be put out, no bases may be run and no runs may be scored, except that runners may advance one or more bases as the result of acts which occurred while the ball was alive (such as, but not limited to a balk, an overthrow, interference, or a home run or other fair ball hit out of the playing field." (Section 5.06(c) — Dead Balls, Official Rules of Major League Baseball, 2019: 31).
5 "Ryan Zimmerman," Topps NOW, No. 629, August 22, 2018, purchased by the author.
6 Steven C. Weiner, "May 19, 2015: 'Mr. Walk-Off' Ryan Zimmerman's 10th-inning blast beats Yankees," SABR Baseball Games Project.
7 Charlotte Carroll, "Nationals Win on Ryan Zimmerman's Replay-Reviewed Walk-Off Homer," SI.com, August 22, 2018, accessed April 20, 2019, si.com/mlb/2018/08/22/ryan-zimmerman-walkoff-homer-nationals.
8 Jeff Pearlman, "Walk-off! Crazy A Simple Turn of Phrase by Dennis Eckersley in 1993 Has Become an Overused Appellation for a Game-Ending Dinger," SI.com, July 17, 2000, accessed April 22, 2019, si.com/vault/2000/07/17/284715/walk-off-crazy-a-simple-turn-of-phrase-by-dennis-eckersley-in-1993-has-become-an-overused-appellation-for-a-game-ending-dinger.
9 Ibid.
10 Tom Ruane, email to author, April 18, 2019.
Additional Stats
Washington Nationals 8
Philadelphia Phillies 7
---
Nationals Park
Washington, DC
Box Score + PBP:
Corrections? Additions?
If you can help us improve this game story, contact us.
Tags
https://sabr.org/sites/default/files/ZimmermanRyan-2018.jpg
600
800
admin
/wp-content/uploads/2020/02/sabr_logo.png
admin
2019-05-09 23:35:42
2020-04-17 10:23:35
August 22, 2018: Ryan Zimmerman's 11th walk-off home run, a play in two acts