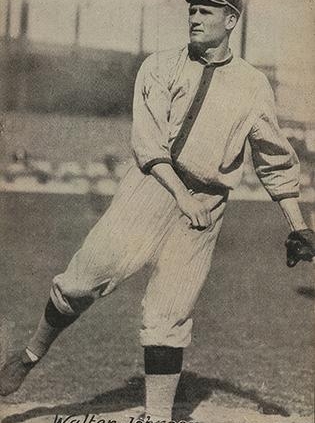 August 25, 1924: Walter Johnson tosses rain-shortened, 7-inning no-hitter
---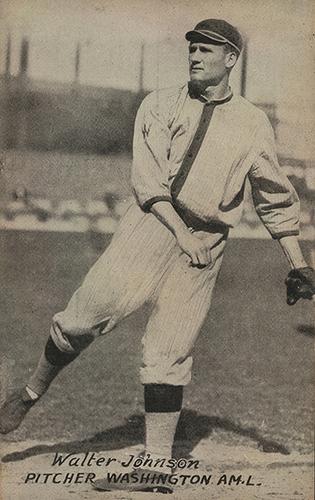 "Although Father Time has tried to mock the dean of pitchers in either major leagues," opined a sportswriter poetically about 36-year-old Walter Johnson in 1924, "the old man with the scythe could not have the cunning and strength from that great arm today."1 The Washington Senators hurler continued his season-long resurgence by holding the St. Louis Browns hitless in a rain-shortened seven-inning contest.
Player-manager Bucky Harris's Senators were on a roll as they prepared to kick off a four-game series again the Brownies to conclude a 15-game homestand. The Nationals, as the team was often known, had won the first nine of those games to push their record to 69-52 and into a tie for first place with the New York Yankees. An AL charter member, the Senators had finished as high as second place just twice (1912, 1913) since 1901. The Browns, on the other hand were going in the opposite direction. Gorgeous George Sisler, who like Harris was juggling the duties as player and skipper for the first time in his illustrious career, had seen his club drop 11 of their last 17 and fall to 61-58 and fourth place.
One of the major reasons for the Senators' unexpected success was Johnson. In his 18th season, the Big Train "shook off the shackles of age" and was enjoying his best season in the Live Ball Era.2 After posting a pedestrian 57-52 combined slate in his previous four campaigns – granted, for mediocre clubs – Johnson entered this game having won his last five starts (with a minuscule 1.43 ERA) to push his record to 16-6 and his career mark to 370-249. He was leading the AL in games started (29), shutouts (5), and strikeouts (121). His mound opponent was Frank "Dixie" Davis, a tall and lanky 33-year-old right-hander whose 150-pound stature was at least 50 pounds lighter than Johnson's. Davis was 8-8 (3.98 ERA) and 57-51 in his career, which spanned parts of eight seasons.
Despite threatening skies, the scheduled twin bill on a Monday afternoon in the nation's capital drew 7,000 patrons to Griffith Stadium. Johnson had tossed 103 career shutouts, easily the most in big-league history, and came out blazing his famous fastball and his dropping his knee-buckling curveball. Though his control was not what it was in his halcyon days more than a decade earlier, the robust 6-foot-1 hurler from Kansas still had enough heat to lead the AL in punchouts in 1923 for the 11th time in his career. After issuing a one-out free pass to Gene Robertson in the first, the Big Train dispatched the next 19 consecutive batters, though only two by strikeout, before walking dangerous cleanup slugger Ken Williams with two outs in the seventh.
Davis was shaky from the start, but didn't break. In the second Joe Judge led off by clubbing a double off the right-field wall, according to the St. Louis Post-Dispatch. Two batters later, Muddy Ruel blooped a Texas Leaguer to shallow center that might have led to the first run had not Baby Doll Jacobson raced in and slid to make a nifty catch. Roger Peckinpaugh followed with a line-drive single to left-field, but Williams fielded it cleanly and hurled a strike to nail a sliding Judge at home plate.
Johnson helped his own cause in the third by leading off with a single. (Adept with the bat his entire career, Johnson batted .235 and knocked in 255 runs in his career, including 20 twice.) He advanced a station on a passed ball by catcher Hank Severeid and then to third on Sam Rice's two-out single. Davis's bugaboo was his control; he had led the AL in walks in 1920 (149) and 1921 (123), and his wildness bit him in this situation. He walked Goose Goslin to load the bases, then walked Judge to push Johnson home, before Ossie Bluege's grounder forced Judge to end the frame.
The Nats had another leadoff hitter on base in the fourth when Ruel beat out a bunt back to Davis, whose wild throw to first enabled the slow-footed catcher to reach second. Peckinpaugh laid down a sacrifice bunt back to Davis, who was apparently indecisive about which base to throw to and ultimately threw late to first, and Peck was safe (no error charged). Johnson's perfectly placed bunt advanced both runners, but Davis once again extracted himself from danger by inducing popups by Earl McNeely and Harris.
Save for Judge's two-out double in the fifth, there was little action until the fateful seventh. McNeely led off with a single and moved up on Harris's sacrifice. Rain began falling as Goslin stepped to the plate, but the eventual 1924 American League RBI champion shrugged off the weather and laced a triple down the right-field line to drive in McNeely with the second run of the game.
With the rain still coming down hard as the Browns prepared to bat in the eighth, home-plate umpire Dick Nallin sent both teams off the field. After a 30-minute wait, he called the game, giving the Senators a 2-0 victory in 1 hour and 25 minutes. The second game was also postponed and was rescheduled for the next day as part of a double-header.
Rain robbed Johnson of the chance to record his second official no-hitter (which according to MLB rules must be a complete game of at least nine innings). He had authored the first and at the time the only no-hitter in Senators history on July 1, 1920, when he beat the Boston Red Sox, 1-0, at Fenway Park. Despite its cavernous dimensions, Griffith Stadium had not been the site of an official no-hitter by either the Senators or an opponent, though two games deserve mention. Carl Cashion tossed an abbreviated six-inning no-hitter in the second game of a doubleheader on August 20, 1912, beating the Cleveland Naps, 2-0, in a game that was called so that the Naps could catch a train to Boston for a game the next day. In the first game of that twin bill, the Big Train set an AL record by winning his 15th straight decision, beating the Naps, 4-2. The Chicago White Sox' Jim Scott suffered a heartbreaker on May 14, 1914, when he held the Senators hitless through nine innings, then yielded two hits and a run in the 10th to lose, 1-0. In its entire existence, from 1911 through 1961, Griffith Stadium experienced only one no-hitter and it came from an unlikely source: Bobby Burke, a 6-foot, 150-pound swingman who tossed only four shutouts in his career. Burke turned the trick on August 8, 1931, beating the Red Sox, 5-0.
According to one report, Johnson threw only 67 pitches, consisting of 16 called strikes (all on curves), 12 swinging strikes, and 11 foul balls; 19 were hit for outs, giving the Big Train a 58/9 strike/ball count.3
It was indeed a magical season for Johnson and the Senators in 1924. He won his next five starts after his no-hitter and extended his winning streak to 12 games by beating the Chicago White Sox on September 22. In season for the ages, the Big Train won the pitching triple crown by pacing the junior circuit in victories (23), ERA (2.72), and strikeouts (158); he also led the AL in shutouts (6) and games started (38), and fewest hits per nine innings (7.6), and was named American League MVP. More importantly, he led the Nationals to the pennant and ultimately the World Series title over the New York Giants. Johnson emerged as one of the heroes by pitching four innings of scoreless relief in Game Seven and picked up the win when McNeely's double in the 12th inning drove in Ruel for the dramatic game-winning and Series-clinching run.
Sources
In addition to the sources cited in the Notes, the author accessed Retrosheet.org, Baseball-Reference.com, SABR.org, and The Sporting News archive via Paper of Record.
Complete-play-by-play accounts were supplied by two newspapers:
"No-Hit Pitching of Walter Johnson Beats Browns, 2-0, in 7 Innings," St. Louis Post-Dispatch, August 25, 1924: 18.
Roy J. Gillespie, "Johnson Gives No Hits in Game Stopped in 7th by Rain," St. Louis Star and Times, August 25, 1924: 15.
Notes
1 "Veteran Washington Twirler Blanks His Foes Without Hit or Run," Philadelphia Inquirer, August 26, 1924: 19.
2 "Veteran Washington Twirler Blanks His Foes Without Hit or Run."
3 "Veteran Washington Twirler Blanks His Foes Without Hit or Run."
Additional Stats
Washington Senators 2
St. Louis Browns 0
7 innings
---
Griffith Stadium
Washington, DC
Box Score + PBP:
Corrections? Additions?
If you can help us improve this game story, contact us.
Tags
https://sabr.org/wp-content/uploads/2022/03/1926-Johnson-Walter.jpg
500
315
admin
/wp-content/uploads/2020/02/sabr_logo.png
admin
2022-03-19 00:00:45
2022-03-19 09:20:25
August 25, 1924: Walter Johnson tosses rain-shortened, 7-inning no-hitter