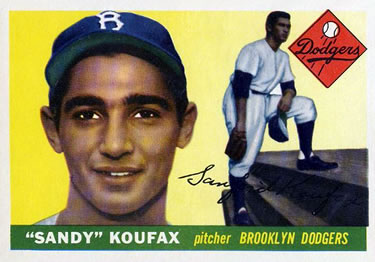 August 27, 1955: Teenage Sandy Koufax strikes out 14 in first big-league win
---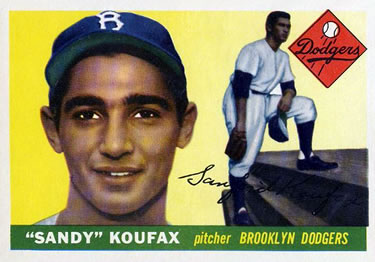 Brooklyn Dodgers skipper Walter "Smoky" Alston was on edge. Though the Dodgers (80-45) were in first place, leading the Milwaukee Braves by 10 games, it had been playing terribly and had lost 12 of its last 18 contests. To shake up his team, he tabbed 19-year-old Sandy Koufax to start the final contest of a four-game series with the fifth-place Cincinnati Redlegs (64-65) in front of family and friends at Ebbets Field.
It had been thus far a rough rookie season for the Brooklyn-born Koufax. Blessed with a blazing heater and devastating curveball, the southpaw had whiffed 58 in 32 innings, including 34 in consecutive games, as a freshman the previous year at the University of Cincinnati, where he had enrolled to study architecture; however, he suffered from chronic bouts with wildness. Reds scouts, reported sportswriter Lou Smith of the Cincinnati Enquirer, were turned off by the teenager's lack of control and doubted he would ever develop big-league "stuff."1 The Dodgers swooped in and signed Koufax for $20,000 (including a $6,000 salary), but were required to keep the "bonus baby" on their roster for two full seasons.2 It was obvious that Koufax was not ready for the big leagues and many wondered if he might be better suited to Class-A ball, where he'd at least have the opportunity to pitch regularly.
Koufax's season started badly and seemed to get worse. Early on, he sprained both ankles within a three-day period and then soon developed acute pain in his left arm and landed on the 30-day disabled list without yet having thrown his first regular-season pitch. "All of a sudden, my arm was so sore I couldn't throw at all," he said.3 He made his major-league debut on June 24, tossing two scoreless innings of relief. About two weeks later he was given his first start, but was pulled after 4⅔ innings having walked eight, yet yielded just a run in the second game of a doubleheader against the Pittsburgh Pirates. Tabbed to make his second start of the season, against the Reds, Koufax had thus far walked more batters than innings (12 to 11⅔) and had not yet earned a decision. "I'd be happier if I could be pitching regularly," he said, fully aware of his lack of experience and bonus status, which had the potential to rankle veterans. "But I know I've got a lot to learn before that can happen."4
On a warm, summer Saturday afternoon, Ebbets Field was packed with 18,133 spectators on Ladies Day, though paid admission was just 7,204.5 "Dem Bums" were in the middle of a 16-game homestand and had their work cut out for them against skipper Birdie Tebbetts's hard-hitting squad, winners of seven of their last nine games and making a push to finish in the first division. After Koufax quickly dispatched the first two batters, muscular Ted Kluszewski singled to right. It would be a long time before the Reds connected off the 19-year-old again.
The Dodgers, on the other hand, teed off on Reds starter Art Fowler. In his second season, the 33-year-old right-hander was 9-7 following an impressive rookie campaign (12-10), but was overmatched by Brooklyn's slugging crew. Leadoff hitter Jim Gilliam walloped a double off the scoreboard in right field. After a wild pitch sent him to third with one out, Duke Snider walked and Roy Campanella drove home the first run on a sacrifice fly. Up stepped Carl Furillo, one of the hottest hitters in the league, batting .395 (45-for-114) and slugging .605 in his last 27 games. He sent a line drive "(a) dozen rows back in the lower center-field stands," wrote Dodgers beat reporter Roscoe McGowen, to make it 3-0. It was the Reading Rifle's 22nd home run of the season to set a new career high.6
After young Sandy breezed through the second, third, and fourth innings, whiffing five more and issuing a walk to Big Klu, the Jackie Robinson show began. The 36-year-old led off the fourth by beating out a single to deep short. On successive pitches to Gil Hodges he stole second and then third base. Reds reporter Lou Smith took what might be construed as an offhanded dig at Robinson's aggressive baserunning, noting that he reached third by "nonchalantly kicking the ball out of Rocky] Bridges' hand."7 After Hodges walked, Sandy Amoros hit a tailor-made double-play grounder to shortstop Roy McMillan, but the future two-time All-Star and three-time Gold Glove winner fumbled the ball, according to McGowen, and could only manage to force Hodges at second while Robinson crossed the plate. [No error was charged]. The Dodgers tacked on another run in the next frame when the Duke and Campy walked with one out to send Fowler to the showers. Furillo greeted reliever Gerry Staley with a single to load the bases, then Robinson drew a walk to force in Snider. The Dodgers threatened to blow the game open, but Hodges' grounder to third forced out Campanella at home and then Amoros whiffed.
By the end of the fifth, Tebbetts had seen enough of Koufax, who had whiffed eight. Lou Smith reported that the hard-nosed pilot instructed his batters to play a waiting game to disturb the rhythm of the young twirler. "It failed to disrupt Koufax who continued to mow 'em down with uncanny consistency," continued Smith.8 The devious strategy nonetheless had an immediate effect. Koufax issued consecutive one-out walks to Johnny Temple and Smoky Burgess in the sixth which drew Alston to the mound for the first and only time in the game. "I thought maybe he might be trying to aim the ball," explained Alston. "I just wanted to tell him to keep throwing it as he had been doing."9 Koufax's two-out balk sent both runners up a station, but he retired Wally Post on a soft fly to right field.
Koufax had another hiccup in the seventh, walking Bridges and McMillan with two outs before emphatically ending the frame by making Chuck Harmon his 11th strikeout victim.
The Dodgers scored their final two runs in the seventh. After McMillan flubbed Furillo's grounder for the only error of the game, Robinson sent the first pitch to him from Rudy Minarcin, the Reds' fourth hurler of the afternoon, into the lower left-center-field stands for a two-run blast, his seventh of the season, and a 7-0 Dodgers lead.
Koufax punched out two more in the eighth and entered the ninth with an outside chance to tie Nap Rucker's team record of 16 strikeouts in a game, set in 1909. That quest became moot when Post grounded to third. Gus Bell, on a tear in his last 23 games, slugging .628 with 7 home runs and 21 RBIs, donned the golden sombrero with his fourth strikeout. "The lad had as much stuff as any pitcher I've faced in quite a spell," gushed Bell who couldn't remember whiffing four times in a game, even in high school.10 Sam Mele, entering the game batting .145, connected for the "hardest hit ball," according to McGowen, a line-drive double to left field.11 Koufax retired Bridges on a popup to shortstop to end the game in 2 hours and 37 minutes and record his first big-league victory and shutout.
"He had a good curve and his fastball was good, too," said batterymate Campanella. "His control was all right. He never was wild at any time. Did not ever miss the plate by much."12 Sportswriter Lou Smith was equally impressed by the teenager, lamenting that Koufax did not play for the Reds. "He had poise, a smooth delivery, along with a changeup that usually takes years for a young hurler to acquire."13
Koufax's 14 strikeouts were the most by an NL pitcher in a game in 1955. Combined with the nine strikeouts by Reds pitchers, the game produced 23 punchouts, which tied a then-major-league record for the most in a nine-inning game, matching the mark set by the Boston Braves and Reds in 1901 and matched by the New York Yankees and Washington Senators in 1914.
Continuing his season-long roller-coaster, Koufax was clubbed for five hits and four runs by the Braves in his next appearance, on August 31 at Ebbets Field, then followed that outing by blanking the Pittsburgh Pirates on five hits and fanned six on September 3. He concluded the season with a 2-2 slate and 3.02 ERA, 30 strikeouts and 28 walks in 41⅔ innings for the eventual pennant-winning Dodgers, who defeated the Yankees in seven games to capture their only World Series in Brooklyn. Koufax did not pitch in that fall classic.
Plagued by excruciating elbow pain, Koufax retired prematurely 12 years later, after winning his third Cy Young Award in four seasons at the age of 30 with 165 wins and 40 shutouts. He was elected to the Baseball Hall of Fame in his first year of eligibility, 1972, becoming at the age of 36 the youngest player to be enshrined.
Acknowledgements
The essay was edited by Len Levin and fact-checked by Mike Huber.
Sources
In addition to the sources cited in the Notes, the author also accessed Retrosheet.org, Baseball-Reference.com, Newspapers.com, and SABR.org.
baseball-reference.com/boxes/BRO/BRO195508270.shtml
retrosheet.org/boxesetc/1955/B08270BRO1955.htm
Notes
1 Lou Smith, "Koufax Lacks Stuff, Reds Scouts Reported," Cincinnati Enquirer," August 28, 1955: 58.
2 Instituted in 1947, the bonus rule required major-league teams to retain on their 25-man roster for two seasons any player who signed a contract in excess of $4,000. This rule went through various iterations until it was abolished in 1965.
3 Roscoe McGowen, "Brooklyn-Bred 'Bonus Baby' Is Coming of Age," New York Times, August 29, 1955: 13.
4 Ibid.
5 Roscoe McGowen, "Koufax Is Victor," New York Times, August 29, 1955: S1.
6 Ibid.
7 Lou Smith, "Koufax Fans 14 As Dodgers trounce Reds, 7-0," Cincinnati Enquirer, August 28, 1955: 55.
8 Ibid.
9 McGowen, "Koufax Is Victor."
10 Smith, "Koufax Lacks Stuff, Reds Scouts Reported."
11 McGowen, "Koufax Is Victor."
12 Ibid.
13 Smith, "Koufax Lacks Stuff, Reds Scouts Reported."
Additional Stats
Brooklyn Dodgers 7
Cincinnati Redlegs 0
---
Ebbets Field
Brooklyn, NY
Box Score + PBP:
Corrections? Additions?
If you can help us improve this game story, contact us.
Tags
https://sabr.org/sites/default/files/KoufaxSandy-1955.jpg
600
800
admin
/wp-content/uploads/2020/02/sabr_logo.png
admin
2018-08-22 15:19:42
2020-04-17 10:24:44
August 27, 1955: Teenage Sandy Koufax strikes out 14 in first big-league win