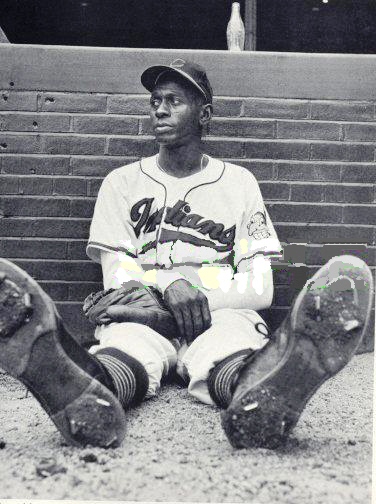 August 3, 1948: Satchel Paige's first major-league start
---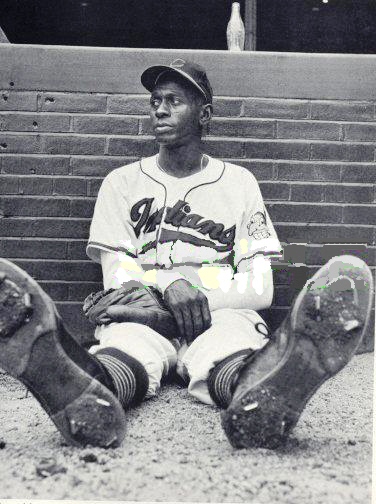 The old saying "timing is everything" has been proved true in most everybody's life at one point or another. For Cleveland Indians owner Bill Veeck, this adage came to fruition when he moved his club's home games from League Park to Cleveland Stadium on a permanent basis in 1947. The lakefront stadium, with its capacity of over 70,000 and ample parking, would serve more customers and sell more concessions. But of course, a new location alone would not bring folks to the ballpark. There has to be a product to draw them. The Indians had hosted a handful of games in recent seasons at Cleveland Stadium. These were mostly Sunday doubleheaders and night games when a large crowd was anticipated.
In 1948, a large crowd kept the arms of the turnstiles revolving most games. It was games like the evening tilt against the Washington Senators on August 3, 1948, that kept the Tribe fans coming back, and grateful for the additional seating.
The flash crowd of 72,434 that stormed the ticket windows might have been drawn to an evening game against Washington because their beloved Indians were in the pennant race. Going into the day's games, the Philadelphia Athletics led the pack in the American League with a 59-40 record. But Boston, New York, and Cleveland were nipping at their heels. The trio of second-place teams were one game out of the catbird seat. They were separated from each other by mere percentage points.
But perhaps the reason for the high attendance on a Tuesday evening was one of curiosity. Making his first major-league start was Leroy "Satchel" Paige. Mystery surrounded his acquisition in July. Many wondered if the Negro League star still had anything left in the tank. How old was he anyway? "Life starts at 40 in the big leagues," said Paige. "Or somewhere thereabouts."1 Paige kept that little nugget of information a secret for much of his life.
Surely Veeck signed Paige as a publicity stunt. Veeck had a little of the old P.T. Barnum in him and was not averse to finding creative ways to appeal to his customers. But Paige showed up at the ballpark for a tryout. Indians manager Lou Boudreau, coach Bill McKechnie, Tris Speaker and Veeck all observed Paige's workout. The Indians contingent was impressed with Paige's hurling. "I ain't as fast as I used to be," said Paige, "but I'm a better pitcher. I used to overpower 'em; now I out-cute 'em. "2
Paige became the fourth African-American player in the major leagues (preceded by Jackie Robinson, Larry Doby, and Roy Campanella). He was the first black pitcher to start a major-league game. A veteran of the Negro Leagues, Paige boasted a 103-61 record with a 3.31 ERA and 110 complete games.3
Paige had made eight relief appearances (1-1, 2.00 ERA) prior to his initial starting assignment. The Senators went with Early Wynn (7-11, 5.44). Wynn had started a game on August 1 at Sportsman's Park against the St. Louis Browns. But he lasted only 2⅔ innings, giving up four earned runs.
Washington scored two runs in the top of the first inning. The old bugaboo of walks did Paige in. With one away, he issued consecutive passes to Al Kozar and Gil Coan. Bud Stewart followed with a triple to left-center field to plate both runs.
The Senators held their 2-0 advantage until the bottom of the fourth, when Doby led off with a walk and scored on Ken Keltner's double to left field. Washington manager Joe Kuhel argued that a fan touched the baseball as it bounded off the left-field wall. "Sure, a spectator stopped it and prevented Gil Coan from playing it on the rebound off the wall," said Kuhel. "It should have been a ground-rule two-base hit and the runner should have been stopped at third."4
Washington pushed its advantage back to two runs in the top of the fifth inning. Wynn led off with a double to left. Eddie Yost tapped a comebacker to the mound. Paige held Wynn at second and threw Yost out at first. Kozar singled to left field and Wynn moved to third and scored on a fly out by Coan.
Washington led 3-1, but it turned out to be temporary. With one out in the bottom of the inning, Allie Clark singled to left field and scored when Doby doubled to left field. Forrest Thompson came in from the Washington bullpen to relieve Wynn. Keltner welcomed him into the game by singling Doby to third base. After Joe Gordon popped out to Yost at third, Boudreau singled Doby home to knot the score, 3-3. The book was closed on Wynn, who gave up three earned runs in 4⅓ innings pitched. He walked four and had one strikeout.
Paige pitched into a jam in the top of the sixth when Mickey Vernon and Mark Christman singled to put runners on base with one out. But Clark made a run-saving over-the-shoulder catch of a Jake Early drive to right field. Paige then picked Christman off first base for the third out." I was playing him short because he usually pokes the ball into center or tries to drop it in," said Clark. "I just went back as fast as I could and it stuck."5
Jim Hegan untied it with his ninth homer, a solo shot to lead off the sixth. Walt Masterson was the new Nats pitcher in the seventh inning. Cleveland extended its lead to 5-3. Masterson was not sharp, three walks (one intentional), a passed ball, and a force out scored the Tribe's fifth and final run.
Paige's day was over. He went seven innings, struck out six and walked four. The baton was passed to relief pitcher Ed Klieman. He hurled two scoreless innings, making the final score 5-3.
"My left leg's a little sore. Bothered my control, but I'll be all right," said Paige.6 He was asked if he would be ready to join the rotation and pitch every fourth day. "Every four days," said Paige. "I used to start every second day and then do relief in between. Why, that every four days would be a vacation."7
The 1948 season drew 2,620,627 fans to Cleveland Stadium. It was the highest attendance total in the ballpark's history. They drew over two million in 1949, and in 1993, their last season there.
Paige started six more games the remainder of the season. He posted a 6-1 record with a 2.48 ERA. He pitched two-thirds of an inning in Game Five of the World Series. As of 2017, the Indians' Series win over the Boston Braves in 1948 has been the last in franchise history.
Sources
The author accessed Baseball-Reference.com for box scores/play-by-play information (baseball-reference.com/boxes/CLE/CLE194808030.shtml) and other data, as well as Retrosheet.org (retrosheet.org/boxesetc/1948/B08030CLE1948.htm).
Notes
1 James E. Doyle, "The Sporting Trail," Cleveland Plain Dealer, July 8, 1948: 15.
2 Gordon Cobbledick, "Veeck Is Confident Paige Has Enough Left to Supply Pitching Help That Indians Need," Cleveland Plain Dealer, July 8, 1948: 16.
3 Larry Tye, Satchel: The Life and Times of an American Legend (New York: Random House, 2009), 302.
4 Charles Heaton, "Startin' Is Lots Easier Than Savin', Satch Says," Cleveland Plain Dealer, August 4, 1948: 22.
5 Ibid.
6 Ibid.
7 Ibid.
Additional Stats
Cleveland Indians 5
Washington Senators 3
---
Cleveland Stadium
Cleveland, OH
Box Score + PBP:
Corrections? Additions?
If you can help us improve this game story, contact us.
Tags
http://bioproj.sabr.org/bp_ftp/images5/PaigeSatchel.jpg
600
800
admin
/wp-content/uploads/2020/02/sabr_logo.png
admin
2018-03-27 11:18:13
2020-04-17 10:24:52
August 3, 1948: Satchel Paige's first major-league start