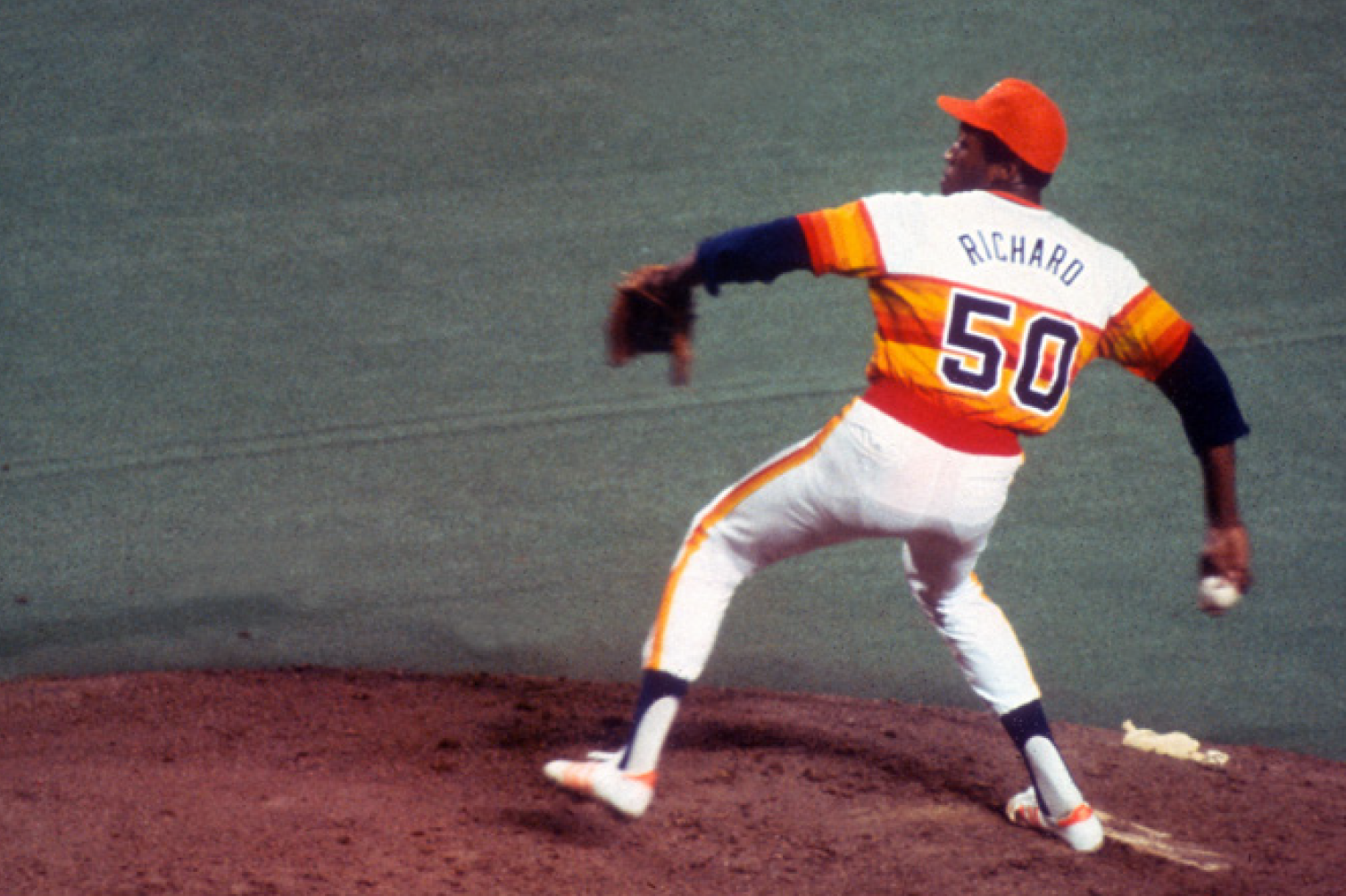 August 3, 1979: J.R. Richard strikes out 15 in complete-game victory over Braves
---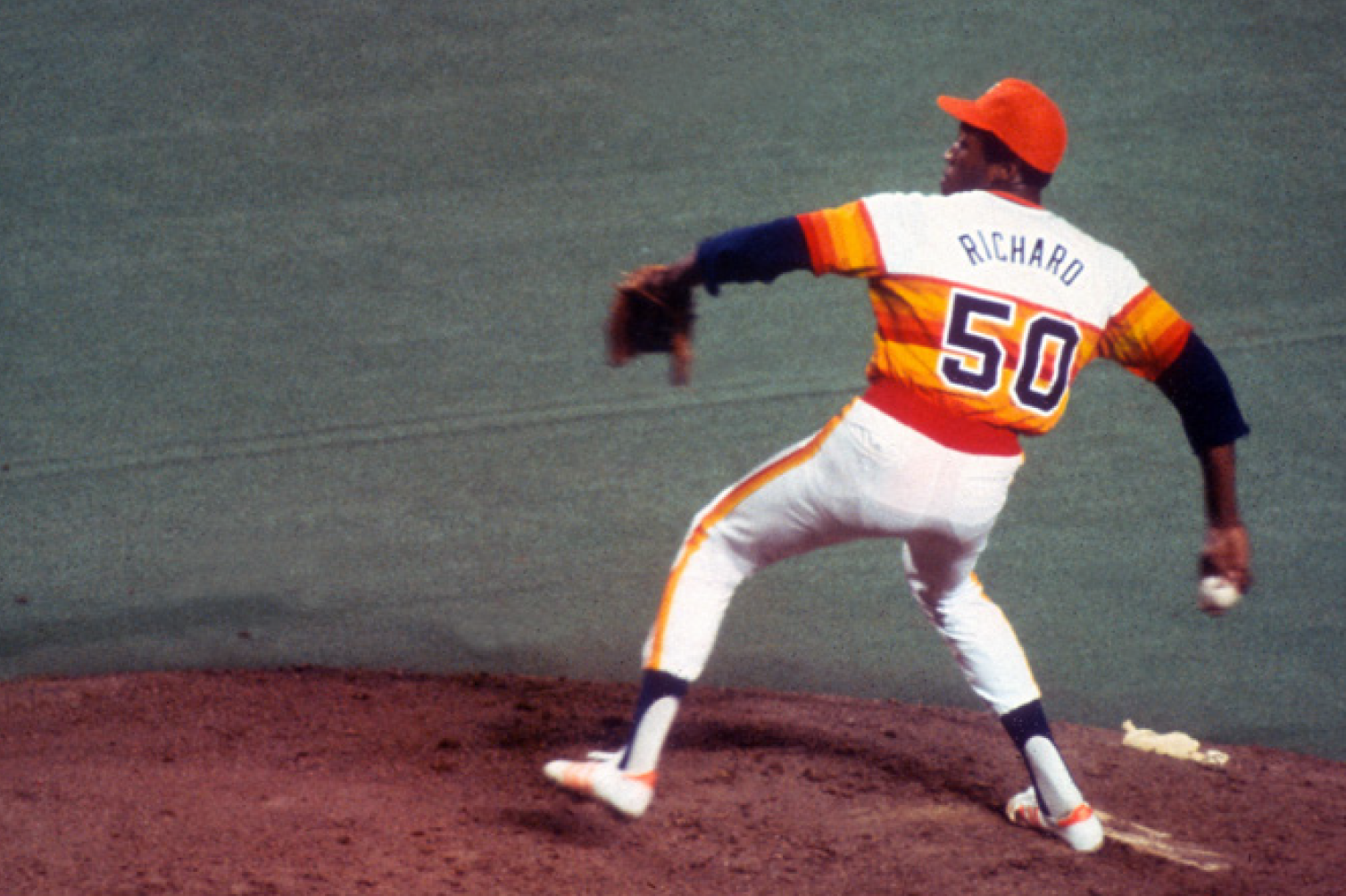 The Houston Astros owned a 3½-game lead in the National League West when they hosted the Atlanta Braves on August 3, 1979. Their starting pitcher, ace J.R. Richard, took the ball with a 9-11 record. As is often the case with pitchers' won-lost numbers, though, the sub-.500 record failed to reflect the overall strength of his performances and his value to the team. Richard began the 1979 campaign red-hot, earning four wins and one no-decision in five April starts, before losing 11 of 18 between May 1 and July 20. "I was erratic … but I also had some bad luck," Richard said by way of explaining the pile of midseason losses. "I pitched some good games, but I was paired against some of the best pitchers in baseball. If I gave up one or two runs, it seemed like I was beat."1
In fact, he had allowed two runs in just one of his losses during that stretch. (He gave up three runs in three of the other losses, and four or more in the remaining seven.) But some of the blame for Richard's slide belonged to the Astros' weak offense, which offered Richard scant help in 1979, scoring a league-worst 583 runs for the season. (The Houston pitchers allowed 582.) Nevertheless, entering the August 3 game, Richard led the major leagues with 182 strikeouts, and he'd won his previous two starts, including an eight-strikeout complete game against the Los Angeles Dodgers on July 29. The 6-foot-8 Houston fireballer returned to the Astrodome mound on this Friday night in front of 20,716 fans, eager to add another dominant victory to his resume.
Richard wasted no time. Leadoff batter Jerry Royster struck out, Gary Matthews flied out, and Rowland Office ended the top of the first by also striking out. In the bottom of the first, Braves starter Rick Matula held the Astros to a two-out single by Terry Puhl that failed to initiate an Astros threat.
In the second Richard picked up where he'd left off, striking out Bob Horner and Dale Murphy (the third and fourth Braves strikeout victims of the night), but Murphy reached first when Richard's third strike skipped past catcher Alan Ashby. Richard's arsenal included an upper-90s fastball and a hard slider that was occasionally as impossible to catch as it was to hit. Richard threw 19 wild pitches in 1979 (12 in his first four starts, including six in one game, equaling a major-league record2), but his wildness, in combination with his height and pitch velocity, intimidated hitters. Richie Hebner joked that he could almost smell Richard's breath when he delivered a pitch.3 Astros reliever Joe Sambito said, "I know a Dodger player who [said] a lot of Dodgers have come up with fake injuries rather than face J.R. — and you wouldn't believe the names. I see guys who never swing at the first pitch always swing at it against J.R. They take charity swings, just to keep from staying in there. That fear is such a help for a pitcher, and with Jay, it means that he has an extra half-foot of error space on his pitches that no other pitcher has; he can make more mistakes because nobody is digging in."4
Richard anxiety even affected teammate Bob Watson, who said, "I've never taken batting practice against him and I never will. I have a family to think of."5 On this night, control would not be a problem for the Astros starter. After Mike Lum singled to join Murphy on the bases, Richard struck out Joe Nolan and retired Pepe Frias on a fly ball to right.
Houston's offense gave Richard a lead in the bottom of the second when Art Howe doubled home Enos Cabell, who had led off with a single and stolen second. Ashby drove in Howe for the second Astros run. Richard's sacrifice bunt moved Ashby into scoring position, and Cesar Cedeno walked, but the inning ended when Craig Reynolds flied out to center.
Richard struck out Matula to begin the third. Then Jerry Royster walked and stole second. After walking Gary Matthews, Richard struck out Office for his seventh K of the game. Horner followed with a two-out single to center, plating the first Braves run of the night. Murphy flied out to end the inning.
In the bottom of the fourth, Richard aided his own cause with a one-out single to center. After advancing to second base on a single by Cedeno, Richard reached third on Reynolds' fielder's choice and crossed the plate on Puhl's two-run double. The offensive outburst widened the Astros' lead to 4-1 and knocked Matula out of the game. Larry Bradford took the ball for the Braves and finished the fourth without allowing further damage. Richard then continued his domination of the Braves, retiring them in order in the fifth: Pinch-hitter Darrel Chaney struck out, Royster lofted a fly to right field, and Matthews took a third strike.
Richard was in his groove again, and the Atlanta hitters were overmatched. Astros manager Bill Virdon later insisted that Richard hadn't just regained his April form in August, he'd surpassed it. "J.R. is pitching more consistently than at any other point all year," the Houston skipper said. "His control is much better now. When J.R. gets ahead 0-and-2, he is almost unhittable. The batters just don't know what he's going to throw."6 Richard felt the difference, too. "My rhythm is better now and I'm in a better overall groove," he said, "but I don't think I'm throwing any harder."7
In the sixth Richard added another Horner K to his expanding strikeout collection and continued to stymie the Braves' offense. The Atlanta bullpen held the Houston offense in check the rest of the way, but the night belonged to J.R. Richard. In the seventh, Braves pinch-hitter Jeff Burroughs swung and missed for Richard's 11th strikeout, and Matthews became number 12 when he failed to make contact leading off the eighth. The top of the ninth began with a walk to Lum. Richard retired Nolan on strikes. Frias's single to center may have given the Braves a glimmer of hope, but as had been the case throughout the game, Richard refused to buckle, as he dispatched pinch-hitter Charlie Spikes on strikes for the second out. The Houston ace told reporters after the game that it was only then that he realized how many strikeouts he'd compiled. "I wasn't aware of the strikeouts until they flashed 'King Richard' on the scoreboard and the number 14," he said. "Then I was going for the strikeout against Royster."8 He got it.
Richard's 15 strikeouts matched his career high, which he'd set in his major-league debut nearly eight years earlier, on September 5, 1971. Of the 12 Braves batters to face Richard in this game, only Lum avoided striking out. Five of the 12 struck out twice (Royster, Matthews, Office, Horner, and Joe Nolan), including the top four in the batting order. Eight of Atlanta's nine baserunners failed to score. It was a dominant performance by a pitcher reaching the pinnacle of his career. "When J.R. is in the groove like that, there's not much anybody can do," Braves manager Bobby Cox said. "We hit about four balls hard, but somebody caught them, and that was it." 9
The 1979 Astros were built on speed and pitching. They hit more triples (52) than home runs (49) behind a pitching staff that completed 55 games, an astounding (for its era) 34 percent of their starts. J.R. Richard led the way with a 5.6 WAR season,10 throwing 292⅓ innings and completing 19 of his 38 starts. He finished the season best in the National League in batting average against (.209) and strikeout/walk ratio (3.194), and he led the majors in ERA (2.71), strikeouts (313, or 90 more than second-best Nolan Ryan), strikeouts per 9 innings pitched (9.636), and fewest hits allowed per 9 innings pitched (6.773).
When asked before the 1979 season if he thought he was the best pitcher in the game, Richard said, "I don't ever say that, I let others say it for me. But to me, I'm in the game to be No. 1. I can't be satisfied with less. Being No. 1 is fantastic, it's the greatest thing in the world. Not being No. 1 is being an ass. I feel I'm close to that point, if not already there, because my domination instinct is greater than most people's. That's the same instinct Russia and the U.S. have in the arms race, except I don't use it to hurt anyone. I want to dominate baseball, not people. A lot of people want that, but they don't want to put in the work, to suffer, to sacrifice to do it. I do. I run more than any pitcher has ever run. I do two miles most every day in under 10 minutes. I kill myself. Being the best requires that. I've made that pact with God and myself."11
This article appears in "Dome Sweet Dome: History and Highlights from 35 Years of the Houston Astrodome" (SABR, 2017), edited by Gregory H. Wolf. To read more articles from this book at the SABR Games Project, click here.
Acknowledgments
Brian Madigan provided research assistance for this story.
Notes
1 Harry Shattuck. "J.R., Forsch Settle Down and Astros Stay Up," The Sporting News, August 25, 1979.
2 Mark Ribowsky. "This Pitcher Makes Hitters Tremble," Sport, July 1979.
3 Ibid.
4 Ibid.
5 Ibid.
6 Shattuck.
7 Ibid.
8 Tribune Wire Services. "Astros' Richard fans 15 Braves," Chicago Tribune, August 4, 1979.
9 Ibid.
10 WAR based on calculations from Baseball-Reference.com.
11 Ribowsky.
Additional Stats
Houston Astros 4
Atlanta Braves 1
---
Astrodome
Houston, TX
Box Score + PBP:
Corrections? Additions?
If you can help us improve this game story, contact us.
Tags
https://sabr.org/sites/default/files/RichardJR.png
600
800
admin
/wp-content/uploads/2020/02/sabr_logo.png
admin
2018-09-18 12:31:33
2020-04-17 10:24:39
August 3, 1979: J.R. Richard strikes out 15 in complete-game victory over Braves