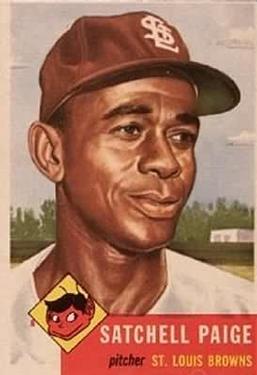 ---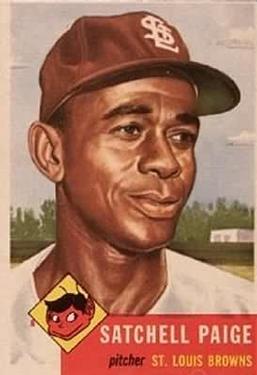 "Never was Paige more tantalizing," mused the St. Louis Post-Dispatch about 45-year-old "Old Satch's" remarkable 12-inning shutout of the Detroit Tigers. "[He] wins games [and] entertains in the process. He whirled his arm twice in a full windup; sometimes just once. His slow ball … seemed to hang in the air, as though manipulated by wire."1 "[Paige] unwound his ancient right arm," gushed the Detroit Free Press, and "proved himself the master," momentarily putting the St. Louis Browns on the front pages of sports pages across the country.2
Since capturing an unlikely pennant in 1944, the Browns had been among the worst teams in baseball, and struggled to draw fans in a city long dominated by the Cardinals. In 1951 Bill Veeck bought a controlling interest in the club and vowed to make changes as he did when he purchased the Cleveland Indians in 1946. The visionary owner had integrated the AL with the signing of Negro Leagues star Larry Doby in 1947. In July 1948 he signed Satchel Paige, who by some estimates had probably already pitched in excess of 2,000 games in the Negro Leagues, most notably with the Pittsburgh Crawfords and Kansas City Monarchs, and on barnstorming tours.3 The 41-year-old "rookie" became the first African-American pitcher in the major leagues, going 6-1 as the Indians went on to win the World Series. When Veeck was forced to sell the Indians after the 1949 season as part of a divorce settlement, Paige was subsequently released, his big-league career seemingly finished. A year and a half later, Satch got another chance when Veeck signed the ageless hurler to a Browns contract in July 1951. In his debut on July 18, he hurled eight innings in an eventual loss to the Washington Senators at Sportsman's Park.4
The seventh-place Browns (44-63) were in accustomed territory as they prepared to play the Tigers in the second game of a three-game set as part of a season-long 22-game homestand. Paige was one of the few bright spots for the Browns and skipper Marty Marion, the former Cardinals All-Star shortstop who had replaced Rogers Hornsby in the dugout about two months earlier. Paige had strung together 27⅓ scoreless innings over 12 appearances as a reliever (May 8 to June 11). On June 20, the 6-foot-3, 180-pound Alabaman hurled 10 scoreless innings of relief in a 5-5 tie against Washington; 11 days later he tossed 10⅔ innings of relief against Cleveland only to suffer a heartbreaking loss by surrendering two runs in the 19th inning. Paige's unlikely performance thus far in '52 was vindicated when New York's Casey Stengel named him to the AL All-Star team, though he didn't pitch in the game.
Paige (7-6, 3.00 ERA), making his 35th appearance and second start of the season, faced off against 35-year-old right-hander Virgil Trucks, long considered one of the hardest throwers in baseball. "Fire" Trucks entered the season with a stellar 103-72 career record in parts of 10 seasons, yet was in the midst of a confounding campaign. Despite his unsightly record (4-13), Trucks had already authored a no-hitter and one-hitter against Washington for the last-place Tigers (36-68). [Trucks would go on to toss his second no-hitter of the season, against New York, on August 25 en route to a 5-19 record].
Paige and Trucks weren't strangers. Trucks told the author that while growing up in Birmingham he'd sneak into games at Rickwood Field to see Paige pitch for the Birmingham Black Barons in the late 1920s.5 Coincidentally, when Trucks was traded to the Browns for the 1953 season, Paige became his first black teammate, and they struck up a close friendship that included a barnstorming event featuring the two hurlers in 1959.
A Wednesday match-up of the league's two worst teams drew a sparse crowd of 6,162 to Sportsman's Park. The Browns threatened first when they filled the bases with no outs in the second on singles by Jim Delsing and Bobby Young and a walk to Joe DeMaestri. Paige hit a sharp grounder to first baseman Walt Dropo, who initiated a 3-2-3 double play by firing a strike to catcher Joe Ginsberg. Trucks whiffed Gordon Goldsberry to end the frame. The Browns had another good scoring opportunity in the fifth when Goldsberry led off with a double, only to have Trucks retire the next three batters in succession.
Described as a "venerable Negro," in the insensitive parlance of the time, Paige rolled through the first five innings, yielding only three hits.6 The Tigers had their "first real chance," opined the Detroit Free Press, when Neil Berry and Fred Hatfield lined consecutive two-out singles in the sixth.7 Paige dispatched cleanup hitter Dropo on a routine fly to left fielder Ray Coleman.
After Paige set down the Tigers in order in the seventh and eighth, Clint Courtney collected the Browns' sixth hit, a one-out double. But once again, Trucks defused the threat, retiring Jim Dyck and then corralling Delsing's "high bounder" and throwing to first to end the frame.8
The Tigers seemed to have Paige on the ropes in the 10th. But the oldest player in the league, whom the United Press tabbed as "Old Mr. Unbelievable," had a few more tricks up his sleeve.9 After Cliff Mapes led off with a double, Paige intentionally walked Ginsberg, setting up a potential double play. Light-hitting rookie Al Federoff's bunt was perfectly placed to the third-base side, filling the bases with no outs. Skipper Fred Hutchinson sent Johnny Pesky to pinch-hit for Trucks, who had been on a roll, yielding only two of his six hits since the third inning. The move backfired as Pesky grounded sharply to first baseman Goldsberry, whose strike to Courtney nailed Mapes at the plate. Johnny Groth followed with a hard bouncer to rookie third baseman Dyck, whose missile to Courtney erased Ginsberg. Facing Berry with runners on second and third, Paige lofted "three very fast, sharp breaking curves," wrote the Post-Dispatch. "Each one started for Neil Berry's chest, then broke right over the heart of the plate."10 Berry was called out on strikes to end the frame. The Browns' defense and Paige's performance were "hailed as actual victory," gushed the Post-Dispatch. "[Paige] broke the Tigers' spirit."11
Armed with what the Free Press described as "unusual baffling control," Paige retired all six batters he faced in the 11th and 12th innings.12 One of those outs was by Dropo, who meekly grounded back to Paige to finish the game hitless in five at-bats. Frustrated by Paige the entire game and once falling after whiffing at a pitch, Dropo "exchanged heated words" with the pitcher at one point, according to the Post-Dispatch.13
St. Louis got a break when Young led off the 12th with a sharp blow that caromed off second baseman Federoff's glove for the Browns' first hit against Hal White. (The right-hander had relieved Trucks to begin the 10th.) After Fred Marsh advanced Young to second on a sacrifice, Al Zarilla, pinch-hitting for Paige, was intentionally passed to set up a double play. Both Marsh and Zarilla moved up a station when Goldsberry's grounder was too slow to turn a twin killing. White loaded the bases by intentionally walking Coleman to set up a do-or-die scenario with rookie Bob Nieman. The Cincinnati native, who ended the season leading the Browns in homers (18), RBIs (74), and batting average (.289), stroked a single over shortstop Berry's head to drive in Young for the dramatic winning run, ending the game in 3 hours and 1 minute.
Nieman's clutch single made a winner out of Paige, who yielded only seven hits and struck out a career-high nine batters in the longest outing of his big-league career. "[He] outpitched one of the standouts of the decade," praised the Free Press.14 Reporters gathered around the affable hurler in the clubhouse after the game. "I told Marty that I had 100 outs in my arm last night and I sure used them all up," said Paige in his Alabama drawl. "I made up my mind that there wasn't gonna be no morning workout," he continued, making reference to manager's Marion's practice of holding early-morning practices after losses.15
The most excited person after the game might have been Bill Veeck, who kept an office and a small apartment in Sportsman's Park, which he also owned. "This is the greatest baseball thrill I have had in many years," said the cash-strapped owner, whose controversial stunts, such as 3-foot-7 pinch-hitter Eddie Gaedel and grandstand manager day (both of which occurred within a week the previous August), had infuriated other baseball owners.16 But "Ole Satch," who never forgot the trust the master showman had in him, knew Veeck must have been an anxious, miserable wreck during the game. "I was thinking of 'Old Burrhead' (Paige's pet name for Veeck) when I was going through those extra innings."17 Paige finished his most productive campaign in the majors with a 12-10 record and a 3.07 ERA in 138 innings.
Notes
Additional Stats
St. Louis Browns 1
Detroit Tigers 0
12 innings
---
Sportsman's Park
St. Louis, MO
Box Score + PBP:
Corrections? Additions?
If you can help us improve this game story, contact us.
Tags
http://sabr.org/sites/default/files/Paige-Satchel-STL-Browns.jpg
600
800
admin
/wp-content/uploads/2020/02/sabr_logo.png
admin
2016-04-20 16:28:07
2020-04-17 10:26:41
August 6, 1952: Satchel Paige turns back time in 12-inning shutout against Tigers