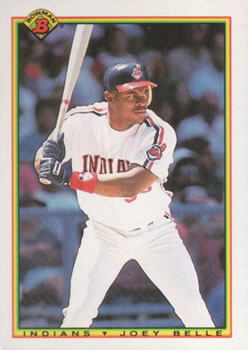 July 15, 1989: Albert Belle's major-league debut
---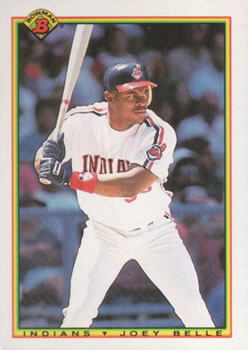 On April 7, 1989, the movie Major League was released across America. The movie told the fictional tale about a losing baseball team with a recent history of ineptitude and incompetence. The appealing characters and the farcical storyline made for great comedy.
Unfortunately, the team that was integral to the plot was an imaginary version of the Cleveland Indians. Lifetime fans of the Tribe had to be thinking that the onscreen Indians sure resembled the real-life edition that played its home games at Cleveland Stadium. However, it is revealed at the end of the movie that the Indians beat the New York Yankees in a tiebreaker game to win the American League East, which really was comedic.
Still, a fan base can dream. And while the flick was very well received, one visit to the ballpark gave the most ardent rooter a big dose of reality.
As the Indians pulled into the All-Star break in 1989, they were in sixth place with a record of 40-45. But they were only eight games behind first-place Baltimore. Perhaps the Indians were going to mirror their cinematic brethren? But most people believed, and with good reason, that the second half would bring about a collapse. And since the Cleveland Browns would begin training camp in a couple of weeks, who had time for the Tribe?
The Indians came out of the break hosting the Texas Rangers in a four-game series at home. The Rangers were in fourth place of the AL West, 5½ games behind front-running California. One of the catalysts on the Rangers was Julio Franco. He had been acquired from Cleveland in the offseason for Pete O'Brien, Jerry Browne, and Oddibe McDowell. Franco, who could always hit, was a solid contributor in the middle of the Rangers' lineup, providing protection for cleanup hitter Ruben Sierra.
By the time Texas arrived in town, McDowell had been traded to Atlanta. O'Brien made no mistake that he was playing out the last year of his contract and would leave Cleveland. Which left Browne, aka the Governor. Browne was a steady performer for the Tribe, but he was nowhere near the level of a player like Franco.
The Indians made a roster move, placing Cory Snyder on the disabled list with a sore back and promoting Joey Belle from Akron-Canton of the Double-A Eastern League. Snyder had played in the opening game, and went 0-for-5 with four strikeouts. He sat out the second game and went on the DL. Belle was leading the Eastern League in home runs (20) and RBIs (69).
Belle was a standout player at Louisiana State University, but could charitably be described as temperamental. He had already made waves down in the minors." Believe me, you're not getting an angel," said Dan O'Dowd, Cleveland's director of player development. "Don't make any mistake. He's still going to have his moments. He's still going to throw bats, things like that. He's highly competitive and he has a difficulty with failure. He doesn't handle going 0-for-4 very well at times. If he strikes out with a man on third, he's not going to go back to the dugout quietly."1
Indians skipper Doc Edwards inserted Belle into the starting lineup, batting sixth and manning right field.
The pitching matchup featured a couple of native Texans. Nolan Ryan started for the Rangers and was having his usual fine year. Ryan sported a 10-4 record with a 2.91 ERA. He was in his first season with the Rangers after pitching nine seasons for the Houston Astros. He had beat Cleveland at Arlington Stadium on June 25, 4-2. Ryan pitched no-hit baseball for the first 7⅔ innings before Brook Jacoby broke up the no-no with a double.
Ryan's counterpart was southpaw Greg Swindell. The former All-American from the University of Texas was having the best season of his career. Swindell was 11-2 with a 2.75 ERA. He was coming off his first All-Star Game appearance, hurling 1⅔ innings of scoreless relief. Swindell idolized Ryan as a youngster. "I must have gone to the Astrodome 12 or 13 times with my dad to watch him," said Swindell. "It's an honor just to pitch against him."2
A decent crowd of 28,952 pushed through the turnstiles at Cleveland Stadium; no doubt the allure of the pitching matchup brought them.
Swindell retired Texas in order in the top of the first inning. In the bottom half, Cleveland jumped all over Ryan. Browne led off with a double to center field. Paul Zuvella struck out but Dion James walked and Joe Carter followed with a double to center field, scoring Browne and James. The hit parade continued when O'Brien laced a single to right. Carter tried to score on the base hit, but was thrown out at the plate on a fine throw by Sierra for the second out. O'Brien took second on the throw. Belle stepped up to the plate and lined a single to left field to plate O'Brien. Just like that, Cleveland was up, 3-0. "The atmosphere here is incredible," said Belle. "They told me Ryan would probably start me off with curveballs. I'm just glad it happened early so we could give Swindell something to work with."3
In the top of the fifth, the Rangers cut into the Cleveland lead. With one away, Jeff Kunkel walked, and he took third when Jim Sundberg doubled to right field. Cecil Espy shot a bloop single to right field and Kunkel scored. But then Swindell picked Espy off first base, 1-3-6. Espy and Rangers manager Bobby Valentine argued that Espy was obstructed with during the rundown. They were both ejected. Sammy Sosa flied out for the third out.
The Indians got the run back in the home half of the fifth inning. Carter tripled to right field with two outs. He scored on a wild pitch by Ryan.
Ryan was knocked out in the sixth inning. Cleveland tacked on three more runs; the big blow was a double by Carter that plated two of the runs. Carter had three extra-base hits and four RBIs for the game. The Tribe's lead ballooned to 7-1, and that was the final score.
Swindell set down the last 13 Ranger's hitters in order. He struck out 10 and went the distance to improve to 12-2. "This really tops it off," said Swindell. "The All-Star Game was a dream. Then to beat the best is a dream. But I know in five days I've got to go out and do it again. But I'm happy tonight."4
Unfortunately for Swindell, a strained ligament in his left elbow put him on the disabled list for much of the second half of the season. His record was 13-6 with a 3.37 ERA. He was never as dominant a pitcher again in his career as he was in the first half of 1989.
Ryan took the loss and his record dropped to 10-5. His record for 1989 was 16-10 with a 3.20 ERA. At 42 years old, the Ryan Express could still throw the smoke.
Both teams finished 16 games out of first place in their respective divisions. Cleveland finished in sixth place with a 73-89 record. Texas was 83-79 and finished in fourth.
As for Belle, he confessed to being a closet alcoholic in 1990 and entered a rehabilitation center for a 10-week treatment program. When he left treatment, he went by his given name of Albert instead of his middle name, Jojuan. His name may have changed, but his volatile personality continued to follow him for the rest of his career.
Sources
https://www.baseball-reference.com/boxes/CLE/CLE198907150.shtml
http://www.retrosheet.org/boxesetc/1989/B07150CLE1989.htm
Notes
1 Bob Kravitz, "Tribe Thinks Belle Worth Serious Look," Cleveland Plain Dealer, July 16, 1989: 10-D.
2 Paul Hoynes, "Swindell Prevails: Pitches Tribe Over Rangers," Cleveland Plain Dealer, July 16, 1-D.
3 Ibid.
4 Ibid.
Additional Stats
Cleveland Indians 7
Texas Rangers 1
---
Cleveland Stadium
Cleveland, OH
Box Score + PBP:
Corrections? Additions?
If you can help us improve this game story, contact us.
Tags
/sites/default/files/BelleAlbert-1990.jpg
600
800
admin
/wp-content/uploads/2020/02/sabr_logo.png
admin
2018-03-06 13:00:17
2020-04-17 10:24:53
July 15, 1989: Albert Belle's major-league debut