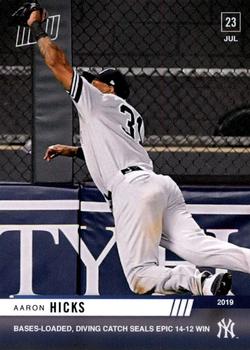 July 23, 2019: Gregorius's 7 RBIs, Hicks's homer and catch send Yankees to extra-innings win
---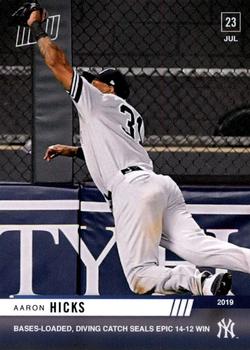 Max Kepler drilled a four-seam fastball to deep left-center field. Aaron Hicks took off from his spot in center. Hicks had nearly 75 feet to travel in the 3.6 seconds it took the drive to travel 376 feet. No one — not the players, coaches, fans, writers, broadcasters, viewers, bloggers, or game officials — knew if Hicks could cover the distance in time. However, everyone knew the game was ending in the next few moments. If Hicks snagged the ball, the New York Yankees would have a 14-12 win. If he didn't, three runs would score for a Minnesota Twins win.
The second game of a three-game series between the Yankees and Twins was creating even more drama and slugging than the first in a matchup — and possible postseason preview — between division leaders. In the Monday night opener, the Twins survived a first-inning threat with a triple play and then battered veteran C.C. Sabathia for four home runs on the way to an 8-6 win.
The Yankees went from age to youth with Domingo Germán starting the second game. The performance wasn't any better. Germán had a won-lost record of 12-2 and a 3.58 earned-run average coming into the game and was staked to a lead before even taking the field on a two-run double by Didi Gregorius. Germán gave up a run in the second and gave up the lead in the third when Jorge Polanco and Nelson Cruz led off the inning with back-to-back home runs. The Twins knocked Germán out in the fourth with five runs, a rally capped by a three-run homer by Miguel Sano that gave the Twins an 8-2 lead.
Minnesota had Kyle Gibson on the mound. A big right-hander who had occasional stretches of brightness, he could be erratic and was known for "nibbling" and quickly running up his pitch count. After the rough first inning, Gibson retired the bottom of the order in the second. He needed help in the third, though. After a leadoff single by Hicks, Aaron Judge grounded into a double play. Gibson then issued two walks and a single before getting Gary Sanchez to pop out to end the inning. Gibson had thrown 69 pitches at this point.
Again in the fourth, Gibson retired the bottom three hitters — Gleyber Torres, Gio Urshela, and Mike Tauchman — but in the fifth he gave up a three-run homer to Gregorius. The Twins scored again in the bottom of the inning on a double by Jorge Polanco for a 9-5 lead, and Cody Stashak took over for Gibson, who was up to 101 pitches, to start the sixth. Making his major-league debut, Stashak gave up four hits in two innings but didn't allow a run. He escaped a one-out, first-and-third jam in the seventh, when Polanco at shortstop made a great snag of a wicked one-hopper from Sanchez and started a double play.
Blake Parker relieved for the Twins in the eighth and was in instant trouble. He walked Torres, who went to third on a double by Urshela. Tauchman doubled off the fence in right to bring in Torres; Urshela, who had held up in case the ball was caught, stopped at third. Parker struck out Hicks but gave up a two-run double to Judge, which barely missed being a home run. It scored Urshela and Tauchman to cut the lead to 9-8. Tyler Duffey came in and struck out Edwin Encarnacion before walking Luke Voit on a 3-and-2 slider that was called low by plate umpire Ramon De Jesus.
Duffey did not hide his anger at not getting the call, and, from the dugout, manager Rocco Baldelli and pitching coach Wes Johnson chimed in, drawing a gesture from De Jesus to knock it off. Ryne Harper came in to face Gregorius, who had three hits and a walk in the game.
This time Gregorius was the one with a strong reaction to a called strike on the inside corner as the fans let loose with a derisive cheer aimed at De Jesus. Gregorius worked the count, fouling off a pair of two-strike breaking balls, before sending a high fly to right-center. Kepler got to the fence and jumped, but was unable to catch it. Two runs scored and Gregorius — who could have achieved the cycle with a triple had he been running hard out of the box — ended up at second.
The two-run double, which put the Yankees ahead and gave Gregorius seven runs batted in, was too much for Baldelli, who came out to express his displeasure to De Jesus over what he thought were two missed calls when Tauchman was up, and he was ejected. Polanco made another great play on Sanchez, diving in the hole to corral a grounder on the infield grass and making an off-balance throw to get the inning-ending out at first. Sanchez ran hard and stepped awkwardly crossing first base.
Austin Romine replaced Sanchez at catcher to start the bottom of the eighth, and Zack Britton came into pitch. With one out Eddie Rosario reached first with a line-drive single off Urshela's glove at third that was ruled a hit. Sano followed with his second homer of the game — a no-doubter estimated at 457 feet into the second deck in left-center field — and the Twins were up, 11-10.
Taylor Rogers — with a 1.93 earned-run average and 15 saves in 19 opportunities — came in to finish it off in the ninth. He retired the first two batters on six pitches, bringing up the number-nine hitter, Tauchman. Rogers got ahead in the count 1-and-2 but walked Tauchman when he was outside with a full-count fastball. Hicks stepped in and, batting right-handed against the southpaw, turned on a two-seamer that was too far up and over the plate, and drilled a two-run homer into the bullpen in left-center field.
Up 12-11, the Yankees brought in relief ace Aroldis Chapman, who had trouble finding the plate. He fell behind 2-and-0 to Ehire Adrianza before getting a called strike that Adrianza thought was high. Hitting coach James Rowson also barked and gestured, and De Jesus ejected him. Adrianza ended up walking, as did pinch-hitter Mitch Garver and Kepler. With the bases loaded and no out, Polanco lined a sacrifice fly to left, bringing in Adrianza with the tying run. Cruz followed with a fly out, and Rosario popped out to end the inning as the stadium clock showed 11:40. Had it not gone into extra innings, the 4:29 game time to this point would have been the longest ever for a nine-inning game in Twins history.
Kohl Stewart, the seventh Twins pitcher, started the 10th by retiring D.J. LeMahieu, who had run for Voit in the eighth. Gregorius lined a single to left for his fifth hit of the night and stopped at second when Romine hit a soft fly to center that dropped in front of Kepler. Torres lined a single to right-center to score Gregorius with the go-ahead run as Romine went to third. After Urshela flied out, Stewart got two strikes on Tauchman before throwing a wild pitch that allowed Romine to score. (Torres, who was running on the pitch, was credited with a stolen base.)
With a two-run lead, Adam Ottavino was called on to protect the lead in the bottom of the 10th. He got Sano to look at a called third strike but walked Marwin Gonzalez and Luis Arraez. Adrianza hit a grounder up the middle. Gregorius went to his left, slid, gloved the ball behind the base, and made a glove flip to second baseman Torres, who caught the toss barehanded on the run, stepped on second, and made a leaping relay to first that Adrianza just beat, keeping the game going for at least one more batter. When Garver walked to load the bases, Ottavino was through.
As the game passed the five-hour mark, Chad Green came in to face Kepler. Green threw all four-seamers, each around 97 miles per hour. He fell behind 2-and-1 in the count and put another fastball on the outside corner. Kepler went with the pitch and hit the ball at 103 miles per hour with a 17-degree launch angle, not enough to clear the fence but perhaps enough to elude a catch. Hicks reached 27.4 feet per second. After a dozen strides, Hicks launched, extended, and made a backhanded catch, tumbling to the warning track and pumping his fist in jubilation.
The Yankees, having evened the series, won the rubber game the next night, their final meeting of the regular season against the Twins but not for the year. Both teams won more than 100 games, and both became the only teams to top 300 home runs in a season (307 for the Twins and 306 for the Yankees). They met again in October, the sixth time in 16 seasons that they faced each other in the postseason. New York had won the previous five times. The 2019 Division Series ended at Target Field, in less dramatic fashion than the July 23 game, with the Yankees sweeping the series and leaving behind more heartbreak for Twins fans.
Author's note
I was the official scorer for this game, played on my birthday (at least the first 4 hours 49 minutes of it), and my wife and fellow SABR member, Brenda Himrich, was two seats away, performing her duties as the Balls, Outs, Strikes Spotter (BOSS) for mlb.com. We are used to spending our birthdays (hers is July 1) and May 11 anniversary apart, me in the press box and Brenda in the stands, where she settles for a birthday greeting courtesy of the scoreboard people I sweet-talk into it. We were happy to celebrate a birthday together and to do it with such an exciting game.
The game time was exactly 5 hours 3 minutes. The stadium clock — which apparently is synched with the atomic clock — changed to 7:11 as Gibson went into his motion for the first pitch, which is when I hit start on the official stopwatch. I turned the stopwatch off as Hicks made the game-ending catch. It showed 5:03:00 as the stadium clock switched to 12:14.
Hicks's catch and other highlights of the game, with the incredible final three innings, are at youtube.com/watch?v=sbAfKZQSQhg.
Sources
I used Statcast information as well as details from my scoresheet and notes. I also watched some portions of the game on mlb.tv.
Box score and play-by-play available at:
retrosheet.org/boxesetc/2019/B07230MIN2019.htm
Additional Stats
New York Yankees 14
Minnesota Twins 12
10 innings
---
Target Field
Minneapolis, MN
Box Score + PBP:
Corrections? Additions?
If you can help us improve this game story, contact us.
Tags
https://sabr.org/sites/default/files/Hicks-Aaron-2019.jpg
600
800
admin
/wp-content/uploads/2020/02/sabr_logo.png
admin
2020-05-12 12:19:03
2020-05-28 15:33:27
July 23, 2019: Gregorius's 7 RBIs, Hicks's homer and catch send Yankees to extra-innings win