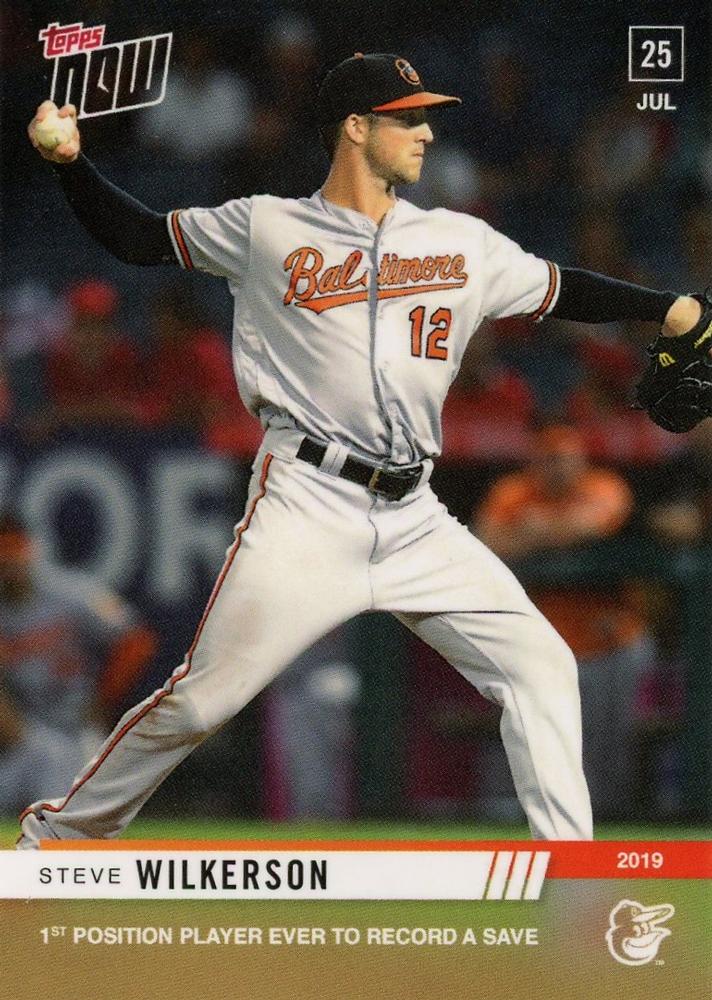 July 25, 2019: Baltimore's Stevie Wilkerson earns the first nonpitcher save
---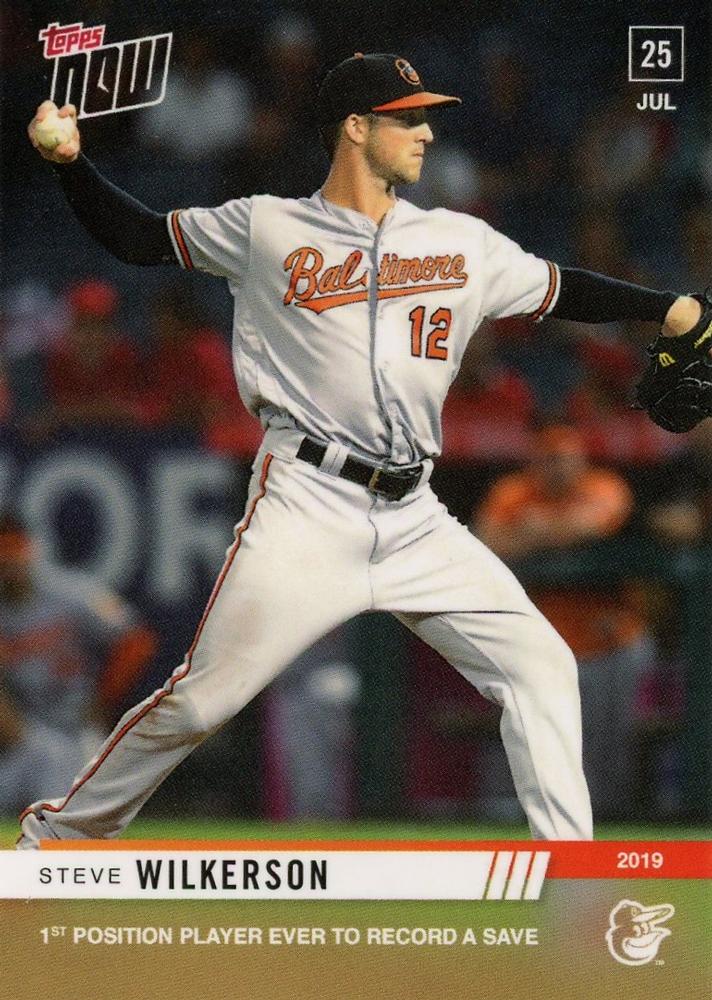 The Los Angeles Angels were tightening the race for a 2019 American League wild-card playoff spot. They had won nine of their last 12 games. The slumping Tampa Bay Rays, the second-place wild-card team, had lost seven of their last nine games. Many of the 36,414 spectators at Angel Stadium on July 25, 2019, knew that a victory over the visiting Orioles could bring Los Angeles to within three games of Tampa Bay.
The Orioles were 34 games under .500, in last place in the AL East Division. Still, they were having their best month of the season. In 24 days they had won eight games, equaling their April and May totals.
Over six hours later, the game's impact on the wild-card race was temporarily forgotten. Three times the Angels rallied in the seventh inning or later to tie the game or take the lead. Four times the Orioles did the same, the last time in the 16th inning, to set up outfielder Stevie Wilkerson's historic save.
With a 10-8 lead, Wilkerson retired the Angels in order on two fly balls and a ground out to become the first nonpitcher to earn a save since it became an official MLB statistic in 1969. Each of the prior 52,832 saves was credited to a pitcher.1
When social media realized that Wilkerson was the slowest-throwing pitcher in the major leagues, outlets like Deadspin proclaimed, "With a Series of Slowballs, Stevie Wilkerson Became the First Position Player to Record a Save."2
After six innings the Orioles led 2-1 and the teams had used only five of the game's eventual 20 pitchers. In the seventh inning the drama escalated, befitting the Angels' wild-card chase just six days before the new high-stakes July 31 trade deadline.3
With two outs and the bases loaded in the seventh, Angel Kole Calhoun hit a fly ball to deep center field. Wilkerson, the Orioles' starting center fielder, got twisted up tracking the ball and it fell in over his head. Three runs scored, putting the Angels ahead 4-2.
In the eighth, after the Orioles had scored once, Wilkerson was at bat with a runner at first. He had struck out twice, and the fly-ball miscue was on his mind. "I put us in a tough spot when I misplayed that fly ball," he said. He drove a ground-rule double to tie the game, 4-4. "That gave me a little confidence to get back into the game."4
Trey Mancini hit a home run in the top of the ninth to put the Orioles ahead 5-4, but Angel Brian Goodwin responded with a homer in the bottom of the ninth to tie the game again, 5-5. The pitcher total was also tied, with each team using six.
The 10th through 14th were scoreless. Each team used three more pitchers, bringing the total to 17. With relievers getting scarce, Orioles manager Brandon Hyde and Angels manager Brad Ausmus got desperately creative.
Gabriel Ynoa pitched three innings for the Orioles after throwing 1⅔ innings the night before. Adalberto Mejia of the Angels, pitching for a third day in a row, threw three innings.
In the 15th inning, Ausmus tapped the next game's scheduled starter, Griffin Canning, as the Angels' 10th pitcher. It was his first relief appearance since his freshman year at UCLA in 2015.5
With one out, Dwight Smith Jr. at first, and Jonathan Villar at third (Villa had reached on a force out, and advanced to second on a stolen base and to third on an error), Wilkerson struck out for the third time. After a stolen base, Jace Peterson singled to drive in two runs. Peterson stole second and Hanser Alberto drove him in with a single to make it 8-5.
In the bottom of the 15th, the Orioles' ninth pitcher, Tanner Scott, gave up a single to Albert Pujols. After striking out Kevan Smith, Scott walked three batters in a row, sending Pujols home. With the bases loaded and the winning run at first, Mike Trout hit a line drive double down the left-field line.
Two runs scored to tie the game. David Fletcher, the runner at first, was waved around third and slid into home just as catcher Pedro Severino applied a sweep tag. The relay from shortstop Villar was on the first-base side of the plate. Fletcher, to the outside of the plate in foul territory, caught home with his left hand just as Severino applied the tag to his upper chest.
Home-plate umpire Tony Randazzo called Fletcher out. Ausmus challenged the call. For 2 minutes and 41 seconds the Angels were ready to race on to the field to celebrate a walk-off win, a half-game closer to Tampa Bay. "His hand was in there before the glove hit [Fletcher] in the chest," said Ausmus.6 MLB's replay review crew in New York ruled otherwise. The on-field call stood. Fletcher was out.
After the Angels rallied, the right-handed Wilkerson prepared to become the game's 20th pitcher. Hyde said, "They threw their next day's starter and our next-day starter was in the hotel. We ran out of pitching. I knew (Wilkerson) wouldn't have any fear out there."7
Wilkerson recalled, "Skip came up to me and he told me I got the next inning." With two out in the 16th inning Severino singled and Villar followed with a home run, making it 10-8. Wilkerson said, "Skip looks at me and says, 'You got this?' I said, 'Oh yeah. Let's do this.'" Source?
Wilkerson, 27, a rookie outfielder,8 had pitched twice earlier in July in nonsave situations. The two appearances9 were his first since the single pitch he threw as a high-school junior in 2009.10
Baseball-Reference reported the Orioles' win probability at 90%.11 Did that consider the impact of a position player pitching in a save situation? Wilkerson switched gloves and walked to the mound from the dugout. After 15 innings in center field there was no need to warm up in the bullpen. Just eight soft warm-up tosses from the mound.
In his prior two games he had honed his pitching approach – throw the slowest pitches in major-league baseball. Wilkerson's pitch speed was below 60 mph, about 10 mph slower than a typical knuckleball pitcher.
"I didn't think he was serious when he was warming up," said the Angels' Goodwin, the first hitter of the inning. Looking from the on-deck circle, he said, "I haven't seen anything like that in years."12
Wilkerson's plan was to throw strikes. "There was a little in, out, up down," he said, referring to pitch location, "but really the approach was just throw strikes." And the catcher's role? "He just gives some dummy signs, and I just float the same thing in there every time."13
Goodwin was baffled. "I had no clue. I didn't know what to do. My best bet was to take until I couldn't take."14 After a ball and two called strikes, he swung and flied out to center.
Calhoun was next. His earlier triple over Wilkerson's head had given the Angels the lead nine innings ago. On a 2-and-2 pitch he grounded out to shortstop.
Wilkerson was one out away from being the first nonpitcher to earn a save since the relief pitching statistic was created in 1969.15 He did not know he was on the verge of baseball history, but was keenly aware of the next hitter's résumé. Pujols was a three-time National League Most Valuable Player and 10-time All-Star.
"So maybe if I knew (no position player had ever gotten a save) then it would have added a little bit more pressure and nerves," Wilkerson said. "But at the time, I didn't know. I was just going out there and acting like a backyard baseball game."16
"I knew that a first ballot Hall of Famer was coming up to the plate and there are two outs and we had a chance to win the game. But I actually wasn't nervous. And I just had the same approach with them as I did before. I was gonna throw strikes and see what happens."17 On a 1-and-2 count, Pujols flied out to center field.
The historic event was magnified by Wilkerson's tantalizingly slow pitch speed. His unnamed pitches averaged 54.3 mph.18 "We might have to come up with a name for it," he said.19
After 6 hours and 19 minutes, the second longest game time in Orioles history, it was 4:27 A.M. in Baltimore. With the start of astronomical twilight 16 minutes earlier,20 the day was beginning with baseball sunshine in the middle of an often discouraging season.21
Hyde said the game was "an unbelievable gutty performance by our guys. … It's the best our clubhouse has been after a win."22
The Baseball Hall of Fame asked Wilkerson for the game ball and his cap. When the Orioles took batting practice in Baltimore a week later, the entire team was wearing T-shirts with the logo "Let Stevie Pitch."23
Wilkerson was asked if the baseball writers would distinguish between Stevie Wilkerson the outfielder and Stevie Wilkerson the pitcher in the Rookie of the Year balloting.24 He replied that he did not expect to get any Rookie of the Year votes, but noted, "If there was a Rookie Position Player Pitcher of the Year, I might be in the running for that."25
Author's note
The author met Stevie Wilkerson on August 16, 2019, at Fenway Park, while conducting interviews for the SABR BioProject. He later interviewed Wilkerson and Orioles manager Hyde at Fenway Park on September 28. The author offered to trade five vintage baseball cards, including one of Bill Singer, who earned the first official save in 1969, for a "Let Stevie Pitch" T-shirt.26
Sources
The author used the box score at Baseball-Reference.com as a primary source of game information.
baseball-reference.com/boxes/ANA/ANA201907250.shtml
https://www.retrosheet.org/boxesetc/2019/B07250ANA2019.htm
Notes
1Based on the major-league baseball statistical database maintained by fangraphs.com.
2 Lauren Theisen, "With a Series Of Slowballs, Stevie Wilkerson Became the First Position Player to Record a Save," Deadspin, July 26, 2019. deadspin.com/with-a-series-of-slowballs-stevie-wilkerson-became-the-1836724040.
3 In 2019 Major League Baseball eliminated the August 31 trade deadline for players who had cleared waivers. This made the July 31 nonwaiver trade deadline the final day on which players could be traded until the end of the season. This accelerated the decision-making process required of teams to decide on their roster of players for the last two months of the season (excluding players on their 40-man roster).
4 "Stevie Wilkerson Talks About Earning a Save in Anaheim," You Tube.com. youtube.com/watch?v=eVZ9EoTKkS0, accessed October 21, 2019.
5 Based on the statistical database maintained by baseball-reference.com.
6 "Ausmus on Wild Ending, Loss," MLB.com, mlb.com/gameday/orioles-vs-angels/2019/07/25/564784#game_state=final,game_tab=videos,game=564784, accessed October 21, 2019.
7 Author interview with Stevie Wilkerson at Fenway Park, September 28, 2019.
8 Wilkerson had played all three outfield positions plus six games at second base.
9 On July 12 Wilkerson pitched the ninth inning against Tampa Bay with the Orioles trailing 16-2. He threw 10 pitches and retired three batters in order. Only July 20 he pitched the eighth and ninth innings against Boston with the Orioles trailing 16-6. He threw 20 pitches to eight batters and gave up one run.
10 Before high school, Wilkerson said, he last pitched when he was 12 years old growing up in Marietta, Georgia. He graduated from Pope High School and Clemson University, where he played baseball for two years before he was drafted by the Orioles.
11 baseball-reference.com/boxes/ANA/ANA201907250.shtml.
12 Jeff Fletcher, "Angels Hitters Were Flummoxed by Soft-Throwing Orioles Outfielder Stevie Wilkerson in Historic Game," Orange County Register (Anaheim, California), July 26, 2019.
13 Author interview with Stevie Wilkerson at Fenway Park, September 28, 2019.
14 Fletcher.
15 MLB.com states: "A relief pitcher recording a save must preserve his team's lead while doing one of the following: Enter the game with a lead of no more than three runs and pitch at least one inning. Enter the game with the tying run in the on-deck circle, at the plate or on the bases. Pitch at least three innings." The term save was used by general managers in the 1950s without specific parameters. It simply referred to a pitcher who entered the game with a lead and finished off a win – regardless of score. Writer Jerome Holtzman was the first to give specific criteria to saves in the early 1960s. But saves didn't become an official stat until 1969." m.mlb.com/glossary/standard-stats/save.
16 Author interview with Stevie Wilkerson at Fenway Park, September 28, 2019.
17 Author interview with Stevie Wilkerson at Fenway Park, September 28, 2019.
18 "Orioles Position Player Gets a Save in 16-Inning Game, Averages 54.3 mph Velocity," USAToday.com. ftw.usatoday.com/2019/07/orioles-stevie-wilkerson-save-velocity, accessed October 21, 2019,
19 "Stevie Wilkerson Talks About Earning a Save in Anaheim.
20 Astronomical twilight began at 4:11 A.M. timeanddate.com/sun/usa/baltimore?month=7&year=2019.
21 The Orioles finished 54-108, with the second lowest win total among the majors' 30 teams.
22 "Hyde on Wilkerson, Wild Win" MLB.com. mlb.com/gameday/orioles-vs-angels/2019/07/25/564784#game_state=final,game_tab=videos,game=564784, accessed October 21, 2019.
23 Wilkerson pitched once more, on August 10, the last 1⅓ innings against Houston with Baltimore trailing 23-2. He threw 18 pitches to eight batters, giving up four runs and three hits. For the season he pitched 5⅓ innings, facing 22 batters.
24 Members of the Baseball Writers Association of America vote to determine the top rookie in the American and National Leagues.
25 Author interview with Stevie Wilkerson at Fenway Park, September 28, 2019.
26 Wilkerson promised to send the author a T-shirt.
Additional Stats
Baltimore Orioles 10
Los Angeles Angels 8
---
Angel Stadium
Anaheim, CA
Box Score + PBP:
Corrections? Additions?
If you can help us improve this game story, contact us.
Tags
https://sabr.org/sites/default/files/steviewilkerson.jpg
600
800
admin
/wp-content/uploads/2020/02/sabr_logo.png
admin
2019-12-11 15:14:13
2020-04-17 10:22:22
July 25, 2019: Baltimore's Stevie Wilkerson earns the first nonpitcher save